BOOK ANNOUNCEMENTS:


BOOK-TO-MOVIE DEALS! Read the books before the movies release!

NEW REVIEW: Dating You/Hating You by Christina Lauren (Read my Review)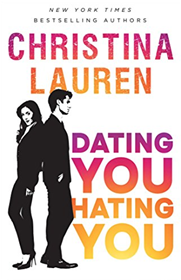 HELLLS YEAAAAH!!!!!!! This was a fantastically written book that I read in one non-stop sitting!!!! Seriously, every few pages, I'd stop and make a note of how genuinely WELL WRITTEN this book was! It seems like a fun, sexy "enemies-to-lovers" office romance where the career-driven hero and heroine begin dating only to find that their companies have merged and they're now in competition for the same coveted job position and their romance turns to a sabotage war… but there are some VERY strong, important, and incredibly relevant themes explored too that seriously just MADE THIS STORY in my eyes!!!! It had SMART writing, SEXY romance and an ADDICTIVE story so be sure to grab a copy!!
WEEKLY NEW RELEASES RECAP
LATER WEEK RELEASES (PRE-ORDER NOW):  
…