NEW RECOMMENDATION: The Ones Who Got Away by Roni Loren (Read my Review)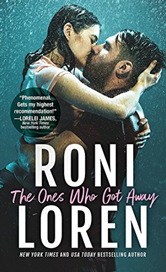 SQUEEE!!!! I just found my FIRST FAVORITE BOOK of 2018!!!! Something about the blurb really grabbed my attention — the hero and heroine were once secret high school sweethearts who are reunited more than a decade after a tragic school shooting rips them apart. More than a decade later, they were reunited and suddenly forced to face everything they'd left behind, including the intensity of the feelings they still had for each other… This story was equal parts SEXY, SWOONY, EMOTIONAL, and HEALING! I really genuinely CARED for the characters, I believed the romance and loved how much this couple just belonged together! This was a completely NEW-TO-ME author and I'm very excited to start this year's favorites list off strong!! If you're looking for a new book to read, grab a copy!! It can STANDALONE!

MORE BOOKWORM NEWS:
Baby Daddy by Kendall Ryan just had its cover revealed! It's a standalone! — "We met in a trapped elevator. He was on his way to work in his tailored suit and tie… I was on my way to the sperm bank. Awkward, right? At thirty-five, I wanted a baby. And I was ready to take matters into my own hands to make it happen. After our ill-fated elevator encounter, he insisted on taking me to dinner. He also insisted on something else — that I ditch my plan involving a turkey baster and let him do the job. He would be my baby daddy. He was a wealthy and powerful CEO with little interest in diapers or playdates. And since he didn't want kids, I'd be on my own once his bun was in my oven, free to go my own way. But once his baby was inside me, it was like a switch had been flipped, and I got a whole lot more than I ever bargained for."

Lennon Reborn by Scarlett Cole just had its cover revealed! It's a steamy, emotional rock star romance standalone in the Preload series! — Lennon McCartney is not a broken man. Because being broken implies being whole once. When a horrific accident deprives him of the one thing he loves—his talent as a fierce and explosive drummer—Lennon is left with a life chained by an abusive mother, by crushing guilt over a tragic past. A life he doesn't want… Dr. Georgia Starr is a legend. She's one of the most successful neurosurgeons in the world, coming from a long-line of respected New York doctors. Her life is built around solving complex medical cases in order to bring relief and hope to sick children. But the one problem she can't solve is how to live her life. How to be shake loose the burden of being her elitist, arrogant father's daughter. How to be free.

Uncharted: a survival love story by Julie Johnson was just announced! It's a standalone! —
"When we crash-landed on the island, I thought my story was over. Turns out, it was about to begin." He was an asshole from the first moment we met. I took one look at the stranger in the airport terminal and knew he was exactly the kind of man my mother spent seventeen years warning me against. Gruff, grumpy, and far too good-looking to stare at without experiencing heart palpitations. Thankfully, I'd never see him again. Or so I thought. I couldn't have known our plane would crash. I couldn't have predicted we'd be the only survivors. I couldn't have ever, in my wildest dreams, anticipated that the asshole from the airport would become my only source of solace in the darkness. It's so wrong to want him, for so many reasons. But as the months slip by and our hopes of rescue grow dimmer… the spark between us kindles into something impossible to ignore. Sometimes, survival requires swimming in uncharted waters. But if salvation doesn't come soon… I might just drown in him.
WEEKLY NEW RELEASES RECAP
NEW RELEASES (NOW LIVE):  
…