NEW RECOMMENDATION: Come Closer by Brenda Rothert (Read my Review)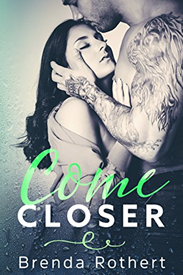 This was a really great new FORBIDDEN ROMANCE between a tattooed, former military doctor with a tortured past fighting an attraction to the one woman he can't have — a beautiful new patient committed to his mental hospital. I loved the sexy slow burn of their relationship and the way they had to keep their feelings hidden from everyone around them… forbidden desire, when written well as it was in this book, can be SO HOT!!! The story also a suspenseful twist to it that throws them both in danger and left it up to him to put everything he'd built on the line to protect her… This was a wonderful read!! Sexy, suspenseful, and romantic!

BOOKWORM NEWS:
The Hard Truth About Sunshine by Sawyer Bennett was just announced! — "An angry, bitter amputee. An optimist losing her eyesight. A dying kid. A suicidal thief. Four people with nothing in common but their destination… Despite having narrowly escaped death's clutches, Christopher Barlow is grateful for nothing. His capacity to love has been crushed. He hates everyone and everything, completely unable to see past the gray stain of misery that coats his perception of the world. It's only after he involuntarily joins a band of depressed misfits who are struggling to overcome their own problems, does Christopher start to re-evaluate his lot in life. What could they possibly learn from one another? How could they possibly help each other to heal? And the question that Christopher asks himself over and over again… can he learn to love again?
WEEKLY NEW RELEASES RECAP
…