TOP FAVORITE: The Hard Truth About Sunshine by Sawyer Bennett (My Review)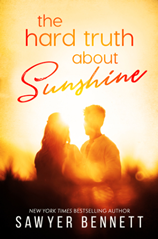 HOLY WOW. I mean WOW!!!!! This was one of the most HEART-FELT and POIGNANT books I've experienced in a long time. It was DEEP and MEANINGFUL. It made me laugh, cry, and FEEL for these characters. For those of you who've read this author before, this is an entirely NEW and DIFFERENT side to her writing and I LOVED IT! I knew from reading the blurb that this would be a very UNIQUE story and I didn't know what to expect when I first started it but from the very first page, I COULD NOT PUT IT DOWN. I was truly captivated by this story that was simultaneous heart-breaking and heart-warming. It was RAW. HONEST. PAINFUL. BEAUTIFUL. An instant favorite and top recommendation for everyone!!! It's a standalone and it' is finally live (YES!! It's actually here!) so be sure to grab a copy!

TOP FAVORITE: Say I'm Yours by Corinne Michaels (Read my Review)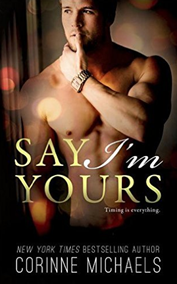 SQUEEEE!!!! This was such a wonderfully ANGSTY and SWOON-FILLED new book!!! It was a second chance (ish) romance. The hero and heroine have been in love with each other forever but their relationship had been through some really rough patches. And this story begins at the point where the hero realizes this is his last chance to make things right and he does absolutely everything in his power to win back the heart of the only woman he's ever loved. AHHHHH!!! I LOVED IT!!! I'm going to be honest, I was frustrated with the first half of the book, but I absolutely LOOOOOOOOVED the second half!!! It was SWOOOOOONY and had SO MANY FEEEEELS!!! My heart never stopped racing and I read as fast as I could!!! It was so GORGEOUS!!! Definitely new FAVORITE!!!! Be sure to grab a copy! It's now live!

TOP FAVORITE:: The Night Mark: A Novel by Tiffany Reisz (Read my Review)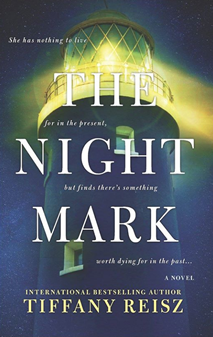 OMG!!!! This was such a UNIQUE and HEART-WARMING novel!!! It was a love story unlike any other I've read! It spanned ages and time and really opened my heart and mind to possibilities I couldn't even imagine. It's technically a time-travel romance (similar to Outlander in ways) except here the heroine is transported back to 1921 where her life is saved by a man who looks and acts shockingly identical to her present day, beloved late husband. And what unfolds is a BEAUTIFUL mystery and romance that filled my heart with hope, happiness, and even brought me to tears!!! I loved the symbolism and how REAL the story felt. This would make an AMAZING movie!!! If you're looking for a genuinely DIFFERENT ROMANCE with FANTASTIC WRITING, definitely grab a copy!! It was just released!

FUN FAVORITE: Crazy Over You by Daisy Prescott (Read my Review)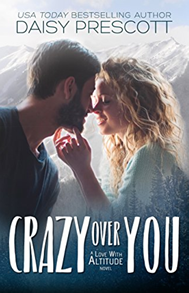 AWWW!! This brand new release was seriously such a sweet romance!! It was a cute, light, easy read — which was what I was looking for today. There was no stupid drama, the writing was WITTY without being outright hilarious, instead it just literally kept me SMILING all the time. It had a swoony, chivalrous hero to fall in love with. He rescued people professionally, but things turned personal (and hot!) when he rescued a girl who he fell for. What he didn't remember though was that they'd actually met one night two years ago… I tend to read a lot of more emotional books and today I was in the mood for something LIGHT, SWEET, and FUN and this was exactly that: A romantic comedy that just genuinely made me feel HAPPY and left me smiling! 😀 It can standalone and it's LIVE so you can grab a copy here!

TOP FAVORITE:: Confess: A Novel by Colleen Hoover (Read my Review)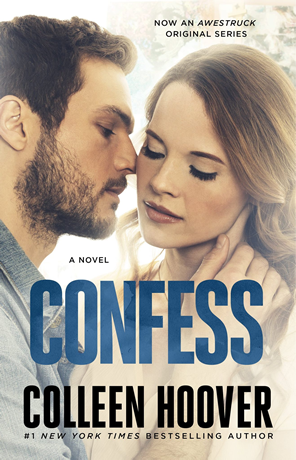 This is one of my FAVORITE standalone romances and it has been turned into a TV show! To celebrate, they've launched a special new paperback edition featuring the actors on the cover was just released today and if you purchase a copy now, you'll get 41% OFF!!!!
— "Auburn Reed is determined to rebuild her shattered life and she has no room for mistakes. But when she walks into a Dallas art studio in search of a job, she doesn't expect to become deeply attracted to the studio's enigmatic artist, Owen Gentry… For once, Auburn takes a chance and puts her heart in control, only to discover that Owen is hiding a huge secret. The magnitude of his past threatens to destroy everything Auburn loves most, and the only way to get her life back on track is to cut Owen out of it—but can she do it?"

UPCOMING RECOMMENDATION: Twist: A Dive Bar Novel by Kylie Scott (Read my Review)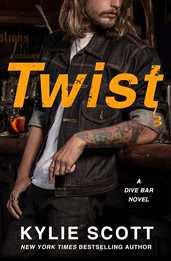 YAY!!!!!! I just read an early copy of this book that I've been highly anticipating for sooo long!!! It was FUN, SEXY, LIGHT-HEARTED and yet still had enough deep EMOTIONS to make it really well-rounded. There was some seriously hilarious banter, a love-hate romance, and some surprises that I didn't see coming!!! The hero and heroine were OPPOSITES in every way. They met by chance online but had never seen each other in person but there was a catch — she thought he was his brother so when they finally met, she was shocked!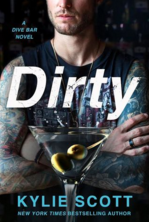 But their twist of fate meeting worked out and I really LOVED reading their story!! If you're looking for an awesome ROMANTIC COMEDY (with FEELS!!), then definitely order a pre-order a copy! It'll be out in 2 weeks! — Note: this can be read as a complete standalone. However, it is also the second standalone in a series of standalones. If you want to read them in order, you can grab the first one Dirty by Kylie Scott on sale, and then also pre-order this next Twist by Kylie Scott so you don't miss it! 😀

BOOKWORM NEWS:
Plus One by Aleatha Romig was just announced!! This is a fun, sexy standalone! — "He's sexy and confident, the kind of man every woman notices. You know, the one with the to-die-for body and panty-melting smirk. And then there's the way his designer suits drape over his broad shoulders and big… well, we've all heard the rumors… But I can't see him that way. He's my boss—and definitely not in my league. Men like him don't notice women like me, and they don't date them. And I don't date men like him. Until that one time that I catch him in a compromising position when I'm also in need of a last-minute date for a wedding…and then it's not real. It's blackmail. For one weekend, he's my plus-one. Beautiful and unobtainable…"
Real Dirty by Meghan March and Real Sexy were both just announced!! — I have everything a guy could want—a new single burning up the charts, more money than a simple country boy could spend, and a woman I'm planning to marry. Until she doesn't show up for my proposal. The life I thought was so perfect, isn't. The guy who thought he had everything, doesn't. I've got my heart on lockdown, but life sends me straight into the path of a mouthy bartender who puts me in my place. Now the only place I want to put her is under me.
I thought I was done with love, but maybe I'm just getting started.
WEEKLY NEW RELEASES RECAP
The Hard Truth About Sunshine by Sawyer Bennett (

TOP FAVORITE!

Heart-felt and poignant standalone)
The Night Mark by Tiffany Reisz (

TOP FAVORITE!

Unique, heartwarming time-travel romance standalone)
Say I'm Yours by Corinne Michaels (

TOP FAVORITE!

Angsty, heart-felt second chance romance standalone)
Confess by Colleen Hoover (

TOP FAVORITE!

Special Edition of one of my favorite standalone romances)
Crazy Over You by Daisy Prescott (

FUN FAVORITE!

romantic comedy standalone in Love With Attitude series)
His Alone by Alexa Riley (her sexy new boss wants to make her his, standalone)
Stripped Bare by Heidi McLaughlin (single mom heroine, sinfully sexy Las Vegas romance, can standalone)
Forever Mine by Erin Nicholas (he suddenly becomes a single dad and she helps him, standalone)
Kiss Marry Kill by Sidney Halston (military hero & pop star second chance romance, can standalone)
Beach Wedding by Natasha Boyd (Hollywood romance, finale to Jack/Keri Ann's story, Butler Cove series)
Jesse's Hideout by Kallypso Masters (romance with haunting twist – ghosts)
The Arrangement 23 by H.M. Ward (romantic suspense, The Ferro Family Series Finale)
It Happens All the Time by Amy Hatvany (two friends whose lives are changed by a drunken kiss, standalone)
Almost Missed You: A Novel by Jessica Strawser ("a powerful story of a mother's love, a husband's betrayal, connections that maybe should have been missed, secrets that perhaps shouldn't have been kept", standalone)
The Women in the Castle: A Novel by Jessica Shattuck (story of 3 women at the end of WW2, standalone)
The Memory of You by Catherine West (Women's fiction with romance, standalone)
The Promise Girls by Mari Bostwick (Women's fiction – siblings theme, standalone)
Forbidden Dance by Deanna Roy (romance set in a dance academy, can standalone)
Dirty Filthy Rich Men by Laurelin Paige (sex, love, power, love triangle, duet)
Hot for the Fireman by Gina L. Maxwell (her sexy fireman one-night-stand wants more, fun sexy standalone)
Lei'd with Cupcakes by Bethany Lopez (romantic comedy in Cupcakes series)
Surrender by Kitty Thomas (dark romance)
Tormentor Mine by Anna Zaires and Dima Zales (dark romance, can standalone)
100 Hours by Rachel Vincent (terrifying survival story when six Miami teens are kidnapped)
Immortal Unchained by Lynsay Sands (light/fun paranormal romance, Argeneau series)
The Unyielding by Shelly Laurenston (Viking romance, Call Of Crows series)
Strange the Dreamer by Laini Taylor (epic fantasy, a mythical world of dread and wonder, love and carnage)
A Crown of Wishes by Roshani Chokshi (YA fantasy sequel to The Star-Touched Queen)
After the Dark by Cynthia Eden (suspense crime thriller, can standalone)
Hot In The City by Jules Court (Detective falls for an ER doctor, standalone romance)
Her Knight to Remember by Jill Shalvis (cop saves a princess, royals romance standalone, rerelease)
You Drive Me Crazy by Juliana Stone (injured famous race car driver hero, second chance romance, standalone in The Blackwells of Crystal Lake series)
The Best Man by Barbie Bohnman (second chance romance with divorced heroine, can standalone)
Fear the Beard by Lani Lynn Vale (biker romance in the The Dixie Warden Rejects)
When We Danced at the End of the Pier by Sandy Taylor (a wartime romance, Brighton Girls Trilogy Book 1)
Twist by Susan Fanetti (biker romance in the Brazen Bulls MC series)
…