March 10, 2013
All 3 books in THE HUNGER GAMES Trilogy have been bundled together for only $5!! That's quite a deal!
 If you're looking for a lighthearted, funny, cute book, PLAYING FOR KEEPS is only $0.99 and is one of my fav "happy" books ♥ oh, and it has a HEA, no cliffy 🙂
BEAUTY FROM PAIN, another book from my TBR that comes highly recommended from a lot of you is on sale for $1.99!
FALLEN TOO FAR is STILL only $0.99! Not too sure how long this sale will last but if you haven't met Rush, you're missing out!
THE EDGE OF NEVER is $0.99!! Everybody who hasn't read this book yet MUST buy it!! Trust me – it's INCREDIBLE!! ♥ Here's my review.
The romance aisle at my local bookstore makes me happy ♥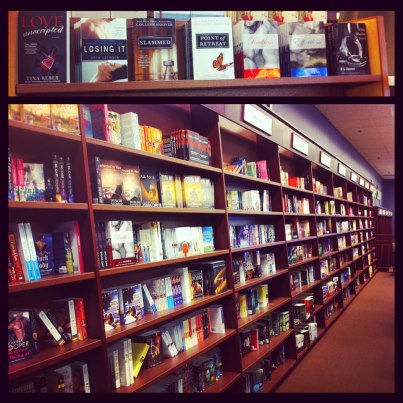 KRISTEN ASHLEY FANS!!! Here are the

TEASER CHAPTERS

from OWN THE WIND which will be out on April 2nd!
.
This series is a spin-off of the Dream Man series. I can't WAIT for them ♥
THE DARK DUET EPILOGUE UPDATE! Aww check out this video from CJ Roberts explaining that she is still writing The Epilogue but she'll have an update for us on the 19th. Personally, I'm totally fine with this cuz this just means it'll be longer whenever we finally get it. YAY! More Caleb!! Can't wait ♥
GIDEON FANS!!! SNIPPET #9 from ENTWINED WITH YOU ♥
Darkhouse

is FREE!! This is the

first book

in the Experiment in Terror series by Karina Halle. I haven't read this paranormal (romance) series yet but a good friend of mine just finished them and way LOVED them!! Also, the 2nd book is only $.99! ♥
Ten Days of Perfect  from my TBR is FREE today! I've been hearing some great things about this book and I've also heard it has a cliffhanger, but… FREEE!!! ♥ And the sequel just came out recently too 🙂
LOOK!! A full

teaser chapter

and cover sneak peak!! This is a book I absolutely cannot WAIT for! To be released this month ♥
AMAZING RECKLESS TRAILER made by the fabulously talented Mollie Harper! I can't stop grinning! LOVE IT!! LOVE KELLAN!! ♥♥
TWISTED PERFECTION

SNEAK PEEK

from Abbi Glines!! ♥ This is the next book in the Too Far series following Woods' story and will be out late April.