TOP RECOMMENDATION: The Lucky Heart by Devney Perry (Read my Review) 

SQUEEEEEEEE!!!! OMG. OMG. OMG!!! HOLY FREAKING SWOOOOOOON!!! This was one of the BEST BOOKS I've read all year!!!! It was PURE ALPHA ROMANCE PERFECTION with a strong, feisty heroine, a swoon-worthy cowboy hero, and a GORGEOUS LOVE STORY!!!!! I have loved every book this author has written and this was another STRONG WINNER! It was PASSIONATE, HEART-FELT, and SEXY, with just enough suspense to keep my heart racing on every page. I absolutely ADORED this book!!! Seriously. It had everything I love to read about rolled into one book. I LOVE LOVE LOOOOOOVED it and highly recommend it to everyone looking for an amazing book to read!!! Be sure to pre-order a copy!!!! You don't want to miss this one!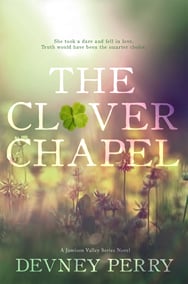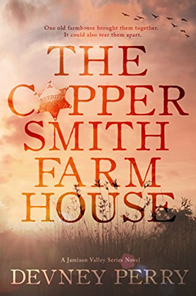 — Seriously you guys, this is my #1 TOP FAVORITE series this year!! Each book can be read as a standalone, but they are interconnected so I recommend reading them ALL. The first two are already live so you can start reading now: (The Coppersmith Farmhouse, my review) and (The Clover Chapel, my review), and then this one in my main post (The Lucky Heart, my review) is out soon! They're FANTASTIC!

NEW REVIEW & UPCOMING RECOMMENDATION: TRUST by Kylie Scott (Read my Review)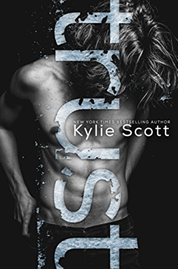 I also recently finished reading this really GREAT upcoming book by one of my FAVORITE authors!!! I LOVE her writing style and am always excited whenever she releases new books and this one in particular intrigued me because of its UNIQUE storyline — the heroine meets the hero when she gets held up at gunpoint in a robbery gone wrong and he risks his life to save hers. A few weeks later she's surprised to find that he attends her new school. He's mysterious and has a reputation as a bad boy but she feels safe with him and their friendship slowly begins to turn to more… This book mixes DANGER with HEALING, and the thrill of FIRST LOVE. It's beautifully written and made me care deeply for the characters. If you're looking for something DIFFERENT to read, definitely pre-order a copy!! It'll be out soon!
And here's a new trailer for this book too that that author just posted today:
Pretty cool, huh?? Be sure to pre-order a copy of the book so that you don't miss its release!!
JUST ANNOUNCED: This is the official trailer for the movie based on Hollywood Dirt by Alessandra Torre, one of my favorite romantic comedies!!! It was a fun, sexy read and I'm so excited to see it come to life on screen! Check out the trailer below and be sure to grab a copy of the book — I would definitely recommend reading it!
WEEKLY NEW RELEASES RECAP
DETAILED LIST: NEW RELEASES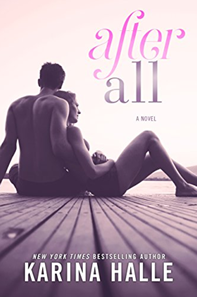 After All by Karina Halle — New Release!!
Can standalone: "Tall, handsome, and wickedly charming, he has landed the role of a villain in a popular TV show. The only problem is, he's come a long way from the "nice guy" characters he used to play and his old squeaky clean image is quickly being tarnished by bar fights, womanizing and bad boy behavior. Considering he's two years shy of forty, it's an act he needs to drop. And fast.
At twenty-eight, she's tired and ready for a change. When their paths cross at a mutual friend's wedding, their chemistry is off-the-charts hot, culminating in a steamy one-night stand. What neither expected was for the media catch wind of their coupling – and run with it…"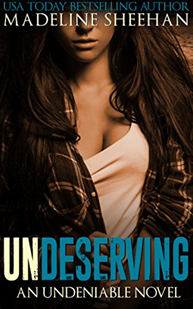 Undeserving by Madeline Sheehan — New Release!!
Can standalone: "Damon "Preacher" Fox, vice president of the Motorcycle Club, has been in prison for club-related crimes. As his release draws near, he begins to reevaluate his choices in life, realizing that if he stays with the club, this won't be his last stint behind bars. Suddenly Preacher finds himself doubting everything he's ever known, wishing for a life beyond the club.
When Preacher and Debbie's paths cross, they find in each other a sense of peace they had been lacking. But life is about to catch up with Preacher, and Debbie, desperate to keep the one person who's ever shown her any kindness, finds herself caught between forces far deadlier and more powerful than she could have ever imagined…
This is Debbie and Preacher's story.
At the end, we should all go back to the beginning,
if only to remind ourselves that we once lived.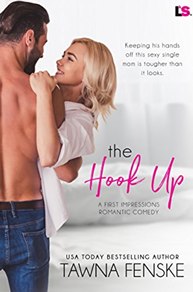 The Hook Up by Tawna Fenske — New Release!!
Can standalone: "Love, marriage, and family aren't in the cards for him. Period. The Navy helped him put his tumultuous childhood behind him, but when a sexy single mom walks through his door, he feels his carefully constructed walls crack.
As they maneuver through a minefield of wardrobe malfunctions, plumbing mishaps, and the world's most awkward accidental dirty talk, discovering they have more in common than scorching sexual attraction threatens to crumble his walls for good…"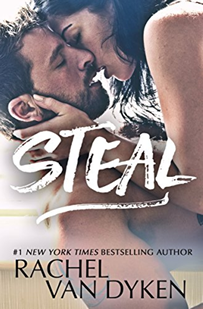 Steal by Rachel Van Dyken — New Release!!
Can standalone: She hates me. I loathe her. The plan was simple: stay the hell away and make sure she gets to set on time. What I didn't expect was to be faced with our past in front of an audience and be forced to face it again. It's torture. The way she looks at me. The way I try to look through her. Words left unsaid. The lingering aftermath still as powerful as ever. I feed the chasm between us, for fear that she'll make me feel again and steal the last shred of heart I have left. We have everything but each other. It's not enough. Not when you've lost love. And replaced it with the only thing left — hate…"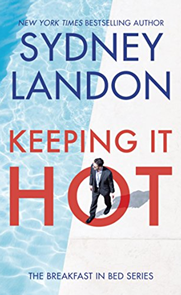 Keeping It Hot by Sydney Landon — New Release!!
Can standalone: She owns the coffee shop in one of the hottest upscale resorts in Florida, run by her childhood best friend, Dylan Jackson… She has been in love with him for years without him noticing. But with her thirtieth birthday fast approaching, she realizes she can't keep pining away for a man who doesn't show the merest sign of romantic interest in her…
When she launches her plan to shed her tomboy image in his eyes, she's thrilled once he starts to notice her in a whole new way. But she'll have to face the risk that seducing her best friend might come with lasting changes to their longtime friendship…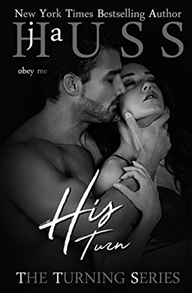 His Turn by JA Huss — New Release!!
"I look her body up and down as I circle her.
Mine?
I smile a devious, deviant, I'm-gonna-make-you-sorry-you-ever-started-playing-this-game-with-me smile.
And then I take her hand.
I lead her to the elevator.
We go up to my apartment.
I tie her wrists together with rope.
Raise her arms above her head.
And chain her to the ceiling.
It's my turn."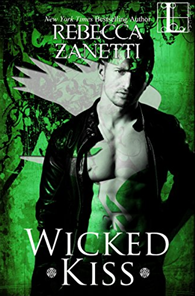 Wicked Kiss by Rebecca Zanetti — New Release!!
Can standalone: She is used to living on the edge. But she's not a big fan of getting kidnapped. And definitely not by a bunch of bad boy witches with fire to shoot at people. So when he shows up and claims to be a witch enforcer, she's not going to put her life in his hands based on his word, no matter how smooth and smart and beautifully Irish his words sound…
Before she knows it, he's all that stands between her and execution. He has vowed to make her his one eternal mate to save her from a sentence of certain death. But she isn't interested in being anyone's pity date. And if they think she's unpredictable now, they should see what's coming…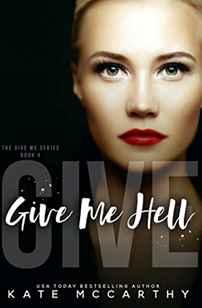 Give Me Hell by Kate McCarthy — New Release!!
She is willful, fiery, and determined to prove she doesn't need anyone. Desperate to break free from the over-protective parents and three older brothers who dictate her every move, she runs away at the age of seventeen to hunt down the only boy who makes her feel alive.
He has no choice but to leave the best thing that ever happened to him, taking him down a path that leads to a notorious gang. When fate throws her back in his life, he turns her away in her time of need, knowing he now lives a life in which she doesn't belong… Years later, their lives continue to entwine, and when his past returns demanding retribution, she intervenes and gets caught in the crossfire… Can their relationship withstand the hell it's endured, or is it too late for love?
LATEST BOOK SALES
UPCOMING BOOK RELEASES
BOOKWORM STORE
WHAT KIND OF BOOKS ARE YOU LOOKING FOR?
__________________________________
Let me know if there are any other books you're loving right now too!!
LET'S STAY CONNECTED
To get these lists sent to you every week, subscribe by email.
FOLLOW THE BLOG
Facebook | Twitter | Instagram | Pinterest | BlogLovin' | Google+ | Goodreads