TOP RECOMMENDATION: The Hot Shot by Kristen Callihan (Read my Review)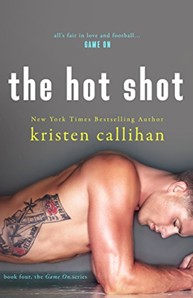 I loved this book!! OMG. I just couldn't stop smiling after that epilogue! It was seriously SO good! It was a sexy and swoony slow burning friends-to-lovers romance with a really strong, feisty heroine and a famous football player hero who was her opposite and yet, even though they do their best to deny it, the sparks flew between them! After an unfortunate house fire left her homeless, they became roommates and tried to stay friends only but when they had to pretend to be dating for a weekend, their feelings became too intense to ignore… I loved their romance!!! It was fun and hot! I highlighted sooo many quotes! It's a perfect ROMANTIC COMEDY for fans of fun, sexy, light-hearted sports romance!!!! It can be read as a standalone and it's NOW LIVE so be sure to grab a copy!!

BOOKWORM ANNOUNCEMENTS:
Mister Romance by Leisa Rayven was announced!! I LOVE HER BOOKS! It can standalone! — "Max Riley is the man of your dreams. Or at least he will be, for a price. As his alter-ego Mister Romance, he's a drop-dead gorgeous escort who makes romantic fantasies come to life. No sex, just swoon-worthy dates, and the cream of New York's socialites can't get enough. Whether they want a dominating billionaire, bad boy with a heart of gold, hot geek, sexy biker, or best friend who loves them from afar, Max can make it all happen, but he's careful to keep his real identity a secret… Enter investigative journalist Eden Tate. Having caught wind of the urban legend of Mister Romance from a lovestruck client, she's determined to publish a scathing expose [so] he challenges her to give him three dates. If she doesn't fall in love with him, she can run her story with his blessing…"

Roomies by Christina Lauren was just announced! — "Rescued by Calvin McLoughlin from a would-be subway attacker, she pays the brilliant musician back [by] getting him an audition with a bigtime musical director. When the tryout goes better than even she could have imagined, he is set for a great entry into Broadway—until he admits his student visa has expired and he's in the country illegally… She impulsively offers to wed the Irishman to keep him in New York, her growing infatuation a secret only to him. As their relationship evolves from awkward roommates to besotted lovers, he becomes the darling of Broadway. In the middle of the theatrics, what will it take for them to realize that they both stopped pretending a long time ago?"
WEEKLY NEW RELEASES RECAP
HOT NEW RELEASES (NOW LIVE):  
DETAILED LIST: NEW RELEASES
The Hot Shot by Kristen Callihan — New Release!!
TOP FAVORITE!! Can standalone: "First we were friends. Then we were roommates. Now I want more…
What can I say about her? The woman is capable of bringing me to my knees. I know this about five minutes after getting naked for her. No one is more surprised than me. She isn't my usual type. But when I'm with her, all the regrets and darkness goes away. She makes life fun. I want to know her, be close to her. Which is a bad idea. She is looking for a relationship. I've never given a woman more than one night. But when fate leaves her without a home, I step up and offer her mine. We're roommates now. Friends without benefits. But it's getting harder to keep our hands off each other. And the longer we live together the more I realize she's becoming my everything…"
The House Mate by Kendall Ryan — New Release!!
Can standalone: "He's nearing thirty-five. He's built a successful company, and he's conquered the professional world, but he's never been lucky in love. Focusing so much time on his business and raising his daughter, adulting has come at the expense of his personal life.
His social skills are shit, his patience is shot, and at times, his temper runs hot. The last thing he has time for is the recently single, too gorgeous for her own good young woman he hires to take care of his little girl. She's a distraction he doesn't need, and besides, there's no way she'd be interested. But you know what they say about assumptions?"
Damnable Grace by Tillie Cole — New Release!!
Series: She knows nothing but cult life. She was groomed from childhood for one purpose: to seduce. Prized as a harlot, she is taken from the doomed cult by the notorious leader of the Brotherhood. Taken as his possession. Taken to be the woman who will obey his every sexual demand. Under his heavy hand, she finds herself in a place much worse than she could ever have imagined… with absolutely no one to help.
Xavier knows how to fight [and is] experienced in warfare and schooled in military operations. When his Vice President needs help retrieving his missing sister-in-law, he volunteers to go in… As he fights to help her, and in turn she strives to help him, they realize [the] only way they can be rid of their ghosts is to face them together and try to find peace.
Mixed Up by Emma Hart — New Release!!
Standalone: "Hiring my brother's best friend was not on my to-do list.
Neither was he.
Expanding my dirty cocktail bar into food was supposed to be easy, except finding a chef in my little town is anything but. Until he comes home—bringing his chef's hat with him. He has no work. I need someone like him in my new kitchen. There's just one problem: I hate his cocky, filthy-mouthed, sexy-as-hell guts. Even if I might want him. Just a little…"
Walk of Shame by Lauren Layne — New Release!!
Can standalone: She's a pampered heiress with a party-girl image to maintain, but all the shopping and clubbing is starting to feel a little bit hollow—and a whole lot lonely. Though she would never admit it, the highlights of her week are the mornings when she comes home at the same time as her uptight, workaholic neighbor is leaving to hit the gym and put in a long day at the office. Teasing him is the most fun she's had in years—and the fuel for all her naughtiest daydreams… But after he caps one of their predawn sparring sessions with a surprise kiss—a kiss that's caught on camera—all of Manhattan is gossiping about whether they're a real couple…
The Thing About Love by Julie James — New Release!!
Can standalone: FBI agents Jessica Harlow and John Shepherd have a past. The former lawyer and cocky Army Ranger clashed during their training and gladly went their separate ways after graduating. Six years later, the last thing either of them expects is to be assigned to work as partners…
Being paired with an old rival couldn't come at a worse time. Recently divorced from a Hollywood producer and looking for a fresh start, she is eager to prove herself at her new field office. And he is just one case away from his dream assignment. In order to nail a corrupt Florida politician, they'll have to find a way to work together—a task that becomes even trickier when they're forced to hole up at a romantic beachfront resort as part of the investigation…
A Charmed Little Lie by Sharla Lovelace — New Release!!
Can standalone: She didn't mean to lie. Spinning a story of a joyous marriage to make a dying woman happy is forgivable, isn't it? … Trouble is, according to the will, to inherit the only house she ever really considered a home, she'll have to bring her "husband" back to town for three whole months…
He is out of work, out of luck, and the spitting image of the man she described. He needs money for his daughter's art school tuition, and she needs a convenient spouse. It's a match made… well, not quite in heaven, but for a temporary arrangement, it couldn't be better. Except the longer they spend as husband and wife, the more the connection between them begins to seem real…
The Player by K. Braumburg — New Release!!
Duet: He is baseball royalty. The game is his life. His passion. His everything. So, when an injury threatens to end his season early, the team calls in a renowned physical therapist to oversee his recovery. Except it's not Doc who greets him for his first session, but rather, his daughter. She may be feisty, athletic, defiant, and gorgeous, but he is left questioning whether she has what it takes to help him.
She's out to prove a female can handle the pressure of running the physical therapy regimen of an MLB club. And that proof comes in the form of getting him back on the field. But getting him healthy means being hands-on. And with a man as irresistible as him, being hands-on can only lead to one thing, trouble. Because the more she touches him, the more she wants him, and she can't want him…
Provocative by Lisa Renee Jones — New Release!!
Duet: There are those moments in life that are provocative in their very existences, that embed in our minds forever, and sometimes our very souls. They change us, mold us, maybe even save us. But some are darker, dangerous. If we allow them to, they control us. Seduce us. Quite possibly even destroy us.
The moment [I] made eye contact with her for the first time was one of those moments. Provocative because I know at least one of her secrets, of which, I suspect she has many. Provocative because she believes I was a stranger to her when we met, but I am not. Provocative because I sought her out, with no intention of touching her. But now I have. Now I want her. Now I have to have her. But that changes nothing. It doesn't change why I came for her.
Fallen Crest Home by Tijan — New Release!!
Series: It's been years since my mother was in my life.
I healed. I learned to accept love. I lived.
That's all done. She was away, and now she's back. I avoided her for a year and a half, but I couldn't hide anymore.
Mason had an internship, so we headed back for the summer.
And when we got there—no one was prepared for what happened.
Fox by SM Lumetta — New Release!!
Can standalone: "She never thought much about motherhood until her body forced her to. With the onset of early menopause, she knows if she wants to have a baby, it's now or never. So what's a single, financially-strapped girl to do? Go with what you know, of course.
He has been her gorgeous best friend since preschool. This sun-kissed surfer boy has no shortage of ladies, but she's hoping he'll put that aside to help her out. As there's never been anything romantic between the two, things get awkward when she asks him to put a bun in her oven—especially since it has to be done the old-fashioned way…"
Relentless by Janet Elizabeth Henderson — New Release!!
Can standalone: She's shy to the point of trying to become invisible. She has OCD tendencies. She finds it hard to talk [to] men. A fact that makes working as the office manager for Benson Security particularly difficult — the company is made up almost entirely of huge, intimidating, ex-military men. But none of the men affect her the way he does. The ex-marine is charming, confident, heroic and so sexy it hurts to look at him. Everything about Joe intimidates Julia. [But] with danger at every turn and lives on the line, she is forced to get past her issues and trust in him—her life depends on it.
Little Dancer by Brianna Hale — New Release!!
Standalone: She's a twenty-year-old dancer who has only ever felt truly herself while she's onstage. Offstage she feels out of place, forced to give up her girlish treasures and bombarded at every turn with adult responsibilities. But one missed dance cue in front of the intimidating theater director could take all this away…
Summoned to his office, she is terrified the darkly handsome, commanding man is about to end her dream. But he has other ideas. He wants to be her Dom…
Royal Affair by Marquita Valentine — New Release!!
Can standalone: A sheltered princess goes wild and makes the best mistake of her life when she falls for a roguish reporter in this fun, sexy romance…
— He has a reputation for exposing the political elite [and] has never been afraid to get his hands dirty until he meets a royal wallflower at a charity ball who makes him reconsider everything… As the "spare" twin, Princess Charlotte has always been the responsible one… He's the worst sort of man to start an affair with, but she just can't help it. The trouble is, since she's no good at playing games, soon she's tiara over heels in love. And when he comes clean, she must decide whether his confession is worth a royal pardon…
What's Become of Her by Deb Caletti — New Release!!
Standalone: She returns to her hometown to take over the family tourism business after the death of her mother… Feeling lost, she is also struggling with a recent divorce and wondering if she'll ever come into her own. Then her life takes a surprising turn: The mysterious Henry North arrives, steps off a seaplane, and changes her world forever. From the beginning, their relationship is heady and intense—then she learns of his disturbing past, involving the death of a fiancée and the disappearance of a wife. Suddenly she is caught between love and suspicion, paranoia and passion, as she searches for the truth she may not want to find—and is swept into a dangerous game she may not survive.
The Stars Are Fire by Anita Shreve — New Release!!
Standalone: Based on the true story of the largest fire in Maine's history.
— In October 1947, after a summer long drought, fires break out all along the Maine coast and are soon racing out of control from town to village. Five months pregnant, she left alone to protect her two toddlers when her husband, joins the volunteer firefighters. Along with her best friend and her two young children, she watches helplessly as their houses burn to the ground, the flames finally forcing them all into the ocean as a last resort. The women spend the night frantically protecting their children, and in the morning find their lives forever changed: homeless, penniless, awaiting news of their husbands' fate, and left to face an uncertain future in a town that no longer exists. In the midst of this devastating loss, she discovers glorious new freedoms—joys and triumphs she could never have expected—and her spirit soars. And then the unthinkable happens… and her bravery is tested as never before…
LATEST BOOK SALES
UPCOMING BOOK RELEASES
BOOKWORM STORE
WHAT KIND OF BOOKS ARE YOU LOOKING FOR?
__________________________________
Let me know if there are any other books you're loving right now too!!
LET'S STAY CONNECTED
To get these lists sent to you every week, subscribe by email.
FOLLOW THE BLOG
Facebook | Twitter | Instagram | Pinterest | BlogLovin' | Google+ | Goodreads