NEW FAVORITE: Nineteen Letters by Jodi Perry (Read my Review)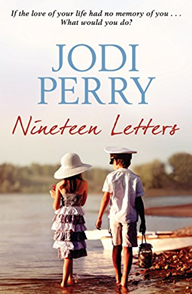 OMG. OMG!!!!! This was such a BEAUTIFUL new book!!! I have tears POURING down my face. Don't worry – they're happy tears! It's a story of TRUE, UNDYING LOVE. The hero and heroine were childhood best friends who fell in love as they got older. They were everything to each other. But after a tragic accident leaves her in a coma, she wakes up and doesn't remember him. So he writes her letters, each one telling her a part of their history, how they fell in love, how much they meant to each other, in hopes that somehow, she might one day fall in love with him again. OH MY GOD!! THE FEELS!! He LOVED her SO SO MUCH. It's such a heart-wrenching situation, but the LOVE and HEALING is absolutely GORGEOUS!!!!!! If you want a ROMANCE WITH FEELS, this is it!!!!! Grab a copy here!

NEW FAVORITE: The Time In Between by Kristen Ashley (Read my Review)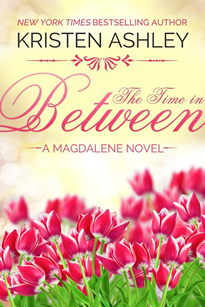 Holy Alpha romance swooooooon!!!! This was a gorgeous, heart-warming second chance romance and I loved it!!!! The hero and heroine reconnect 18 years after being torn apart and holy freaking feels! Their reunion was epic!!! I especially loved how functional they were as a couple! The two decades they'd lost together made them take full advantage of how precious their second chance at a happily ever after was. Fair warning, this story does have a pretty slow start, but it also does pick up! And the hero is a single dad and seeing him be such an amazing father to his little girl just melted my heart!!!! Ooooooooh and there are cameos too!! This is a standalone in the Magdalene series but you can read it alone. If you're a fan of Alpha romance, this is a must-read!! Be sure to grab a copy as it was released this week!!

NEW HARRY POTTER EDITION RELEASING TUESDAY: Harry Potter and the Sorcerer's Stone: Illustrated [Kindle in Motion] Edition by J.K. Rowling 

Harry Potter fans!! This is a new special "animated" edition that MOVES!!! Look on the left — you can see that even the cover is moving! — "Prepare to be spellbound by this dazzling depiction of the wizarding world and its much-loved characters in this Kindle in Motion edition. Brimming with rich detail and humour that perfectly complements J.K. Rowling's timeless classic, Jim Kay's illustrations are available for the first time in a beautifully designed digital reading experience, with the artist's interpretations of much-loved locations, characters and magical creatures newly animated to come alive on your device. See the smoke from the Hogwarts Express billow around Platform 9 ¾, experience the hustle and bustle of Diagon Alley, and witness the enchanting spectacle of the Sorting Ceremony. All this and other surprises and delights await in this specially-created digital book." — Pre-order your copy now as it releases next week!! And check this link for more next week releases!

BOOKWORM NEWS:
Hollywood Dirt by Alessandra (my review) has a new look to celebrate the upcoming movie!! This new ebook and paperback edition has a new cover, pics from filming, plus a bonus extended ending! I loved this fun, sexy, standalone romantic comedy! — "Cole Masten. Abandoned by his superstar wife, Hollywood's Perfect Husband is now Hollywood's Sexiest Bachelor: partying hard and screwing even harder… Summer Jenkins. That's me, a small town girl stuck in Quincy, Georgia… We were from different worlds. Our lives shouldn't have collided. But then Cole Masten read a book about my small town. And six months later, his jet landed on our dusty airstrip, and he brought Hollywood with him. From the start, I knew he was trouble. For our town. And for me. Sometimes, opposites just aren't meant to attract."
WEEKLY NEW RELEASES RECAP
DETAILED LIST: THIS WEEK'S RELEASES
The Time in Between by Kristen Ashley —
TOP FAVORITE! Can standalone: "After a painful loss, she is coming to start the next chapter of her life. A chapter that began eighteen years ago but had a heartbreaking ending. The time in between was full of family and friendship, but she could never get the man she fell in love with all those years ago out of her heart…
He has learned to live without the girl who entered his life right when she shouldn't and exited delivering a crippling blow he never would have suspected. The time in between was full of failing to find what he was missing…and life-altering betrayal. But when that girl shows up and buys the town's beloved lighthouse, even if he wants to avoid her, he can't. A fire in town sparks a different kind of flame that won't be ignored…"
Can standalone: I'm a brain surgeon and notorious over-thinker, I take the analytical approach with everything, until I can determine the best plan of action… Besides my full-time job as Chief of Neurosurgery, I'm a single dad and my number one priority is my daughter.
But life had plans to add another priority to my list. Charlotte Hollis. Outspoken, impulsive, and beautiful, she's everything I didn't know I was craving. She makes me wonder what if? …What if I don't have to be alone for the rest of my life to give my little girl the father she deserves? It's a battle—my battle: Head vs. Heart.
Elliott Redeemed by Scarlett Cole —
Can standalone: A single mom and tortured musician romance… — "He burns up the lead guitar like a legend. But the nickname Pyro isn't just a clever play on words. It's much darker. A past he's fought like hell to overcome… She's a grocery store cashier who is at her wits end and homeless. She's watched her fourteen-year-old son go so far off the rails, he can no longer see the tracks. When the two are brought together, attraction flares, but can he find the family he never had with the sexy woman and her son, or will he fall back on dangerous habits?
Three is a War by Pam Godwin —
Series finale: Cole. My first love. The bad boy with the dangerous smile and passionate temper draws attention like a lit fuse on dynamite. But his dark molten eyes spark only for me.
Trace. My second chance. Over six feet of Norse god in a tailored suit, he calculates every move and seizes my hungry breaths with an iron fist.
Me. Torn between two men with no resolution in sight. I tried leaving, staying, refusing, and surrendering. What options do I have left? I love two men, and I do the only thing I can. I fight.
Nineteen Letters by Jodi Perry — New Release!!
Standalone: What would you do if the love of your life had no memory of you? A man tries to win back the love of his life after an accident has her in a coma in this emotional, romantic drama from #1 ebook phenomenon J. L. Perry writing as Jodi Perry
The 19th of January, 1996 … I'll never forget it. It was the day we met. I was seven and she was six. It was the day she moved in next door, and the same day I developed my first crush on a girl.
Then tragedy struck. Nineteen days after our wedding day, she was in an accident that would change our lives forever. When she woke from her coma, she had no memory of me, of us, of the love we shared.
That's when I started writing her letters.The stories of our life. Of when we met. About the happier times, and everything we'd experienced together. What we had was far too beautiful to be forgotten.
Disorderly Conduct by Tessa Bailey —
Can standalone: He's a police academy cadet who can't believe his luck when the gorgeous blonde he meets in a bar murmurs those magic words: "Nothing serious, 'kay?" Mind-blowing, no-strings sex with her is the holy grail of hookups for a guy who's too busy following in his law enforcement family's footsteps to think about getting serious. He's all about casual…that is, until she calls it quits and his world tilts on its axis.
She knows that when you control the relationship game, you can't get played. But for the first time, she wants more than short-term satisfaction. Step one: end her fling with him. Step two: sacrifice herself to the ruthless NYC dating scene. Yet everywhere she turns, there's him, being his ridiculously charming self. No online match or blind date compares to the criminally hot cop-in-training, but they're over. Aren't they?
If love is a four-letter-word, why does the idea of her seeing someone else tie him up in knots? Now he's desperate to win her back… and a little date sabotage never hurt anyone, right?
Series: These Royals will ruin you. He has it all: looks, money, intelligence. His goal in life is to have as much fun as possible. He never thinks about the consequences. Until she appears, shaking up his easy life. She's the one girl who's said no, despite being attracted to him. He can't figure her out and that makes her all the more irresistible.
She doesn't want him. She says he needs to grow up. She might be right. Rivals. Rules. Regrets. For the first time in her life, wearing a crown isn't enough. He's about to learn that the higher you start, the harder you fall.
Can standalone: She's the sexiest female athlete of the year. She's the woman I met in a bar in Vegas. The woman I illegally base jumped for. The woman I spent one insane, incredible night with. But now I'm screwed. Or rather…not screwed. Because the woman I can't get out of my head is the one woman I can never touch again.
I'm the youngest professor on this campus,
And she just walked into my class.
Standalone: He's tortured and dark, angsty and arrogant. You want the truth? He's kind of an A-hole. He's also the CEO. — "Everything in my life goes according to plan, and that's the way I like it. I got the degree. I got the job. Now I just need to prove that I have what it takes to succeed in the real world. If there's one thing that's not in my plans, it's falling in love with my boss… Most relationships don't start with one person calling the other out in public for being an arrogant jerk. Then again, most CEOs don't cut their own employees in line at the coffeehouse and bark orders at people like they own the place. Maybe pissing him off isn't the right move. And now that he's part of my world, all my plans go straight to hell."
Series: He's known as the handsomest brother in his family with the most jovial personality. Now that his busy winemaking season is over, he's happy to spend time with his family and take a well-deserved break from the conspiracy surrounding them… until an unlikely woman and a secret shatter his world.
She has been on her own since she was fifteen. When her past collides with his family's mysteries, she's determined to find the truth. She has her own issues, and she's not looking for a relationship, despite her all-consuming attraction to him. The gorgeous dark-haired man gets under her skin anyway and he needs her. Together they explore both of their histories, but those pasts could cost them a future.
Last First Kiss by Sidney Halston —
Can standalone: He's an A-list Hollywood heartthrob. She's trying to prove herself in a man's world. For this female bodyguard, protecting her client is simply business, but what happens when sparks fly and the danger heats up?
After a series of box office flops, he needs a hit. Bad press, shit talking, rumors, lies… it all goes with the territory after almost two decades in the spotlight, but when he lands the role of his career in a controversial biopic, the part of a lifetime comes with a catch: a hired bodyguard… No arrogant playboy will fuck up her concentration by batting his lashes at her. She would never jeopardize her reputation by swooning over any man. That had happened once, and she wouldn't bear that loss or humiliation ever again. Even if he looks like a walking fantasy…
Protecting the Girl Next Door by Samantha Chase & Noelle Adams —
Can standalone (re-release): I like women, and I like adventure. I always have. The last thing I want to do is settle down with the girl next door and live a boring, domestic life. So I have no idea what I'm doing here, posing as a first-grade teacher… It's the most ridiculous undercover security job I've ever had to work. Corralling a bunch of six-year-olds while I try to do my job and keep anyone from knowing how clueless I really am. I manage to fool everyone. Except her.
She's an actual teacher, and she's determined to find out what I'm really doing here. She doesn't trust me, and her daughter doesn't like me. And the worst part is that I'm starting to like them. A lot. So now, instead of being the tough guy, I'm stuck with rowdy children and Christmas pageants and falling in love. It's not the way I thought I'd spend Christmas.
Protecting the Movie Star by Samantha Chase & Noelle Adams —
Can standalone (re-release): The story of my life isn't pretty. I come from the wrong side of the tracks. I've been a criminal. I've been homeless. I almost killed my father, and I might be responsible for the death of my best friend. I should not be wanting her… Her life story is the stuff of dreams. She's America's sweetheart – beautiful, talented, and famous – and she doesn't want anything to do with me. I'll protect her from a stalker since it's my job, but that's all I'm allowed. No touching, no lusting, no falling in love. I'm all wrong for her, and she's completely off-limits. But I've never been good about following the rules.
LATEST BOOK SALES
UPCOMING BOOK RELEASES
BOOKWORM STORE
WHAT KIND OF BOOKS ARE YOU LOOKING FOR?
__________________________________
Let me know if there are any other books you're loving right now too!!
LET'S STAY CONNECTED
To get these lists sent to you every week, subscribe by email.
FOLLOW THE BLOG
Facebook | Twitter | Instagram | Pinterest | BlogLovin' | Google+ | Goodreads