NEW FAVORITE: Royally Matched by Emma Chase (Read my Review)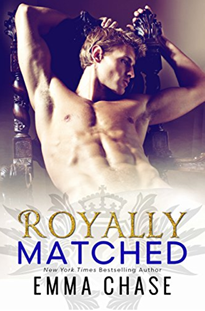 WOOHOOOOO!!! This was a royally FUN, SEXY, WITTY, and light-hearted new book!!! It gave a delightful spin on the bad boy falls for good girl romance with a whole lot of SWOOON and a dash of ANGST to spice things up!! The hero and heroine were complete opposites — he was a party-loving playboy, while she was a shy, quiet librarian who loved to curl up with a good book — and it was so much fun to watch them falling in love! If you're looking for a new ROMANTIC COMEDY to read, definitely grab a copy of this! It just released this week so you can read it now! 😀

NEW FAVORITE: Tru Blue by Melissa Foster (Read my Review)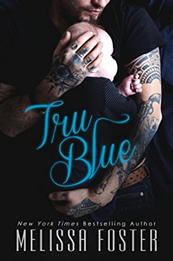 Awww!! I picked this book up randomly and it was so good!! The hero is a tortured, tattooed ex-con who also happens to be a total SWEETHEART and his life changes when his drug-addicted mother dies suddenly leaving behind 2 little kids (his siblings) that he never knew existed. He immediately takes them in — essentially becoming a single dad overnight — knowing nothing about raising kids but determined to give them the best life he can… and that's when he meets the heroine! She sees this sexy guy in the store with a toddler and baby and he's clearly trying to care for them but totally at a loss and she steps right into their lives and helps out!!! And then they fall in loooooove!!!

BOOKWORM NEWS:
WEEKLY NEW RELEASES RECAP
DETAILED LIST: NEW RELEASES
Royally Matched by Emma Chase — New Release!!
Can standalone: Some men are born responsible, some men have responsibility thrust upon them. [Prince Henry] just got the motherlode of all responsibility dumped in his regal lap. He's not handling it well…
After a chance meeting with a television producer, he finally makes a decision all on his own: A reality TV dating game show featuring twenty of the world's most beautiful blue bloods. Only one will win the diamond tiara, only one will capture the handsome prince's heart…
Preston's Honor by Mia Sheridan — New Release!!
Standalone: "There were two brothers—identical twins—and though I loved them both, my soul belonged to only one."
"She has loved him all her life. The daughter of an impoverished migrant farmworker, she grew up as an outcast in what was no more than a tiny, cooped up shack. But her heart found freedom in the land, in the wide-open spaces and in the boys who were her only friends. He has yearned for her since he was a boy. But a sense of honor kept him from pursuing her until he's unable to hold back any longer and their worlds—and bodies—collide one hot summer night. A night that sets off a chain of events that will alter their lives forever. Now she's back in town after disappearing without a trace for six long months. Determined to reclaim her heart, her life, and the baby she left behind—the son who was created in a moment of lust and love and pent-up yearning…"
Pucked Off by Helena Hunting — New Release!!
Can standalone: "I'm notorious for parties and excess. I have the most penalty minutes in the league. I get into the most fights. I take the most hits. I'm a player on and off the ice. I'm the one women with no inhibitions want. Not because I like the notoriety, but because I don't know how to be any other way. I have secrets. Ones I shared with the wrong person, and she used them against me. Sometimes she still does. I should cut ties. But she makes it difficult, because she's the kind of bad I deserve.
At least that's what I believed until someone from my past gets caught up in my present. She's all the good things in this world. She lights up my dark. I shouldn't want her. But I do. I should leave her alone. But I won't…"
Sex Says by Max Monroe — New Release!!
Standalone: "My name is Lola Sexton, and I'm a sex addict. Okay, that's a lie. Truth is, I'm a serial dater turned dating and relationship columnist. My readers call me Sex. Sex Says. I love my job. I love my life. And I hate Reed Luca."
"My name is Reed Luca, and I'm a liar. Ironically, that's the truth. I'm 31, and my occupation is, well, complicated. My favorite kind of woman comes in all shapes and sizes, but always has a big brain. I've never hated anything. Lola Sexton hates me. Luckily, it's a thin line between love and hate, and with my help, pretty Lola will only be able to straddle that line for so long…"
Roman by Sawyer Bennett — New Release!!
Can standalone: In a league full of troublemakers, he stands out—at least when it comes to negative publicity. When he's not chilling in the penalty box, he's racking up tabloid headlines for his scandalous behavior with the ladies. But now he's feeling the burn from management to clean up his act, or else. Luckily he's got an enticing distraction: a fun-loving barista who brings out a side of him he didn't know he had.
She came to [town] to finally meet her father and her half sister, both of whom work in [his team's] front office. That's where she first meets sexy, intimidating [player]—who's really a big softie at heart…
Havoc by Jamie Shaw — New Release!!
Can standalone: When she left her family farm to enroll in veterinary school, she had a plan: keep her head down, ace her classes, and most importantly… don't upset the uncle paying her tuition. Translation? Don't piss off his dramatic, self-absorbed daughter even if she's a nightmare to live with.
Falling in love with her cousin's rock star ex-boyfriend was definitely not part of the plan… He's sweet, funny, romantic, talented—and the only guy that's ever made her heart do cartwheels in her chest. The more she gets to know him, the harder she falls, but she knows they can never be more than friends because [her cousin] wants him back, and she'll fight dirty to win. But he's waited years for a girl like her and he'll do anything to prove it.
Going Down Hard by Carly Phillips — New Release!!
Can standalone: Billionaire Bad Boys: Rich, Powerful and sexy as hell. He rose from poverty to take the tech world by storm. He's sexy, confident and gets any woman he wants. And who he wants is the rich girl he's never been good enough for… She's desperate to save her family's company and there's only one man who can help. But he isn't interested in helping. He wants to possess both the company and the woman he's never been able to forget. His plan? To seduce her out of his head. Except once he's had a taste of her, he doesn't want to let her go. Her family remembers where he came from, and they won't allow it. When the truth about their pasts comes to light, though, it may be her who's going down hard.
Damage Control by Lisa Renee Jones — New Release!!
He has been pushed to the brink, torn between his corrupt family and his explosive, all-consuming desire for [the woman] he now knows is not who, and what, she seems. Has he trusted the wrong person? Will she, not his brother, be the ultimate destruction of his family empire?
She tries to run from him, but he will stop her, confront her, force her to reveal all – one hot touch and kiss, at a time, under every intimate detail of who this woman is, and what she wants, is exposed. But as he tears away the dangers of the unknowns with the woman in his bed, and in his heart, The Cartel, has set their sites on his company, his family, and the one piece of leverage they believe he won't gamble with: her.
Nova by Rebecca Yarros — New Release!!
Can standalone: He's a sinfully gorgeous, broody, tatted-up, professional snowboarder.
They say a girl broke him once–
That's why he's so reckless, so driven, so careless with his conquests.
But I'm that girl.
They can call me his curse all they want.
He and I both know the truth–
He's the one who destroyed me,
And I'm too smart to let that happen again.
Pretty Face by Lucy Parker — New Release!!
Can standalone: "She wants to prove where her real talents lie—and that's not on a casting couch, thank you. When she hears an esteemed director is renovating a legendary theater for a lofty new production, she knows it could be her chance—if only he wasn't so dictatorial, so bad-tempered and so incredibly sexy.
He has respect, integrity and experience. He also has it bad for her. He'd be willing to dismiss it as a midlife crisis, but this exasperating, irresistible woman is actually a very talented actress. Unfortunately, their romance is not only raising questions about her suddenly rising career, it's threatening his reputation. The course of true love never did run smooth. But if they're not careful, it could bring down the curtain on both their careers.
#1 Crush by T Gephart — New Release!!
Standalone: She was smart, sassy and successful… She had no shortage of options in the boyfriend department. She just hadn't found one who held her interest. Until she laid eyes on Eric Larsson, and then it was lust at first sight.
He packed the perfect mix of smoldering sexy and unapologetic cool into his blond-haired, blue-eyed, ridiculously hot six-foot-four frame. One smile from him was enough to twist her insides, making her girlie bits tingle in the most delicious way. But it wasn't just his looks, he was smart and funny. The only problem was she had never actually met him…
Finding Mr. Wrong by A.M. Madden & Joanne Schwehm — New Release!!
Standalone: Here's a tip: never trust a jackass in preppy clothing. The phrase "trust me" should have been my first clue to hightail it out the door, but hindsight is always 20/20. So there I was, on a stage with two other men, being asked ridiculous questions by a woman I couldn't see, but whose voice made my pants tighten.
Before I knew what was happening, I'd signed up for six weeks in paradise, isolated on an island for forty-two days with a complete stranger. And when I finally laid eyes on the sexy brunette who belonged to that voice, a part of me thought this wouldn't be so bad…
Rough & Tumble by Rhenna Morgan — New Release!!
Can standalone: She's determined to ditch the rough lifestyle she grew up in, even if that means hiding her true self. Dragging her party-hound sister out of a club was not how she wanted to ring in the New Year, but she knows the drill. Get in, get her sister and get back to the safe, stable life she's built for herself as fast as humanly possible. But her plans are derailed when she finds herself crashing into the club's clearly badass and dangerously sexy owner.
He is everything she swore she never wanted, but the more time she spends with him, the more she starts to see that he loves just as fiercely as he fights. He's proud of who he is and where he came from, and he'll be damned if he lets her go before showing her the safest place of all is in the arms of a dangerous man…
Entwined by Lacey Black — New Release!!
Can standalone: "10 years. That's how long it has been since I saw my best friend. But who's counting? Walking away from him was the hardest thing I've ever done, but the choice was out of my hands. I left Las Vegas a seventeen-year-old girl, afraid and alone, and returned about the same. I was forced into a situation I didn't want to be in. Until that day. I haven't seen him in ten long years, but one look at the man he became and that killer smile, and I knew I would never be the same… But love is never easy. And our love story isn't perfect. In a heartbeat, one person can wrap around you so tightly, you're entwined forever. That's our love."
Beard Mode by Lani Lynn Vale — New Release!!
Can standalone: He's lucky to be alive. Or at least that is what everyone keeps telling him. He doesn't feel lucky, though. He's scarred, has more than a little bit of a bad attitude, and [he] heads straight the semi-welcoming arms of The MC. There he becomes a part of a brotherhood that forces him to get back in the land of the living.
Her heart is in the right place when she walks into that prison, but it doesn't take long for her to realize that her heart shouldn't have had any say so in the matter. Especially when one wrong move lands her in the arms of a scarred man that looks frightening enough to scare any sane woman away. Immediately enthralled by the angry man, she tries to get closer to him…
Meant to Be by Melody Grace — New Release!!
Can standalone: Escaping to her aunt's beach, she is looking for inspiration to end her writer's block and finish her new book. She just wasn't counting on the handsome, gruff contractor making such a racket next door…
He doesn't believe in soul-mates. He thought he'd found his forever once, and the world proved him wrong, so when the cute brunette comes storming over and demands he keep the noise down, romance is the last thing on his mind. But his new neighbor is full of surprises, and soon, their chemistry is too hot to ignore…
LATEST BOOK SALES
UPCOMING BOOK RELEASES
BOOKWORM STORE
WHAT KIND OF BOOKS ARE YOU LOOKING FOR?
__________________________________
Let me know if there are any other books you're loving right now too!!
LET'S STAY CONNECTED
To get these lists sent to you every week, subscribe by email.
FOLLOW THE BLOG
Facebook | Twitter | Instagram | Pinterest | BlogLovin' | Google+ | Goodreads