TOP RECOMMENDATION: If You Were Mine by Melanie Harlow (Read my Review)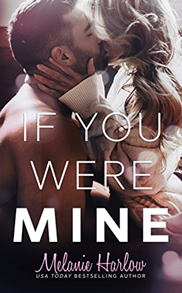 SQUEEEE!!!!! AWW!!! This was such a great book! It was FUN, SEXY, and LIGHT-HEARTED, but also has DEEP FEELS!!! The hero is a tortured Alpha with a painful past. The heroine is tired of being judged for being single and tells her friend she's bringing a date to her wedding when, in fact, she doesn't have one. So she hires the hero to act as her pretend boyfriend . It was supposed to be just one night. No emotions, just business. But they both felt drawn to each other and what started as a fake relationship turned into something real…. AHHHH!!!! I looooved all the ROMANCE and HEALING!!! This poor hero is genuinely broken and it was both heart-breaking and heart-warming to watch them find a way to make things work. I LOVED THIS BOOK!!! It was released this week so definitely grab a copy!!!

TOP RECOMMENDATION: Cole by Tijan (Read my Review)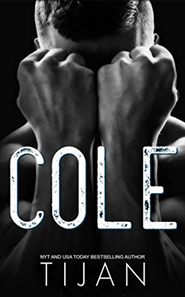 WOOHOOOO!!! I was in the mood for something a little different than my usual today and this one caught my attention. The hero is DARK, DANGEROUS, MYSTERIOUS, and totally intriguing. He's the leader of a underground world and the heroine is falling madly in love with him… willing to risk everything to be with him. This book is ROMANTIC and THRILLING!! There's both a passionate love story and a whole lot of action-packed suspense! — "He was in the mysterious back elevator of my apartment building. Our eyes met for a fleeting second before the doors closed, and I was staggered. My breath was robbed. My senses on high alert. My body hummed… He was the leader of the mafia. I was about to fall in love with him."

BOOK ANNOUNCEMENTS:
WEEKLY NEW RELEASES RECAP
DETAILED LIST: NEW RELEASES
If You Were Mine by Melanie Harlow — New Release!!
TOP FAVORITE! Standalone: "He wasn't supposed to be the one. Tall, dark and handsome suits me just fine, but the cocky grin, know-it-all attitude, and ego? No thanks. I only hired him so I wouldn't have to sit at the singles table again. It was just pretend. He wasn't supposed to kiss me. My heart wasn't supposed to pound. We weren't supposed to spend the night together—the hottest night of my life.
One night turns into a snowed-in weekend away, and even the blizzard of the century can't cool the fire between us. We're nothing alike. But none of it matters when I'm in his arms. I know he's made mistakes. I know his wounds are deep, and he doesn't trust easily. I know he doesn't believe he could ever be enough to make me happy, but he could. All he has to do is stay."
Cole by Tijan — New Release!!
FAVORITE! Standalone: "I shouldn't have remembered him. He was just a guy who walked through a restaurant. I didn't know his name. We never made eye contact. There was no connection between us at all. But I could feel him. The tingle down my spine. The command in his presence. That was the first time I saw him, and I was captivated. The second time was different.
He was in the mysterious back elevator of my apartment building. Our eyes met for a fleeting second before the doors closed, and I was staggered. My breath was robbed. My senses on high alert. My body hummed… He was the leader of the mafia. I was about to fall in love with him."
Jordan Reclaimed by Scarlett Cole — New Release!!
Can standalone: "His life began when he was ten. When he was taken from his parents and a house that was never a home. When he met his brothers, the other lost and abandoned boys in his group home. When he learned what friendship and family and love looked like… Now he's touring the world with the band he and his brothers formed in that crowded group home. No one but his found family really knows the man under the fame and fortune, the scars he hides behind the rockstar lifestyle. Until he sees her through the windows of the National Ballet, dancing, and suddenly the world doesn't seem so dark…"
Throne of Truth by Pepper Winters — New Release!!
Series finale: "TWO YEARS since my life changed for the second time and not necessarily for the better. Two years since I traded prison bars for streets and hunted a runaway who I'd met in an alley.
TWO DAYS since I forgot how to lie, woke to fists, and chased after the girl who'd been stolen from me.
TWO HOURS to save her, rescue her, keep my lies intact. She looks at me full of hate. I look at her full of confession.
TWO MINUTES for our relationship to switch from mutual dislike to floundering with unknowns. I've hurt her. Now, she's hurt me. I guess we're even.
TWO SECONDS for her to listen, to see, to finally know who I am. The answer comes with hardship. The answer isn't what she wants to hear.
TWO BREATHS for me to walk out the door.
TWO HEARTBEATS for it all to be over."
The Bastard Billionaire by Jessica Lemmon — New Release!!
Can standalone: Beauty and the Beastly Billionaire…
He is one tough bastard. After an explosion left him injured and honorably discharged from the Marines, all he wants is to be left alone. Yet his brothers insist he take a greater role in the family business. They've hired him ten personal assistants—and he sent each one packing as fast as possible. But when beautiful number eleven walks through the door, he will do anything to make her stay….
Wait for It by M. O'Keefe — New Release!!
Can standalone: A tormented woman teaches an alpha male that money can't fix everything … but love can. — "After fighting for a new life, I don't want to play the victim anymore. However, with three kids to raise, I'm getting desperate enough to make a deal with the devil. My estranged brother-in-law, Blake, says he just wants to help, but he's been trouble since I met him. I don't know if I can believe this kinder, gentler Blake, and there's a friction between us that has turned into the sweetest chemistry. He could be my salvation or my downfall.
Into the Fire by Jeaniene Frost — New Release!!
In the explosive series finale, Vlad is in danger of losing his bride to an enemy whose powers might prove greater than the Prince of Vampires'…
For nearly six hundred years, Vlad Tepesh cared for nothing, so he had nothing to lose. His brutal reputation ensured that all but the most foolhardy stayed away. Now, falling in love with Leila has put him at the mercy of his passions. And one adversary has found a devastating way to use Vlad's new bride against him… A powerful spell links Leila to the necromancer Mircea. If he suffers or dies, so does she. Magic is forbidden to vampires, so Vlad and Leila enlist an unlikely guide as they search for a way to break the spell…
Sweet Rivalry by K. Bromberg — New Release!!
Standalone: "He had a plan. He was going to stride into the conference room, do the required song and dance over the next five days, and win the biggest contract of his career. But when he walked in and heard the voice of one of his competitors, all his plans were shot to hell… She was always on top. In college. First in their class. The only one who could beat him…
When he heard her voice, he was brought back to years before. To the bitter taste of being second best. But the woman who meets his gaze is nothing like the [one] he used to know. Hell no. She was all woman now: curves, confidence, and staggering sex appeal. And no doubt, still brilliant. The fact that she's gorgeous and bright won't distract him. This time, he's determined to be the one on top. But not if she can help it…"
The Hot One by Lauren Blakely — New Release!!
Standalone: "Fine, getting into my birthday suit at my ex-girlfriend's place of work might not seem like the best way to win her heart again. But trust me on this count–she always liked me best without any clothes on. And you've got to play to your strengths when you're fighting an uphill battle. As a lawyer, I know how to fight, and I'm prepared to fight hard for her.
Because sometimes you need a second chance at first love…"
Mister Wrong by Nicole Williams — New Release!!
Standalone: "She grew up with the Adams' boys, twin brothers and best friends who wouldn't let anything come between them—except for her. One of them became her best friend; the other, her fiancé.
She always knew she'd wind up marrying one of them, and Jacob Adams is the epitome of Mister Right. At least until he fails to show up for their wedding… As Jacob's best man, and identical twin, Matt makes a split-second decision that will affect the three of their lives forever—he steps in to take his brother's place. In front of the altar, exchanging vows with the woman he's secretly been in love with for years…"
Blackbird by Molly McAdams — New Release!!
Can standalone: "A powerhouse romantic suspense that will have you questioning your morals and second guessing your view on love."
"On the outside, he is what nightmares are made of. A man cloaked in darkness, with sin-filled eyes and an enticing grin. A devil so devastatingly beautiful and cruel that his very presence instills fear. But beneath his terrifying, ever-calm exterior is an affectionate man haunted by a past that refuses to stay buried. And he looks at me as though he's finally found the only person who can make it all go away…"
Something In The Way by Jessica Hawkins — New Release!!
New trilogy: "It was a hot summer day when I met him on the construction site next to my parents' house. Under the sweat and dirt, he was as handsome as the sun was bright. He was older, darker, experienced. I wore a smiley-face t-shirt and had never even been kissed. Yet we saw something in each other that would link us in ways that couldn't be broken…no matter how hard we tried.
I loved him before I knew the meaning of the word. I was too young, he said. I would wait. But I'd learn that life isn't always fair. That no matter how much you achieve, none of it matters if you suffer the heartbreak that comes with falling for someone you can never have. Because even though I saw him first, that didn't matter. My older sister saw him next…"
The Wright Brother by KA Linde — New Release!!
Standalone: "I'd dated his brother.
He didn't remember and I wish I could forget.
I may have sworn off his family a long time ago. But when I returned home, he crashed into my life with the confidence of a billionaire CEO and the sex appeal of a god. Even I couldn't resist our charged chemistry, or the way he fit into my life like a missing puzzle piece. Too bad he'd forgotten the one thing that could destroy us. Because he doesn't share. Not with anyone. And if his brother finds out, this could all go down in flames. When it all was said and done, was he the Wright brother?"
Till Death by Jennifer L. Armentrout — New Release!!
Standalone: It's been ten years since she left her hometown [and] escaped the twisted serial killer known as the Groom. Returning to help run her family inn means being whole again, except for one missing piece. The piece that falls into place when she's threatened—and FBI agent Cole Landis vows to protect her the way he couldn't a decade ago.
First one woman disappears; then another, and all the while, disturbing calling cards are left for the sole survivor of the Groom's reign of terror. Cole's never forgiven himself for not being there when she was taken, but he intends to make up for it now… because under the quirky sexiness he first fell for is a steely strength that only makes him love her more… But someone is watching. Waiting. And her first mistake could be her last.
Love Taker by Erin McCarthy — New Release!!
Can standalone: "A sensual friends-to-lovers romance featuring a good-guy cop and a woman who's been looking for Mr. Right in all the wrong places." — Her dating choices have been a disaster, but at least she has him. The humble and handsome sheriff's deputy from her hometown has always been there to comfort her—until the evening their friendship unexpectedly leads to the best sex she has ever had… He has been lusting after her since they were an item as teens, but he knows that their wild night of passion is a one-time thing. He's an old friend, nothing more, and they're too different to become a couple. But when she comes to him with news that changes everything, he must help her come to grips with her traumatic past—or risk losing her forever…
For His Eyes Only by Lexi Blake — New Release!!
Can standalone: Years before, she offered everything she had to him.
After that one amazing night, all she wanted was to be his forever.
Unfortunately, his reaction was to walk away from her and never look back.
The warm and caring man she'd discovered was gone, and he'd only grown colder.
But when she finds herself in mortal danger, she's forced to seek protection from the man who broke her heart…
Passion Restored by Carrie Ann Ryan — New Release!!
Can standalone: "She's stressed out, exhausted, and not in the mood for a bearded and growly man in her ER. When she patches him up to the best of his ability, she's prepared to push him firmly from her thoughts. Of course, that would be easier if she hadn't bought the house next to his. Now their paths seem to cross daily, and she is finding it harder and harder to say no to the injured and angry man next door. But she's been scarred one too many times in her life, and even though this man looks good enough to eat, she knows that sometimes, sating that craving is the worst thing she can do…"
Life by Audrey Carlan — New Release!!
Maria De La Torre is a survivor. Her life has not been paved with streets of gold…but with blood and sacrifice. She may have been there for her soul sister in the Trinity Trilogy but this story is about her life. The life she chooses. The same life someone from her past is trying to take away.
Elijah is the last man in the entire world she should be with. He's a dark, gritty, lawless bounty hunter — the exact opposite of the man she loved and lost, the man who gave up everything for her. Only he's not the type of guy to back down. He's used to getting what he wants and he's set his sights on her…
Dirty Wife Games by Clarissa Wild — New Release!!
After being forced to marry a tyrant, she flees his home in a desperate attempt to save what's left of her dignity and her life. Now on her own, she tries her best to move on with her simple life. But she quickly realizes she can't escape her past and… that she's not alone.
He watches her through her window. Sends her indecent notes. Stalks her everywhere she goes. He wants her badly, and when she finally lets him in … It's time for the wife to play a dirty game.
Game Changer by Jami Davenport — New Release!!
Can standalone: A blind heroine falls for her brother's teammate! — In order to save the farm and fulfill her dying mother's wish, her [horse] has to beat his in the Derby, an easy enough feat until her heart entered the race … She has been burned by men before, but she'd believed her last boyfriend was The One. He wasn't. He couldn't deal with her disability and used her blindness as tool to cheat on her. Reeling from the betrayal, she returns home to lick her wounds. She hadn't factored in the instant attraction she'd feel for her brother's playboy teammate. One playboy in her life should've been enough.
Undeclared by Julianna Keyes — New Release!!
Can standalone: He's college's most prolific athlete, partier, and ladies' man—and that's just how he likes it. Then she shows up… It wasn't too long ago that they were lifelong friends and, for one hot summer, more. Then he left and she stayed behind. He thought he'd moved past that last summer's heartbreak, but with her sitting next to him in class, he's starting to remember why he hated her … and why he loved her.
He has a long list of reasons that falling for her again is a terrible idea, though every new moment together challenges that theory. But she's all too familiar with his love 'em and leave 'em approach—and if he wants her to give him another chance, he'll have to do the one thing he's never had the nerve to do: admit it.
Sweet Victory by Gina L. Maxwell — New Release!!
Can standalone: Confident but distrustful she needs help if she's going to save her family business. Her grandma left one rule for her to maintain ownership from her uncle before she's thirty: get married. But how does she get her uncle off her ass when she's only twenty-seven and hasn't had a boyfriend in years?
Lean, cut, British-born MMA fighter Xander James has never lost a fight, and he's not about to start now. On the brink of a comeback to be a UFC champion, his landlord wants to take away his last chance by shutting down his gym. No. Hell no. Fortunately, his landlord's niece has a problem of her own. Time for a proposal she can't refuse…
Ark by JJ Wilder — New Release!!
"I am a Nephilim, and a princess.
I do not follow The One God.
I am destined to be a queen, to rule a city beside whichever aged Nephilim king or prince my father betroths me to.
And then I meet Japheth, son of Noah, son of Lamech, and he changes everything.
He changes me, and his father changes the world."
Meant to Be by Melody Grace — New Release!!
Can standalone: Escaping to her aunt's beach, she is looking for inspiration to end her writer's block and finish her new book. She just wasn't counting on the handsome, gruff contractor making such a racket next door…
He doesn't believe in soul-mates. He thought he'd found his forever once, and the world proved him wrong, so when the cute brunette comes storming over and demands he keep the noise down, romance is the last thing on his mind. But his new neighbor is full of surprises, and soon, their chemistry is too hot to ignore…
Speed Dating by Noelle Adams and Samantha Chase — New Release!!
Can standalone: Jace and Isabella have only known each other since kindergarten. And he hasn't been secretly in love with her for more than six or seven years. She doesn't make him bristle with jealousy when she goes out with other guys…that he'll admit to. And she doesn't get all flustered and confused when she starts to find him incredibly sexy…
Isabella has known Jace all her life, and she's been best friends with him since high school. Now she's ready to settle down and get married, and she's decided that her sister's wedding in three months is her deadline. She's going to find the man of her dreams in time to take him to the wedding. Now if only Jace would stop acting strange and territorial so he could help her.
A Boy Like You by Ginger Scott — New Release!!
Duet: "They say everyone's a superhero to someone. I'm not sure who I'm supposed to save, but I know who saved me. We were kids. His name was Christopher. And up until the day he pulled me from death's grip, he was nothing more than a boy I felt sorry for. In a blink of an eye, he became the only person who made me feel safe. And then he disappeared…
Now I'm seventeen. I'm not a kid anymore. I haven't been for years. While death didn't take me that day, the things that happened left me with scars—the kind that robbed me of everything I once loved… Until the new boy. He says his name is Wes. But I can't help but feel like he's someone else. Someone from my past. Someone who's come back to save me."

LATEST BOOK SALES
UPCOMING BOOK RELEASES
BOOKWORM STORE
WHAT KIND OF BOOKS ARE YOU LOOKING FOR?
__________________________________
Let me know if there are any other books you're loving right now too!!
LET'S STAY CONNECTED
To get these lists sent to you every week, subscribe by email.
FOLLOW THE BLOG
Facebook | Twitter | Instagram | Pinterest | BlogLovin' | Google+ | Goodreads