NEW RECOMMENDATION & REVIEW: Worth The Wait by Claudia Connor (Read my Review)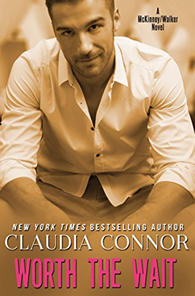 SQUEEE!!! This was one of the most heart-warming and ROMANTIC books I've read in a long time! If you're a fan of protective single dad heroes (technically he was raising his 2-year old baby sister after his parents died suddenly when he was in college) and emotional second chance love stories, then you have to read this book!! There are SO MANY FEELS — deep pain and heartbreak, and yet such tender passion and beautiful healing — and so much!! This book made me cry, it made me laugh, it made me SWOOOOOOON and it kept my heart racing because I just knew that this couple was meant for each other and no matter how much hardship life put them through, they'd always find their way back to each other. It was just released so be sure to grab a copy!! (can standalone)
WEEKLY NEW RELEASES RECAP
DETAILED LIST: NEW RELEASES
Worth The Wait by Claudia Connor — New Release!!
Can standalone: "He broke her heart. When he finds out just how badly, it will break his too… He found the love of his life when he was just nineteen. Found her. Loved her. Lost her. It's been ten years since he watched the only women he ever loved walk out of his life. Now this FBI Special Agent will do anything to win her back. But it won't be easy… Her heart was shattered by him. They'll have to face their painful past if they want a future, including her own secret about that day it all fell apart. Do you believe in second chances?"
Full Package by Lauren Blakely — New Release!!
Standalone: "I've been told I have quite a gift. Hey, I don't just mean in my pants. I've got a big brain too, and a huge heart of gold. And I like to use all my gifts to the fullest. Life is smooth sailing… Until I find myself stuck between a rock and a sexy roommate, which makes for one very hard place… Because scoring an apartment in this city is harder than finding true love [so I] have to shack up with my buddy's smoking hot and incredibly amazing little sister…
I can resist her. I'm disciplined, I'm focused, and I keep my hands to myself, even in the mere five-hundred square feet we share. Until the one night she insists on sliding under the covers with me. It'll help her sleep after what happened that day, she says. Spoiler—neither one of us sleeps…"
Lucian Divine by Renee Carlino — New Release!!
Standalone: "My guardian angel is a drunk." Her life is at a standstill. She's in her mid-twenties, struggling with the dating scene. Nothing seems to be working out, and she's starting to think that she'll live out her days in her crummy apartment with her overbearing roommate. It's absurd, but sometimes she longs for a guardian angel to show up and save the day.
And then he does. Seriously… He's a guardian angel, been on the job for two thousand years. His sudden presence in her life is both good he's brilliant, witty, and warm and bad he's brilliant, witty, warm, and hot as ****. But as perfect as he seems, he's got problems of his own. He's taken up drinking and he's brazenly inserted himself into her life, going against the greatest cosmic law ever created…"
Surrender: Inside Out by Lisa Renee Jones — New Release!!
Series finale: Passion burns fiercely hot between her and the man who held secrets and lies in his hands, and then allowed them to fall into hers. But even though he has become her anchor—helping her recover from amnesia after finding her unconscious in an alley, and allowing her into his secret world—all is not what it seems. He still has secrets, and pieces of her past are still shrouded in the darkness of her mind, while the powerful man who hunts her will not stop until she is his… In this final novel in the series, she discovers that while her life with him didn't begin in that dark alley…it could easily end there.
No Bad Days by J. Sterling — New Release!!
Standalone: He's the State's most eligible bachelor and is completely aware that every girl he knows is trying to land him. But he is more than the marketing genius everyone sees on the outside. In fact, his life is far more complicated than anyone suspects …
She knows she shouldn't want him, but she's crazy about him anyway. How could anyone resist those charms? When he focuses his attention on her, she has no idea what she's truly in for. Sometimes love is hard.
But it's worth the fight.
Break Point by Rachel Blaufeld — New Release!!
Standalone: She's a "star tennis player starting over at a new university. Traumatized by hazing at her last school, all she wants is to attend classes, win tennis matches, and be left the hell alone. She should have known her coach would be a problem from the moment he flexed his sexy-as-hell forearms…
What happens when you mix a pissed-off woman with a bunch of snooty teammates and a hot coach? A heated match, complete with team politics and a forbidden game of singles with the coach…"
Safe Bet by Monica Murphy — New Release!!
Can standalone: Her new job is perfect. As the live-in nanny to the most famous quarterback in the NFL and his beautiful wife, she couldn't have it any better… Until her life turns into an absolute nightmare. The media is abuzz with rumors that she and her boss are having a torrid affair… So her boss' wife comes up with the perfect idea.
She creates a fake relationship between her and one of the rookie players on the team [who] readily agrees to the set up. Pretending to be in a romantic relationship with the hot nanny for a week—how hard can it be? Crazy how it only takes one week for two people to fall head over heels in love…
Lethal Game by Katie Reus — New Release!!
Can standalone: His betrayal nearly destroyed her a year ago. Now that she's working for Red Stone Security, she's managed to piece her life back together after a rough year and a broken heart. Then he appears back in her life and makes it clear he's not going anywhere until she gives them a second chance. A chance she refuses to take.
He has never gotten over her and he knows he never will. It's his fault she walked away, but he can't seem to let her go. He quit his job with the CIA and called in every favor he had to get hired by Red Stone Security just to be near her again. But she doesn't care that he's desperate to make things right between them—she wants nothing to do with him. He doesn't blame her, but he's not willing to give her up…
Back Check by Kelly Jamieson — New Release!!
Can standalone: He hates weddings. They just remind him that he simply isn't cut out for any kind of healthy, committed relationship—never has been, never will be. After getting rejected by the girl he thought was "the one" all those years ago, he made a huge mistake and married the wrong person. Now that the divorced heartbreaker has reluctantly agreed to be a groomsman for one of his NHL teammates, the last thing he expects is a chance at redemption with the one that got away.
[After she's hired as wedding planner], she discovers that her big break comes with a twist: a reunion with her college sweetheart…
Wicked Bride Games by Clarissa Wild — New Release!!
New series: Fifty million dollars for three weeks of your life in the hands of a total stranger. Would you do it? …. When she finds herself out of a job and out of the money she needs to pay her father's medical bills, she receives an anonymous letter, containing an offer she can't refuse.
A wealthy businessman wants her and he'll pay any price. Three weeks of her time, no-holds-barred, in exchange for fifty million dollars. With no other means to pay her bills, she has no choice but to accept. However, she isn't the only one who signs the contract. And he isn't alone in his deal…
Three brothers. Nine girls.
All competing for the ultimate prize … marriage.
Let the games begin.
The Bear and the Nightingale by Katherine Arden — New Release!!
Standalone: At the edge of the Russian wilderness, winter lasts most of the year and the snowdrifts grow taller than houses. But Vasilisa doesn't mind—she spends the winter nights huddled around the embers of a fire listening to her nurse's fairy tales… After her mother dies, her father goes to Moscow and brings home a new wife. Fiercely devout, city-bred, her new stepmother forbids her family from honoring the household spirits. The family acquiesces, but Vasilisa is frightened, sensing that more hinges upon their rituals than anyone knows. And indeed, crops begin to fail, evil creatures of the forest creep nearer, and misfortune stalks the village. All the while, her stepmother grows ever harsher in her determination to groom her rebellious stepdaughter for either marriage or confinement in a convent.
As danger circles, Vasilisa must defy even the people she loves and call on dangerous gifts she has long concealed—this, in order to protect her family from a threat that seems to have stepped from her nurse's most frightening tales.
The Dark Room by Jonathan Moore — New Release!!
Standalone: Gavin Cain, a homicide inspector, is in the middle of an exhumation when his phone rings. The mayor is being blackmailed and has ordered him back to the city; a helicopter is on its way. The casket, and his cold-case investigation, must wait. At City Hall, the mayor shows him four photographs he's received: the first, an unforgettable blonde; the second, pills and handcuffs on a nightstand; the third, the woman drinking from a flask; and last, the woman naked, unconscious, and shackled to a bed. The accompanying letter is straightforward: worse revelations are on the way unless the mayor takes his own life first…
Shelter for Adeline by Susan Stoker — New Release!!
Standalone: Saddled with a job she hates and a detestable boss she likes even less, she could use a break. It doesn't look like she'll get one today. Her service dog is alerting her she's about to have an epileptic seizure—and her frustrated blind date has left her to deal on her own. Enter the firefighter who escorts her to the nearby fire station, where she can suffer through her ordeal safe from prying eyes.
He didn't expect to find The One in a diner during his lunch break, but he's blindsided by the beautiful, brave [woman]. She brings out his every protective instinct [but] as much as he wants to protect her from the world, he has to tread carefully. His overprotectiveness could push her away… and leave her vulnerable to a man whose obsession has reached the boiling point.
Sinful Abandon by Jeannine Colette — New Release!!
Standalone: She wants one thing: A rich husband. When she catches her trust fund wielding boyfriend with his pants around his ankles, she finds herself fighting over a taxi with a stranger she meets on the streets of Chicago.
He is handsome, fun and doesn't have a penny to his name. The two embark on a wild night of passion that has her questioning what it is she wants out of life. But nothing is as perfect as it seems. A secret affair, a proposal and a surprise revelation have her facing the greatest dilemma… and it's downright sinful.
After The Break by Andrea Joan — New Release!!
"Ten years I trained to be the best boxer there is. I had fighters blood pumping through my veins and I was a lethal opponent. One to be feared. Twelve years I spent with my first love, we were childhood sweethearts and I was ready to make her my wife… 11 minutes 13 seconds. That was all the time it took to rip my world apart.
I. Am. Broken. And not the kind of broken that can be fixed… Every day I struggle to survive. I've not felt alive until now. Until her.
She is an actress, a millionaire… On the surface she has everything; wants for nothing. But I see what lies beneath her facade. She walks a fine line between the dark and the light. She's a sinner and a savior. And she has chosen me. She needs my protection and I. Need. Her.
I know I can protect her.
I know I can destroy her.
She is my redemption. My destruction.
But she is mine.
Even if it ruins us both."
More Than Distance by Elizabeth Briggs — New Release!!
Can standalone: What happens when a billionaire goes on a reality show with his best friend's little sister? — "She has her life all mapped out, so when her plans fall apart she's more lost than ever. A spot on a reality TV show seems like the perfect escape, except she needs a partner. The only option is her brother's best friend: the man she's secretly loved forever and the last person she wants to be stuck in a car with.
He's a tech billionaire who has done everything he can to put his bitter past behind him. He's avoided her ever since they shared a forbidden kiss six years ago, but when his best friend asks him to protect her on the show, he can't refuse—even if the biggest threat to her heart might be himself…"
The Summer Wedding by Lucy Kevin — New Release!!
Can standalone: Her job baking sweet treats at a wedding venue means everything to her―even if she's not sure that she'll ever be able to love, or trust a man, again after going through a terrible divorce.
He gave up his globetrotting career to become a wedding photographer after his wife passed away, leaving him as the sole parent to his son and daughter. After such a tragic loss, he never thought he'd be able to love again. Until he met her…
Soon, he is falling head over heels for her and wants to show her what true love really is… Will she be able to risk her heart again?
Rescued by Love: Jake Ryder by Melissa Foster — New Release!!
Can standalone: She's enjoyed a privileged life attending the most sought after parties, traveling around the world, and having anything she wanted. Until she broke free and went against her father's wishes, needing to prove to herself–and to him–that she could make it on her own. Now she's ready to take her adventures in a new direction and sets her sights on roughing it in the wilderness.
He's followed in his father's footsteps as a top search and rescue professional. When his sister-in-law calls and reports her best friend missing, it's up to him to find her and bring her home. But she isn't lost, and she sure as hell isn't going to be told what to do by an ornery mountain man with whom she'd spent one torrid weekend after her best friend's wedding. He has never left anyone behind—will she be his first failed rescue?
All They Wanted by Kelly Elliott — New Release!!
I could write an awesome synopsis. Tell you how you're going to get more of Gunner and Ellie, Josh and Heather, and the oh-so-sexy Jeff and his outspoken bride, Ari, as they head out on a couples camping trip. Never mind that both Ari and Heather are pregnant and moody. Or that Gunner forgot to bring the food … I mean really, Gunner? I could even tell you how Josh takes a tumble down a hill and— Now you didn't really think I was going to tell you what happens … did you? This that takes us back in time and visits the original series couples.
LATEST BOOK SALES
UPCOMING BOOK RELEASES
BOOKWORM STORE
WHAT KIND OF BOOKS ARE YOU LOOKING FOR?
__________________________________
Let me know if there are any other books you're loving right now too!!
LET'S STAY CONNECTED
To get these lists sent to you every week, subscribe by email.
FOLLOW THE BLOG
Facebook | Twitter | Instagram | Pinterest | BlogLovin' | Google+ | Goodreads