NEW RECOMMENDATION: Stay by Elle Kennedy & Sarina Bowen (Read my Review)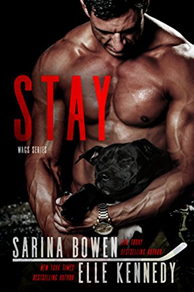 AWWWW!!! I read this great newly released book the other day and really enjoyed it! It was a SWEET, SEXY, SWOONY romance between a divorced sports star who was father to two adorable little daughters and a divorced heroine who had given up on love and had been hired to be his virtual assistant… little did she know at first that her client was in fact one of her favorite hockey players! It was so heart-melting to watch this big huge sports star hero be such a loving, caring dad to his little kids!!! I also loved seeing him fall for the heroine. This was such a FUN and LIGHT-HEARTED book!! If you're looking for something new to read and you love sexy sports romances and single dad heroes, grab a copy!!! It can standalone.

KRISTEN ASHLEY BOOK ANNOUNCEMENT:
The Time In Between by Kristen Ashley was just announced and has a gorgeous new cover!!! This is the third standalone in the Magdalene series and I'm sooooo excited for it!! — "After a painful loss, she is coming to Magdalene to start the next chapter of her life. A chapter that began eighteen years ago but had a heartbreaking ending. The time in between was full of family and friendship, but she could never get the man she fell in love with all those years ago out of her heart… He has learned to live without the girl who entered his life right when she shouldn't and exited delivering a crippling blow he never would have suspected. The time in between was full of failing to find what he was missing…and life-altering betrayal. But when that girl shows up in Magdalene and buys the town's beloved lighthouse, even if he wants to avoid her, he can't. A fire in town sparks a different kind of flame that won't be ignored…" Be sure to pre-order this new book and you can also start reading the first 2 that are currently available: The Will (my review) and Soaring (my review)!

MORE BOOK ANNOUNCEMENTS:
WEEKLY NEW RELEASES RECAP
HOT NEW RELEASES (NOW LIVE):  
DETAILED LIST: NEW RELEASES
Stay by Sarina Bowen & Elle Kennedy — New Release!!
Can standalone: She has a hunch that her favorite client is actually a hockey star. Although it's against the rules for her to check his file, she's 95% sure she spends at least part of each day texting with her lifelong crush and catering to his every need. Still nursing a wounded heart thanks to her recent breakup, she is perfectly content with some harmless online flirting… until she has to meet her client. Face to face. Cue: utter panic.
He's no stranger to heartbreak. He's still not over the destruction of his marriage… He barely sees his kids, and dealing with his ex makes him feel insane. The only person in his life who seems to understand is someone who won't show her pretty face.
But it's nothing that a pair of fourth row hockey seats can't fix. She can't resist the offer. He can't resist her. Good thing he doesn't have to. Fire up the kiss cam!
The Knocked Up Plan by Lauren Blakely — New Release!!
Standalone: There are three little words most guys don't want to hear on the first date… "knock me up."
This single gal has had enough of the games, the BS and the endless chase. I know what I want most, and it's not true love. It's a bun in the oven, and I'm not afraid to hit up my sex-on-a-stick co-worker to do the job. He's gorgeous, witty and wild… and he's also a notorious commitment-phobe. That makes him the perfect candidate to make a deposit in the bank of me. I won't fall for him, he won't fall for me, and there's no way baby will make three. Right?
Salvaged by Jay Crownover — New Release!!
Can standalone: "He's a nice guy. Everyone knows it, including his fiancée who left him with a canceled wedding and a baby on the way. He's tired of finishing last and is ready to start living in the moment with nights soaked in whiskey, fast cars, and even faster girls. He's set to start living on the edge, but when he meets her, her sad eyes in the most gorgeous face he's ever seen hook him in right away. He can see her pain and all he wants to do is take care of her and make her smile, whatever it takes…
The only thing she is sure of is that her heart is in need of some serious repair, and the more time she spends with him, the more she's convinced he's the only man with the tools to fix it."
Tycoon by Katy Evans — New Release!!
Standalone: "He wasn't always this rich. This hot. This difficult. He was a guy who protected me. Wanted me. Maybe even loved me.
That man is gone. In his place is the most powerful real estate tycoon in the city. He's a cold, ruthless, aggressive businessman. The only one who can save me and my startup from ruin. It takes every ounce of courage to put my pride aside and ask for his help. I didn't expect him to offer it easily. And he doesn't. Instead, he vets me harder than he's vetted anyone… I yearn for the boy I once knew, whose touch once craved me. Putting it all on the line will be worth it, I tell myself. Until I realize—too late—that some risks are not worth taking."
Vanishing Act by A. M. Madden — New Release!!
Standalone: "Hollywood's hottest actor meets his dream woman: a free spirit who has no idea who he is.
After personal heartbreak and professional setbacks, he's running on empty. If he doesn't take a break from the public eye soon, he'll risk becoming another cautionary tale in a town that's full of them. So he asks his agent to clear his schedule and then he simply vanishes. Renting a discreet home on a remote beach for the summer, he begins to recharge. And in the process of finding himself, he meets a beautiful, feisty local who challenges everything he thinks he knows…"
The Gamble by Kristen Ashley — New Release!!
Can standalone (special edition paperback):
Nina Sheridan thought she'd found the perfect man who would become the perfect husband. She was wrong. When Nina realizes the man she planned to grow old with doesn't know her at all, it's time to rethink her idea of perfect. And what better place to get her life in order than a remote Colorado mountain town halfway around the world?
Gnaw Bone, Colorado, may not be flashy or cosmopolitan, but it's got a brand of hospitality all its own. Nina isn't entirely sure she's ready to trade the life she thought she wanted in England for cozy evenings in her mountain retreat, and she definitely isn't sure she's ready to handle the connection she feels to the owner of her rental house, Max Holden…
Sweet Dreams by Kristen Ashley — New Release!!
Can standalone (special edition paperback):
Lauren Grahame needs a whole new life. A simpler life. After leaving her cheating husband, she moves to Carnal, Colorado, takes a job as a waitress, and realizes she might have finally found the hometown she'd been searching for. Except things are about to get a lot more complicated…
Lauren's fresh start does not include her growing feelings for her boss, Tate Jackson. She'll take the new friends, the new job, not to mention the incredible banana bread from the local coffee shop, but love is not on the agenda. However, the people of Carnal know chemistry when they see it, and they're not about to let Tate and Lauren miss their chance.
Lady Luck by Kristen Ashley — New Release!!
Can standalone (special edition paperback): Lexie Berry has had nothing but bad luck. You name it, Lexie has probably survived it-or worse. But there's only so much bad luck a girl can take, and now one promise is all that stands between her and a brand-new life.
When that promise brings her to Carnal, Colorado, Lexie isn't sure the rough, yet strangely charming, town is for her. But there's something Carnal has that might just make staying around worth it … and that's Ty Walker.
For five years, Ty was imprisoned for a crime he didn't commit. Now he wants revenge on the people who framed him. Lexie knows there's a difference between vengeance and justice, and she'll do everything she can to make sure Ty gets the latter. And with the good people of Carnal on their side, Lexie and Ty might finally find their luck is changing for the better.
Deklan by Shay Savage — New Release!!
My father owes a debt. I am his currency. I'm supposed to marry the recently crowned mafia king as repayment for my father's transgressions. I don't understand why they would want me, but I've grown up in a crime family, and I know the ugly consequences of not doing what you're told. But as the wedding date approaches, the deal changes, and I'm about to be wed to a man I know nothing about. In fact, I don't even know his last name…
Instead of becoming a mafia princess, I'm marrying the henchman.
After one look at him, I'm not sure I'll survive the wedding night.
Lost Without You by Molly O'Keefe — New Release!!
Duet: Seven years ago, I thought I could save the girl I loved from the monster who was supposed to take care of us. I thought I could keep her and all the other kids at St. Jude's Home for Court Placed Juveniles safe. I failed. Badly. Now we all have blood on our hands and owe a dangerous man a very dangerous debt. We don't know when he'll come calling for payment, but when he does – we pay, or we suffer.
When my turn comes, I'm ready for anything.
Except seeing her again…
At His Mercy by Shelly Bell — New Release!!
Can standalone: One last, no-strings night of indulgence. That's all he wants before he begins a much-needed new chapter in his life. Instead he finds an innocent angel in pink who brings him to his knees.
She is done hiding from the world and her haunting memories. Discovering courage in the arms of a perfect stranger, she finally lets go and sheds her inhibitions.
To her shock, she soon learns that he is more than her mystery man… he's her professor. But he isn't the only person who's found her on campus. A dark figure from her past has come back for her. Now he will risk anything to protect her…
Talk British to Me by Robin Bielman — New Release!!
Can standalone: As the Dating Guy on L.A.'s top morning show, I give the single guy's perspective on dating, love, and sex—and I give great advice. Everyone's hooking up… except me. Sure, I can get any woman I want, but I've got a "no relationship" clause in my contract and the only woman I want has "relationship" written all over her. Probably stamped on her ass, too.
Unfortunately, she wants nothing to do with me. At all. Adorable. Because she's determined to ignore what one simple kiss proved: she wants me as badly as I want her… Everything in me is screaming to go after her, but I've got a secret that I'm fairly certain will end up with her roasting my nuts over an open fire. So, job on the line? Check. Nuts on the line? Check. Can't get her out of my head? Nail… meet coffin. But what a way to go…
All I Am: Drew's Story by Jodi Ellen Malpas — New Release!!
Can standalone (novella): "I thought I had control. I was so, so wrong… I don't need a relationship. I have a decadent club where I quench whatever raw desire I choose. I take pleasure and I give it – no strings attached. So when she comes in asking for someone cold, emotionless, and filthy… well, no man ever takes his wicked pleasure quite the way I do.
Only she is different. Vulnerable. And carrying some deep sorrow that gets past all my walls and inexplicably makes me care… But she has no idea about my other life – my real life. That I'm daddy to an adorable little girl. My two worlds are about to collide with the force of a supernova. Once she knows the truth, will she be able to accept all I am?"
Trusting You & Other Lies by Nicole Williams — New Release!!
Standalone: She can't imagine anything worse than being shipped off to family summer camp. Her parents have been fighting for the past two years…
On top of that, she is stuck training with the head counselor who is seriously cute but a complete know-it-all. His hot-cold attitude means he's impossible to figure out—and even harder to rely on. But despite her better judgment, she's attracted to him. And he's promising her a summer she'll never forget. Can she trust him? Or is this just another lie?
Revenge by Lexi Blake — New Release!!
When he discovers a fatal flaw in his plan to avenge his parents' deaths, he turns to the one woman he promised he wouldn't touch. He offers her a deal, one that will bring her into his investigation, his life, and his bed.
She's an investigative reporter who never dreamed how twisted the case would become—or how fascinated she would be with him. Every day they spend together binds them. And every night brings her closer to realizing he might be the man for her…
Gone to Dust by Liliana Hart — New Release!!
Can standalone: He lived and breathed the life of a Navy SEAL. Now he's "dead" and his hero's honor tarnished. The only thing keeping him sane are the men who are like him—The Gravediggers—and the woman who makes his head spin. He's never met anyone like her. Her smart mouth and quick wit keep him on his toes, and damned if he doesn't find that appealing.
When she receives a package from the brother who abandoned her asking for help, it's clear she's in over her head with the mess he's gotten himself into. She needs a professional, and he is just the man for the job…
Girl Last Seen by Nina Laurin — New Release!!
Standalone: Two missing girls. Thirteen years apart. Olivia Shaw has been missing since last Tuesday. She was last seen outside the entrance of her elementary school in Hunts Point wearing a white spring jacket, blue jeans, and pink boots. I force myself to look at the face in the photo, into her slightly smudged features, and I can't bring myself to move. Olivia Shaw could be my mirror image, rewound to thirteen years ago.
I've spent a long time peering into the faces of girls on missing posters, wondering which one replaced me in that basement. But they were never quite the right age, the right look, the right circumstances. Until Olivia Shaw. Whoever stole me was never found. But since I was taken, there hasn't been another girl. And now there is.
LATEST BOOK SALES
UPCOMING BOOK RELEASES
BOOKWORM STORE
WHAT KIND OF BOOKS ARE YOU LOOKING FOR?
__________________________________
Let me know if there are any other books you're loving right now too!!
LET'S STAY CONNECTED
To get these lists sent to you every week, subscribe by email.
FOLLOW THE BLOG
Facebook | Twitter | Instagram | Pinterest | BlogLovin' | Google+ | Goodreads