NEW RECOMMENDATION: Until It Fades by KA Tucker (Read my Review)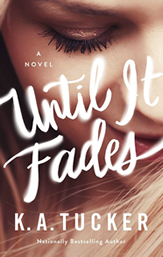 *SWOOOOOON* Awwww!!! This was a romance about a young single mother with a past she's desperate to keep hidden who rescues a mysterious man from a bad car wreck on the side of a country road one foggy night. What she doesn't know is that he's a mega famous hockey star and even though she's desperate to keep her identity hidden, he's just as relentless to find out who the woman who saved his life is and when they finally meet, neither of them can ignore their attraction…. This book is full of LOVE, FAMILY, and SWOON!!! It's a well-written and slow-burning romance that just genuinely made me happy to read about it! And seeing how sweet this big Alpha hero was with her daughter was utterly HEART-MELTING!!! It's a standalone that is NOW LIVE so be sure to grab a copy!
WEEKLY NEW RELEASES RECAP
DETAILED LIST: NEW RELEASES
Until It Fades by K.A. Tucker — New Release!!
TOP FAVORITE! Standalone: A small-town woman saves the life of a mysterious man, and finds herself unexpectedly thrown into a whirlwind love affair!! — She's a single mother with simple goals: to give her five-year-old daughter a happy life and to never again be the talk of the town… And then one foggy night, on a lonely road, she saves a man's life. It isn't until after the police have arrived that she realizes exactly who it is she has saved: Brett Madden, hockey icon and media darling… The last thing she wants is to have her past dragged back into the spotlight. So she hides her identity. It works. For a time… But when she finds the man she saved standing on her doorstep, desperate to thank her, all that changes. What begins as a friendship quickly turns into something neither of them expected…
Easy Nights by Kristen Proby — New Release!!
Can standalone: He sat on the sidelines of her family for years, in love with a woman he couldn't have… As a former MMA fighter, he's used to fighting for what he wants—and winning. His hands were tied when she married her college sweetheart not long after graduation, but now two years have passed since he found her broken in her own home.
She's convinced that happiness isn't in the cards for her, no matter how right it feels to be in his strong arms—and his bed. He is determined to win her heart and fight for her trust. He's promised to protect her, to be her friend. But more than anything, he wants to finally make her his, and this is one fight he's not willing to lose…
Damaged Like Us by Krista Ritchie & Becca Ritchie — New Release!!
Spin-off of Addicted series: Don't date your bodyguard. It was the one rule he had to break.
Maximoff Hale is a force of nature. A ship unwilling to be steered. Headstrong, resilient, and wholly responsible — the twenty-two-year-old alpha billionaire can handle his unconventional life. By noon, lunch can turn into a mob of screaming fans. By two, his face is all over the internet. Born into one of the most famous families in the country, his celebrity status began at birth. He is certified American royalty.
When he's assigned a new 24/7 bodyguard, he comes face-to-face with the worst case scenario: being attached to the tattooed, MMA-trained, Yale graduate who's known for "going rogue" in the security team — and who fills 1/3 of his sexual fantasies.
Twenty-seven-year-old Farrow Keene has one job: protect Maximoff Hale. Flirting, dating, and hot sex falls far, far out of the boundary of bodyguard duties and into "termination" territory. But when feelings surface, protecting the sexy-as-sin, stubborn celebrity becomes increasingly complicated.
Together, boundaries blur, and being exposed could mean catastrophic consequences for both.
Raw Need by Cherrie Lynn — New Release!!
Can standalone: He has done everything he set out to do: conquered past demons, saved lives through his music, and toured the world as the frontman for one of the most popular rock bands in the world. This life was supposed to be everything he's ever wanted, but after meeting her, he's no longer sure…
Soon after her husband's death, she learned she was pregnant. With grief and uncertainty her only companions, she was only able to find an escape through music; specifically his hypnotic voice. But after meeting the sexy lead singer of her favorite band, she can hardly believe he's interested in her. But he also has a painful connection to her unborn child – his brother is responsible for her husband's death…
Make Me Stay by Sidney Halston — New Release!!
Can standalone: Her: Walking away from him was the hardest thing I've ever done. Lying to him was a close second, but for his safety, I had no other choice. I was undercover, working to put some nasty people behind bars. But when he nearly recognizes me a year later, all those very real feelings come rushing back. Now that my assignment's almost over, will he understand why I lied? Why I had to leave? Most important, can he ever forgive me?
Him: I was madly in love with her… or, at least, with the woman I thought she was. Then she just disappeared while my family's nightclub went through hell. And after months of searching, when I think I've finally found that sexy, raspy voice and those exquisite blue eyes, she slips away once more. Turns out, she is actually a Detective. She's been playing me the whole time. And she's about to rock my world all over again…
Dr. ER by Max Monroe — New Release!!
Can standalone: The word 'serious' isn't in Dr. Shepard's vocabulary—at least not when it comes to relationships. He has all of the serious and drama he needs on the floor of the Emergency Department at St. Luke's Hospital.
But when feisty, first-class flirt Harlow Paige comes into his ER, he might contract something he's never encountered.
Look out… Love is contagious.
Lost Love by Kelly Elliott — New Release!!
Can standalone: Here I stand … in front of my high school girlfriend. A beautiful, confident woman has replaced the young girl I once knew and loved. Hell. I'm still in love with her. Yep. She was my first love and the one girl in town who now hated my guts. So much so, she swore her revenge on me if it took her until the day she died. The last words she spoke to me were a vow to cut my dick off and shove it down my throat.
The fight between my heart, my head, and last, but certainly not least, my dick starts tonight. Because all I can think about is how I want to be buried so deep inside her she won't remember how I broke her heart… But who will win? My heart is too broken to listen to my head. And my dick, yeah it's not listening to anything or anyone. Not until it gets what it wants and what it wants is her.
The Beard Made Me Do It by Lani Lynn Vale — New Release!!
Can standalone: "He's only a friend." Those words had haunted him from the moment he had heard them muttered from the girl who held his heart, and whom he thought had his back.
Fourteen years later, he still feels those words like a brand on his soul. Lucky for him he has a son to focus on and not a single moment to spare for a woman who won't stand up for him when he needs her the most… When they see each other again without the influence of the town and bad memories surrounding them, and it's as if not a single day has passed. She knows the instant that her eyes see her old love that she's still just as in love with him today as she was all those years ago. The problem is that he wants nothing to do with her. Or at least that's what he keeps telling himself.
Exploited by A. Meredith Walters — New Release!!
Standalone: She's an elusive vigilante hacker!! — "My story begins with the best possible intention. Devoting my life to exposing the corrupt. The dishonest. The unethical. For that, they label me a cyber-terrorist. Wanted by the FBI, I've always been one step ahead.
Until I fell in love.
Because I'm sleeping with the man who's hunting me. And he has no idea that I am his prey. Now I have to decide what's more important: my freedom or my heart.
The Impossible Vastness of Us by Samantha Young — New Release!!
Standalone: She hasn't just moved across the country—she's plummeted to the bottom rung of the social ladder. Now she's living in a wealthiest neighborhood with her mom's fiancé and his daughter, Eloise. Thanks to her soon-to-be stepsister's clique of friends, including Eloise's gorgeous, arrogant boyfriend, Finn, she feels like the one thing she hoped never to be seen as again: trash.
But she's not alone in struggling to control the secrets of her past. Eloise and Finn, the school's golden couple, aren't all they seem to be. In fact, everyone's life is infinitely more complex than it first appears. And as she grows closer to Finn and befriends Eloise, threatening the facades that hold them together, what's left are truths that are brutal, beautiful and big enough to change them forever…
Seven Stones to Stand or Fall by Diana Gabaldon — New Release!!
Anthology: A magnificent collection of Outlander short fiction, including two never-before-published novellas, featuring Jamie Fraser, Lord John Grey, Master Raymond, and many more…
In "Virgins," Jamie Fraser, aged nineteen, and Ian Murray, aged twenty, become mercenaries in France, no matter that neither has yet bedded a lass or killed a man. But they're trying…
Where I Belong by Molly O'Keefe — New Release!!
Duet finale: The girl I loved is the woman I can't have.
It was simple: Pay the debt and I stay out of jail. Pay the debt and I stay alive. But I sacrificed it all for her. I didn't pay what I owed. I'm sure punishment is coming, but I can take it… as long as she is safe. Away from her mother and everyone else who would hurt her.
I gave it all up for two days with her. And it was worth it.
She always was.
Forgetting You, Forgetting Me by Monica James — New Release!!
My life was perfect. My home, a ranch in Montana, was everything I could ever wish for. My adoring fiancé, Samuel, loved me unconditionally… But one fateful event shattered my perfect life. It's unimaginable how simple, ordinary words can change a person's life forever. For me those words were, "There's been an accident."
I thought Sam was my forever, but that forever came to a close the day Saxon, Sam's identical twin brother, came back. Saxon returned to help save Sam, however, the moment he entered my life, he turned my world upside down. But through chaos I somehow found of who I was meant to be… As time progressed, I soon realized that Saxon was there for another reason… he was there to help save me.
The King by Skye Warren — New Release!!
Can standalone: My father gambles every night, falling deeper and deeper into debt. When he hits the bottom, he places a new bet: his daughter. I'm his entry bet to the biggest underground poker game. The players are politicians and mafia men, every kind of danger around a velvet-covered table. But it's only one man who makes me shake… The man I once thought I loved.
The man who betrayed me.
His eyes meet mine with dark promise. And when he puts down his money, I know I'm going to lose more… I'm going to lose everything.
Every Last Lie by Mary Kubica — New Release!!
Standalone: Her world shatters when her husband and their four-year-old daughter are in a car crash, killing Nick while Maisie is remarkably unharmed. The crash is ruled an accident… until the coming days, when Maisie starts having night terrors that make her question what really happened on that fateful afternoon.
Tormented by grief and her obsession that Nick's death was far more than just an accident, she is plunged into a desperate hunt for the truth. Who would have wanted Nick dead? And, more important, why? She will stop at nothing to find out—and the truth is only the beginning of this twisted tale of secrets and deceit…
The Legend by Donna Grant — New Release!!
Can standalone: She doesn't need a man to protect her. An expert sharpshooter and renegade hacker, she's got the skills and the courage to stand up to any danger—no matter how deadly. But when she becomes the target of a shadowy organization, she is forced to team up with the one man she can't outshoot: the gorgeous, and infuriating, Lone Star legend…
A Delta Force Colonel with a rock-hard body and stone-cold heart, he has been teasing and tormenting her since they were playmates on his family's ranch. Of course, he's wildly attracted to her. But he's always hidden his feelings, even as he's burning up with desire. Can he save her life without putting her love in the line of fire?
Luca by Sarah Castille — New Release!!
These mafia men are hard, hot, and ruthless. They show no weakness and take no prisoners. But the right woman can soften their stone cold hearts and make them come alive with dark desire.
He was nearly destroyed by a brutal betrayal that cost him his family. Now a ruthless crime boss, he lets nothing touch his frozen heart… until a smoldering encounter with a beautiful stranger ignites his passion. One night isn't enough for a man who takes what he wants—and he will do whatever he can to possess his mysterious temptress…
DETAILED LIST: LATER WEEK RELEASES
The Catch by K. Bromberg — Live on Thursday!!
Conclusion to The Player Duet: After an unexpected twist of fate, he is left questioning the loyalty of everyone around him. Even the woman who shares his bed…
But if he thought being uprooted to the last place he expected was the only challenge life had to throw at him, he was dead wrong… With an ailing shoulder and his career in limbo, his decision to make an unexpected change leads him to question everything – her love, family loyalties, and whether he can conquer the one obstacle he's never been able to overcome. The secret he's never shared with anyone. He may be a man pushed to his limits, but he's hell-bent on proving his worth no matter the cost…
Power Play by Catherine Gayle — Live on Thursday!!
Can standalone: Honeymooning alone, injured hockey player Riley Jezek would do anything to get back at his cheating ex-fiancée and backstabbing brother. When a knockout blonde sits next to him at the bar, he's ready to erase the memories of his ex. But when he notices the tears threatening to stain the blonde's wedding gown, he decides it's time for a power play.
She thought she had it all figured out. She found the man. She found the fairytale. She thought it was her dream come true. She was wrong. Alone and dressed in couture was not how she envisioned her wedding night. So when the sexy hockey player makes her an offer, she can't refuse…
The Long Way Home by Jasinda Wilder — Live on Friday!!
The story of a married couple, both writers, as they cope with the loss of their son and the damage that loss causes to their marriage. This moving story is alternately heartbreaking and heartwarming…
"I need you, Ava. I am desperate. For you. For touch. For a kiss… I am mad with need. Wild with it. I cannot have you. I have lost you, as I have lost myself. And so I go in search. Of myself, and thus the man who might return to you, and take you in his arms. I loathe each of the thousands of miles between us, but I cannot wish them away, for I hope at the end of my journey I shall find you. Or rather, find myself, and thus…you. Myself, and thus us. I am taking the long way home, Ava."
LATEST BOOK SALES
UPCOMING BOOK RELEASES
BOOKWORM STORE
WHAT KIND OF BOOKS ARE YOU LOOKING FOR?
__________________________________
Let me know if there are any other books you're loving right now too!!
LET'S STAY CONNECTED
To get these lists sent to you every week, subscribe by email.
FOLLOW THE BLOG
Facebook | Twitter | Instagram | Pinterest | BlogLovin' | Google+ | Goodreads