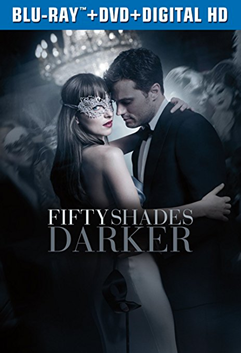 Universal Pictures Home Entertainment has announced the release dates for FIFTY SHADES DARKER UNRATED on all platforms! This also features an all-new sneak peek of FIFTY SHADES FREED. Here are some of the preorder links if you want to bring Christian Grey home!
Fifty Shades Darker (DVD)
Fifty Shades Darker (Blu-ray)
Fifty Shades Darker (Instant Video)
Fifty Shades Darker (iTunes)
WEEKLY NEW RELEASES RECAP
DETAILED LIST: NEW RELEASES
Take Me Back by Meghan March — New Release!!
Standalone: We fell in love on a beach, got married in paradise, and rode off into the sunset. It should have been perfect, but saying "I do" doesn't guarantee a happily-ever-after. Two years later, I barely recognize either of us behind the walls we've built. It's time to bring it full circle. Back to a tropical paradise. Back to find out if we can still make this work.
I'm not willing to give her up, but to save us, I have to risk everything.
Two damaged people. Countless secrets.
The fight of our lives. We might be broken, but we're not done.
Delayed Call by Toni Aleo — New Release!!
Can standalone: "He's the star player. He's brash, cocky, and talented. And he isn't afraid to let anyone know it. She has the weight of the world on her shoulders. As the staff reporter for [his team], she balances her high-profile job and its heavy travel schedule with being the sole provider for her adult brother with Down syndrome. Sure, she'd like to find love. But who has time for that when there are bills to pay?
She has been let down by love before, but she knows she deserves nothing less than real, forever love. His past has left deep, hidden scars, and there are some secrets he cannot bear to reveal. As much as she wants him, he may be too big a risk for her wary heart to take. But he is at his best under pressure. When he has no choice but to score, he always delivers…"
An Act of Courage by KC Lynn — New Release!!
Can standalone: She's the light from his past.
He's the one her heart has always longed for.
Trained by the best, he has fought hard for his country and even harder to forget the only girl he's ever loved. He spent countless nights submerged in death and destruction only to find himself clinging to the memories of her when the darkness crept in. When her life is threatened, he will stop at nothing to protect her. Even if it means having to confront his past… One fateful moment destroyed his very existence, and only one person will be able to make him realize that what he considers an act of dishonor was truly an act of courage.
Fighting Pride by Jennifer Miller — New Release!!
Can standalone: "It's been five years since I've seen her.
Five years since we lost everything.
Five years since I sold my soul to the devil and broke her heart to save her. The years have been long, the sacrifice and loneliness have been crippling… and now, she's back. I'm not supposed to see her, talk to her – I'm not supposed to want her. It will only break open wounds I've fought to keep closed, but I can't stay away. I tell myself I only want to see her face, to know my sacrifice has been worth it. Because I sold my soul, and sometimes I'd do anything to get it back…"
The Heartbeat Hypothesis by Lindsey Frydman — New Release!!
Standalone: He's falling in love with the girl who received his sister's heart transplant!! — "She has a second chance at life. She's doing all the things that seemed impossible just two years ago. A photographer with mysterious, brooding gray eyes, agrees to help chronicle her newfound experiences. She makes him laugh, one of the only people who can these days. As they delve into each other's pasts — and secrets — the closer they become.
But she's guarded and feels like she can't trust anyone, including herself. And he's struggling with the fact that his beloved sister's heart beats inside her…"
A Star To Steer Her By by Beth Anne Miller — New Release!!
Standalone: I'm scarred. Broken. I'll never be the same.
But I will take this journey.
Ever since my last dive ended in bloodshed, I've been terrified to go back into the water. But the opportunity to spend a semester at sea is too good to pass up. I need to get my life back. I never expected to love it this much. And I never expected him… Rugged, strong, and with demons of his own, he helps me find the courage I thought I had lost and heals me with every stolen moment we share. But the rules of the ship mean we can't be together. When a dive excursion goes terribly wrong, our only hope for survival is each other…
Make Me Beg by Rebecca Brooks — New Release!!
Can standalone: When she has a chance to open her own bar and restaurant, she's got a plan for how it should go. Not in that plan: a ripped and rugged playboy stepping in to take over. She doesn't do players, and she doesn't do one-night stands. If he wants to work with her, he's going to have to keep his strong, sexy hands to himself… He's determined to prove he's not the playboy she thinks. But opening a place together causes more problems than it solves. The two of them can't agree on anything—except how scorching hot their chemistry is. He may be ready to indulge every desire she's been denying herself… but turning business into pleasure is likely to get him burned.
The Struggle by Jennifer L. Armentrout — New Release!!
The war against the Titans continues, and they remain determined to wreak havoc on the world, but he has become something all gods fear. Now the most dangerous, most absolute power no longer resides in those who have been freed from their tombs.
All may fear what he has become. All except the one woman who might be his final chance at redemption. she will do anything to prove that he is on their side… It will take love and the kind of strength not easily broken. No matter what, their lives will never be the same…
Alpha's Challenge by Lauren Dane — New Release!!
Can standalone: "Mark me and make me yours."
As an unmated alpha, he was beginning to believe his entire life would be dedicated to the pack. He'd do anything for his pack family, but his life isn't complete without someone to share it with. He didn't expect to finally find his reason for being in the heart and soul of his enemy's sister.
She has never felt so isolated and afraid. But now she has something new: Cade Warden, whose body and exhilarating scent make her come undone…
Avenged by Jay Crownover — New Release!!
Can standalone: Girl meets boy…
Boy meets girl…
on the best night of his life when he's decided that he's going to make moves to be the man he was always meant to be instead of the man he was trained and conditioned to be. Boy is used to a solitary life, quiet in the woods and knowing the only thing that might be looking for him is trouble. Trouble only gets the upper hand if the boy falls prey to its temptation. Trouble turns the boy's quiet, serene life sideways without any effort. Trouble is fun and fate has a wicked sense of humor when it comes to this boy meeting this girl…
Thank You For Holding by Julia Kent — New Release!!
Can standalone: As maid of honor, she can't back out of the wedding. And her ex is the best man – but now he has his own best man. She needs a date. Stat.
Enter Ryan. Sure, he's a hot male stripper, but… you know — a friend. Perfect. She needs a friend more than she needs a boyfriend. A weekend of playing her boyfriend so she can save face is a lot to ask, but for some reason she doesn't understand, he's all in. Enthusiastic, even. Especially when it comes to physical displays of affection. Public kisses turn to private confessions, and pretty soon, she can't tell the difference between fantasy and reality…
The Storm by RJ Prescott — New Release!!
Can standalone: "She's a survivor who doesn't know when to quit.
It was enough… until a stubborn fighter makes her want more.
He's been a fighter for most of his life. He's been content to let his best friend take the spotlight, now it's his turn to make a name for himself in the world of heavy weight champions. Falling in love is the one thing he vowed never to do, but meeting her changed everything… It's easy to imagine a happy ever after when the sun is shining. But when the storm comes, and all hope seems lost, they both learn that if you want something badly enough, you have to be willing to fight for it."
Hard Justice by Lori Foster — Live at midnight!!
Can standalone: "He knows how to harness his strength and intimidating size—skills he put to good use first in the MMA cage and now as a bodyguard. But no opponent has ever left him feeling as off balance as his new client — an heiress. Far from a spoiled princess, she's sweet and intriguingly innocent. It's a risk-free assignment, until he's required to fake a relationship with her in order to blend in… Sheltered from the world after a family tragedy, she longs to experience life—going to bars, dancing, talking to strangers. Not easy with a huge, lethal-looking bodyguard shadowing her every move. He seems like her polar opposite, but pretending to be a couple stirs undeniable heat. And when danger strikes again, it's not just her safety in jeopardy, but a passion that's real, raw and absolutely against the rules…"
Pushing Her Limits by Sparrow Beckett — New Release!!
Can standalone: "When it comes to boosting cars, he's the best of the best. Being the king of car thieves doesn't leave much time for loving—until he finds himself most wanted by a woman as driven as he is.
As the only female detective in an all boys club, she has a lot to prove. Busting a car theft ring will put her career on the map, and the tall, blond, and wicked leader of this crew hasn't been too cautious about covering his tracks. When their signals cross, the spark between them threatens to set the city on fire. Getting their kicks playing cop and robber with bondage cuffs is one thing, but if they actually fall in love, either she will have to turn in her badge or he will have to turn himself in…"
Bound Together by Christine Feehan — New Release!!
Can standalone: For five years, he has put his life on hold in order to take down the world's most feared motorcycle club. But carrying out the violence and seeing the club's exploitation of the innocent has brought his traumatic past roaring back. And there's only one cure: to see the wife he left behind…
She thought she'd never see him again after he left without a word. She rebuilt her life without him, becoming a personal trainer and physical therapist… becoming strong enough for others to lean on. But when he comes back, he'll make her question everything she thought she knew about good and evil—and the dark desires of the heart…
Finding Our Forever by Brenda Novak — New Release!!
Can standalone: The search for her birth mother brought Cora Kelly to a ranch. Getting a job there was easy enough, but confiding in the ranch's owner, that she's really her daughter, she's not sure she can do that. And once she gets to know Elijah Turner—the owner's adopted son and ranch manager—that decision becomes even more difficult.
Although Elijah can't deny his deep attraction to Cora, he's always struggled with trust. Anyone with his past would, and there's something about the ranch's newest employee that isn't exactly as it seems. But if the feelings she awakes in his guarded heart are any indication, she might be just what he's long been waiting for.
If I'm Found by Terri Blackstock — New Release!!
She's still on the run, fleeing prosecution for a murder she didn't commit. Her most relentless pursuer is still on her trail, but his secret emails insist that he knows the truth and wants to help her. He's let her escape before when he had her in his grasp, but trust doesn't come easily.
As she works to collect evidence about the real murderers, she stumbles on another unbearable injustice: an abused child and a suicidal man who's also been falsely accused. She risks her own safety to right this wrong and protect the little girl from her tormenters. But doing so is risky and just may result in her capture—and if she's captured, she has no doubt she'll be murdered before she ever steps foot in a jail…
Wake a Sleeping Tiger by Lora Leigh — New Release!!
Can standalone: Once, he was a Bengal Breed and brother to a notorious fugitive. After his brother disappeared, he was experimented on until his tortured body knew nothing but agony… Now he is serving as the commander of a Covert Law Enforcement Agency in a small community. Despite his genetics, he is able to pass as human because his Bengal traits are recessed. He lacks the ability to smell the emotions, bonds and fears that other Breeds take for granted. And he remains tormented that he wasn't able to mate the woman he loved—at the cost of her life.
He's no longer a Breed, merely a man… or so he thinks. But his tiger is about to be awakened by the one woman destined to be his…
Groupie by C.M. Stunich — New Release!!
"Can one of these five rockstars fill the hole in my heart?"
Young, dumb, and broke. That's what started everything. With five dollars in her pocket, and everything she owns stuffed in the back of her car, her life is over. Done. Destroyed. Ten words. One text. That's what it took to change the whole world. A crumpled concert ticket. A chance encounter. That's what it takes to start all over again. Five rockstars. One girl. Six dark hearts, six withered souls. But can one broken person really put another back together again? And is a cross-country tour the place to do it?
Nemesis by Brendan Reichs — New Release!!
It's been happening since she was eight. Every two years, on her birthday, a strange man finds her and murders her in cold blood. But hours later, she wakes up in a clearing just outside her tiny Idaho hometown—alone, unhurt, and with all evidence of the horrifying crime erased… Across the valley, Noah just wants to be like everyone else. But he's not. Nightmares of murder and death plague him, though he does his best to hide the signs. But when the world around him begins to spiral toward panic and destruction, Noah discovers that people have been lying to him his whole life. Everything changes in an eye blink…

LATEST BOOK SALES