UPCOMING RECOMMENDATION: Shacking Up by Helena Hunting (Read my Review)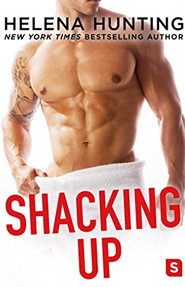 WOOHOOO!!! I just finished reading an early copy of this FUN, SEXY, LIGHT-HEARTED upcoming romance in one sitting!!! It kept me laughing, chuckling, and smiling the whole way through!!! The hero and heroine meet when he accidentally kissed her (then coughed on her) at a party. She came down with a nasty flu and totally bombed her audition the next day. When he found out his part in her recent misfortune, he felt horribly guilty and offered her a place to stay (and a temporary job babysitting his exotic pets while he was away) until she got back on her feet. But their attraction was undeniable and pretty soon their temporary agreement turned into a sexy, steamy love affair… If you're looking for a well-written, SWOOOONY, LAUGH-OUT-LOUD romance, definitely pre-order a copy of this book!!!

BOOKWORM NEWS:
Bad For You by J. Daniels was just announced! This is the third standalone in the Dirty Deeds series which I've been loving! If you want to start reading now, the first 2 are available: Four Letter Word (my review – I seriously loooooooooved this one!!) and Hit The Spot (my review)! Each book is about a different couple 🙂

Trust by Kylie Scott was just announced! It's a standalone! — "After being held hostage during a robbery at the local convenience store, seventeen-year-old Edie finds her attitude about life shattered. Unwilling to put up with the snobbery and bullying at her private school, she enrolls at the local public high school, crossing paths with John. The boy who risked his life to save hers… [They] are pulled back into the dangerous world they narrowly escaped. They were lucky to survive the first time, but this time they have more to lose…"
WEEKLY NEW RELEASES RECAP
HOT NEW RELEASES (NOW LIVE):  
DETAILED LIST: NEW RELEASES
Rocked Up by Karina Halle and Scott Mackenzie — New release!!
Standalone: "I have been watching him since I was a child. He didn't notice me back then and it didn't matter. The guitarist and singer for one of the world's greatest bands, was my entire life. My father, the CEO of Ramsey Records, takes credit for all of his success, trying to control him in the same way he's controlled me. But I finally get an opportunity to prove myself. To be wild. To be free.
Today I'm auditioning to be the replacement bass player for his band. If I get the job, I'll go on tour and work with his every day, in very close proximity. There's only one rule: he's not allowed to touch the boss's daughter. Remember when I said that he never used to notice little ol' me? Well, he's noticing me now. In a way that's going to get us both in trouble."
Dating-ish by Penny Reid — New Release!!
Can standalone: After the most bizarre and irritating first date in the history of humankind, she is looking for an alternative to men. With the help of her friends, she quickly identifies a few possibilities:
Need a cuddle? Use a professional cuddler. Need affirmation? Get yourself a life coach. Need an orgasm? Try orgasm meditation! Why does she need the hassle of a romantic partner when she can meet all her needs with paid services? But then her irritating date resurfaces. And he's not at all the person she thought he was. And he suggests a different—and crazier—solution to her dilemma …
Fallen Crest Forever by Tijan — New Release!!
Series finale: Mason Kade is the dream.
He is the promise.
He's offering what so many would fantasize about, and it's not that I don't want it/him/us. It's the opposite.
There might be ghosts haunting me, but this man who's my soulmate is asking me for forever.
How can I say no to someone who already gave me my happily ever after?
Plus One by Aleatha Romig — New Release!!
Standalone: He's sexy and confident, the kind of man every woman notices. You know, the one with the to-die-for body and panty-melting smirk. And then there's the way his designer suits drape over his broad shoulders and big…well, we've all heard the rumors, the ones that say he's up for any challenge.
But I can't see him that way. He's my boss… And I don't date men like him. Until that one time that I catch him in a compromising position when I'm also in need of a last-minute date for a wedding…and then it's not real. It's blackmail. For one weekend, he's my plus-one.
God-Shaped Hole by Tiffanie DeBartolo — New Release!!
Special edition standalone: "If your intentions are pure, I am seeking a friend for the end of the world." — When Beatrice Jordan meets the unpredictable Jacob Grace, the two wild souls become instant allies. Together they discover an escape in each other's creativity and insecurities, while running from secrets they cannot seem to shake – or a fate that could throw them to the ground…
This 15th Anniversary reissue of this classic love story introduces a new audience of dreamers to a quintessentially real and raw vision of spirit, and inspires everyone to live — and love — as vividly as possible."
Surrender by Helen Hardt — New Release!!
He has fallen in love with her but still lives with the guilt that consumes him as he tries to unravel the mystery of his family's past. A new threat has surfaced, and he finds himself trapped in a web of deceit and lies.
She loves him but has yet to surrender completely to his needs. Meanwhile, a new friend uncovers more information and more questions. While the ghosts of her past still hover around her, she joins him on his quest for answers. Together, they vow to find the truth. But the deeper they dig, the more danger they uncover… and his life hangs in the balance.
Playing The Millionaire by Sandi Lynn — New Release!!
Standalone: "I was the CEO of one of the largest hotel chains in the world. I met her on an airplane. She was captivating and had my attention the moment I laid eyes on her. But she was far from the person she said she was. After parting ways at the airport, I discovered she ripped me off. I never thought I'd see her again, but fate stepped in and we crossed paths. This time I wasn't letting her go until her debt to me was paid. She was every kind of wrong, but that didn't stop the feelings that emerged while I kept her in my possession. My name is Gabriel Quinn and this is my story."
Lethal Lies by Rebecca Zanetti — New Release!!
Can standalone: Revenge. It's the only thing that will help her sleep at night. The serial killer who murdered her sister is on the loose, and she will stop at nothing to put him behind bars. But she can't do this alone.
His job is to bring bastards to justice. This time it's personal. He knew the latest victim so when her sister asks for his help, he's all in. But when she uses the media to taunt the killer, she exposes his identity, putting them both in jeopardy. Now, secrets buried long ago are coming to light and the forces determined to destroy him are watching his every move, waiting to exact their own revenge. And they'll use anything and anyone to get to him.
Hot Shot by Kelly Jamieson — New Release!!
Can standalone: A former Navy SEAL and current bad boy bar owner learns to trust a free spirit in this steamy novel! — He knows that if he gets too close to people they disappear… Although she's a natural in front of the camera, her dream is to make it as a photographer. Soon she'll be heading to Spain for design school, but she won't miss him. Bossy, brooding, and annoyingly sexy, he really pushes her buttons, though he obviously wouldn't mind pushing her buttons in an up-against-the-wall, hard-and-fast kind of way. The craziest part is, if she lets him do that, she may never want to leave.
The Wright Boss by K.A. Linde — New Release!!
Can standalone: I've always had one rule: Don't mix business and pleasure.
But then he comes home to his family's construction company with a broken back and a beaten heart and ends up as my new sexy boss. As the office gets heated, I'm thinking about throwing the rulebook out the window. If only there weren't a million reasons this could never work.
We may have shared a single perfect kiss, but I can't let our intense connection cloud my judgment. Not with everything I've worked for on the line. Dating your boss is so very, very wrong…even if he feels so Wright.
The Simplicity of Cider by Amy E. Reichert — New Release!!
Standalone: A charming love story with a touch of magic! — She has one desire: to live a simple, quiet life on her family's apple orchard. Although her business is struggling, she remains fiercely devoted to the orchard…
Single dad Isaac Banks has spent years trying to shield his son from his troubled mother. Fleeing heartbreak at home, he packed up their lives and the two headed out on an adventure, driving across the country. Chance—or fate—led them straight to her orchard…
Devil's Own by Megan Crane — New Release!!
Can standalone: A sexy single dad biker takes a no-nonsense teacher on the ultimate thrill ride! — "She hates bikers. She watched a motorcycle club destroy her hometown. So the last person she wants to see walking into her classroom is the top enforcer of the MC. Big, mean, and gorgeous, all tattoos and leather, he is everything she should avoid. Yet the insane chemistry sparking between them tempts her to break all the rules.
He has his hands full with a teen daughter in need of tough love, and he doesn't have time for prissy teachers who want to tell him how to raise his kid. But he never could resist a chick who gives as good as she gets. She's sexy as hell, and she's not afraid of him. Plus, her links to a California club could provide his with leverage against their enemies. But that would mean mixing business with pleasure—and risking the one woman he can't afford to lose.
Sex God by Marie Force — New Release!!
Can standalone: I inherited a life I never intended to live.
I've upheld my responsibilities admirably.
And I've taken care of my own needs privately…
I'm biding my time until I can get the hell out of here.
But I didn't count on having unfinished business
With one of my very best friends…
When a man has a certain "reputation" to uphold, there can be no unhappy customers left behind. Lauren is a loose end that won't be tied up no matter how hard I try. And I try hard. Really, really… hard.
Duke of Manhattan — New Release!!
Standalone: "I was born into British aristocracy [and] the only way I can save the empire I built is to inherit the title I've never wanted — so I need a wife.
To take my mind off business I need a night that's all pleasure. I need to bury myself in a stranger. The skim of her hair over my body as she bends over… The scrape of her nails across my chest as she screams my name… The bite of her teeth on my shoulder just as we both reach the edge… It all helps me forget… I just didn't bargain on finding my one night stand across the boardroom table the next day. She might be my latest conquest but I have a feeling she might just conquer me."
Mother Fluffer by Max Monroe — New Release!!
Novella: Question: What would you do if you lost your best friend's horse?
Relax. This is purely hypothetical. But, seriously, what would you do?
It's an easy Sunday at home while your wife's at work, and you look away for two minutes to make lunch for a couple of demanding toddlers. Somehow, by magical mist or advanced parkour, the monster is gone. Okay, fine. It's not hypothetical. The guy off of work is me, and the horse I lost is actually an ginormous dog. But I still have his kids and demon cat, along with my own child and pig. I'm practically batting .667 at this point, and that's a pretty good average. Right? Or one short jump from the devil's number.
Motherfluffer.
Tinged by Rachel Blaufield — New Release!!
Can standalone: She fled the Vegas Underground for Miami, desperate to uncover certain secrets of her past when she goes rogue in a dangerous world. He shed his pretty-boy upbringing and family legacy for his first job as a bouncer at the Electric Tunnel. Now successful in his own right, he's only missing his woman. When she's finally found, she is broken, unsure if she can be put back together. He may be strong, but is he strong enough for the job? Their story isn't beautiful or safe, but it's theirs. Two tortured souls colored by their past, looking to paint a different future.
Kiss of the Irish by Lauren Hawkeye — New Release!!
Can standalone: When her fiance dumps her, she decides it's time to change everything. The first thing on her agenda? To get out of town and take a trip to Ireland. And she'd heard that there was nothing like an Irishman with a sexy accent to make a girl feel better… But maybe she shouldn't have hooked up with her new landlord on the first night in town. He wasn't supposed to be her type. His arms and chest were tattooed, and he had piercings everywhere. Still, he made her feel beautiful, sexy… alive for the first time in years. Falling for the Irish hottie was as natural as breathing. But figuring out what she'd do when it came time to leave? Not so easy…
Angel's Halo: Atonement by Terri Anne Browning — New Release!!
Can standalone: After years of him holding my heart, I had seen the harsh light of my reality.
Raider would never want me or … love me.
With a firm resolve to move on, I wouldn't give in.
Only one moment of weakness came back to bite me. Now I had a secret.
No one needed to know the depths of it all, especially not him.
LATEST BOOK SALES
UPCOMING BOOK RELEASES
BOOKWORM STORE
WHAT KIND OF BOOKS ARE YOU LOOKING FOR?
__________________________________
Let me know if there are any other books you're loving right now too!!
LET'S STAY CONNECTED
To get these lists sent to you every week, subscribe by email.
FOLLOW THE BLOG
Facebook | Twitter | Instagram | Pinterest | BlogLovin' | Google+ | Goodreads