TOP RECOMMENDATION: The Clover Chapel by Devney Perry (Read my Review)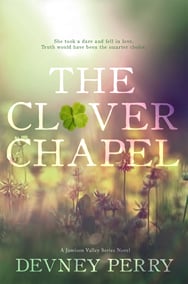 SQUEEEEEEEEEEE!!!!!! WOW!!!! This was an AMAZING second chance romance!! I ABSOLUTELY LOVED IT!! This author's first standalone (The Coppersmith Farmhouse, my review) was one of my TOP FAVORITES of this year and this was another WINNER!!!!! The hero and heroine, two complete strangers, met in Vegas nine years ago and after a whirlwind night of intense attraction, they got married. However, in the morning, he'd vanished. She didn't know why, and leaving had broken his heart but she never saw him again for a whole decade until she moved to a small town, walked into a party, and came face to face with him. Realizing how rare and precious second chances are, he then made it his mission to win back her heart… This book was SWOONY ALPHA ROMANCE PERFECTION!!! One of the best books I've read all year! I highly recommend grabbing a copy as it was just released!!!

TOP RECOMMENDATION: Shacking Up by Helena Hunting (Read my Review)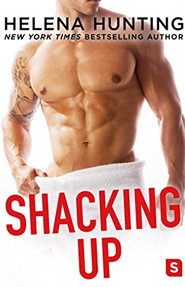 WOOHOOO!!! This was a FUN, SEXY, LIGHT-HEARTED romance that I read in one sitting!!! It kept me laughing, chuckling, and smiling the whole way through!!! The hero and heroine meet when he accidentally kissed her (then coughed on her) at a party. She came down with a nasty flu and totally bombed her audition the next day. When he found out his part in her recent misfortune, he felt horribly guilty and offered her a place to stay (and a temporary job babysitting his exotic pets while he was away) until she got back on her feet. But their attraction was undeniable and pretty soon their temporary agreement turned into a sexy, steamy love affair… If you're looking for a well-written, SWOOOONY, LAUGH-OUT-LOUD romance, definitely grab a copy of this book!!

TOP RECOMMENDATION: When It's Real by Erin Watt (Read my Review)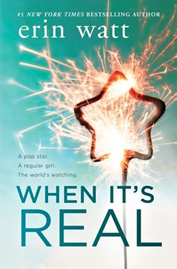 YAY!!!!!!! I read this brand new release book in one non-stop sitting and it was SOOO GOOD!!!! This was the first book I've read by this author and I LOVED their writing style!!!! The hero is a rock star who needs to clean up his image so his team hires a girl-next-door type to be his fake girlfriend and convince the press that he's become wholesome. But what starts out as a pretend relationship turns into real love!!! The writing was completely ADDICTIVE! The romance was SWEET, HEART-WARMING, and SWOONY!! It's a standalone with a wonderfully satisfying ending. And once I started reading this book, I just didn't want to put it down, so you're looking for something NEW to read and if you're a fan of rock star romance, then definitely grab a copy of this book as it was just released this week!!!

JUST ANNOUNCED: Without Merit by Colleen Hoover (standalone)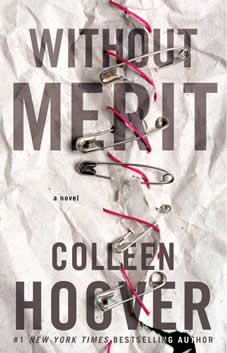 OMG!!!! I am so excited for this!! Colleen Hoover is one of my all-time, must-read, blind-auto-one-click FAVORITE AUTHORS!! I've loved all her books and I am so excited for this new one that was just announced! She says it's "about a girl in high school and how she deals with her crazy family and falling in love. I'm going back to my Slammed/Hopeless roots for this one and revisiting young love. It's been so much fun and I can't wait to get it in your hands." — And the official description in the blurb is: "a moving and haunting novel of family, love, and the power of the truth. In Colleen Hoover's gripping novel, a young woman decides to reveal the dark secrets of her seemingly-happy family before she leaves them behind, but when her escape plan fails, she must deal with the staggering consequences of telling the truth." — I. CAN'T. WAIT!!!! Be sure to pre-order your copy so you don't miss its release!!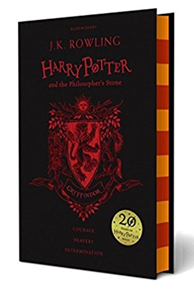 NEW HARRY POTTER SPECIAL EDITIONS: WOW!! These 20th Anniversary Special Editions of Harry Potter and the Philosopher's Stone were just released and they are absolutely GORGEOUS hardcovers!! Each Hogwarts House has its own special version:

IMPORTANT NOTE FOR AUDIOBOOK USERS!! Amazon has started to significantly increase the pricing of their audiobook upgrades. If you're interested in getting the audiobook versions of books you already own, check the link below to grab them before their prices go up! ➜ Click here for your audiobook upgrades
WEEKLY NEW RELEASES RECAP
The Clover Chapel by Devney Perry (

TOP FAVORITE!!!!

Gorgeous sexy second chance Alpha romance with ALL THE FEELS, standalone in Jamison Valley series — HIGHLY HIGHLY RECOMMENDED!!!)
Shacking Up by Helena Hunting (

TOP FAVORITE!!

romantic comedy standalone)
When It's Real by Erin Watt (

TOP FAVORITE!!!!

She agrees to become a pop star's fake girlfriend, standalone romance)
Black Tie Optional by Ann Marie Walker (opposites attract/surprise wedding romantic comedy standalone)
Forbidden Promises by Katee Robert (she falls for her sexy neighbor, standalone in The O'Malley's series)
Somehow, Some Way by Jennifer Probst (sexy workplace romance novella standalone in The Billionaire Builders series)
No One but You by Brenda Novak (single mom falls for notorious bad boy, small town romance standalone)
White Hot by Ilona Andrews (world of magic, billionaire hero, Hidden Legacy series)
The Watcher by Bella Jewel (sexy, pulse-pounding romantic suspense standalone)
Plight by K.M. Golland (they promised to get married at 30 when they were kids, standalone)
Easy Fortune by Kristen Proby (second chance romance standalone novella in Boudreaux series)
American Hellhound by Lauren Gilley (latest book in the Dartmoor biker series)
Crave Me by Stacey Lynn (she's falling for her sister's ex-boyfriend, can standalone)
Destroyed: Falcon Brothers by MJ Fields (they save each other, interconnected Steel Country standalone)
Kicking Reality by Kat T. Masen (soccer sports falls for a reality TV star, standalone)
The Dirty Version by Hadley Quinn (second chance romance with her high school sweetheart standalone)
Wrecked by Cynthia Eden (she's a bounty hunter, he's an agent, romantic suspense standalone in LOST series)
Treasure Me by Olivia Cunning (rock star romance in One Night With Sole Regret series)
Good Boyfriend by CM Stunich (novella sequel to Bad Nanny, a romantic comedy about a bad boy body piercer who meets a virgin stripper, their six inherited kids, and two hairless pets)
Turn Me Loose by Anne Calhoun (romantic suspense second chance love, can standalone)
Come Sundown by Nora Roberts (murder mystery standalone)
The Silent Corner by Dean Koontz (new suspense thriller series)
Shadow Reaper by Christine Feehan (billionaire playboy, urban fantasy, The Shadow Riders series)
Midnight Jewel by Richelle Mead (YA historical fantasy in The Glittering Court series)
I'm Only Here for the Beard by Lani Lynn Vale (biker romance in The Dixie Warder Rejects MC series)
Tender Dance by Deanna Roy (contemporary romance in the Lovers Dance series)
If We Fall by KM Scott (conclusion to the contemporary romance Corrupted Love series)
The Good Widow by Liz Fenton & Lisa Steinke (suspense thriller standalone)
DETAILED LIST: NEW RELEASES
The Clover Chapel by Devney Perry — New Release!!
TOP FAVORITE!!!! Can standalone: "He hasn't seen her in nine years, but that doesn't mean he's forgotten a thing about the woman he loves. After just one blissful night as man and wife, he gave her up, sacrificing his own happiness to keep her safe — far away from him. But the moment she walks back into his lonely life is the moment he decides never to let her go again. He won't waste his second chance. All he has to do is win back her heart, keep her safe from the shadows in his past, and prove to her that taking a wager on him is a sure bet…"
Shacking Up by Helena Hunting — New Release!!
TOP FAVORITE!! Standalone: "She's months behind on rent and can't seem to land a steady job. She has one chance to turn things around with a big audition. But instead of getting her big break, she gets sick as a dog and completely bombs it in the most humiliating fashion. All thanks to a mysterious, gorgeous guy who kissed—and then coughed on—her at a party the night before…
Luckily, her best friend might have found the perfect opportunity; a job staying at a lavish penthouse apartment while [the owner is] out of town, taking care of his exotic pets. But when she arrives to meet her new employer, it turns out he's is the same guy who got her sick.
Seeing his role in her dilemma, he offers her a permanent job as his live-in pet sitter until she can get back on her feet. Filled with hilariously awkward encounters and enough sexual tension to heat a New York City block, [this book] is sure to keep you laughing and swooning all night long."
When It's Real by Erin Watt — New Release!!
Standalone: Under ordinary circumstances, they would never even cross paths.
There's nothing ordinary about him. This bad-boy pop star's got Grammy Awards, millions of fangirls and a reputation as a restless, too-charming troublemaker. But with his home life disintegrating, his music well suddenly running dry and the tabloids having a field day over his outrageous exploits, he needs to show the world he's settling down—and who better to help him than a waitress trying to help her family get by? … She'll fool the paparazzi and the groupies. She might even start fooling herself a little. Because when ordinary rules no longer apply, there's no telling what your heart will do…
Black Tie Optional by Ann Marie Walker — New Release!!
Standalone: Everything about him oozes power and sex — the sheet clawing, heart stopping, gasping for air after you've screamed so loud you can't breathe kind. On the surface he's pure perfection. Too bad he's an asshole. An arrogant, uptight corporate raider hell bent on destroying the environment one species at a time… Everything about her screams hippie humanitarian. From her blond hair tied in a sloppy bun, to her combat boots still splattered with mud from the previous day's site visit.
So it makes perfect sense that they would get married. In Vegas. Stone-cold sober. He needs a wife. She needs to save an endangered species. But what starts as a marriage of convenience soon turns into a battle of wills and sexual tension. Love is a game, and they are ready to win.

Forbidden Promises by Katee Robert — New Release!!
Can standalone: She left her entire world behind-her family, her wealth, and even her real name. For the first time in her life, she's free. She can live the "normal" life she's always wanted. A life without fear. But there's nothing safe about her intensely sexy next-door neighbor… He's never been able to walk away from the forbidden, and she has forbidden written all over her. Only after it's way too late does he discover the real danger: claiming her as his puts a target on her back. To protect her, he is willing risk everything…
White Hot by Ilona Andrews — New Release!!
Series: She has a unique and secret skill—she knows when people are lying—and she's used that magic (along with plain, hard work) to keep her colorful and close-knit family's detective agency afloat. But her new case pits her against the shadowy forces that almost destroyed the city once before, bringing her back into contact with a billionaire Prime—the highest rank of magic user—who is as unreadable as ever, despite her talent. But there's no hiding the sparks between them. Now that the stakes are even higher, both professionally and personally, and their foes are unimaginably powerful, they will find that nothing burns like ice …
The Watcher by Bella Jewel — New Release!!
Standalone: Seven years ago, she was kidnapped by a serial killer—and lived to tell about it. But it was actually her mother who told the story, in a bestselling book that made her famous. Today, she's known as the girl who slayed a killer. The one who got away. Now, there's just one thing she wants to get away from: her past. But when her little sister disappears, her worst fears come rushing back…
He's a world-renowned investigator. Dark, brooding, and dangerously good-looking, he's her only hope in finding her missing sister. Together, they follow a trail of clues that leads them toward the truth—and into each other's arms. As her trust in him grows, so does their fierce connection. But will their desire turn deadly as they close in on a ruthless enemy who's watching their every move?
Wrecked by Cynthia Eden — New Release!!
Can standalone: She was only fourteen when she was abducted by a madman, but unlike many kidnapping victims, she did go home. Now, her mission is to find the missing. But her new case has her on the hunt for the escaped convict who's obsessed with her. And she has an unlikely partner—the sexy FBI agent she had one amazing night with and had to forget.
[Now], catching a deranged murderer means she must trust her guarded heart to the gorgeous, complicated man she wasn't supposed to fall for.
Somehow, Some Way by Jennifer Probst — New Release!!
Can standalone (novella): He wants the perfect wife. Raised in a strict traditional family household, he seeks a woman who is sweet, conservative, and eager to settle down. With his well-known protective and dominant streak, he needs a woman to offer him balance in a world where he relishes control. Too bad the newly hired, gorgeous, rehab addict is blasting through all his preconceptions and wrecking his ideals… one nail at a time…
She knows who she is and refuses to apologize. Growing up poor made her appreciate the simple things in life, and her new job is perfect… Unfortunately, she's forced to work with the firm's sexy architect who's driving her crazy… Too bad he's beginning to tempt her to take a chance on more than just work… one stroke at a time…
Plight by K.M. Golland — New Release!!
Standalone: I promised myself to a man. Well, technically, I promised myself to a boy. We were eight years old. Neighbours. He gave me a Cheezel, pushed it onto my finger, and asked me to marry him.
I ate the Cheezel.
I also said, "Yes" but that we'd have to wait until we were thirty.
It was my thirtieth birthday last week and now he's calling in that promise.
Seriously, he's insane if he thinks that an out of the blue Facebook message stipulating the binding law of an oral contractual agreement is going to seal our twenty-two-year bullshit engagement. Insane.
I wonder if he really does look like his profile picture, though.
Easy Fortune by Kristen Proby — New Release!!
Can standalone (novella): "Leaving her behind to pursue his career was the most difficult thing he ever did. He told himself that it was for the best, had even convinced himself that he had only her best interests in mind. But now, after six long years, he's back to settle his late aunt's estate. All he has to do is get in and out of the city without submitting to the need to see her. But to his dismay, his aunt made other plans. And sometimes the future and the past collide… Having him walk back into her life is something she never saw coming. She could refuse to help him, but she's never been good at telling him no. So she'll do what she can to get the estate settled and him out of her life for good. At least, that's the plan. But he has plans of his own…"
Crave Me by Stacey Lynn — New Release!!
Can standalone: I know I shouldn't covet my sister's ex-boyfriend.
She may have wanted nothing to do with his BDSM lifestyle, but I'm a born submissive. And the only place I want to be is under his command. But he won't go near me. Not with the memory of her so close. That leaves me no choice. If he won't touch me when he knows who I am, I'll have to come to him in disguise. He's worth the risk. I'm meant to be his. Now I just have to prove it to him…
No One but You by Brenda Novak — New Release!!
Standalone: Struggling to make ends meet after a messy divorce, she's at the end of her tether. Her waitressing gig isn't enough to pay the bills let alone secure primary custody of her son. Desperate, she accepts a position assisting a man who recently stood trial for the murder of his adoptive parents. Joining him at his isolated farm seems risky, but she is out of options… He's innocent of the charges against him [and] wants to leave his painful past behind so he can finally bring his dependent sister home where she belongs.
As their professional relationship grows into something undeniably personal, she realizes there's more to him than the bad boy everyone else sees—he has a good heart, one that might even be worth fighting for…

I'm Only Here for the Beard by Lani Lynn Vale — New Release!!
Can standalone: She's got enough problems on her plate. A brother who's self-destructive and doesn't care who he takes down with him. A man who she's in love with but who doesn't love her. A job that she hates because it is a constant reminder of what she can't have.
Desperate to distance herself from her problems, she runs, taking the first job in her field that she finds willing to take on someone with so little experience. The last thing she needs is a perpetually pissed off partner, especially when he sets her blood on fire…
The Good Widow by Liz Fenton & Lisa Steinke — New Release!!
Standalone: Her marriage was far from perfect, but even in its ups and downs it was predictable, familiar. Or at least she thought it was until two police officers showed up at her door with devastating news. Her husband of eight years, the one who should have been on a business trip to Kansas, had suffered a fatal car accident in Hawaii. And he wasn't alone.
Laying her husband to rest was hard. But it was even harder to think that his final moments belonged to another woman—one who had left behind her own grieving and bewildered fiancé [who was] just as blindsided by the affair. So he suggests that they search for the truth together, retracing the doomed lovers' last days in paradise.
Now, following the twisting path of that fateful road, she is learning that nothing is ever as it seems. Not her marriage. Not her husband. And most certainly not his death…
LATEST BOOK SALES
UPCOMING BOOK RELEASES
BOOKWORM STORE
WHAT KIND OF BOOKS ARE YOU LOOKING FOR?
__________________________________
Let me know if there are any other books you're loving right now too!!
LET'S STAY CONNECTED
To get these lists sent to you every week, subscribe by email.
FOLLOW THE BLOG
Facebook | Twitter | Instagram | Pinterest | BlogLovin' | Google+ | Goodreads