TOP RECOMMENDATION: We Own Tonight by Corinne Michaels (Read my Review)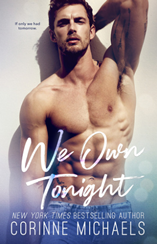 AWWW!!!!! I just finished reading this awesome book that was released this week!!! It's an "OPPOSITES ATTRACT" romance!! The hero was a famous rock star the heroine had crushed on as a teen. Almost two decades later, she went to one of his concerts and, from the stage, he spotted her in the crowd. The sparks flew and after the show, he relentless pursued her determined to get her to give them a chance. He was SWOOOOONY!!! Totally SWEET and SEXY. He'll absolutely melt your heart!!! But, he was also hiding a big, heart-breaking, life-changing secret… I read this book in one non-stop sitting!!! It's a fast-paced read with ROMANCE, ANGST, and a gorgeous epilogue!! It's NOW LIVE so definitely grab a copy!!

OFFICIAL FIFTY SHADES FREED TEASER JUST POSTED:

LATEST BOOK NEWS:
WEEKLY NEW RELEASES RECAP

NEW RELEASES (NOW LIVE):  
LATER WEEK RELEASES (PRE-ORDER NOW):  
DETAILED LIST: THIS WEEK'S NEW RELEASES
We Own Tonight by Corinne Michaels — New Release!!
Standalone: "I'm not a one-night stand kind of woman. I'm especially not the woman who has a few drinks at a concert and ends up in bed with my childhood celebrity crush. However, that's exactly where I find myself.
What's a girl to do after a drunken mistake? Run. I grab my clothes and get away from the powerful, irresistible, and best-sex-of-my-life superstar as fast as I can. His gorgeous green eyes, rock-hard body, and cocky smile have no place in my world. My life is complicated enough. Someone forgot to tell him that.
He is relentless. Pushing his way into my heart, wearing me down, proving he's nothing like I assumed, and everything I need. But when my world shatters to pieces, he holds the broken bits together. Unwillingly, I fall desperately in love with him.
He made me think we'd have forever…
I should've listened when he said we could only own tonight."
Long for Me by Stacey Lynn — New Release!!
Can standalone: "I've seen what happens when you give everything to a man. That's not what I want. I won't have my heart crushed in anyone's fist. Then he changed everything. Him. My boss. Seeing him at [the club], dressed in leather pants and wielding a whip… Do I crave this? My mind says no, but my body is starting to have very different ideas."
"I knew she would be the perfect assistant. That's why I hired her. I didn't know that working with her every day would lead to temptation—to own her, to possess her. When she walked into [the club], I knew I was screwed. Dipping your pen in the company ink is never smart, but we both agreed what happens at the club stays there. One night and then it's back to business tomorrow. Except I don't want just one night with her. I want them all."
Play Room by Heidi McLaughlin & LP Dover — New Release!!
Can standalone: The rules of are simple break them and you're out.
Rule #1 – No names.
It doesn't matter if you want to know, it's forbidden.
Rule #2 – No exchanging numbers.
It doesn't matter if you want to call, it's forbidden.
Rule #3 – Everything is to remain strictly anonymous.
It doesn't matter if you want to tell, it's forbidden.
Whatever your desire.
Whatever your fetish.
The Play Room is the place to go.
For her, it's a chance to express herself, to embrace her hidden passions.
For him, being in the club brings out who he truly is.
What happens in the Play Room will have you aching for more…
Harry Potter and the Sorcerer's Stone: Illustrated Kindle In Motion Edition by J.K. Rowling — New Release!!
Special Edition: "Prepare to be spellbound by this dazzling depiction of the wizarding world and its much-loved characters in this Kindle in Motion edition. Brimming with rich detail and humour that perfectly complements J.K. Rowling's timeless classic, Jim Kay's illustrations are available for the first time in a beautifully designed digital reading experience, with the artist's interpretations of much-loved locations, characters and magical creatures newly animated to come alive on your device. See the smoke from the Hogwarts Express billow around Platform 9 ¾, experience the hustle and bustle of Diagon Alley, and witness the enchanting spectacle of the Sorting Ceremony. All this and other surprises and delights await in this specially-created digital book."
If There's No Tomorrow by Jennifer L. Armentrout — New Release!!
Standalone: She always looking forward to tomorrow, especially at the start of her senior year. She's ready to pack in as much friend time as possible, to finish college applications and to maybe let her childhood best friend Sebastian know how she really feels about him. For her, the upcoming year is going to be epic—one of opportunities and chances. Until one choice, one moment, destroys everything.
Now she isn't looking forward to tomorrow. Not when friend time may never be the same. Not when college applications feel all but impossible. Not when he might never forgive her for what happened.
For what she let happen.
With the guilt growing each day, she knows that her only hope is to move on. But how can she move on when her and her friends' entire existences have been redefined? How can she move on when tomorrow isn't even guaranteed?
One Night by Aleatha Romig — New Release!!
Standalone: "One night to remember.
Is that too much to desire?
One night for fun, passion, and a chance to remember what it's like to be a woman. I'm not looking for love. There's a man in my life who loves me with all his heart. He has beautiful blue eyes, is three feet tall, and calls me mommy. He's my whole world and I'm his. Fate stole his daddy way too soon. What would happen if I allowed fate another chance, just for one night?"
"One night to help a friend.
Why did I agree to this?
Blind dates are disasters. If I weren't helping the friend of a friend, I wouldn't go. I'm not looking for romance, love, or even a one-night stand. After all, the man my friend knew is gone. I'm no longer the hockey star… I have a new life, and a new career—a new passion. I'm not looking for more. When the blind date is a bust, could fate change everything?"
One night doesn't end with a kiss—it begins with one…
Eye Candy by Tijan — New Release!!
Novella bundle: Tijan's Fallen Crest crew are back for a weekend of mischief that takes a sinister turn; all four couples from J. Daniels' Alabama Summer series gear up for Halloween in their own sexy ways, with a special surprise at the end; Helena Hunting's characters from Shacking Up plan a Halloween gala that features a few ghouls and witches; Bella Jewel brings the chills and thrills in her suspenseful take on Halloween night; and Tara Sivec gathers the Holiday family together one last time as they try to make this ghostly holiday one to remember—or one they'd rather forget…
Cozy up with a mug of hot cider on a dark night and fall under the spell of this Halloween anthology!
Champagne & Handcuffs by Kimberly Knight — New Release!!
Can standalone: He had wanted to be a police officer for as long as he could remember. Protecting people was in his DNA [and] from the moment he laid eyes on her, he knew she'd be his one day. Until one night when everything changed… It's rare to find the one you're meant to be with, especially when you're only twelve, but when she laid eyes on him, she knew it was love. He was always looking out for her during the summers they spent together, keeping other boys in line and just making her laugh. She knew that he was supposed to be her forever. Until one night when heartache became inevitable …
Many years later, they are forced to come face to face… Just when everything seems to be going back to the way it was meant to be, he will be forced to break a few rules to win her back …

When We Touch by Tia Louise — New Release!!
Standalone: She was spicy-sweet seduction. My biggest temptation. My biggest regret. I thought she'd always be waiting for me. I was wrong.
Now I'm back searching for peace, hoping to escape what my life has become. She isn't supposed to be here… Dark hair blowing in the ocean breeze, luscious curves barely hidden by thin cotton. I didn't come back for her. But when we touch, I know I'll do whatever it takes to make her mine…
The Summer That Made Us by Robyn Carr — New Release!!
Standalone: For two sisters who married two brothers and had three daughters each, summers were idyllic. The women would escape the city the moment school was out to gather at the family house on Lake Waseka. The lake was a magical place, a haven where they were happy and carefree. All of their problems drifted away as the days passed in sun-dappled contentment. Until the summer that changed everything…
After an accidental drowning turned the lake house into a site of tragedy and grief, it was closed up. For good. Torn apart, none of the women speak of what happened that summer, and relationships between them are uneasy at best to hurtful at worst. But in the face of new challenges, one woman is determined to draw her family together again, and the only way that can happen is to return to the lake and face the truth.
Raw Heat by Cherrie Lynn — New Release!!
Can standalone: Fast talking and faster thinking, he owns a successful nightclub and runs an illegal poker room upstairs. After a troubled childhood, now nothing is out of his reach—except his accountant…
She has always been drawn to his dark intensity and the gleam in his eyes that promises more than she can possibly handle. But when her brother's gambling threatens to destroy her family, he makes her an offer she'd be crazy to accept—but can't refuse: her brother's debts will be forgiven, and she belongs to him for thirty days…
Intensity by Sherrilyn Kenyon — New Release!!
Series: It's a demon-eat-demon world for Nick Gautier. Just when he thinks he's finally gotten a handle on how not to take over the world and destroy it, Death returns with an all-star cast that is determined to end the Malachai reign and lineage forever. Worse? Death and War have found the one, true enemy Nick can't find, and even if he did, it's one he could never bring himself to banish or kill.
Now framed for murders he hasn't committed, and surrounded by new friends who might be turncoats, Nick is learning fast how his father went down in flames. The heat in New Orleans is rising fast, and Nick's threat-level has gone into a whole new level of intensity. He's learning fast that when War and Death decide to battle, they don't take prisoners. They don't negotiate. And they're both immune to his biting sarcasm and Cajun charm. To win this, he will have to embrace a new set of powers, but one wrong step, and he will belong to the side of Darkness, forever.
Dark Legacy by Christine Feehan — New Release!!
Can standalone: In a beautiful compound hidden away from the world, Emeline Sanchez tries to blunt the pain that has wracked her body ever since her terrifying ordeal in the labyrinth beneath the city—when she was forced to exchange blood with an evil master vampire.
Now, it's his voice that haunts her…that calls to her in the dark…that never lets her rest. And while the children that she helped to free from his clutches struggle to heal, watched over by their Carpathian protectors, Emeline knows one thing: She must sacrifice herself to keep them all from harm… For her beauty is irresistible to the vampires, her psychic ability like a drug. Whipped into a frenzy, they'll never stop coming for her. And only the taste of one Carpathian warrior—the rush of his blood—can save her…
Tower of Dawn by Sarah J. Maas — New Release!!
Series: Chaol Westfall has always defined himself by his unwavering loyalty, his strength, and his position as the Captain of the Guard. But all of that has changed since the glass castle shattered, since his men were slaughtered, since the King of Adarlan spared him from a killing blow, but left his body broken.
His only shot at recovery lies with the legendary healers of the Torre Cesme in Antica–the stronghold of the southern continent's mighty empire. And with war looming over Dorian and Aelin back home, their survival might lie with Chaol and Nesryn convincing its rulers to ally with them. But what they discover in Antica will change them both–and be more vital to saving Erilea than they could have imagined.
Pitch Please by Lani Lynn Vale — New Release!!
Can standalone: She beat out several of those men to get the job as head athletic trainer for the professional baseball team. And yeah, she now got hate mail from those men. But she's good at her job, and she earned the position.
What she is not good at, however, is talking to men… What else did she get? The attention of the sexiest bearded man she'd ever had the pleasure of laying eyes on. It was enough to bring to her down to her knees…in front of that man, the hot and grumpy baseball player…
Most Valuable Playboy by Lauren Blakely —
Standalone: Hands down, my favorite thing in the world is to score. Touchdowns. Don't let the fact that I'm the leading pick in the Most Valuable Playboy charity auction fool you. These days, I'm only a player on the field. I've kept my pants zipped all season long because nothing's more important than leading my team to victory every week. Except maybe escaping from the team owner's recently-widowed and handsy-as-hell sister who's dead set on winning more than a date with me.
Enter Violet and a well-placed Hail Mary.
She's my best friend's sister with a smile as sweet as cherry pie and a mind that runs quicker than the 40-yard-dash. After she saves the day with the highest bid, I don't even give her a two-minute warning before I kiss her in front of the whole crowd and then announce that she's my girlfriend. Which would be fine except my agent tells me we have to keep up the act while he's negotiating my contract.
She takes one for the team and pretends to be mine, but our boyfriend-girlfriend scrimmage quickly turns into a full contact sport, and I want it to go into overtime… How can a guy like me, who finally has a chance to prove his worth on the field, convince the girl she's most valuable to his heart?
LATEST BOOK SALES
UPCOMING BOOK RELEASES
BOOKWORM STORE
WHAT KIND OF BOOKS ARE YOU LOOKING FOR?
__________________________________
Let me know if there are any other books you're loving right now too!!
LET'S STAY CONNECTED
To get these lists sent to you every week, subscribe by email.
FOLLOW THE BLOG
Facebook | Twitter | Instagram | Pinterest | BlogLovin' | Google+ | Goodreads