TOP RECOMMENDATION: The Coppersmith Farmhouse by Devney Perry (Read my Review)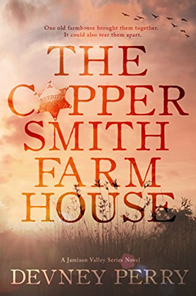 SQUEEEEEEEEEEEE!!!! OH MY GOSH!! I just finished this book by a completely new-to-me author and IT WAS AMAZING!!!!! It was like pure old-school indie romance heaven! The hero is an ALPHA sheriff who is grouchy at times but also incredibly protective, possessive, and SWOOOOOONY! And the heroine is a SINGLE MOM of a gorgeous little daughter who move into his town to start their lives over. MY HEART WAS RACING for so much of the story!! I LOVED these characters. I CARED for them! The romance was HOT, the writing was STRONG, and there was even some intense suspense thrown in as well that kept me glued to the page. I went into this book blind, I'd never heard of this author before, but I LOVED IT!! Oh, and the epilogue has ALL THE FEELS!!! It's brand new too so be sure to grab a copy!!

NEW REVIEW: Sugar Daddy: A Novel by Lisa Kleypass (Read my Review)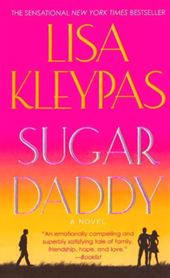 I've had this book on my reading list since 2011! Based on everything I'd heard about it, I really didn't think I'd like this story. But on a whim, I randomly started it today… and was so curious to see how it would end that I read straight through to the end. There are two main guys in the heroine's life — the sweet boy she grew up next door to in her trailer park who always knew he'd have to leave her, and the man she meets years later who teaches her to love again — and when the boy from her childhood reappears, she has to make a choice. It's a bit of a roller coaster, and until the very end, I wasn't sure who I wanted her to end up with. To be honest, I did have issues and frustrations with this book, and it's not a top favorite, but I enjoyed it and the writing was strong so I figured I'd share! As for my rating, I'd probably give 3.5 stars for the story, 4.5 stars for the writing, rounding out to 4 stars overall. I have heard that the next two standalones are better, but the blurb for the second gives major spoilers for this book so be careful!

NEW REVIEW: The Deep End by Kristen Ashley (Read my Review)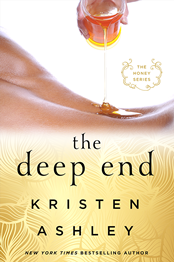 If you're looking for something VERY DIFFERENT, check out this book! Holy hell, it was HOT HOT HOT! Wildly sensual and certainly boundary pushing, but oh-so addictive! I've loved Kristen Ashley's book for years now and yet this one showed a whole new side of her writing. It was INTENSELY EROTIC in a way that was sexy but definitely made me uncomfortable at times, however it had a beautiful love story at its heart. Please be VERY OPEN MINDED when you read this book. When I first saw the blurb, I was wary because an 'alpha submissive' isn't the kind of hero I'd usually choose to read about but he was ALPHA!! Olivier was heart-meltingly sweet, deeply protective, incredibly loyal and I fell completely in love with him. I will warn though that this book certainly will not be for every reader!
OFFICIAL TRAILER: CONFESS TV SHOW!! Based on the amazing novel Confess by Colleen Hoover (read my review) — the paperback is on sale (52% OFF) and you can pre-order the special edition tv show tie-in paperback!

LATEST BOOKWORM NEWS:
WEEKLY NEW RELEASES RECAP
DETAILED LIST: NEW RELEASES
The Coppersmith Farmhouse by Devney Perry — New Release!!
TOP FAVORITE!!! Can standalone: One old farmhouse brought them together. It could also tear them apart.
She has just uprooted her whole world to start a new life. The unexpected gift of a farmhouse in small-town Montana is just what she and her daughter need to escape big-city loneliness. The last thing she needs is attitude from the town's sheriff, the most perfectly attractive and ruggedly handsome man she's ever laid eyes on—and a complete jerk… He knows all about women like her. Beautiful. Sexy. Scheming. She's stolen his sanctuary, the farmhouse that should have been his. If he can earn back her trust and win her heart, he might just find the home he's always needed…
The Deep End by Kristen Ashley — New Release!!
Can standalone: Enter a decadent sensual world where gorgeous alpha males are committed to fulfilling a woman's every desire…
He isn't sure what he's gotten himself into when he joins the Club, only that a dark part of him hungers for the lifestyle offered by this exclusive club. Here, no boundary will be left untested and one's deepest fantasies will become an exquisite reality… When she invites him to surrender, she gives the alpha submissive what he craves. Soon they both find themselves falling harder than they ever anticipated—but as their connection deepens, the truth about his past could destroy everything…
Riot by Tillie Cole — New Release!!
Can standalone: BRUTAL. INTENSE. PASSIONATE.
I am a monster, a killer, a champion. In the blood pit I am a god. I have no name, no family, and no identity. When master says fight, I fight until I am the only one left standing. I have one goal, to fight so well that I am freed. I don't need friends, I don't need women. They are weaknesses. I am strong.
… Until I see her. She is gorgeous and kind and off-limits to me. She was stolen as a child [and] now master wants her. What he wants, he gets. With a smile, she melts my brutal heart. I have never wanted anything more. I need to make a choice. Freedom or Love. I cannot choose wrong.
Blush for Me by Kristen Proby — New Release!!
Can standalone: She is the definition of no-nonsense, and she isn't afraid of anything. Well, almost anything: she hates to fly. When she's forced to travel on a death trap with wings, the turbulence from hell has her reaching for any safe haven—including the incredibly handsome guy sitting next to her.
He hasn't been able to get his sexy seat-mate out of his head. The way she clung to him stirred something inside him he didn't think existed: tenderness. As the owner of a successful wine touring company, he thinks he's got a handle on what life can throw at him and he's not prepared for any surprises, especially in the feelings department. And when he brings a tour into [her restaurant], he sees the petite spitfire he just can't forget…
Every Little Thing by Samantha Young — New Release!!
Can standalone: She has many reasons to feel content. The only challenge in her life comes in the form of a sexy businessman. She thinks he acts superior and that he considers her a small-town nobody. But when she's blindsided by a betrayal, she's shocked to discover he is actually a decent guy.
He admires her free spirit, independence, and loyalty. Every little thing she does seduces him. But when his painful emotional past makes him walk away in fear he will hurt her, it opens an old wound in her, and she retreats … Once he begins to realize he's made the biggest mistake of his life, he has no choice but to fight like he's never fought before to convince her that the love they've found together only comes around once in a lifetime….
American Prince by Sierra Simone — New Release!!
I've been many things.
I've been a son and a stepbrother. An Army captain and a Vice President.
But only with him am I a prince. His little prince… Only with them does my world make sense, only between them can I find peace from the demons that haunt me. But men like me aren't made to be happy. We don't deserve it. And I should have known a love as sharp as ours could cut both ways.
My name is Embry Moore and I serve at the pleasure of the President of the United States… for now. This is the story of an American Prince.
Catching Carly by Emma Hart — New Release!!
Can standalone: A hilariously wild romantic comedy about being the third wheel in your friendship and, um, accidentally having sex with your best friend's brother…
"I'm really good at bad decisions. How do I know this, exactly? Well, not including the time I accidentally bleached my eyebrows or sprained my ankle changing a lightbulb… I had sex with my best friend's brother. He has been a thorn in my side for eleven years. A very sexy, very tempting, very freaking annoying one. With big… hands. Which would be fine, but [I] hate him. He's off limits, right? Right.
Coastal Elite by Kate Canterbary — New Release!!
Standalone: He has problems. Business problems, political problems, cheating ex-girlfriend problems. This former Navy SEAL knows that a week away won't do a damn bit of good for those problems, but his beach house is exactly where he needs to be right now.
She has plans. Work plans, travel plans, try-everything-once plans. [The beach] is keeping her plenty busy this summer between decorating wedding cakes and teaching yoga, and busy is good. But busy is also a lonely bed, and that wasn't part of her grand plan… After a weekend together, his problems and her plans take them in an unexpected direction.
What I Need by J. Daniels — New Release!!
Can standalone: "Showing up to her brother's wedding pissed off and newly single, she seeks comfort in solitude and an open bar, until a gorgeous and irresistibly charming [guy] makes her a better offer—a wild night where nothing is off limits… She does what any single woman would do, and a connection is made. One neither one of them can ignore. But when she comes home to the boyfriend she no longer thought she had, she buries her secret and begs him to do the same. Forget about each other. It was a mistake… right?
Desires are hidden. Distance is kept. Until one night he makes the ultimate sacrifice, and she can no longer avoid the man she can't stop thinking about. Not with him sleeping down the hall…"
Irresistible In Love by Bella Andre & Jennifer Skully — New Release!!
Can standalone: Having left his hard childhood behind him, the financial genius vowed to one day have everything. But when he discovers that his marriage is built on lies, the only [person[ he can trust now [is] the woman who has always been there for him: the sister of his soon-to-be ex-wife.
She has always loved him, a secret she's hugged close to her heart for nine long years. But when her sister's devastating betrayal is revealed, she can't keep her feelings hidden any longer… Despite believing he needs to keep the walls around his heart stronger than ever, he's irresistibly drawn to her sweet, pure heart — and the undeniable sparks flaring between them…
Dirty Doctor: A Novella by Whitney G. — Live at midnight!!
Standalone: "Being a doctor in New York City has never been easy. Especially for someone like me who has a private practice and an incompetent staff…
When my team finally came to their senses and decided to bring someone more competent into the practice last month, I was actually elated. Until I realized that our new "doctor" was none other than the woman I was supposed to meet over dinner two weeks ago…. I haven't forgotten any of the filthy fantasies she told me about, and I never deleted our dirty messages. And if she thinks that I'm going to act like a "professional" and pretend like that shit never happened, she has another thing coming…"
All of Me by Callie Harper — New Release!!
"Seven years is supposed to change the way you feel.
She's not supposed to still dream about the way he touched her or the way they moved together. When she heads back, she assumes he doesn't even live there any more. Whatever he once felt, it has to have grown cold by now … But he's a firefighter. He knows better than anyone, never underestimate the power of a blaze. Those embers may appear cold, but nothing is ever as it seems. Those embers? They're just waiting to burst into flames."
Kept From You by Nashoda Rose — New Release!!
Can standalone: "A first kiss that changed everything… He was the most feared guy in high-school. Guarded. Angry. A fighter. But when I caught him watching me with his captivating green eyes I saw something more. Something protective and kind. He warned me to stay away from him. I did. Until I didn't and he kissed me. A knee weakening, body tingling kiss that left me breathless. And scared the hell out of me. And then… He warned me never to come near him again or next time he wouldn't let me go.
That was eleven years ago. We aren't teenagers anymore. He has probably forgotten me. He's a famous rock star now. So, when we cross paths again I don't expect him to remember me. He does. And his warning eleven years ago? I'm about to find out exactly what that meant."
Etched in Bone by Anne Bishop — New Release!!
After a human uprising was brutally put down, the few cities left under human control are far-flung. And the people within them now know to fear the no-man's-land beyond their borders—and the darkness… As some communities struggle to rebuild, theirs has emerged relatively unscathed, though Simon Wolfgard, its wolf shifter leader, and blood prophet Meg Corbyn must work with the human pack to maintain the fragile peace. But all their efforts are threatened when Lieutenant Montgomery's shady brother arrives, looking for a free ride and easy pickings…
The Great Pursuit by Wendy Higgins — New Release!!
A thrilling fantasy filled with dangerous enemies, political intrigue, searing romance, and a princess who is willing to do everything to protect her kingdom.
Despite the king's resistance, [the] Princess believes they must make peace, and though she's accepted a betrothal to the man who took down the beast, she cannot help thinking about the man who stole her heart and disappeared … She soon discovers that he has joined the army in the war against her family. Though her feelings for him are still strong, her duty to her kingdom and her family is stronger—especially when her parents are kidnapped and she has to step up to the throne and once again put aside what's best for her in order to do what's best for her people. They must fight to see what is more powerful: their love or the impending war…
Dangerous Games by Danielle Steel — New Release!!
Standalone: "A riveting tale of ambition and corruption, politics, passion, and ultimate justice." – "Television correspondent Alix Phillips dodges bullets and breaks rules to bring the most important news to the world—from riots in America to protests on the streets of Tehran. With her daughter in college, and working alongside cameraman Ben Chapman, a deeply private ex–Navy SEAL, she revels in the risks and whirlwind pace of her work. But her latest assignment puts her at the center of an explosive story that will reshape many lives, including her own…"
Brighter Than the Sun by Maya Banks — New Release!!
Can standalone: As the last unattached member of [a super-elite, top secret, family-run business], he is more than ready to risk life and limb on any mission he's assigned to, but when it comes to love, he'll keep his distance…
She's had nothing but heartbreak in her life, and she's determined to start over with a completely new identity. But it's his gorgeous smile and tender words of that begin to weaken her resolve to never risk her heart again. And he will have to put everything on the line to save her when secrets of her past resurface — and threaten to tear them apart…
Hot Stuff by Carly Phillips — New Release!!
Hot Number by Carly Phillips — New Release!!
Hot Item by Carly Phillips — New Release!!
Hot Property by Carly Phillips — New Release!!
Can standalone: She and her two sisters were orphans in frilly dresses when they went to live with their sports-lawyer uncle in his world of locker rooms, bookies and gambling. Now the girls are publicists in their uncle's firm.
Despite her upbringing, she is all woman. She's naturally drawn to real men—like her latest client, a businessman and former football legend. The chemistry is potent, undeniable, irresistible. She soon realizes that he is much more than just another jock. And that she'd better hold on tight if she doesn't want to lose her heart…
LATEST BOOK SALES
PAPERBACK SALES:

eBOOK SALES:
UPCOMING BOOK RELEASES
BOOKWORM STORE
WHAT KIND OF BOOKS ARE YOU LOOKING FOR?
__________________________________
Let me know if there are any other books you're loving right now too!!
LET'S STAY CONNECTED
To get these lists sent to you every week, subscribe by email.
FOLLOW THE BLOG
Facebook | Twitter | Instagram | Pinterest | BlogLovin' | Google+ | Goodreads