My favorite bad boy is back!!!!  ♥♥ 
From the heart wrenching and tear jerking prologue, to the romance, to the bad ass fights, and to the surprising, heart-racing epilogue, this book is a must-read for any fan of Beautiful Disaster!
It's important to note though that this book should absolutely be read AFTER Beautiful Disaster (click HERE to read my review). It is not a stand alone, but rather it completed the story of Beautiful Disaster allowing you to experience the full extent of Travis' all-consuming love for Abby.
There are extra scenes at the beginning and end that weren't mentioned at all in BD and a few scattered throughout the book but for the most part, it follows the story we already know and love but tells the other side. If you ever wondered what happened in between all the Travis scenes, this book fills in all those blanks.
There are a lot of scenes featuring either just Travis, or Travis and Shepley (with some brilliant dialogue), or Travis and his brothers/family. And even the scenes with him and Abby are different again because you're seeing and experiencing the story completely though his eyes.
I loved that she started right at the beginning. The prologue takes place when Travis is 3 and it really sets up his whole character. It gives the reason behind what made him into the man we have come to know and, I'm not going to lie, I cried. Holy heart wrench!
"One of these days you're going to fall in love, son. Don't settle for just anyone. Choose the girl that doesn't come easy; the one you have to fight for, and then never stop fighting. Never."
I really, truly love Travis. With all my heart. And this book really cemented that love. For anyone who thought Travis was a little over-the-top crazy, I encourage you to read this book because it gives us insight into his thoughts and feelings that  put a measure of reason and logic (or at the very least, understanding) behind his actions.
I loved watching Travis try to figure Abby out. She was just so different than every other girl he'd met and it was so cool watch him working through (and sometimes fight) his feelings for everything from just talking to her to convincing her to take part in the "bet".
"I stopped a ridiculous grin erupting across my face. "If you win, I'll go without sex for a month." She raised an eyebrow. "But if I win, you have to stay with me for a month." …One side of her mouth turned up… "Anything is worth watching you try abstinence for a change." … Her reply sent a rush of adrenaline through my veins… I felt like a king. No way this fucker was going to touch me."
I found myself constantly smiling and chuckling over his thoughts. I just loved his bad boy logic. It was hilarious at times, and at other times really made my heart clench.
"It might sound hypocritical to the women who have passed through my apartment door, but if they carried themselves with respect, I would have given it to them."
Fair point, Travis!!
"Abby's gray eyes darkened and targeted me. "It's not funny. Do you want the whole school to think I'm one of your sluts?"
My sluts? They weren't mine. Hence them being sluts.

"It was kind of cool how she watched me as I talked. Almost like she was both hanging on to every word, and amazed that I knew how to read."
You really get to see the complete "Travis" picture with this book – you see his hope, his pain, his anger, and his desperate love for and need for acceptance by this one girl who has completely taken over his heart.
"I wanted to tell her. Jesus, did I ever want to mouth the words, but I could barely admit it to myself, much less her. Deep down, I knew I was a piece of shit, and she deserved better, but that was also the one thing that stopped me. She was my opposite: innocent on the surface, and damaged deep within. There was something about her I needed in my life, and even though I wasn't sure what it was, I couldn't give into my bad habits and fuck it up."
The thing about Travis is that he's not perfect. Boy, does he have flaws! But I think that is a huge part of why we all love him so much. There is something about an imperfect, flawed character trying so hard to be functional that just tugs each one of my heart strings. On one hand, yes, he undeniably has some temper issues but you see him go through a lot of growth over the course of the book, and at the same time, he's also just a guy who just desperately, with all his heart, is truly, madly, deeply, head-over-heels in love with his girl and is trying his very best to be everything she deserves.
"You need to walk away, Pidge. God knows I can't walk away from you."
While there were a lot of new scenes in the book, there was also a big chunk in the middle that I found to have less new material and rather be extremely paralleled to BD. In an effort to not make this book to identical to BD, a lot of the dialogue was cut and there were parts of the book where, despite my love for Travis and Abby, the story always didn't convey that same epic feeling that BD did. But at the same time, it really worked for this story because otherwise, it would have been too similar. This is why I feel this book is really a companion novel to BD. It is for the hard core fans of Travis and Abby who already know their connection, are already in love with their characters, have experienced the story through Abby's eyes and just want MORE. Because in that respect, it most certainly delivers!
Travis and Abby have this crazy, consuming functional/dysfunctional relationship that is just so addictive. The "I belong to you" scene gave me shivers. I think that might be one of the single best lines/scenes of any book EVER written. Absolutely heart-poundingly beautiful.
"You can't tell me what to do anymore, Travis! I don't belong to you!"

Her words ignited a deep anger inside me. I stomped to the bed, planted my hands on the mattress on each side of her thighs, and leaned into her face.

"Well I belong to you!" I screamed. I put so much force behind my words, I could feel all my blood rush to my face. Abby met my glare, refusing to even flinch. I looked at her lips, panting. " I belong to you," I whispered.
And the EPILOGUE!!!!!!!!!!!!!!!!!!!! oh my gosh!!! I don't want to say a SINGLE word about it because I don't want to spoil it at all for anyone but I'll just say that it takes place several years after where Beautiful Disaster left off and it had my heart RACING!!! I never saw that ending coming but omg it was PERFECT! I loved it. Freaking loved it!! The book is worth reading for the epilogue alone. It left Travis and Abby's story off in SUCH a wonderful place and at the same time, left me wanting to know more about the stories of the rest of the swoony Maddox brothers.
My heart is truly happy ♥
"At the end of it all, I'm yours."
4 – 4.5 stars
**PS. I did not re-read Beautiful Disaster before reading this because I just didn't have the time but I have read BD several times and the story was very clear in my head. If you remember BD well then I don't think you have to re-read right before. But if you are fuzzy on any of its details, then definitely re-read first because Walking Disaster truly is the other half to BD and you come away with it knowing every side of Travis and Abby's story.
READING ORDER & LINKS TO BUY:
If you haven't yet read Beautiful Disaster, I highly recommend it!! One of my favorite books EVER!
CASTING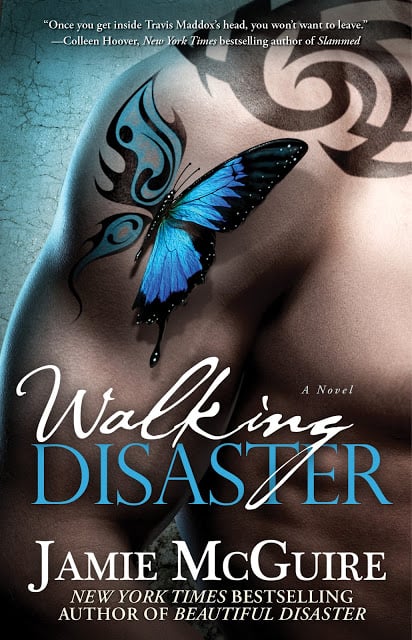 Kindle copy is International. Paperback copy is US/Canada.
Void where prohibited. Must be over 18 to enter.