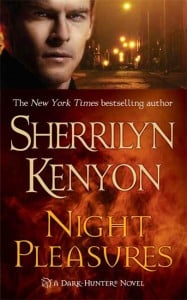 Sherrilyn Kenyon's Dark Hunter books are the perfect paranormal blend of very tortured heroes (literally and figuratively), strong heroines, engaging plot, intricate mythology, heart touching moment, steamy love scenes, some of the funniest moments you will ever read in a book, and the absolute sweetest HEAs.
I really love how she also clearly had an overall story arc from page one. The Dark Hunter books have the best character development, world building, story arcs, and writing of any PNR series out there. Hands down.
Each book focuses on one Dark Hunter, Were Hunter or Dream Hunter as they find love while fighting evil of all kinds. But the characters from past books show up again in the next books ensuring that you will always get to see more of everyone.
The mythology is a little bit of a mix of vampire/Greek/werewolf. Its a very unique world – very fun, very complex (yet easy to follow) and honestly, just incomparable to any other PNR I've read.
VERY IMPORTANT —-> DON'T SKIP ANY OF THE BOOKS!!!
Kenyon has build a wonderful world that builds upon itself with each book, reading them out of order (except the prequel) will seriously mess with how much you will enjoy the series.
READING ORDER AND WHERE TO BUY:

Book 0: Fantasy Lover (Julian & Grace) 4.5 stars
This is a prequel and though it takes place in the world of the series, it is not about a Dark Hunter. I recommend not starting with it, but instead going back and reading it after having read about 5-6 of the actual series. Its a really good book, just not quite as good as many of the other books, and when starting a new series, I recommend starting off with a strong book, which Book 1: Night Pleasures certainly is.

Book 1: Night Pleasures (Kyrian & Amanda) 5.5 stars  <—– I highly recommend starting with this book

Book 2: Night Embrace (Talon & Sunshine) 5.5 stars

Book 3: Dance with the Devil (Zarek & Astrid) 5.5 stars

Book 4: Kiss of the Night (Wulf & Cassandra) 5.5 stars

Book 5: Night Play (Vane & Bride) 5.5 stars

Book 6: Seize the Night (Valerius & Tabitha) 5.5 stars

Book 7: Sins of the Night (Dangereus & Alexion) 4 stars

Book 8: Unleash the Night (Wren & Marguerite) 5.5 stars

Book 9: Dark Side of the Moon (Ravyn & Susan) 5.5 stars

Book 10: Dream-Hunter (Arik & Mageara) 4 stars
Book 11:  Fear the Darkness. This is not actually a book, but rather a short story about Nick (no HEA or anything, just a short) that IMO is the weakest in the series and can easily be skipped… or you can find it online. I read it in about 30 mins. 3 stars.

Book 12: Devil May Cry (Katra & Sin) 6 stars

Book 13: Upon the Midnight Clear (Leta & Aidan) 4 stars

Book 14: Dream Chaser (Xypher & Simone) 5.5 stars

Book 15: Acheron (Ash & Tory) 6++ stars
One of my FAVORITE books ever written!! It will break your heart into more pieces than possible and then put it back together better than it ever was to begin with. Ash's story has been building in the background of the last 14 books, here his whole story is revealed defining him as the ultimate most tortured hero ever written!

Book 16: One Silent Night (Stryker & Zephyra) 4.5 stars

Book 17: Dream Warrior (Jericho/Cratus & Delphine) 5.5 stars

Book 18: Bad Moon Rising (Fang & Aimee) 5.5 stars

Book 19: No Mercy (Dev & Samia) 5 stars

Book 20: Retribution (Jess "Sundown" & Abigail) 4 stars

Book 21: The Guardian (Seth & Lydia) 5 stars
Book 22: Time Untime (Ren & Kateri) ~ still haven't read it
Book 23: Styxx
Book 24: Son of No One
Book 25: Dragonbane
Book 26: Dragonmark
Book 27: Dragonsworn
Book 28: Stygian