Dammit.
I totally was going for a quick, short list of my favorite reads of the year so far. HA!!!! I swear this started out as a Top 10 list… But just like with last year, a Top 10, Top 15, Top 20, Top 50 etc just wasn't enough. I just kept adding more and more books that I loved from this year and pretty soon I lost count and honestly didn't want to take any off the list. I loved them all for different reasons — some of them made me feel so strongly that even just thinking back on them brings a lump to my throat, some of them made me laugh (or cry) so much that I could barely see the page through my tears, some were just so refreshingly different and unique that they stood out to me, some were beautifully written, some were off-the-charts HOT, and some were a blend of all of the above.
Bottom line, all of these books rocked my world this year and I feel like they all deserve to be showcased. So I just gave up on the idea of a short list and decided to feature them all. So here they are… my favorite books read since Jan 2013 🙂

__________________________________
Losing Hope (Hopeless #2) by Colleen Hoover (My Review) 
Losing Hope was just absolute, beautiful perfection – easily one of the best books I've ever read in my life. I felt this story with every single part of my heart and soul. I swear, it owns a piece of me now. I didn't just read this book, I lived it.
"Time has completely stopped, and all I'm thinking about while we kiss is how this is what saves people. Moments like these with people like her are what make all the sufferings worth it."
Fighting Redemption by Kate McCarthy (My Review)
This  was 5++ stars for me!! A beautiful, powerful, and emotionally charged romance about a solider who has always loved this one girl and even after he's deployed "no matter how far he runs, or how hard he fights, his need for Finlay won't let go." It's a standalone & one of my favs of the year now!
"For six years I fought every day not to think of you, and I lost, because every day you were all I could see."
Making Faces by Amy Harmon (My Review)
This book blew me away!! It was beautifully written and deeply moving, with a very powerful message about true beauty, silver linings, and second chances. A poignant and unconventional tale about heroism, courage, love, loss, friendship, and self-acceptance. Absolutely breathtaking! Everyone should read this book. This is the kind of unforgettable story that sinks into your heart and doesn't let go. I can't recommend it highly enough!!
"If God makes all our faces, did he laugh when he made me?"
Night Owl by M. Pierce (My Review / Mr. Aestas' Review)
Funny, kinky, a little angsty, a lot sexy!! If you're looking for a fun, fresh, erotic romance with a ton of heart, give this one a shot! The writing is outstanding and it has the best guy POV I have ever read!!! I pretty much squeed and fanned my way through most of this book!! HOT HOT HOT!! I totally LOVED it!!
"If you get me hard, he growled, "you have to deal with it."
Tangled by Emma Chase (My Review)
Hilarious, romantic, all-out FUN!! Think Wallbanger meets Beautiful Bastard. I swear half my book is highlighted. I laughed out loud, grinned till my cheeks ached and just generally loved it. I was hooked from the first line and smiling wide by the end of the first page. If you are a fan of enemies-to-lovers stories and you're looking for an all-out FUN read that'll have you crying tears of laughter, then you will LOVE Tangled! 🙂
"Once I'm done, I'm DONE. I'm not the kind of guy who rides the same roller coaster twice… Don't look at me that way. I'm not a bad guy. I don't lie; I don't sandbag women with flowery words about a future together and love at first sight… Okay, maybe that's not exactly true. But I can't help it if they see me, fuck me and suddenly want to bear my children."
In The Stillness by Andrea Randall (My Review)
A painfully heartbreaking, emotionally charged and beautifully crafted story of love, loss and healing. The writing was flawless and just so raw and honest, with perfect pacing and a beautiful flow to it that fully conveyed every emotion the heroine went through. One of the best standalone books of the year! A must read!!
"I love you so much, Natalie, and when I get home I'm going to keep loving you until you tell me to stop. But don't, please. Don't tell me to stop."
Present Perfect  by Alison G. Bailey (My Review)
One of my top favorite books EVER! I really mean it when I say that this book was just phenomenal!! It made me FEEL with every part of my heart. It was everything!! Amazing. Breathtaking. Heartbreaking. Original. Intense. Once you start reading, I promise you will not be able to put it down!
"I've been unsure about many things in my life except for one thing, that I have always loved him. Every single minute of every single day that I have been on this earth, my heart has belonged to him."
Light In The Shadows (Find You In The Dark #2) by A. Meredith Walters (My Review)
I was in love with this story from the first word, until the very last. It was a continuation of book #1 "Find You In The Dark" which tells the story of a gorgeous bi-polar hero and a strong heroine trying with all their heart, fighting the odds, and proving that love could truly conquer all. Without a doubt, it is one of the most beautifully told, emotionally charged love stories I've ever read.
"My love for this beautifully broken, yet slowly healing boy, made me strong…. My soul belonged with him, was so entangled in him that I was no longer a single being."
This Girl (Slammed #3) by Colleen Hoover (My Review)
THIS. BOOK. IS. PHENOMENAL. It was perfect. Every single line was perfect. Beautiful. Heartbreak. Breathtaking. Unputdownable. Pure. butterflying. gold. 6 HUGE STARS!!! Be sure to start with book #1, Slammed 🙂
"I love you. I've loved you since the second I laid eyes on you and I haven't stopped loving you for a second since."
Arouse (A Spiral of Bliss #1) by Nine Lane (My Review)
Arouse is a beautifully detailed, thoughtful, and introspective story that truly makes you feel for the strength and resilience of a marriage based on true love. It takes you through the struggles, through the pain and the heartache and then brings you through to the other side.
"No," I murmur against her hair… "We are not freakishly happy. We are not freakishly anything. We're two people who love each other. We had a tough time. We worked it out because we want to be together. Because we can't imagine being with anyone else. Because we don't want to be."
Allure (A Spiral of Bliss #2) by Nina Lane (My Review)
This book was just BEAUTIFUL!!!! Dean and Liv are officially one of my all-time favorite book couples. Their passion, love, heartache and healing hit me right in the heart. Allure is the sequel and direct continuation to Arouse.
"Our relationship, our love, cannot and will never be perfect. It will, however, always belong only to us in all its flawed, intense beauty. Perfect in its very imperfection."
Addicted To You (Addicted #1) by Krista & Becca Ritchie (My Review)
She's addicted to sex… He's addicted to booze… the only way out is rock bottom.  WOW!! have found a new favorite series!!! I swear it was like this book was written for me. It had all the elements I love in a story — great writing, deeply flawed but lovable characters and an emotional intensity that kept drawing me further and further in. I'm totally addicted 😉
"I want to love him without people telling us that our love is too much."
Left Drowning by Jessica Park (My Review) 
This book was magic! A well crafted story that built slowly and quietly in intensity. Jessica Park's writing is beautifully detailed and painfully honest. It sneaks up on you. One moment you're fine, the next moment you can barely breathe.
"I want more than anything for the power of us together to be stronger than the power of the damage. If I still believed in God, in anything, I would be praying."
Bully by Penelope Douglas (My Review)
A wonderfully addictive New Adult read that kept my heart racing from start to finish. It was a unique twist on the bad boy meets good girl tale. Unputdownable!
"You were my tempest, my thunder cloud, my tree in the downpour. I loved all of those things, and I loved you. But now? You're a fucking drought. I thought that all the assholes drove German cars, but it turns out that pricks in Mustangs can still leave scars."
Lick: Stage Dive 1 by Kylie Scott (My Review) 
I'd been wishing for a new rock star book and this one hit the spot and rocked my world!! It starts off with with the heroine waking up one morning with a killer hangover and painfully fuzzy memories, in bed with a gorgeous, heavily inked rock star whose name is now tattooed on her body and a giant sparkling diamond on her finger. C'mon, tell me don't want to know what happens next! 😉
"So congratulations. You're married to a rockstar."
 Own The Wind (Chaos #1) by Kristen Ashley (My Review)
This book was pure WIN!! I have quotes highlighted on nearly EVERY page!! Kristen Ashley is one of those authors who has my complete and utter trust. Quite simply, if she writes it, I'll read it. And so should you. (This is an Alpha male biker romance)
"Promise me right now, my dick still inside you, you naked on top of me in my bed, sharing what we just shared, us having a taste of what it's like apart and knowin' were better together, you won't leave me…. You'll stick with me until there's nothing to stick to, if that ever happens."
Don't Make Me Beautiful by Elle Casey (My Review)
Don't Make Me Beautiful is a deeply touching, beautiful and inspiring story with a powerful message about the strength of survival and the healing power of love. It's both heart breaking and heart warming with a strong heroine, a to-die-for hero, and a story that will stay with you long after you finish reading. It touched my heart deeply and reminded me that there are still superheroes out there everyday who save each other. This is easily one of my favorites of the year!"
"I'm no superhero."
"Tell that to the girl you're rescuing."
Willing Captive by Belle Aurora (My Review)
Willing Captive was the perfect blend of sexy, sweet, hilarious and deeply emotional. Both heartbreaking and heartwarming, it made me laugh, cry, and swoon!! It's a standalone romance with a gorgeous, broody, protective Alpha hero, a sarcastic, no-nonsense, awesome heroine and a fun, action-packed, romantic plot. I highly recommend it for everyone!! 5 stars all the way!
"Doesn't matter where you are, baby. I'll come for you… I'll come for you."
Wounded by Jasinda Wilder (My Review)
A unique story with a very original plot that told a beautiful, realistic, heart-wrenching and erotic love story that took me out of my comfort zone, wrapped me up in the characters' journey and worked its way right into my heart. This is a romance between an American soldier and an Iraqi girl from two completely different worlds, on opposite sides of a war, with no common language, meeting by chance and falling in love.
"I'll love you forever. I'll make love to you until there's no me and no you, only us together like this forever."
Reckless (Thoughtless #3) by SC Stephens (My Review)
I adored this!! It was the concluding book in an utterly delicious, addictive, angst-filled, & heart-felt rockstar romance trilogy! I swooned, I laughed, cried tears of happiness and tears of angst, my heart raced, was tied up in knots and, at times, just stopped entirely. I truly can't say enough good about it.
"I love you too, Kiera. Just you. You're my always… I would do it all over again if I needed to. I'd go back to the beginning for you."
The Opportunist (Love Me With Lies #1) by Tarryn Fisher (My Review)

The first book in a now-completed trilogy (see other books below) that has easily made my top favorites shelf!! Each book was a 5 star read for me. This series was both a breath of fresh air and a sucker punch to the gut. Few stories have ever made my feel as strongly as they did. To understand why, you can read my reviews because it's really quite a complex story. Very flawed characters, gripping storyline, and an unforgettable journey. Highly recommended!!
"You can only give your heart away once; after that, everything else will chase your first love."
Dirty Red  (Love Me With Lies #2) by Tarryn Fisher (My Review)

This should only be read after book #1 (above). It continues the story from the point where the first book ends but this book is in Leah's POV. Despite the fact that this book is about the villain of the series, it should not be skipped!! It's incredibly well written and is an absolutely crucial part of the story. Trust me!
"I am who I am. My name is Leah, and I will do anything to keep my husband."
Thief  (Love Me With Lies #3) by Tarryn Fisher (My Review)
Book #3 in the Love Me With Lies series. This is the conclusion to the series and should only be read after the first two books (see above). This continues the story from the point where the second book ended but this book is in Caleb's POV. This series left me with one of the biggest book hangovers I've ever experienced. For two days after finishing it, I couldn't even look at another book because I was so wrapped up in this world, with these characters and just kept playing parts of the story over and over again in my head. It's a must-read trilogy!!
Note to self: Love is patient; love is kind. Love doesn't boast or brag. There's no arrogance in love; it's never rude, crude, or indecent – it's not self absorbed. Love isn't easily upset. Love doesn't tally wrongs. Love trusts, hopes, and endures no matter what. Love will never become obsolete. I'll fight for her. ~ Thief
The Dark Light of Day by TM Frazier (My Review)
This is a standalone novel that is dark, gritty, & sexy, and while it was very brutal and unforgiving at times, it was also beautiful and heartwarming. It took me by surprise over and over again. So unpredictable! I find it so refreshing to genuinely feel like the story is taking you for a ride. And what a crazy ride this one was!!
"We were just us. Broken and bruised. Fucked up and messy. And together we were everything we never though we could be."
Just Remember To Breathe by Charles Sheehan Miles (My Review)
Just Remember To Breathe was a heartwarming and emotional second-chance romance standalone. The writing was truly breathtaking!!! Beautifully detailed and kept me right in the story. I loved every word and felt fully connected to the characters. If you haven't read this book yet, you are missing out!
"I never stopped loving you," he whispered. "Not even for a second." 
Unteachable  by Leah Raeder (My Review)
What a book!! This is a beautifully written student/teacher forbidden romance. I can't gush enough about how incredible the writing is. It's a standalone with a happy ending and I really loved it!
"The night I met you was like someone handed me a winning lottery ticket and said, 'You can only have it if you don't tell."
Ruin  by Rachel Van Dyken (My Review)
This book made me laugh, cry and swoon. If you want a book that will both leave you uplifted and make you smile while still having a lot of emotional depth, then pick this one up and fall in love with Wes Michels. But bring tissues! It's a tearjerker!
"I can tell you have a good heart… because the minute I met you, I wanted to fight for it."
Shine Not Burn by Elle Casey (My Review)
I fell in love with a cowboy! If you're looking for a book that'll just make you happy, this is it! ♥ Shine Not Burn was a witty, light-hearted, addictive romance that kept me chuckling, swooning and fanning myself from start to finish! It was escapism at it's best.
"With every thrust, he gave me his response, "You. Are. My. Wife." The last word came out as a growl."
Leo by Mia Sheridan (My Review)
A beautiful, well-written, swoony and emotional second-chance romance with steam, a bit of mystery, a cool twist and a happy ending. It's also a bit shorter, making it perfect if you want a beautiful book you can read in one sitting.
"I'm going to kiss you now, Evie, and when I do, it's going to mean that you're mine. I don't care how far away we are from each other. You. Are. Mine. I'll wait for you. And I want you to wait for me. Promise me…"
Vain by Fisher Amelie (My Review)
It's a beautifully written YA novel about about a self-centered girl from a wealthy family sentenced to community service in an orphanage in Africa after being caught doing drugs one too many times. The experience changes her life. This is not your typical romance novel where girl meets boy and they just fall in love. Yes, this book has a beautiful love story, but its also about so. much. more. Its about learning the true value of life, about the price of ignorance, the weight of a self-less action, and the beauty of love.
"It'll be all right," Ian assured me.
"How do you know?" I asked when he revved the engine.
"I don't," he said, "but I'll protect you."
Going Under by S. Walden (My Review)
This book did a number on me. It was a gutsy, controversial story that was painful at times but also, raw, honest, and in the end, beautiful. It addressed a tough, intense, gritty subject matter in an evocative, well-written way. It's also a standalone.
"You think you know what to expect. You think you have it all planned out. But something in you always surprises you, and it's a buzzing undercurrent that keeps you silently guessing…"
Wait For You by J. Lynn (My Review)
This book had me swooning from the first page and I didn't want to put it down until I finished. It's easily one of my favorite standalone romances of the year and leaves you wish a deliciously warm and fuzzy feeling. If you want a book that'll keep you smiling and swooning, this is definitely one to try!! 

"I want you, Cam."
"You have me," he groaned. "You so fucking have me."
The Final Piece by Maggi Myers (My Review)
It was a captivating, emotional story of a girl healing from shattered trust and childhood abuse, rediscovering her self worth, falling in love, putting back together the pieces of her life and of the boy who helped her find that final piece and brought love, trust and safety back to her life.
"We are all broken in one way or another. Its how we put those pieces back together that matters."
Falling Into You by Jasinda Wilder (My Review)
I'm not even going to say anything about this other than I loved it. I'll let the blurb speak for itself: "I wasn't always in love with Colton Calloway; I was in love with his younger brother, Kyle, first. Kyle was my first one true love, my first in every way. Then, one stormy August night, he died, and the person I was died with him. Colton didn't teach me how to live. He didn't heal the pain. He didn't make it okay. He taught me how to hurt, how to not be okay, and, eventually, how to let go."
Grounded (Up In The Air #3) by RK Lilley  (My Review)
The concluding book of one of my favorite trilogies that follows the romance between billionaire James Cavendish and a flight attendant he meets by chance, Biance. This whole series is a delicious blend of heart-clenching emotion, fan-yourself hotness, make-you-blush kink, combined with an engaging plot that keeps you flipping the pages. This series just gets better and better as it goes and is a must read for fans of Fifty Shades and Crossfire.
"James had shown me a profound tenderness and love that belonged only to me, from our very first time together…. it was more precious of a gift than I'd allowed myself to see. He was my Dom, and I was his sub, but our love had turned it into so much more…"
Never Too Far (Too Far #2) by Abbi Glines (My Review)
A delicious, highly addictive angst and drama-filled romance that continues Rush and Blaire's story from "Fallen Too Far". Rush just makes my heart race. He's hot, swoony,  protective, possessive, and flawed (not to mention tattooed and pierced). Just totally loveable!!
"No. One. Comes. Before. You."
Consequences series by Aleatha Romig (My Review)
This was certainly one of the biggest mind fucks I've ever read. It's classified as a combination between a psychological thriller and a dark romance, and the story will toy with your mind, have you questioning your judgment and sanity and honestly should come with valium, a stress ball and a bottle of tequila. My emotions were toyed with, and my heart was lead down a path I would have SWORN it would never go down.
"Could it be possible to hate and love someone too?"
The Education of Sebastian by Jane Harvey Berrick (My Review)
This is a romance between an almost 18-year old guy and a 30 year old woman. I know it might seem awkward, and I was hesitant initially to go in but I loved the story! Every single thing between them in the first book is forbidden. Its dangerous and there is this HUGE, intense, never-ending undercurrent of pure angst that over-shadows every single one of their interactions. The writing is captivating and you will most certainly want to read the conclusion of their story in book #2, "The Education of Caroline". I certainly did!
"Everything had a price: every glance, every kiss, every stolen touch. It seemed desperately unfair… I had chosen – willingly, knowingly, deliberately. I chose love over law. And I didn't care."
Fixed On You  (Fixed #1) by Laurelin Paige (My Review)
If dominant and controlling yet tortured heroes make your heart race, then this will rock your world! This one did it for me! It gave me that amazing belly fluttering, thrilling feeling of excitement that only my favorite books give me. Fans of the Crossfire series should definitely check it out. It's the first book of a trilogy (the final one will be out in January) but there is absolutely no cliffhanger at the end so you're safe to dive in at any time 🙂
"I'm drawn to you, Alayna… because you're beautiful and sexy and smart and yes, a little crazy, maybe, but you're not broken. And that makes me hopeful. For me."
Insanity by Lauren Hammond (My Review)
The story was creative and original and constantly had me questioning each theory I'd come up with. It was told from the perspective of a young woman, Adelaide, who was committed to an insane asylum. She didn't believe she was crazy, but everyone else seemed to think she was. So… who was right?
"I. Am. Not. Crazy. That's just ludicrous. Ridiculous…. I can't be. But if I wasn't I wouldn't be here, right? So maybe… I am."
 Connected by Kim Karr (My Review)
Its not often that a book can really pull the rug right out from under me with a revelation like that but I swear to you I did NOT see that ending coming!! This is a story that makes you ask the question, "What if  'Once in a Lifetime' could happen twice?"
"I feel like fate has brought us together again. I also believe that one night, so long ago, just wasn't the right time for us. But tonight is."
Lost To You (Take This Regret 0.5) by AL Jackson (My Review)
Christian and Elizabeth's journey remains one of my all-time favorites love stories. This book is the prequel story to Take This Regret that tells the story of when they first met and fell in love.
"I was in love with Christian. Completely.
There was nothing I could do about it, no way to take it back. It was there, strong, interwoven and beating with my heart."
Reason To Breathe (Breathing #1) by Rebecca Donovan (My Review) 
This is the story of a girl holding on to a fragile thread of hope and a love that that brought a ray of light into her world of unspeakable cruelty. Intense, heart wrenching and gripping. I could not put it down!
"In the balance of love and loss, it was love that made me struggle to… Breathe."
Sins & Needles (The Artists Trilogy #1) by Karina Halle (My Review)
What a wild wide!! This was such a "different" read! It was quite refreshing to read something that you really can't compare to anything else. It was edgy and gritty, at times heart breaking and others steamy, along with a touch of snark.
"Do you think because you can't see my scars that they don't exist? … Most people have their pain deep inside them, in places no one ever goes. Not until its too late."
Sweet Thing by Renee Carlino (My Review)
I have a new book boyfriend and his name is Will Ryan. I'm in love. Oh, and did I mention he was a bit of a rockstar?? Sweet Thing was a sweet, heartbreaking and romantic story that kept me up reading all night!
"And so it began, my secret and suppressed obsession with the sensitive, tortured, artist soul. An obsession I was still fighting tooth and nail and one I wouldn't admit to anyone, namely myself."
All In (The Blackstone Affair #2) by Raine Miller (My Review)
All In is a sexy, fast-paced love story of two flawed but functional characters… If you're looking for a book with a possessive, protective and swoon-worthy Alpha hero, this series will deliver. But book #1, Naked, should be read first.
"If you come with me you're signing on for all of me, Brynne. I don't know any other way to be with you. It's all in for me. And I want it to be all in for you too."
Twisted Perfection (Perfection #1) by Abbi Glines (My Review)
Twisted Perfection was hot, steamy and sometimes a little dirty *winks*, with a fast-paced plot and lovable characters. Definitely recommended if you are looking for something slightly angsty and totally addictive.
"I'll be whatever she needs me to be. I can't walk away from her, I tried. I'm hooked." 
There is No Light In Darkness (Darkness #1) by Claire Contreras (My Review)
The perfect blend of mystery, angst, romance, and a gripping story! I could not put this book down! And the hero, Cole, might be one of my favorite Book Boyfriends EVER!! As in ever ever EVER! Holy butterflies! 5 stars!
"You're the only one that matters… You're the only one that fucking matters…. Only you… Always."
Entwined With You (Crossfire #3) by Sylvia Day (My Review)
Entwined With You was everything I could have wanted! I was thrilled with the story, happy with the ending, am now even more in love with Gideon Cross than I was before (if that's even possible!) and now am excited for the next books! Be sure to start this series with book #1, Bared To You. It is one of my top favs!
"You own me, Eva. Wherever I am, whatever I'm doing, I belong to you."
One Tiny Lie (Ten Tiny Breaths #2) by K.A. Tucker (My Review)
If you loved Ten Tiny Breaths, you'll love this one too! It was different in many ways and definitely stood on it's own but it had that same spark! I just could not put it down! Highly recommended New Adult read.
"I don't have all the pieces to fix this beautiful, trapped, broken man, but I do have one piece and it's mine to give… For how ever long he wants it.
Me. Completely."
Surviving Raine by Shay Savage (My Review)
A refreshingly unique story of two people stranded together on a life raft in the middle of the Caribbean struggling to survive and dealing with their growing feelings for each other. The hero is quite the lovable jerk!! But… I promise you'll fall for him 😉
"As long as I'm breathing, I'm yours. Even when I'm nothing more than a fucked up dick, I still love you."
Epilogue (The Dark Duet #3) by C.J. Roberts (My Review)
This is not a standalone. Readers should be sure to read this AFTER Captive In The Dark & Seduced In The Dark!! It tells the conclusion of that story and brings the characters full circle giving us a rare treat: an epilogue that has extended into a full length book.
"I know you deserve to be happy. I know you deserve someone… better, but I'm selfish. I want you. I want you bad enough to try and be someone better."
Bad Things and Rock Bottom (Tristan & Danika #1 & 2) by R.K. Lilley (My BT Review & My RB Review)
I loved this book!! It made me swoon, squee, and swear which pretty much is the perfect mix, right? Another winner from R.K. Lilley and a great choice if you're looking for an Adult read. Tristan and Danika's journey was emotional, intense, and heart breaking but left me hopeful and eager for more. I absolutely adore this series and can't wait for the final book!!
"Tell me not to kiss you."
"Don't kiss me."
"Mean it."
"I can't."
Killing Sarai (Killing Sarai #1) by J.A. Redmerski (My Review)
OK. Yeah. I fell for the bad guy. This is the kind of story that makes you just have to keep flipping the pages. The pacing is fast, the writing is fluid, the story is engaging and the characters are intriguing. All in all, it's a fabulous read if you're looking for something totally 'different'. I really enjoyed it!
"All that I'm sure of is that I'm alive because of Victor… Cold-blooded murderer-for-hire or not, he saved my life."
Axel by Harper Sloane (My Review)
Calling all badass Alpha male fans!!! You need to check this book out!!  It was a blend of all the elements I love in a book – protective Alphas, great character dynamics and a beautiful second chance at a once-in-a-lifetime love.
"Do you feel it? Every single thing we ever felt for each other, it is still there, Izzy… We walked back into each other's lives for a reason [and] there isn't one goddamn thing that will tear us apart again."
Escape From Paradise by Gwendolyn Feild (My Review) 
A captivating, dark, erotic story about a young American woman kidnapped while on vacation and a UK agent who makes it his mission to find her. Fans of Captive In The Dark will likely love this!
"Even in that scary, shadowy place of my mind, a feather of hope floated, stark white and bright. Someone would save me. Someday."
Good (Too Good #1) by S. Walden (My Review)
Bold. Daring. Forbidden. This was a well-written, rebellious student-teacher forbidden romance that defied rules and crossed lines. The dedication at the beginning set the tone for the whole story: To lovers who fought the odds. And won.
"Love comes in all kinds of packages. Some are neatly tied up, and some are messy. It doesn't mean that the messy ones aren't every bit as good."
Price of a Kiss by Linda Kage (My Review)
A cute, swoony, heartwarming standalone New Adult romance about a gigolo hero and a girl who was determined to be his friend no matter what. It was lighthearted and romantic but still had emotional depth. The banter was awesome, the writing was great and the story was sweet. I really enjoyed it!
"He could be my soul mate…except for one teeny tiny glitch. He's a gigolo. Boy, do I know how to pick them."
Arsen: A Broken Love Story by Mia Asher (My Review)
A strong, compelling debut novel that takes you through the beautiful and ugly sides of love and betrayal. Truly, a broken love story in every way. I loved it and I hated it. I don't know for sure if it belongs on this list or not – part of me says yes, part of me says hell no. You'll just have to look at the review and see for yourself…
"Love can destroy you. Love can erase you. Love can heal you. Love can reinvent you, And if you are lucky enough, Love can make you whole again."
Beautiful Broken Rules by Kimberly Lauren (My Review)
A wonderfully addictive and romantic read with a bad boy hero who I promise you will fall for! There was heaps of swoon, awesome banter, and a delicious kind of angst that made my heart race and kept me flipping pages. Once I started, I could not put it down!
"You're my heart. You don't walk away from your heart."
In The Fields by Willow Aster (My Review)
In The Fields was a truly beautiful, poignant story of a forbidden love in the 1970's that survived even the harshest prejudice. It filled me with emotion, broke my heart and then pieced it back together.
"From the first time I saw her, I loved her… I won't ever feel that way about anyone else. Ever."
Breach (Breach #1) by K.I. Lynn (My Review)
Both heart breaking and intensely passionate, Breach tells the erotic and tumultuous story of two broken and damaged people finding love, security and healing in each other. It's a dark, gritty, captivating roller coaster ride!
"He took from my body, my heart, my soul. In return he gave himself to me the only way he knew how: with bruising hands, passionate kisses, and hard thrusts. His body was sin, his cock was sin, and I was a sinner."
My Unexpected Forever (Beaumont #2) by Heidi McLaughlin (My Review)
My Unexpected Forever told a beautiful, emotional story about love and healing. It was never rushed and focused just as much on family bonding as it did on romance. It was both sexy and heartwarming. Seriously, there's just something about a bad boy rocker who is also a loving, caring dad that is absolutely heart melting!! I finished the book with happy tears in my eyes. Loved it!
"Everything in me is saying give up; that I don't need her, but I do. I need her like I need to breathe."

Cage (Corps Security #2) by Harper Sloan (My Review)
If you're a fan of badass, protective Alphas with huge hearts, this is the series for you! They are my undoing. They just melt me. Every. Time. And this book is choc full of them!
"I have lived a life that makes me know when something is worth fighting for. I took one look at you and knew you were worth it to me."
Red Hill by Jamie McGuire (My Review)
Red Hill is a well written, deeply heartfelt journey of survival and love in the midst of the zombie apocalypse! It grabs you from the first page and holds on to your heart long after you've finished! I really enjoyed it and it was a fun change of pace from my regular romance books.
"I wasn't sure how long we could survive, but I knew I wasn't dying on day one of the fucking zombie apocalypse."
Walking Disaster (Beautiful Disaster #2) by Jamie McGuire (My Review)
For fans of Beautiful Disaster, this was Travis Maddox's side of the story!! This was the series that first started my love of bad boy romance.
"One of these days you're going to fall in love, son. Don't settle for just anyone. Choose the girl that doesn't come easy; the one you have to fight for, and then never stop fighting. Never."
Four Seconds To Lose (Ten Tiny Breaths #3) by KA Tucker (My Review)
Engaging, sexy and addictive, this book kept me guessing and was impossible to put down. "When a gorgeous young dancer walks through his door, a strip club owner must decide whether to follow his rules or his heart…"
"I'm living a life where safety is a luxury… Yet it took this man – a stranger – mere seconds to decide he would protect me."
Let It Be Me by Toni Aleo (My Review)
A beautiful, heartfelt story about a woman's struggle to face her fears, find her inner strength and gain the courage to leave an abusive relationship along with the support of an incredible guy who showed her what it was like to live without fear and to truly be loved.
"Let me be the one to hold you forever… Just please, let it be me."
Emancipating Andie by Priscilla Glenn (My Review)
A slow-building, sweet, beautiful love story with a deeper message set against the backdrop of a road trip. "When Andie and Chase are forced to take a two-day road trip together… the undeniable friction that has always defined their relationship slowly begins to wear away their preconceived notions of each other, Andie and Chase discover they both have a lot to learn about life, courage, happiness, and the age-old battle between logic and love."
"His heart was racing and he wanted her to hear it. And he wanted her to know that from here on out, it beat solely for her."
Eversea by Natasha Boyd (My Review)
Total escapism! A fun romance between a Hollywood heartthrob mega-star and a feisty small-town girl. It was light and engaging with a dash of angst, a smattering of serious, and a swoon-worthy hero. And the sequel "Forever Jack" is already out!
"Do you think it's normal for people to feel like this… whatever this is that happens when we are in the same room with each other? Maybe you have no idea, but I do. It. Doesn't. Happen. At least not to me."
Branded by Abi Ketner & Missy Kalicicki (My Review)
Fast paced, action-packed and emotionally charged, Branded was an awesome New Adult Dystopian debut with a forbidden romance that captured my heart!
Darkness. Death. Violence. Pain. Now every day is a fight for survival. But I won't die. I won't let them win. The Hole can't keep me. The Hole can't break me. I am more than my brand. I'm a fighter. My name is Lexi Hamilton, and this is my story.
Trouble by Samantha Towle (My Review)
A fun New Adult romance with a reformed bad boy and a twist I didn't see coming! Plus it had one of the best guy POV's I've read this year and it's a standalone with a fully resolved ending so you get the complete story in one fell swoop 😉
"I'm not an arrogant ass. I'm just aware of how I look. And most women like how I look. Okay, ALL women like how I look. It's the hair and tattoos. They like the bad boys, and I'm bad. What can I say?"
Stinger by Mia Sheridan (My Review)
This standalone romance grabbed my attention from the first paragraph and kept me up all night flipping pages. It took me by surprise several times and I'm still smiling when I think back on it. What started out as a fun "porn star meets lawyer" romance turned into so much more!!
"Tell me you're mine," he whispered. 
"I'm yours. I've always been yours." 
Take Care, Sara by Lindy Zart (My Review)
This was a deeply emotional story about a woman struggling to go on after suffering the loss of her beloved husband. It was quite painful at times but in the end it was uplifting.
"Love was forever, love was not lost when a life was; love did not fall away or weaken a person. Love was strong and people were stronger because of it; love continued, in all forms, in every way, until the end of time and even after that."
Tall, Tatted, and Tempting by Tammy Falkner (My Review)
A sweet story with a great blend of fun & sexy, and heartfelt & emotional. The blurb says it best:  "Logan Reed is tall, tatted and tempting. Kit's a woman with a mean right hook and a secret. Kit wants a tattoo, but Logan sees more than she intends to share in the drawing of the tat she wants. He sees her in ways no one ever has. Logan's not disabled; but he hasn't spoken in eight years. He hasn't needed to. Until he meets Kit."
"I want to be your friend," I say.
"I want you to be my girlfriend."
"What does that mean?" ….
He looks confused. "I'm not sure. But I think it's the same as being my friend, but I get to make you come."
❤❤❤❤❤❤
Looking for more recent recommendations?
Here's my list of Best Books Read in 2014 … so far
Also, here's my list of Best Books Read in 2012 and also
my General Recommendations List 🙂

❤
Also, even though I read them before 2013, I also want to add in my top favorite series of all time. They are just breathtaking!! I can't recommend them highly enough!!
The Bronze Horseman trilogy by Paullina Simons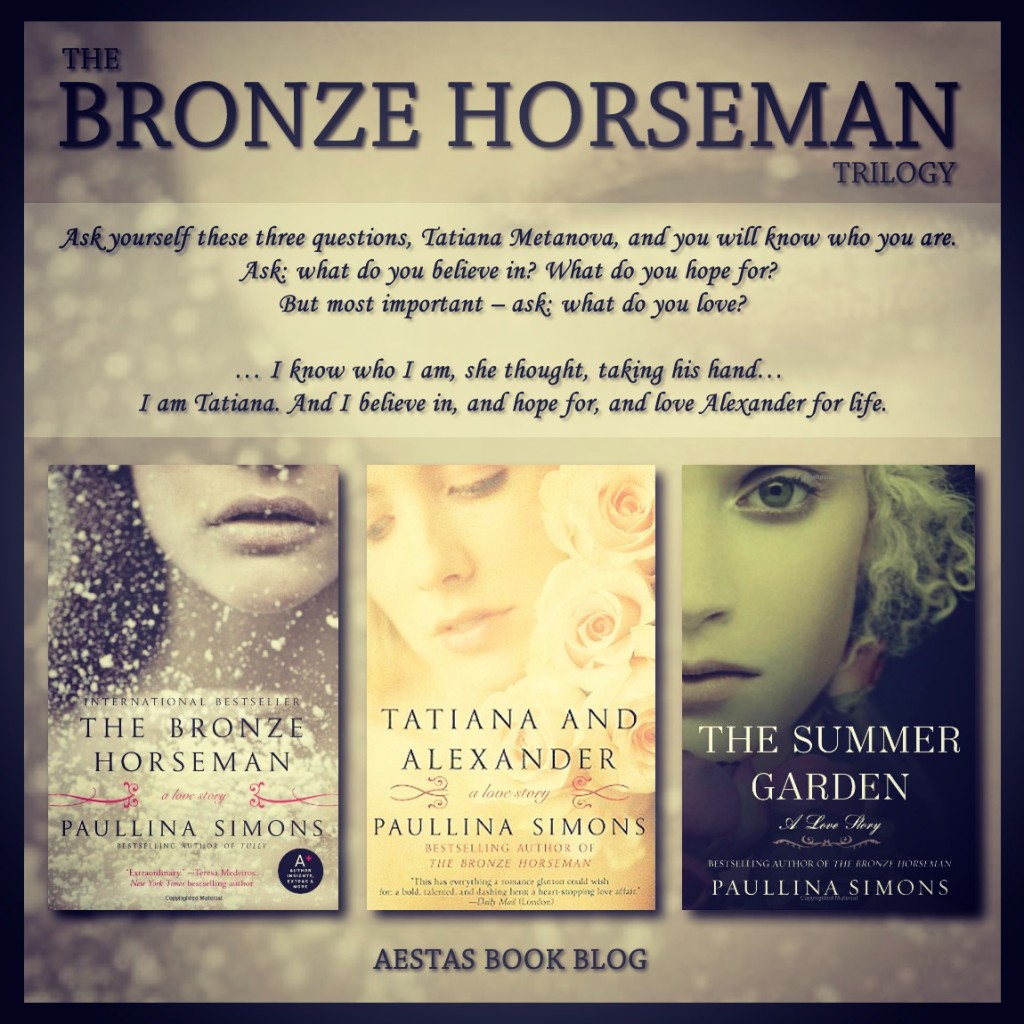 ❤
And finally, feel free to comment below and let me know what were your favorite books read this year too! I'd love to hear from you!!
❤❤❤❤❤❤