Hey everyone!!!
I've had lots of requests from readers to 'see my bookshelves' and since I just set up these new shelves, I decided to post a complete picture of all of them (see below) along with a list of every book on them sorted by Bookshelf & Row… so it should be super easy for you guys to find any book you're curious about!
My bookshelf is actually almost more of a "recommendations wall". For the most part, I only buy books that I have already read and loved. There are just SO many books out there that I like having the ones I display on my wall be mostly books that have a special meaning to me in some way.
I personally read eBooks, and then buy my favourites in paperback.
Anything I have on this shelf that I haven't read, I likely bought right before I started blogging. For me, it's not just about having books, it's about having a selection of books I genuinely care about. I've been collecting these for about 3 years now and my book pile started out really small and just slowly grew from there as I began buying the books I fell in love with along the way.
Even though I don't read quite as much paranormal romance any more, I do love the genre and I have a fair number of those from before I started blogging. I basically went from reading Twilight (ages ago) to desperately wanting something similar (romance, strong couples, etc) so my searches led me to BDB and Night Huntress and then I just read about every major PNR series I could get my hands on. But THEN I discovered Fifty, Crossfire, Thoughtless, Beautiful Disaster, Slammed, and a lot of the other original indie romance hits and I veered off into contemporary romance and began my blog (back in 2012).
So next is a picture of the finished shelves now that they're all set up … and I also included a bunch of "building the shelves" pics which I just thought were fun.
Oh, and just because a few people asked… a good chunk of the books in the top 4 rows are signed.
Then check below that for a HUGE LIST of every single book on the shelves!
Happy browsing!! 🙂
PS: Be sure to bookmark this page so that you can come back to it anytime you want!
— THE FINILIZED BOOKSHELVES —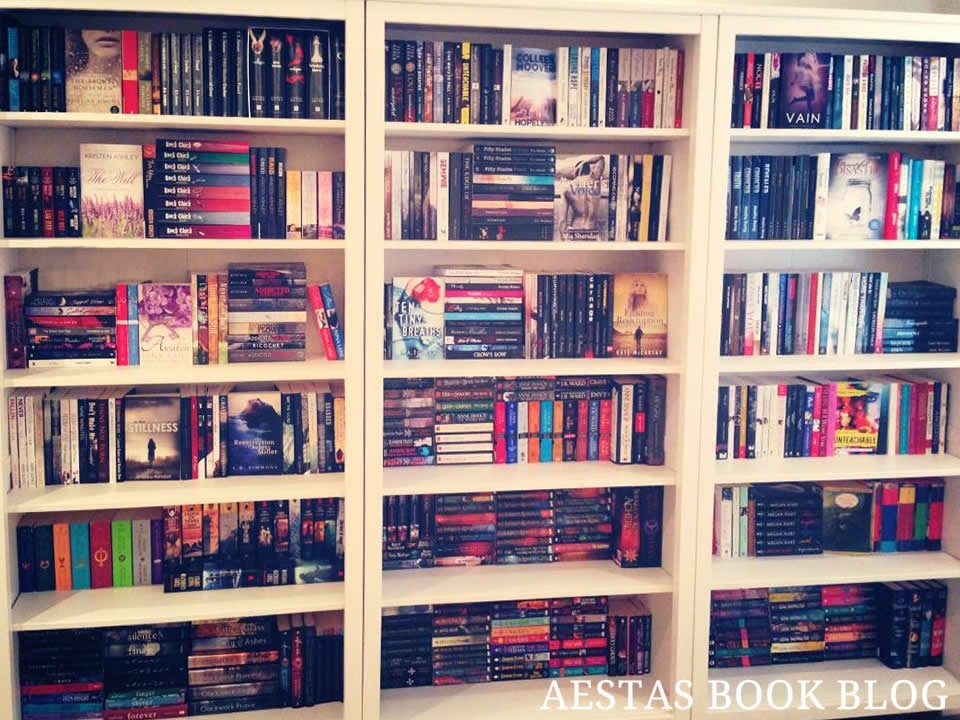 I tend to organize my shelves mostly by size but also a bit by genre. I love seeing books match on the shelves. But I know we're all different. So what do you guys do?  Do you organize your books… Alphabetically? By favorites? By genre? Something else? Leave me a comment below and let me know!
— BUILDING THE SHELVES —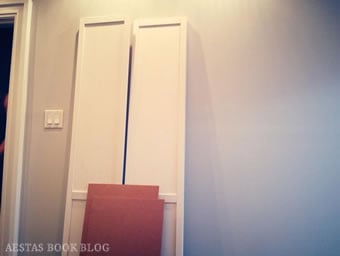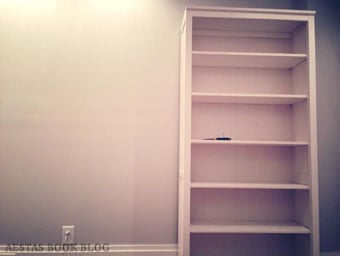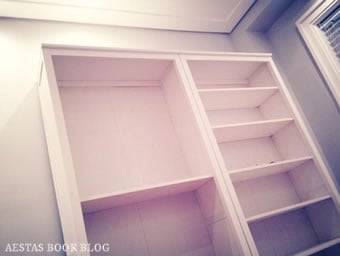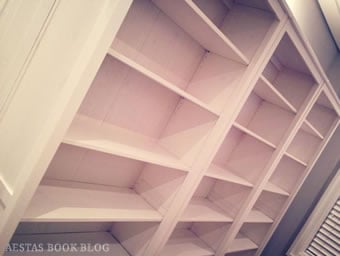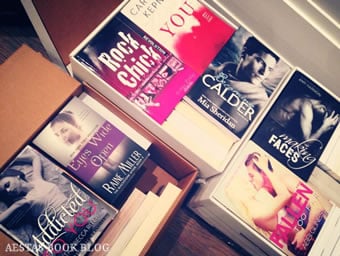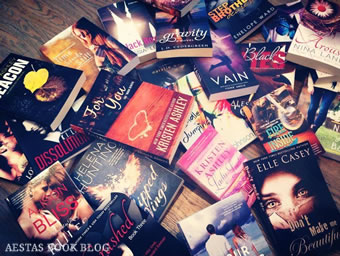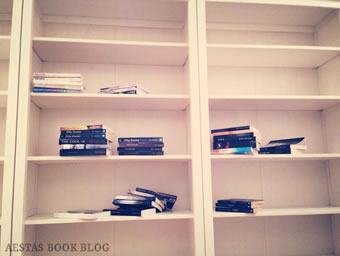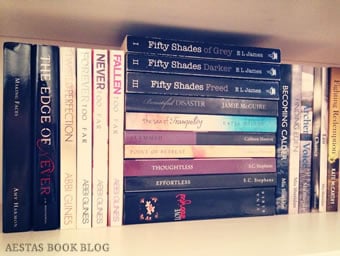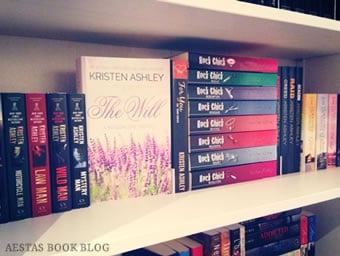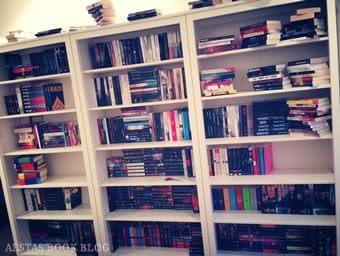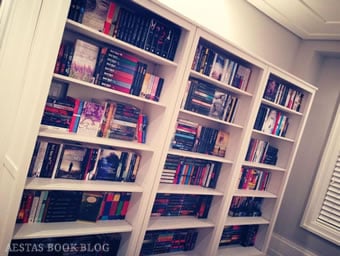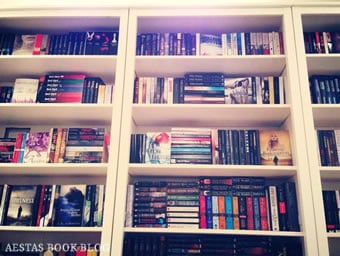 — WHAT BOOK ARE YOU LOOKING FOR?  —
Breakdown of each book, shelf-by-shelf.
BOOKSHELF #1, ROW #1
Bared To You by Sylvia Day (indie copy)
The Bronze Horseman (#1) by Paullina Simons: Purchase | eBook | Review | Series Overview
Tatiana and Alexander (#2) by Paullina Simons: Purchase | eBook | Review | Series Overview
The Summer Garden (#3) by Paullina Simons: Purchase | eBook | Review | Series Overview
Tatiana's Table (The Bronze Horseman companion): Not available for purchase
Fifty Shades of Grey by EL James (movie cover): Purchase
Fifty Shades of Grey (#1) by EL James (hardcover, no longer available)
Fifty Shades Darker (#2) by EL James (hardcover, no longer available)
Fifty Shades Freed (#3) by EL James (hardcover, no longer available)
BOOKSHELF #1, ROW #2
BOOKSHELF #1, ROW #3

Last Light by M. Pierce (ARC)
Addicted To You (Addicted) by Krista & Becca Ritchie (original cover)
Ricochet (Addicted) by Krista & Becca Ritchie (original cover)
Addicted For Now  (Addicted) by Krista & Becca Ritchie (original cover)
Arouse (Spiral of Bliss #1) by Nina Lane (original cover)
Allure (Spiral of Bliss #2) by Nina Lane (original cover)
BOOKSHELF #1, ROW #4
BOOKSHELF #1, ROW #5
The Outlander series by Diana Gabaldon (top fav)
The Sword of Truth series by Terry Goodkind (top fav)
BOOKSHELF #1, ROW #6
BOOKSHELF #2, ROW #1
BOOKSHELF #2, ROW #2
BOOKSHELF #2, ROW #3
BOOKSHELF #2, ROW #4
The Night Huntress series by Jeaniene Frost (fav)
The Black Jewels series by Anne Bishop (fav)
The Tir Alainn trilogy by Anne Bishop
The Black Dagger Brotherhood series by JR Ward (fav)
The Black Jewels trilogy omnibus by Anne Bishop: Purchase | No Review (fav)
The BDB Insiders Guide by JR Ward: Purchase | eBook | Series Reading Order
Shadowfever by Karen Marie Moning: Hardcover not available | Series Reading Order
BOOKSHELF #2, ROW #5
The Fever Series by Karen Marie Moning (fav)
The Dark Hunter series by Sherrilyn Kenyon (fav)
The League series by Sherrilyn Kenyon (fav)
The Lords of Avalon series by Kinsley McGregor
The Belador series by Sherrilyn Kenyon/Diana Love
BOOKSHELF #2, ROW #6
Titanic: Illustrated Screenplay by James Cameron: Purchase
The Ephemera series by Anne Bishop: No reviews
The Demonica Series by Larissa Ione: Reading Order
The Lord of Deliverance series by Larissa Ione: Reading Order
The Otherkin series by Eve Silver: Not Read
The Edge series by Ilona Andrews: No Reviews
The Kate Daniels series by Ilona Andrews: Reading Order
The Stormwalker series by Allyson James: Not Read
The Circle trilogy by Nora Roberts: Not Read
The Dark Series by Christina Feehan: Not Read
The Nicki Styx series by Terri Garey: Not Read
Devil Without A Cause by Terri Garey: Not Read
The Elder Races series by Thea Harrison: Not Read
The Argeneau series by Lynsay Sands: Not Read
The Alpha & Omega series by Patricia Briggs: Not Read
BOOKSHELF #3, ROW #1
BOOKSHELF #3, ROW #2
Until I Break by M. Leighton: Not available for purchase
Convicted (new cover)
BOOKSHELF #3, ROW #3
BOOKSHELF #3, ROW #4
BOOKSHELF #3, ROW #5
The Wilderness Series by Sara Donati
The Time Traveller's Wife by Audrey Niffenegger: Not available for purchase
The Lord of The Rings by JR Tolkien: This edition no longer available
Harry Potter Series by JK Rowling: These editions no longer available
BOOKSHELF #3, ROW #6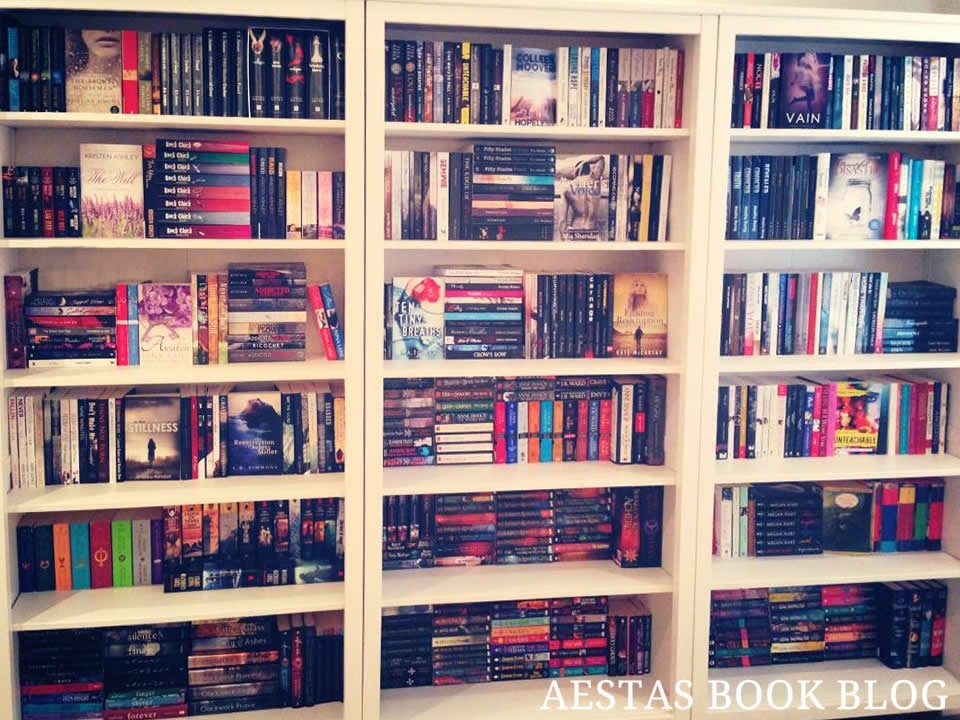 What about you? Do you collect paperbacks? Or do you only buy eBooks? Or both? Do you have a preference? Leave me a comment below and let me know!! 😀