THE UNIDENTIFIED REDHEAD (REDHEAD #1) BY ALICE CLAYTON
Buy THE UNIDENTIFIED REDHEAD (Kindle)
Buy THE UNIDENTIFIED REDHEAD (Paperback)
5 fun stars!
What a fun book!! The perfect blend of funny (hilarious actually!), sassy, sexy, goofy and swoony! Definitely a great lighthearted read for after a very emotional book 🙂
The book had me laughing out loud more times than I could count. Its a fun, romantic story about Grace Sheridan, a 33 year old actress giving Hollywood a second shot, and Jack Hamilton, the 24 year old next hotshot bigtime Hollywood star actor. They meet by chance at a party and have this really flirty, fun connection. She's never even heard of his big movie and to him, seems like the most 'real' girl he's met in a long time. And after a few weeks of (brilliant and hilarious) banter, its clear they are both very into each other and want to explore things further. Banter turns to serious flirting, which turns to romantic beach strolls, which turns an adorable relationship.
I really loved that the relationship really "built" itself. It didn't just – poof! – happen. The progression was realistic and so much fun to read.
"He pushed me back up against the door, slamming me against the doorbell. I heard it ring out.
"Coming!" I heard Holly say as she clicked across the floor to the front door.
"Not quite, but she's close." He chuckled, removing his hand and leaving me breathless and rosy cheeked." 
Jack is totally swoony – he's smart, funny, charming, totally into her, down-to-earth… all round awesome guy!
"He had known exactly what I needed and when I needed it. It was as if he was put on this earth for the sole purpose of giving me pleasure. Who am I to argue with intelligent design?"
Grace was a totally non-annoying heroine – very tongue-and-cheek, very real, with a wonderful POV.
"The guy looks young enough to be your kid, Grace. 
Yes, but only if I'd really slutted it up in junior high…"
I loved how committed they were to each other – especially once they started getting serious and admitting their commitments. It was so refreshing having a story that didn't create drama from jealous ex's, stupidity on the part of the characters, etc. I mean, sure there's a bit of worry (he IS an uber-famous hot guy who every female on the planet is lusting after… so that's bound to create some insecurities, also there's media scrutiny, their age difference, etc ) but he's so quick to reassure her and never does anything to make her feel or think that he's anything other than committed to her. Its very sweet… and at the same time, utterly hilarious. Seriously at times, it was like they were young teens teasing each other over the silliest things that literally made my cheeks hurt from laughing.
And there was SO much sex – not too much, but enough that it was a pretty hot read. Car sex. Wall sex. Bed sex. Closet sex (yes, closet sex). Shower sex. Bathtub sex. Hotel sex…. I'm sure I'm missing some here, but you get the picture lol.
"That night went down (pun intended and acknowledged) in history, forever known as, Hamilton:5/Sheridan:Lost Track After 17. It was probably the best night I ever spent in a bed with a man.
And on the floor with a man.
And up against the door with a man.
And, God, watch over and protect us, on the floor of the closet with a man."
The book ended on a bit of a cliffhanger… she got a big job in NYC and leaves at the end of the book while he stays in LA but I've been assured that the ending of book 2 is a HEA so I'm looking forward to starting it tomorrow and seeing Grace and Jack handle their long-distance relationship. I predict oodles of phone sex 😛
I wavered back and forth a bit on the rating… at first  I wasn't sure if I should give 5 stars to a book that didn't make me clutch at my heart or have have super emotional tears, but then I realized that was totally unfair. Why should only the emotional books be given 5 stars. To me, this was a perfect 5 star FUN read 🙂
~ ~ ~ ~ ~ ~ ~ ~ ~ ~ ~ ~ ~ ~ ~ ~ ~ ~  ~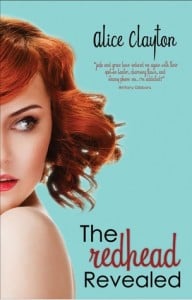 THE REDHEAD REVEALED (REDHEAD #2) BY ALICE CLAYTON
Buy THE REDHEAD REVEALED (Kindle)
Buy THE REDHEAD REVEALED (Paperback)
4 stars
"He was everything I'd ever wanted, and everything I hadn't even known I needed."
With both their careers growing at opposite ends of the country, Jack's huge Hollywood movie premiering in LA and Grace's Broadway show in NYC, they have to deal with making a long-distance relationship work, with learning to trust each other, with only seeing each other every couple weeks/months, with Jack's growing fame and intense media scrutiny, with nosy and lying tabloids, with with the general insecurities that come with a fast growing whirlwind relationship.
"I just miss you. I miss being in your bed," he said quietly, and I could hear the desperation in his voice. I felt it too. It was not just the physical love he gave me, but the simple touches we took for granted when we saw each other all the time. I missed him washing my hair almost as much as the intense orgasms he had granted me daily."
I did want to throttle Grace a fair bit in this one, but her insecurities were understandable. But still, she made some pretty stupid decisions. Thankfully, despite being the younger one, Jack was so heart-warmingly mature and loyal and fought so strongly for the relationship and to convince Grace of his love for her.
"Those fangirls think he's all sexy scientist man, and really, he's just a British goober who adores his girlfriend."
Overall it was a fun read, it was romantic, more drama-packed packed than the first one, but Grace and Jack were still their crazy, fun selves ensuring some hilarious, cute, swoony scenes, great banter, a whole lot of sex, and a happy-for-now ending (there is going to be another book in the series).
BUY THEM ON AMAZON 
Click the covers.