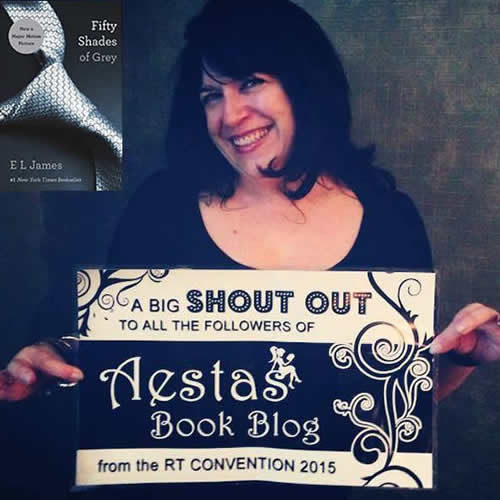 I had such a fantastic time at the 2015 RT Convention in Dallas and wanted to share some pictures from the event!! This was a huge romance book event for readers, authors, and industry professionals and I loved it so much that I've already decided I'm going again next year (it'll be in Vegas)! It was so wonderful to catch up with readers and authors who I've known since I started blogging, and I loved getting to meet new ones whose books I'd discovered more recently. All in all it was an absolutely unforgettable experience!
One of the biggest highlights of the trip for me was meeting the amazing EL James (author of Fifty Shades) for the first time because her books were a huge part of why I decided to start blogging back in 2012. She was so kind and gracious and getting to meet her definitely made the trip even more special!
I also brought something back to giveaway here to a lucky winner!!! I have a Kindle Fire case signed by as many of the authors as I could get and you can enter at the Rafflecopter at the bottom of this post to win it. It's open Internationally and regardless of whether or not you have that particular eReader, you can still enter to win. And, if you want a Kindle Fire that fits that case, you can purchase one here.
There were many authors I either met or chatted with but sadly the timing didn't work for pictures. So I also wanted to send a shout out to authors M Leighton, Ruth Clampett, Ginger Scott, SD Hendrickson, Kristin Harmel, Emma Chase, AL Jackson, Debra Anastasia, Tijan, Mia Asher, Melanie Harlow, Sawyer Bennett, Raine Miller, Emma Hart, Claire Contreras, Elizabeth Hunter, Rebecca Shea, Kathryn Perez, Sarah Dosher, Corinne Michaels, Tia Louise, Meghan Quinn, Anna Todd, Abbi Glines, Fisher Amelie, SL Jennings, Daisy Prescott, (and I know there are many more but I'm exhausted from the trip so I'm really sorry if I missed any names)… and also the wonderful readers and industry professionals who I was absolutely delighted to get to spend time chatting with, but don't have pictures of. — I've posted all the pics that I have below along with links to some of each authors' books in case any of them are new to you.
Enjoy!!! And don't forget to enter the big GIVEAWAY at the bottom of the post! 😀
*** SIGNED GIVEAWAY ***
I'm giving away a Kindle Fire case (pictured below) signed by as many of the RT authors as I could fit on the cover. Please note that the Kindle Fire device is not included with the case.
This case has been signed by Colleen Hoover, Leisa Rayven, Sylvia Day, Alice Clayton, Tiffany Reisz, Tracey Garvis Graves, SC Stephens, Cora Carmack, Jay Crownover, Samantha Young, KA Tucker, Alessandra Torre, Aleatha Romig, Tamarra Webber, Karina Halle, Meredith Wild, Renee Carlino, RK Lilley, K. Bromberg, Tara Sivec, Kristen Proby, Rebecca Shea, Tiffany King, Christina Lee, Rebecca Donovan, Rebecca Yarros, Helena Hunting, Laurelin Paige, JLBerg, Emma Hart, and… me 🙂
PS: even if you don't have a Kindle Fire, I suggest you enter the giveaway because this case looks really awesome just propped up on a bookshelf as decoration! You don't *have* to actually use it as a case.
Open Internationally.
Void where prohibited by law. Must be over 18 to enter.