**** NEW LIST JUST POSTED ***** Hey everyone!! This is a brand new Weekly List for the week of June 28th. I know it looks similar to the old one, but if you scroll down, you'll see it's all new books!! It's also a seriously HUGE release week (probably one of the biggest of the year) so there are lots of books to choose from! 😀
TOP RECOMMENDATION (MIDNIGHT RELEASE): Full Tilt by Emma Scott (Read my Review)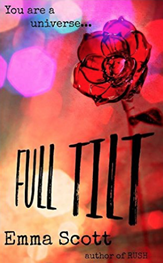 *** CRYING *** Oh WOW!!!! This was an absolutely GORGEOUS book!!! My gosh, those FEELS were epic! Honestly, I thought I was handling my emotions pretty well for most of the book, but then this one sentence just did me right in and the TEARS started flowing. The writing was captivating, the romance was heart-breakingly, achingly beautiful, and I absolutely LOVED the story! I really love finding books that can deliver this kind of raw, emotional intensity. It's an unconventional love story and I would most highly recommended it for fans of Me Before You. It has ALL THE FEELS!! And luckily, it releases at midnight so be sure to pre-order!!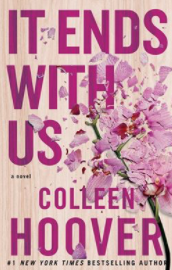 DISCOUNT ALERT: The paperback of It Ends With Us by Colleen Hoover is currently 54% OFF if you pre-order. This is one of the BEST BOOKS of the year (5 STARS!!) and there is a Price Guarantee! Pre-order now and if the Amazon.com price decreases between your order time and the end of the day of the release date, you'll receive the lowest price!! Awesome deal!!! (Read my Review)

RECENT RECOMMENDATION: Say You'll Stay by Corinne Michaels (Read my Review)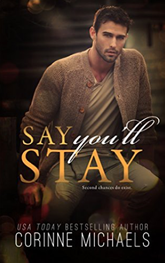 SQUEEEEEEE!!!!!! OMG. OMG!!!! This was one of the SWOONIEST second chance romances I've ever read!!! The hero and heroine had fallen in love as teens and were reunited after seventeen years apart! It had all the emotional intensity of a passionately reunited love, mixed in with deep feels that made me tear up, and even hilarious moments that made me laugh out loud too. It was SEXY, ADDICTIVE, and totally unputdownable!! I also absolutely LOVED that this couple genuinely TALKED through their issues. Everything they went though, even their mistakes, made SENSE and their story was such a joy to read. Oh, and THE EPILOGUE WAS PERFECT!!!!!!
WEEKLY NEW RELEASES RECAP
EARLY RELEASES (NOW LIVE):  

MIDNIGHT RELEASES (PRE-ORDER NOW):  
LATER WEEK RELEASES (PRE-ORDER NOW):  
DETAILED LIST: NEW RELEASES
Pieces by Toni Aleo — New Release!!
"Sure, I live in a mansion and money isn't an object, but that doesn't matter because I can't leave. I have a guard who follows me around 24/7… I'm a walking science experiment. I hate it. I hate my life here.
But then he comes along. He's just some vampire…or so I thought.
But you'll have to read my story to find out what I mean. To know my secrets. Until then, though, allow me to introduce myself… 
My name is Rebekah von Stein. 
And I'm a descendant of Dr. Frankenstein. 
Welcome to the Works."
Epic Lies by Trudy Stiles — New Release!!
Can standalone: "He has always been the one to keep it all together.
His family.
His friends.
His band.
His heart is huge, but guarded.
He's the best friend. The protector. The shoulder to cry on. But he's never been able to protect his own heart or himself. Lies from his past have destroyed his outlook on love… until he meets her."
Stand by T Gephart — New Release!!
Can standalone: He's a rock star and his new neighbor is the girl he still loves from his past! — "While she had enjoyed being the sometimes girlfriend of the hot bass player for [a famous band], she knew it would never be more than a casual fling. He was destined for greatness, and she cared too much to hold him back. So, before she lost her heart, she said goodbye, moved to Manhattan and left her party-girl days in the past—along with him… It wasn't his new huge penthouse apartment that got him excited; it was his new neighbor. The one girl he regretted letting go. He wanted her back and would do anything to make it happen. Hopefully it wasn't too late."
After We Break by Katy Regnery — New Release!!
Standalone: "She was the girl. The only girl I ever wanted. The only girl I ever loved. The only girl I could ever love. And I killed it. I destroyed it. I threw her love away… For nine years, I've kept the memory of her locked in the deepest corner of my heart… all the while hating myself for what I did to her. To us. Now, without warning, she's walked back into my life. I'm covered in tats. She's covered in Polo. I write heavy metal songs. She writes chick-lit. My eyes are angry. Her eyes are sad. I still long for her with every fiber of my being. But I have no idea if she feels the same. I guess it's time to find out."
DETAILED LIST: MIDNIGHT RELEASES
Full Tilt by Emma Scott — Live at midnight!!
TOP FAVORITE: "I would love you forever, if I only had the chance…"
She has always lived life on the edge. And now, as lead guitarist for a hot up-and-coming band, she is poised at the brink of fame and fortune. A wrecked concert in Las Vegas threatens to ruin her career entirely. She wakes up with the hangover from hell and no memory of the night before, or how she ended up on her limo driver's couch…
He's running out of time. He knows his situation is hopeless, and he's vowed to make the most of the handful of months he has left to him. His plans do not include falling in love with a wild, tempestuous rock musician who wound up passed out on his couch.
He sees that she's on a path to self-destruction. He lets her crash with him for a few days to dry out and get her head on straight. But neither of them expected the deep connection they felt, or how that connection could grow so fast from friendship into something more. Something deep and pure and life-changing… that they both know will shatter in the end no matter how hard they try to hold on to it."
Up in Flames by Abbi Glines — Live at midnight!!
Rosemary Beach series: "Spoiled. Selfish. Rich girl. Villain. Slut. She has been called every vile name under the hot summer sun. Some of her reputation is deserved—she's never had to worry about anything but she is far from happy… So she jumps at the chance to date the gorgeous charmer. Though she doesn't know much about the sweet-talking Texan, and though it's clear he doesn't want to be exclusive, dating him beats hanging out with vapid socialites or watching Netflix alone at home. For a while, she deals with his playboy ways, but after he burns her one too many times, she takes off for an impromptu wild weekend in Vegas. There, she meets a darkly seductive and oh-so-dangerous businessman who knows exactly how to handle her…"
The Bourbon Thief by Tiffany Reisz — Live at midnight!!
"When he wakes up from a night with a beautiful stranger, it's to discover he's been robbed. The only item stolen—a million-dollar bottle of bourbon.
The thief, a mysterious woman, claims the bottle is rightfully hers. After all, the label itself says it's property of the Maddox family who owned and operated [the] distillery since the last days of the Civil War until the company went out of business for reasons no one knows… No one except her."
Defending Hayden by L.P. Dover — Live at midnight!!
Can standalone: "But when a fatal car accident claims the life of his girlfriend, he finds himself caught in a destructive spiral of drugs, alcohol, and meaningless sex. Football is all he has left. Then fate leads him back to the scene of the crash, and into the arms of a kind, gorgeous woman who sees past his façade to the man he once was… and can be again.
When a chance roadside encounter brings him into her life, she isn't fooled by his bad attitude: All bark and no bite, he's hiding a wounded heart beneath that gruff demeanor. And she wants to be the one to kiss it all better. Soon they both find that a dose of passion is potent medicine. But when a hidden enemy lashes out at her, he steps up to do what he does best: put his body on the line in the name of love."
His by Brenda Rothert — Live at midnight!!
Standalone: I'd say I'm down on my luck, but that's an understatement. I'm flat on my ass. Homeless, hungry and in hiding with my little sister at the age of twenty-one, I've never been so desperate. I've hit rock bottom when I get an offer I can't refuse.
She's an intoxicating mix of tough and vulnerable I've never known before. This homeless woman who fits right into my upper-class world is running from someone powerful, and I'll do whatever it takes to protect her. But she isn't meant to be controlled, [so] I've finally met my match, and I'll do whatever it takes to make her truly mine.
Chasing Impossible by Katie McGarry — Live at midnight!!
Can standalone: Tough and independent, she lets very few people into her inner circle. It's common knowledge in her Kentucky town that she deals drugs, but not even her closest friends know why. But when a deal goes south and she's suddenly in danger, she finds herself reluctantly forced to lean on a daredevil boy whose restless spirit matches her own… He has his own reasons for wanting to keep her at arm's length. But he never expected to find in her the one person who might help him face the demons he's tried so hard to run from. Together, they will have to fight for the future they both thought was impossible.
Hard to Serve by Laura Kaye — Live at midnight!!
Can standalone (novella): To protect and serve is all Detective Kyler Vance ever wanted to do, so when Internal Affairs investigates him, everything is on the line. Which makes meeting a smart, gorgeous submissive at an exclusive play club the perfect distraction… The director of the city's hottest art gallery, her career is golden. Now if only she could find a man to dominate her nights and set her body—and her heart—on fire. When a scorching scene with a hard-bodied, brooding Dom at the club promises just that, she is lured to serve him again and again… Then, as their relationship burns hotter, he learns that he's been dominating the daughter of the hard-ass boss who has it in for him. Now he must choose between life-long duty and forbidden desire…
Rake's Redemption by Chantal Fernando — Live at midnight!!
Can standalone: Known as the player of the Motorcycle Club, he loves women, the more the merrier. However, behind his womanizing façade, he hides the pain of losing his first love. He hasn't loved anyone since, and doesn't think he ever will.
Seven years after their split, they run into each other at the MC's favorite club. Old wounds resurface, secrets are spilled…and passionate feelings are awakened. Only when her connection to him puts her in danger from another Club member does he realize that there's nothing he won't do to protect her—and claim her as his once again…
Addicted by Elle Kennedy — Live at midnight!!
Can standalone: He used to live in a paradise on earth with his best friend, in a place where visitors came and went, allowing their desires to run free. But everything changes when a deadly attack forces them to take up with a band of Outlaws. He knows she's hung up on someone else, but he's always believed he's the man for her—and won't let her go without a fight.
Even though she is well aware that he's one hot specimen of a man, she refuses to let sex ruin the most important relationship in her life. But when the object of her interest spurns her, she indulges in a little pleasure-filled revenge with her very magnetic, very willing best friend. One thrilling night with him is enough to awaken her unexpected desires for him. And now that she's had a taste, she's not sure she can ever give him up…
Playing with Monsters by Amelia Hutchins — Live at midnight!!
We have "remained hidden in the shadows for centuries. We've avoided the 'real world' altogether; hiding from monsters and other creatures we share this planet with. We found protection… Until now. The past has a way of repeating itself. A new game is beginning. No one is safe. He's coming for me. He's hunting.
The monster we've run from for centuries has found us.
How far will this deadly game go? How far will I be able to take it, or will he destroy me and everything I care about? Will the one thing I can't live without, be the key to destroying and undoing the past? Or will the past destroy me before I can save the people I love from what I've done."
Never Missing, Never Found by Amanda Panitch — Live at midnight!!
Standalone: Stolen from her family as a young girl, she was lucky enough to eventually escape her captor. Now a teen, she's starting a summer job at an amusement park. There are cute boys, new friends, and the chance to finally have a normal life… Her first day on the job, she's shocked to discover that a girl from the park has gone missing. Old memories come rushing back. And now as she meets her new coworkers, one of the girls seems strangely familiar. When she chose to run all those years ago, what did she set into motion? And when push comes to shove, how far will she go to uncover the truth… before it's too late?
Awakened by Kate Douglas — Live at midnight!!
Can standalone: She will never forget the first time she saw the man of her dreams. Every morning, this impossibly gorgeous hunk would ride his bike past her coffee shop, fueling her wildest romantic fantasies. But when she learns that her crush is none other than one of America's hottest young entrepreneurs, she knows her fantasy will never become a reality. That is, until his home burns down and he moves in with her…
As a roommate, he's as warm, friendly, and down-to-earth as he is rich, famous, and heart-stoppingly handsome. But how he can tell her the truth about his past? And how can he tell her he loves her…without putting her heart, and her life, in danger?
Chaos Bound by Sarah Castille — Live at midnight!!
: After enduring months of torture at the hands of the Black Jacks MC, and betrayed by his own club, he will stop at nothing to get revenge. But falling for a beautiful woman with dangerous ties to his sworn enemy was never part of the plan… Raised by the Black Jacks, she grew up fast, furiously, and with little to lose. But now that she's put her MC days behind her, she is free to do what she wants—until she meets a man who imprisons her, body and soul. She swore she'd never give her heart to a biker, but he's the most passionate, protective man she's ever known. But will he be forced to betray his one true love to exact his revenge?
ROAR by Kallypso Masters — Live at midnight!!
Can standalone: Haunted by a tragic accident that yanked his beloved wife from his side, he has been going through the motions in life. But when he meets her, he feels an undeniable connection… After encountering her in a compromising position on a tour of a BDSM academy, he realizes there's more to her than meets the eye. Fascinated by her assertive alpha personality, coupled with her desire to submit and serve, she intrigues him.
As she shines light once more into the dark corners of his life, he finds himself struggling between remaining in his safe and lonely world or emotionally opening himself up to a vibrant woman, who asks for nothing more than he's able to give. Guiding her in mind-training exercises to prepare her for some future Dom, he finds his body awakening as well…
First Comes Love by by Emily Giffin — Live at midnight!!
Standalone: Growing up, Josie and Meredith Garland shared a loving, if sometimes contentious, relationship. Josie was impulsive, spirited, and outgoing, Meredith hardworking, thoughtful, and reserved. When tragedy strikes, their delicate bond splinters.
Fifteen years later, they are in their late thirties, following very different paths. As the anniversary of their tragedy looms, and painful secrets from the past begin to surface, Josie and Meredith must not only confront the issues that divide them but also come to terms with their own choices. In their journey toward understanding and forgiveness, both sisters discover that they need each other more than they knew—and that in the search for true happiness, love always comes first.
Top Bottom Switch by Chelle Bliss — Live at midnight!!
Standalone novella: He knows exactly who he is—a Dominant male with an insatiable sexual appetite. He's always been a top, searching for his bottom…until a notorious switch catches his eye. She has grown tired of her usual partners. She's been watching him for months, wanting to run her tongue along his hard muscles. But his need for total control stops her… He worries that a relationship with her would be impossible. Unable to deny his attraction to her any longer, he convinces her to submit to him. When he dominates she, will she submit or will she top from the bottom?
Sweet Little Lies by Jill Shalvis — Live at midnight!!
Standalone: Choose the one guy you can't have.
Fall for him—hard. And then tell him the truth.
He's six-foot-plus of hard-working hottie who always makes time for his friends. When she becomes one of them, she discovers how amazing it feels to be on the receiving end of that deep green gaze. But when a freak accident involving darts (don't ask) leads to shirtless first aid, things rush way past the friend zone. Fast. She only wants him to be happy. But wanting him for herself is a different story—because she's been keeping a secret that could change everything…
DETAILED LIST: LATER WEEK RELEASES
In Twenty Years by Allison Winn Scotch — Live on Friday!!
Standalone: Twenty years ago, six Penn students shared a house, naively certain that their friendships would endure—until the death of their ringleader and dear friend Bea splintered the group for good. Now, mostly estranged from one another, the remaining five reluctantly gather at that same house on the eve of what would have been Bea's fortieth birthday.
But along with the return of the friends come old grudges, unrequited feelings, and buried secrets. Catherine, the CEO of a domestic empire, and Owen, a stay-at-home dad, were picture-perfect college sweethearts—but now teeter on the brink of disaster. Lindy, a well-known musician, is pushing middle age in an industry that's all about youth. Behind his smile, handsome plastic surgeon Colin harbors the heartbreaking truth about his own history with Bea. And Annie carefully curates her life on Instagram and Facebook, keeping up appearances so she doesn't have to face the truth about her own empty reality… Reunited in the place where so many dreams began, and bolstered by the hope of healing, each of them is forced to confront the past.
…