NEW REVIEW & TOP RECOMMENDATION: Royally Screwed by Emma Chase (Read my Review)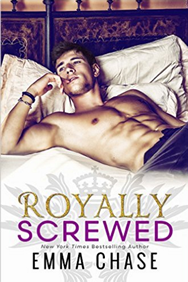 SQUEEEEEE!!!!! I LOVED this book!! It was a delightfully witty, heart-warming, and romantic fairytale come to life! It's the story of a normal girl whose entire world is turned upside down when a real Prince Charming sweeps her off her feet and into a whirlwind love story! It was the ultimate romantic reading escape and even though this story has all the makings of a classic fairytale with the prince sweeping the common girl off her feet, it's well grounded by flawed, intriguing characters and real-life understandable problems, and balanced out by a sexy, heart-pounding romance. This book is addictive, passionate, and positively delightful! If you're looking for a SEXY, ADDICTIVE, LIGHT-HEARTED, and SWOONY romance with just enough ANGST to keep your heart racing, this is it!!!
Royally Screwed is the first standalone in a series of interconnected standalones that will each follow a different couple. If you've read and loved this first one, be sure to pre-order Royally Matched and Royally Endowed as well! Remember that pre-orders are not charged til release either.
BOOKWORM NEWS:
WEEKLY NEW RELEASES RECAP
DETAILED LIST: NEW RELEASES
Royally Screwed by Emma Chase — New Release!!
TOP FAVORITE! Can standalone: Nicholas Arthur Frederick Edward Pembrook, Crowned Prince of Wessco, aka "His Royal Hotness," is wickedly charming, devastatingly handsome, and unabashedly arrogant―hard not to be when people are constantly bowing down to you.
Then, one snowy night in Manhattan, the prince meets a dark haired beauty who doesn't bow down. Instead, she throws a pie in his face. Nicholas wants to find out if she tastes as good as her pie, and this heir apparent is used to getting what he wants.
Dating a prince isn't what waitress Olivia Hammond ever imagined it would be. There's a disapproving queen, a wildly inappropriate spare heir, relentless paparazzi, and brutal public scrutiny. While they've traded in horse drawn carriages for Rolls Royces and haven't chopped anyone's head off lately―the royals are far from accepting of this commoner. But to Olivia ― Nicholas is worth it.
Nicholas grew up with the whole world watching, and now Marriage Watch is in full force. In the end, Nicholas has to decide who he is and, more importantly, who he wants to be: a King… or the man who gets to love Olivia forever.

Honor: The Breaking Point by Jay Crownover — New Release!!
Can standalone: "Don't be fooled. Don't make excuses for me. I am not a good man. I've seen things no one should, done things no one should talk about. Honor and conscience have no place in my life. But I've fought and I've survived. I've had to… The first time I saw her dancing on that stage in that second rate club, I felt my heart pulse for the first time. She was too vibrant for this place, and I knew in an instant that I would make her mine. But first I had to climb my way to the top. I had to have something more to offer her…
I'm here now, money is no object and I have no equal. Except for her. She's disappeared. But don't worry, I will find her. She will be mine. Like I said, don't be fooled. I am not the devil in disguise… I'm the one front and center."
Punk 57 by Penelope Douglas — New Release!!
Standalone: "Where'd you go? Seems like it's been forever that you've been gone." — I can't help but smile at the words in her letter. She misses me. In fifth grade, my teacher set us up with pen pals from a different school [and] in no time at all, we were arguing about everything. The best take-out pizza. Android vs. iPhone… And that was the start. For the next seven years, it was us.
Her letters are always on black paper with silver writing. Sometimes there's one a week or three in a day, but I need them. She's the only one who keeps me on track, talks me down, and accepts everything I am. We only had three rules. No social media, no phone numbers, no pictures. We had a good thing going. Why ruin it? Until I run across a photo of a girl online. Name's Ryen, loves Gallo's pizza, and worships her iPhone. What are the chances? F*ck it. I need to meet her. I just don't expect to hate what I find.
The Sexy One by Lauren Blakely — New Release!!
Standalone: "Let me count the ways why falling into forbidden love is not my wisest move…
1. She works with me every single day.
Did I mention she's gorgeous, sweet, kind and smart?
2. She works in my home. Playing with my five-year-old daughter.
Teaching my little girl. Cooking for my princess…
3. She's the nanny. And that makes her completely off-limits. But it doesn't stop me from wanting her. All of her."
Twisted Palace by Erin Watt — New Release!!
Royals series: "These Royals will ruin you… He has a quick temper and even faster fists. But his tendency to meet every obstacle with violence has finally caught up with him. If he wants to save himself and the girl he loves, he'll need to rise above his tortured past and tarnished reputation. No one believes she can survive the Royals. Everyone is sure he will destroy them all. They may be right. With everyone conspiring to keep them apart, they must find a way to beat the law, save their families, and unravel all the secrets…"
The Promise by Melody Grace — New Release!!
Standalone: "Promise me one thing. Promise me you'll live."
Claire arrives in Boston with an old notebook and her best friend's dying wish – to finish the scribbled bucket list that she didn't have time to complete. Moment by moment, Claire builds a life she never dreamed of – until he walks into the coffee-shop one crisp September afternoon, and her careful plans scatter on the winds. Sometimes a chance meeting can change a life forever. Sometimes fate knows exactly what we need… [This novel] brings together two people searching for a love that can overcome tragedy. A heartbreakingly romantic novel that challenges us to live and love every day as if it were our last…
Win Some Lose Some by Shay Savage — New Release!!
Standalone: "An awkward boy with Asperger's Syndrome, a persistent girl who pulls him out of his isolated existence, and a lottery ticket that will change their lives forever. — For him, every day is a struggle. Each task others complete without thinking is a challenge for him. Recently orphaned, he has to finish the last few months of high school and take care of his disabled sister on his own. When she comes into his life, his comfortable routines implode. He can't handle change, but she's unrelenting in her quest to understand him, to show him acceptance and maybe even love. When she breaks through his shell, his world will never be the same again…"
To Love and to Cherish by Lauren Layne — New Release!!
Can standalone: She has spent the past eight years devoted to turning her tiny start-up into Manhattan's premiere wedding planning company. Now that her business is thriving, it's time to turn towards her much neglected personal life, and she approaches her relationships like she does everything else: with a plan. He's not a part of that plan [and he's] the one person who's been there for her since the very beginning. But she needs someone fun, and he's all business, all the time—except when a late night at the office ends with an unexpected kiss that leaves her reeling…
Between Here and the Horizon by Callie Hart — New Release!!
Standalone: She needs money, and she needs it bad… Ever since she lost her job teaching third grade elementary, scraping enough cash together to pay the bills has proven almost impossible. So when she's is offered an interview for a well-paid private tutoring gig in New York, how can she possibly say no?
He's young, handsome, and wealthy beyond all reason. He's also perhaps the coldest, rudest person she's ever met, and has a mean streak in him a mile and a half wide. A hundred grand is a lot of money, however, and if tolerating his frosty temperament, his erratic mood swings and whatever else he throws at her means she'll get paid, then that is what she will do. Her new boss is keeping secrets, though. Awful, terrible secrets. The ghosts of his past are about to turn her future upside down, and she can't even see it coming.
Hard to Fall by Marquita Valentine — New Release!!
Can stanadalone: As a hardworking, hard-partying firefighter, he values his career and his freedom. But as the eldest son of a U.S. senator, he agreed long ago to follow in his father's footsteps and run for office, and that means settling down and marrying the picture-perfect wife. He just isn't ready for that sort of commitment… not with women like the naughty bridesmaid he recognizes the morning after his buddy's wedding—tempting him to stay single forever.
The unwanted love child of a well-known politician, she has always felt isolated and alone. Then she meets him at her best friend's wedding. During their impulsive and unforgettable night together, she feels desired like never before—only to wake up and find that he doesn't remember his drunken proposal, or their hasty marriage, or her…
What Light by Jay Asher — New Release!!
Standalone: Her family runs a Christmas tree farm in Oregon [but] every year, they pack up and move to California to set up their Christmas tree lot for the season. So she lives two lives: her life in Oregon and her life at Christmas. And leaving one always means missing the other. Until this particular Christmas, when she meets him, and one life eclipses the other.
By reputation, he's not your perfect guy: years ago, he made an enormous mistake and has been paying for it ever since. But she sees beyond his past and becomes determined to help him find forgiveness and, maybe, redemption. As disapproval, misconceptions, and suspicions swirl around them, they discover the one thing that transcends all else: true love…
Defying Her Mafioso by Terri Ann Browning — New Release!!
Scarlett Vitucci was many things:
The daughter of the biggest Cosa Nostra boss from New York to Chicago.
The sister of the man I would gladly take a bullet for.
And the only woman I would ever love.
Sending her away was the hardest thing I've ever done, but I didn't deserve her or her love. For three years I stayed away, ignoring the gnawing ache that her absence left in my chest. Now, she was back and fighting what I felt for her was impossible. Letting her go had been a huge mistake. One I would never repeat.
Behind Closed Doors by Lisa Renee Jones — New Release!!
Can standalone (NOT a re-release): Desperate to pay for law school, she tries her hand at auction hunting, only to find a poker chip and a note leading to an offsite locker. The next thing she knows a famous, millionaire poker player is at her door, accusing her of blackmail. Innocent, she swears he's wrong. He rolls the dice and believes her, impulsively inviting her along to Las Vegas. And remarkably, she takes a risk, finding herself seduced by this dangerously alluring man, on his private jet, and finally living life to the fullest. But there is more than passion waiting for them in Vegas when blackmail takes a deadly turn…
Three Simple Words by A.J. Pine — New Release!!
Can standalone: Her brother's best friend just came back to town on a Harley, is now a bestselling author, and she has become his muse… — "The last time I saw her, she was a senior in high school, three years older than me and way out of my league. Now I'm her last-minute date to a wedding, and what started as a night of pure fun has turned into something more real than either of us anticipated. She's my muse. The only problem? She wants the fairy tale—her very own happily ever after—and anyone who's read my book knows the truth. I just don't believe they exist."
Marry Me Mad by Katy Regnery — New Release!!
Can standalone: For as long as she can remember, she's been the "sweet" twin to her sister's "sassy." But after an especially painful break-up, she decides she's had enough of being sweet. Children's librarian during the day, she begins visiting Philly's seedier nightspots on a quest for adventure. When the ex-boyfriend of her sister saves her from disaster on one such evening, an unlikely friendship is born between the rebellious librarian and the moonlighting pianist… and two broken hearts begin a journey toward being whole again.
…