**** NEW LIST JUST POSTED **** Hey everyone!! This is a brand new Weekly List for the week of March 27th. This is an awesome week because I have 4 Top Recommendations and there are so many new releases!! 😀
TOP FAVORITE (NOW LIVE): Say I'm Yours by Corinne Michaels (Read my Review)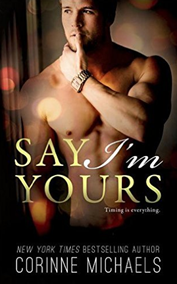 SQUEEEE!!!! This was such a wonderfully ANGSTY and SWOON-FILLED new book!!! It was a second chance (ish) romance. The hero and heroine have been in love with each other forever but their relationship had been through some really rough patches. And this story begins at the point where the hero realizes this is his last chance to make things right and he does absolutely everything in his power to win back the heart of the only woman he's ever loved. AHHHHH!!! I LOVED IT!!! I'm going to be honest, I was frustrated with the first half of the book, but I absolutely LOOOOOOOOVED the second half!!! It was SWOOOOOONY and had SO MANY FEEEEELS!!! My heart never stopped racing and I read as fast as I could!!! It was so GORGEOUS!!! Definitely new FAVORITE!!!! Be sure to grab a copy! It's now live!

TOP FAVORITE (MIDNIGHT): The Hard Truth About Sunshine by Sawyer Bennett (My Review)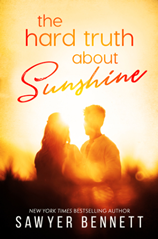 HOLY WOW. I mean WOW!!!!! This was one of the most HEART-FELT and POIGNANT books I've experienced in a long time. It was DEEP and MEANINGFUL. It made me laugh, cry, and FEEL for these characters. For those of you who've read this author before, this is an entirely NEW and DIFFERENT side to her writing and I LOVED IT! I knew from reading the blurb that this would be a very UNIQUE story and I didn't know what to expect when I first started it but from the very first page, I COULD NOT PUT IT DOWN. I was truly captivated by this story that was simultaneous heart-breaking and heart-warming. It was RAW. HONEST. PAINFUL. BEAUTIFUL. An instant favorite and top recommendation for everyone!!! It's a standalone and it'll be going live at midnight (YES!! Almost here!) so be sure to grab a copy!

TOP FAVORITE (MIDNIGHT): The Night Mark: A Novel by Tiffany Reisz (Read my Review)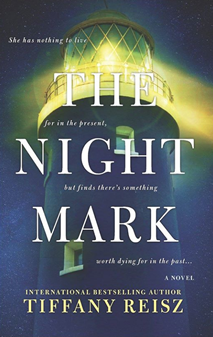 OMG!!!! This was such a UNIQUE and HEART-WARMING novel!!! It was a love story unlike any other I've read! It spanned ages and time and really opened my heart and mind to possibilities I couldn't even imagine. It's technically a time-travel romance (similar to Outlander in ways) except here the heroine is transported back to 1921 where her life is saved by a man who looks and acts shockingly identical to her present day, beloved late husband. And what unfolds is a BEAUTIFUL mystery and romance that filled my heart with hope, happiness, and even brought me to tears!!! I loved the symbolism and how REAL the story felt. This would make an AMAZING movie!!! If you're looking for a genuinely DIFFERENT ROMANCE with FANTASTIC WRITING, definitely grab a copy!! It's going live at midnight!

SPECIAL EDITION (MIDNIGHT): Confess: A Novel by Colleen Hoover (Read my Review)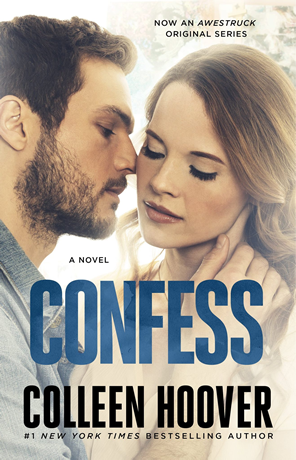 This is one of my FAVORITE standalone romances and it has been turned into a TV show! To celebrate, they've launched a special new paperback edition featuring the actors on the cover that is releasing at midnight and if you pre-order a copy now, you get 38% OFF!!!
— "Auburn Reed is determined to rebuild her shattered life and she has no room for mistakes. But when she walks into a Dallas art studio in search of a job, she doesn't expect to become deeply attracted to the studio's enigmatic artist, Owen Gentry… For once, Auburn takes a chance and puts her heart in control, only to discover that Owen is hiding a huge secret. The magnitude of his past threatens to destroy everything Auburn loves most, and the only way to get her life back on track is to cut Owen out of it—but can she do it?"
WEEKLY NEW RELEASES RECAP

EARLY RELEASES (NOW LIVE):  

MIDNIGHT RELEASES (PRE-ORDER NOW):  
LATER WEEK RELEASES (PRE-ORDER NOW):  
DETAILED LIST: NEW RELEASES
Say I'm Yours by Corinne Michaels — New Release!!
TOP FAVORITE! standalone: I spent twenty years waiting for Trent Hennington to open his eyes and see me. But it was all for nothing. He chose to keep himself guarded and let me walk away, proving that my time and efforts were wasted. I'm done being invisible. It's time to move on. A single dance sets my new reality into motion, and I welcome it. After all, he's perfect. He's kind, sexy, and attentive―everything a girl could want.
I thought I got it right this time. That my heart could mend, and I would be happy. Apparently, some things really are just too hard to walk away from.
Dirty Filthy Rich Men by Laurelin Paige — New Release!!
Duet: When I met him, I knew he was rich. I didn't know he was filthy. Truth be told, I was only trying to get his best friend to notice me. I knew poor scholarship girls like me didn't stand a chance against guys like them, but I was in love with his world, their world, of parties and sex and power. I knew what I wanted—until one night, their world tried to bite me back and he saved me. He saved me, and then he finally noticed me, and I finally learned what it was to be in their world. And then what it was like to lose it.
Ten years later, I've found my way back. Back to their world. Back to him. This time, I'm ready. I've been down this road before, and I know all the dirty, filthy ways he will try and wreck me. But it's hard to resist. Especially when I know how much I'll like it.
Hot for the Fireman by Gina L. Maxwell — New Release!!
Can standalone: Of all the men to walk into her office, why did it have to be him?
Her one-night stand isn't playing by the rules of just. One. Night.
She's had her heart broken in the past, and no way is she going there again. And now he's blackmailing her into three dates? Well, if that's what it takes to make him see a different therapist, fine. She can handle it. So what if the chemistry between them is combustible? She's a professional, damn it. She'll date him. But it won't end in the fun he expects. It's time to see how much heat this fireman can take…
Lei'd with Cupcakes by Bethany Lopez — New Release!!
Everybody dreams of a Hawaiian Vacation… They sell you on the drinks with little umbrella's, dolphin watching, and long walks on the beach. Which probably happens, if you're that lucky schmuck living out your dream with your destination wedding, but if you're a fish out of water like me, there's no time for relaxing because trouble is never far behind. Instead of cocktails, I ended up dealing with the seedy underbelly of The Big Island. And, I didn't see one damn dolphin while undercover on a boat which was spilling over with drug dealers…
WARNING: THIS BOOK CONTAINS FOUL LANGUAGE, SEX, SOME VIOLENCE, AND SHENANIGANS. IF NONE OF THAT BOTHERS YOU, GRAB A CUPCAKE AND READ ON!
Her Knight to Remember by Jill Shalvis — New Release!!
Standalone re-release: Some people have no gratitude! When Princess Andrea Brunner saves Kyle Moore from a bad guy, she expects a little appreciation. Instead, the arrogant man insists that he saved her! Impossible! Annie has always been the rescuer.
Nothing to do except ignore the gorgeous but misguided cop. Too bad he doesn't see when he's being given the cold shoulder. In fact, he seems intent on making himself unforgettable…
DETAILED LIST: MIDNIGHT RELEASES
The Hard Truth About Sunshine by Sawyer Bennett — Live at midnight!!
TOP FAVORITE! Standalone: "An angry, bitter amputee. An optimist losing her eyesight. A dying kid. A suicidal thief. Four people with nothing in common but their destination.
Despite having narrowly escaped death's clutches, Christopher Barlow is grateful for nothing. His capacity to love has been crushed. He hates everyone and everything, completely unable to see past the gray stain of misery that coats his perception of the world. It's only after he involuntarily joins a band of depressed misfits who are struggling to overcome their own problems, does Christopher start to re-evaluate his lot in life.
What could they possibly learn from one another? How could they possibly help each other to heal? And the question that Christopher asks himself over and over again… can he learn to love again?
He's about to find out as he embarks upon a cross country trip with a beautiful woman who is going blind, a boy with terminal cancer, and an abuse victim who can't decide whether she wants to live or die.
They will encounter adventure, thrills, loss and love.
And within their travels they will learn the greatest lesson of all.
The hard truth about sunshine…"
The Night Mark by Tiffany Reisz — Live at midnight!!
TOP FAVORITE! Standalone: "Faye Barlow is drowning. After the death of her beloved husband, Will, she cannot escape her grief and most days can barely get out of bed. But when she's offered a job photographing South Carolina's storied coast, she accepts.
In the quaint beach town, she falls in love again when she sees the crumbling yet beautiful lighthouse and becomes obsessed with the legend surrounding The Lady of the Light—the keeper's daughter who died in a mysterious drowning in 1921. She is drawn to the lighthouse for reasons she can't explain. While visiting it one night, she is struck by a wave and a force impossible to resist drags her into the past—and into a love story that is not her own… Fate is changeable. Broken hearts can mend. But can she love two men separated by a lifetime?"
Confess by Colleen Hoover — Live at midnight!!
TOP FAVORITE! Standalone Special Edition: She's determined to rebuild her shattered life and she has no room for mistakes. But when she walks into an art studio in search of a job, she doesn't expect to become deeply attracted to the studio's enigmatic artist.
For once, she takes a chance and puts her heart in control, only to discover that he is hiding a huge secret. The magnitude of his past threatens to destroy everything she loves most, and the only way to get her life back on track is to cut him out of it—but can she do it?
His Alone by Alexa Riley — Live at midnight!!
Standalone: She thinks I'm perfect. A good boss, a good man. She thinks that I play by the rules. She has no idea who I truly am. Why I'm really here. She is trying to outrun her past, but there it is, tossed back in her face anytime she manages to get two steps ahead. She has no idea what a man like me will do to get what he wants… I'm dirtier than she knows. She thinks I'm good to the core, but she doesn't know the things I would do for her.
True love doesn't let secrets as big as these stay buried. And when the truth about her father is finally exposed, he will do anything to fix everything. She has always been his—and his alone.
Stripped Bare by Heidi McLaughlin — Live at midnight!!
Can standalone: Living in Sin City, he is no stranger to one-night stands, but the last person he expects to find losing big on the casino floor is a former high school fling. Even though she's clearly down on her luck, she's still a knockout, and she's dressed like a stripper—because she is one…
She came to Vegas for one reason only: money. She's got a young daughter to support, and the tips really are bigger in Vegas. But when she blows her earnings on blackjack, her guardian angel is the rich boy who once stole her heart and never called her back [and] she can't afford to refuse his proposition…
Beach Wedding by Natasha Boyd — Live at midnight!!
Series finale: It's been four years since a movie star won her heart… She has finished college and launched her artistic career, and she's let him know that she might finally be ready to tie the knot. But four years was a long time to make him wait. He just finished filming one of the most emotionally taxing projects he's ever worked on and now he's questioning his suitability for marriage… Unforeseen circumstances are causing rifts in their relationship, pitting the future against the past and love against responsibility, and conspiring to make the lovers take a good long look at their future. It's always been a rocky road for these two, can her steadfast love smooth the way to their beach wedding?

Forever Mine by Erin Nicholas — Live at midnight!!
Can standalone: She doesn't believe in holding back. Ever. As a cop, she never hesitated to throw herself into harm's way to save someone. Even after an injury on the job forces her to retire, she's not afraid to keep risking it al… With a new career, she's looking forward to the future – and taking a chance on the unbelievably hot Dr. Alex Nolan.
She's the exact opposite of what he always thought he wanted. But when a nine-year-old daughter he never knew existed shows up on his doorstep, She is the one who helps them hold it together…
Kiss Marry Kill: Iron-Clad Security by Sidney Halston — Live at midnight!!
Can standalone: Five years ago they fell in love after one whirlwind summer. Now she's an internationally famous musician and he's officially out of the military, but when their worlds collide, can they keep things professional?
"It was just supposed to be a regular Thursday afternoon… and then he saw her. Sitting in seat L214, one seat over from his at the baseball game. An impromptu kiss for the kiss cam, and he knew his life would never be the same. Five years and a tour in Afghanistan later, he is back stateside running his own private security firm. He isn't the man he used to be… but she isn't the sexy and sweet, though sheltered [girl] either. She's in trouble [and] he'll do anything to protect what's his."
Jesse's Hideout by Kallypso Masters — Live at midnight!!
She's the latest person to use her 180-year-old house in rural Kentucky as a hideout—taking her cue from the infamous outlaw Jesse James who frequented the place. The house she converted into a bed and breakfast is the only sanctuary she's ever known, ever since the old woman she inherited it from rescued her from neglect as a small child.
However, sparks fly when her benefactor's handsome grandson accuses her of exploiting his grandmother's memory for her own ends by claiming Gram haunts the inn…
The Arrangement 23 by H.M. Ward — Live at midnight!!
Series finale: Hatred and insanity mingle together in this disgusting specimen of a human being that stands before me. I don't know how I've wronged him or why I deserve this fate. My parents were slaughtered, my friends killed, and Sean Ferro was ripped from my side by this monster.
Every attempt to save me has failed. I'm left staring my demons in the face, alone. The man glaring back at me is made of nightmares and malice. For all I've lost and all I've suffered, for every person who came into my life only get ripped away, and most of all for me, I won't walk away. Not this time. I've passed the point of no return. There is no tomorrow. Come sunrise, only one of us will survive.
It Happens All the Time by Amy Hatvany — Live at midnight!!
Standalone: "I want to rewind the clock, take back the night when the world shattered. I want to erase everything that went wrong."
Amber and Tyler have been best friends since they were teenagers. And while Amber has always felt that their relationship is strictly platonic, Tyler has long harbored the secret desire that they might one day become more than friends… Returning home for the summer after her college graduation, Amber begins spending more time with Tyler than she has in years. Despite the fact that she is engaged to her college sweetheart, a flirtation begins to grow between them. One night, fueled by alcohol and concerns about whether she's getting married too young, she kisses him. What happens next will change them forever.
Tormentor Mine by Anna Zaires and Dima Zales — Live at midnight!!
Standalone: He came to me in the night, a cruel, darkly handsome stranger from the most dangerous corners of Russia. He tormented me and destroyed me, ripping apart my world in his quest for vengeance.
Now he's back, but he's no longer after my secrets.
The man who stars in my nightmares wants me.
Immortal Unchained by Lynsay Sands — Live at midnight!!
Can standalone: Ever since he recognized her as his life mate, he's been waiting for the perfect moment to claim her. Those fantasies did not include him being chained to a table in a secret lab or both of them being held hostage by a mad scientist. Somehow, they have to escape…
She has seen some crazy things as a cop, but nothing to rival him. A vampire? Seriously? But his healing ability, incredible powers, and their mind-blowing physical connection—none of it should be possible, yet her body knows differently. Now, not only do they have to save each other, but other innocent lives are at stake. Failure is not an option, for she intends that he show her exactly what an eternity of pleasure feels like…
The Unyielding by Shelly Laurenston — Live at midnight!!
Can standalone: He has got big problems. The [Vikings] are in danger of being obliterated and the only one who may be able to save them is a super pain-in-the-ass Crow. Most people annoy him, but this is the one woman he really can't stand…
She didn't expect to be shoulder to shoulder in battle with him. Then again, he's so easy to torment—and also kind of cute… With the future of the world riding on them, he knows he'll have to put aside his desperate need to kiss the smirk right off her face. Wait. What? He didn't mean that—did he? No! They have one goal: To conquer the idiots. Because nothing bugs him more than when idiots win. If only he can keep himself from suddenly acting like one…
Strange the Dreamer by Laini Taylor — Live at midnight!!
A new epic fantasy! — The dream chooses the dreamer, not the other way around and he, war orphan and junior librarian, has always feared that his dream chose poorly. Since he was five years old he's been obsessed with the mythic lost city of Weep… Then a stunning opportunity presents itself, in the person of a hero called the Godslayer and a band of legendary warriors, and he has to seize his chance to lose his dream forever…
The answers await in Weep, but so do more mysteries—including the blue-skinned goddess who appears in his dreams. How did he dream her before he knew she existed? and if all the gods are dead, why does she seem so real? Fall into a mythical world of dread and wonder, moths and nightmares, love and carnage.
DETAILED LIST: LATER WEEK RELEASES
Fear the Beard by Lani Lynn Vale — Live on Thursday!!
Can standalone: She's a twenty-year-old single mother struggling to finish nursing school. Has she made mistakes in life? Sure, but her daughter isn't one of them. She works hard, she studies even harder, and she's only a few weeks away from graduating. She's living her life the best she knows how when she witnesses a near miss motorcycle accident between a car and a biker. A biker that happens to be the most talked about teacher at her college.
The moment she meets those startling blue eyes, she realizes quickly that life as she knows it has changed. No longer will she be content to let life pass her by, even if it puts everything she's worked for in jeopardy…

Twist by Susan Fanetti — Live on Saturday!!
Can standalone: He's the loose cannon of the MC. A loss taken when he was a boy left a hole inside him, full of chaos and noise, and only pain and destruction can quiet the tempest. Full of courage and fiercely loyal, he has the [Club] at his back, even when his outbursts threaten to damage the club.
She's a small-town girl, living the life her mother walked away from. She takes care of her father and keeps his secrets, [but] she's faltering under the weight of all the things she cannot say, and all the things she must be and do to keep the truth at bay… When two such damaged souls, full of secrets and empty of hope, come together, they will either save each other or tear everything apart.
…