NEW REVIEW: A Veil of Vines by Tillie Cole (Read my Review)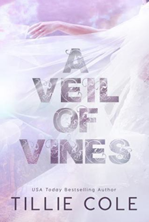 What a heart-warming book! This is a modern-day fairy tale love story that felt both magical and romantic! It's a forbidden romance about a girl descended from Italian royalty who is whisked away from her home in New York City to fulfill her arranged marriage to a Prince she'd never really met, but instead she defies all tradition by falling in love with a gorgeous, mysterious, and reclusive winemaker who completely steals her heart! The story had a beautiful sweetness that filled my heart with happiness. If you're looking for a book that will make you both smile, swoooooon, try this!

RECOMMENDATION: Four Letter Word by J. Daniels (Read my Review)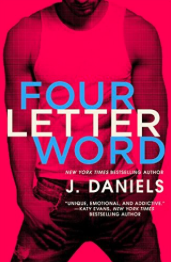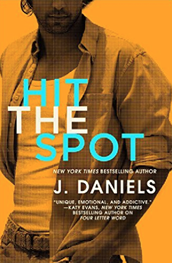 If you haven't had a chance to read this awesome book yet, I recommend doing so now because the second standalone in the series, Hit The Spot by J. Daniels, is releasing next week! Holy freaking hotness, I loved the first one so I can't wait to read the next!! If you're a fan of sexy, tortured Alpha heroes who will make you combust with their hotness, break your heart with their pain, and then melt you with their sweetness, Four Letter Word is definitely the book for you! I laughed out loud, teared up, swooned, and could not stop reading! Easily one of my 2016 Top Favorites! Both can be read as standalones so be sure to grab Four Letter Word and pre-order Hit The Spot!

LATEST BOOKWORM NEWS:
NEXT WEEK'S BOOKS (PRE-ORDER NOW):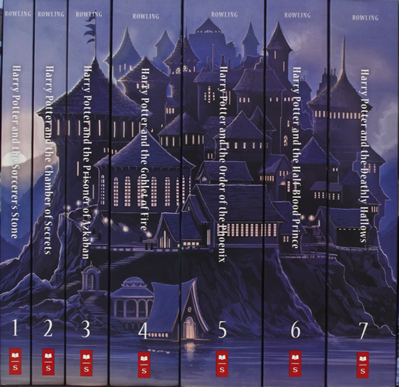 SPECIAL HARRY POTTER SALE:
Special Edition Harry Potter Paperback Box Set Paperback by J.K. Rowling is 44% OFF right now and it is STUNNING! This is quite literally the most gorgeous set of these books I've ever seen. I have a copy of it myself — I actually paid full price, but it was worth every penny. Each cover (front, back, spine), each side of the box, everything about this Special Edition is detailed in beautiful artwork — definitely a special gift for any fan of this series!
WEEKLY NEW RELEASES RECAP
DETAILED LIST: NEW RELEASES
A Veil of Vines by Tillie Cole — New Release!!
Standalone: I am a blue blood of Italy. I was born to marry well.
And now the marriage date is set.
I am to marry into the family that would have been the royals had Italy not abolished the monarchy in 1946. But to the aristocrats of my home, the abolition means nothing at all. They still hold power where it counts most. In our tight-knit world of money, status and masked balls, they are everything and more. And I am soon to become one of them. I am soon to become the Prince's wife… or at least I was, until I met Achille. And everything changed.
After We Fall by Melanie Harlow — New Release!!
Standalone: He isn't my type. Sexy, brooding cowboys are fine in the movies, but in real life, I prefer a suit and tie. He might be gorgeous, but he's also scruffy, rugged, and rude. He wants nothing to do with a "rich city girl" like me, but I've got a job to do for his family, so he's stuck with me… His glares. His moods. His tight jeans. His muscles. His huge, hard muscles. Pretty soon there's a whole different kind of tension between us, the kind that has me misbehaving… The more I learn about the grieving ex-Army sergeant, the better I understand him. Losing his wife left him broken and blaming himself. He doesn't think he deserves a second chance at happiness. But he's wrong. I don't need to be his first love. If only he'd let me be his last.
Fire in You by J. Lynn and Jennifer L. Armentrout — New Release!!
Can standalone: "Her whole world was destroyed in a span of a few hours. The same night her childhood love broke her heart, her life was irrevocably altered by the hand of a stranger with a gun. It takes six years to slowly glue together the shattered pieces of her life, but she is finally ready to stop existing in a past full of pain and regret… She just never expected him to be a part of her life again. But he's firmly back in her life, and not only is he older, he's impossibly more handsome, more teasing and more everything. And when he sees her, he's no longer capable of thinking of her as the little girl who was his shadow growing up. He sees the woman who'd always been there for him, the one person who believed in him no matter what…"
The Redhead Series by Alice Clayton — New Release!!
Complete series: Ten years after discovering that looks and talent are a dime a dozen, she's back and ready to show the film industry that there's more to her than just a head of gorgeous red curls. And Hollywood's newest Brit super-hunk Jack Hamilton certainly agrees. As she tries to restrain herself from jumping a man who is nearly a decade her junior, he makes it clear that he has zero problems with her age. But as the paparazzi catches up with them, she's stuck in a bind. A sizzling romance with the newest "it" boy may garner her industry attention…but is it the kind of attention she's always dreamed of?
Miracle on 5th Avenue by Sarah Morgan — New Release!!
Standalone: She loves everything about Christmas. She might be spending the holidays alone, but when she's given an opportunity to house-sit a penthouse on Fifth Avenue, she leaps at the chance. What she didn't expect was to find the penthouse still occupied by its gorgeous—and mysterious—owner.
Bestselling crime writer Lucas Blade is having the nightmare before Christmas. With a deadline and the anniversary of his wife's death looming, he's isolated himself in his penthouse with only his grief for company. He wants no interruptions, no decorations and he certainly doesn't appreciate being distracted by his beautiful, bubbly new housekeeper. But when the blizzard of the century leaves her snowbound in his apartment, he starts to open up to the magic she brings…
Stay with Me by Mila Gray — New Release!!
Standalone: A forbidden romance about a wounded marine and the girl who's determined to save him. — When she begins an internship at a military hospital in California, she meets a wounded marine. Frustrated on the outside and broken on the inside, he's an irritating patient who refuses any care, keeping his distance from everything and everyone—including her… But the more she tries to help him the closer the two grow. Soon neither one can ignore the sparks flying between them as their attraction simmers into dangerous territory. But he doesn't believe in love or happily ever after—not after what he's seen… When tragedy hits, she realizes that love isn't as simple as happily ever after. Love isn't easy. It's difficult. Messy. Complicated. Now all she has to do is decide if it's worth fighting for.
Ink Exposed by Carrie Ann Ryan — New Release!!
Can standalone: He lost his first love and then proceeded to leave himself in the bottle. Only he and his ex-wife truly know why he fell so hard and so fast down a path he never thought he'd take. Now he's clean, out of rehab, and learning how to [live] once again… She's the organizational mastermind behind the family's construction company. She loves her planners, friends, and a certain dark-haired man who's never given her a second glance.
When he discovers that her life is in danger, he not only finds a way to help her but also learns the true woman behind the soft smiles he's always seen. Their romance won't be an easy one, but nothing this passionate ever is…
Scorpius Rising by Rebecca Zanetti — New Release!!
Can standalone: For her, it started when she was yanked off a gorgeous Hawaiian beach, still in her bikini top, and onto her ex-husband's government jet. A microbiologist doesn't see a lot of emergency extractions, but marriage to him taught her plenty about adrenaline. She knows it's more than their unfinished business that has brought the sexy, maddening Scot back into her life. But she'd never have guessed this.
As a soldier, he has seen too much. But the terrifying bacterium isn't his kind of battle. All he can do is keep close to his brilliant, fiery girl and fight like hell to keep her safe. Because if he lets her get sucked down by the horror that's coming, he'll never get another chance at her heart…
Tracing The Stars by Amanda Richardson — New Release!!
Standalone: She's a scientist who meets her childhood pen pal when they're on assignment together in Antarctica and they fall in love!! — "When she lands a position in Antarctica alongside him, she's excited about the opportunity and only a little bit anxious to meet him… The only problem is, interdepartmental relationships are forbidden at the South Pole station. As the winter gets colder and the sun disappears, they make a conscious effort to stay away from each other. Which is a hard thing to do when you're stuck inside of a glorified igloo…
To Capture What We Cannot Keep by Beatrice Colin — New Release!!
Standalone: Set against the construction of the Eiffel Tower, this novel charts the relationship between a young Scottish widow and a French engineer who, despite constraints of class and wealth, fall in love.
In February 1887, Caitriona Wallace and Émile Nouguier meet in a hot air balloon, floating high above Paris, France–a moment of pure possibility. But back on firm ground, their vastly different social strata become clear. Cait is a widow who because of her precarious financial situation is forced to chaperone two wealthy Scottish charges. Émile is expected to take on the bourgeois stability of his family's business and choose a suitable wife. As the Eiffel Tower rises, a marvel of steel and air and light, the subject of extreme controversy and a symbol of the future, Cait and Émile must decide what their love is worth.
Seamlessly weaving historical detail and vivid invention, Beatrice Colin evokes the revolutionary time in which Cait and Émile live–one of corsets and secret trysts, duels and Bohemian independence, strict tradition and Impressionist experimentation. To Capture What We Cannot Keep, stylish, provocative, and shimmering, raises probing questions about a woman's place in that world, the overarching reach of class distinctions, and the sacrifices love requires of us all.
Starcrossed the Complete Series by Leisa Rayven — New Release!!
Complete series: Bad Romeo/Broken Juliet: She was the good girl actress until she met a bad boy in their college's production of Romeo and Juliet. Like their characters, their epic romance ended in tragedy; but now, years later, they're on Broadway together, and he's determined to change their ending…
Wicked Heart: Elissa Holt has only ever loved Liam Quinn. But when they have to work together on his new Broadway show (alongside his fiancé), Elissa realizes that love doesn't always follow the script…
When All The Girls Have Gone by Jayne Ann Krentz — New Release!!
Standalone: When she's unable to contact her stepsister to tell her that one of her closest friends was found dead, she discovers that she has vanished… In a desperate effort to find her, she joins forces with Max Cutler, a struggling PI whose previous career as a criminal profiler went down in flames—literally. Burned out, divorced and almost broke, Max needs the job.
After surviving a near-fatal attack, they turn to [her stepsister's] closest friends for answers. But what they find is chilling…
Family Jewels by Denise Grover Swank — New Release!!
New series: Trouble always comes to those who court it. Her ability to see glimpses of the future has gotten her into hot water time and again, but so have her curiosity and her sense of daring.
Her best friend, Neely Kate, is struggling with her own losses, so when she suggests they help a local man find a missing necklace, she agrees. It'll give both of them a welcome distraction, and besides, it's a simple investigation. What harm could befall them? But things that should be simple rarely are. In seeking out the necklace, they find themselves in the thick of a power struggle in the Fenton County underworld, one that could dethrone her friend James Malcolm, the surprisingly moral king…
You Make Me Weak by Juliana Stone — New Release!!
Can standalone: Tall, dark, and tattooed, FBI agent Hudson Blackwell has come home to deal with his dying father and leave. He hates complications, so running into the girl he let get away is one complication he can do without.
She's hoping second chance at life will get her back on track. With a failed marriage behind her and a young son to support, she has no time for him—yet running into him stirs up things. Hot things. Wild things. The man broke her heart once so getting involved with him would be crazy. Yet he awakens a desire and a need so intense she can't deny it. It begs the question… Can she be brave enough to take a chance on a man who could destroy her?
Taken by Cynthia Eden — New Release!!
Can standalone: She somehow survived her harrowing abduction. But while her physical scars have healed, she can't stop wondering about a woman she helped to escape, who simply disappeared. When agent Asher Young is assigned to her case, she instantly feels an attraction to the intense ex-SEAL who seems to be carrying dark secrets of his own.
He can't afford to let his growing feelings for her distract him from his job. Only she can soothe his horrific nightmares, but the last thing he wants is for the demons from his past to ever hurt her and the emotions he feels for her—they're as dark and dangerous as the past he doesn't want to face…
Prince Lestat and the Realms of Atlantis by Anne Rice — New Release!!
At the novel's center: the vampire Lestat de Lioncourt, hero, leader, inspirer, irresistible force, irrepressible spirit, battling (and ultimately reconciling with) a strange otherworldly form that has somehow taken possession of Lestat's undead body and soul. This ancient and mysterious power and unearthly spirit of vampire lore has all the force, history, and insidious reach of the unknowable Universe.
It is through this spirit, previously considered benign for thousands of vampire years and throughout the Vampire Chronicles, that we come to be told the hypnotic tale of a great sea power of ancient times; a mysterious heaven on earth situated on a boundless continent–and of how and why, and in what manner and with what far-reaching purpose, this force came to build and rule the great legendary empire of centuries ago that thrived in the Atlantic Ocean.
And as we learn of the mighty, far-reaching powers and perfections of this lost kingdom of Atalantaya, the lost realms of Atlantis, we come to understand its secrets, and how and why the vampire Lestat, indeed all the vampires, must reckon so many millennia later with the terrifying force of this ageless, all-powerful Atalantaya spirit.
Seaside Whispers: Matt Lacroux by Melissa Foster — New Release!!
Can standalone: Having a mad crush on her boss's son—an intriguing mix of proper gentleman and flirtatious bad boy—is probably not the smartest idea for a single mother. Especially when the company, and her job, is already on shaky ground. But as a Princeton professor, his life is hours away from her home keeping him safely in the fantasy-only zone. And as a single mother with a floundering company to save, fantasies are all she has time for.
A surprise encounter leads to white-hot passions and midnight confessions. The more time they spend together, the deeper their relationship grows, and the love and attention he showers on [her son] is more than she has ever dreamed of. But his sabbatical is only temporary… Will their whispers of love be enough for one of them to change their life forever?
One Hot December by Tiffany Reisz — New Release!!
Can standalone: Never mess with a woman who carries a blowtorch in her backpack. Welder and artist Veronica Redding's playful sense of evil sometimes gets the better of her. Like when her insanely handsome, wealthy, suited-up boss gave her the most sensuously wicked night of her life…then dumped her. Yep, revenge is a dish best served hot.
Only Ian Asher isn't letting her get away quite so easily. He's not ready to forget the intensity between them. The searing heat when they touch. Now he has only the holidays to convince her that they belong together…and that even the most exquisite, broken things can be welded back together.
Rusty Nail by Lani Lynn Vale — New Release!!
Can standalone: He isn't always a good person, and he doesn't hesitate to say what's on his mind. He is who he is, and he doesn't offer apologies. He isn't out to impress anyone, and he doesn't make excuses for his actions.
She has made some bad decisions, and she'd give anything to go back in time and choose a different path [but] the reality is that she can't go back, and the day he walks into her life, she finally realizes that maybe she doesn't want to… He's everything she's ever wanted, and the exact opposite of what she needs. But when her nightmares burst out of her dreams and into her reality, he doesn't have a choice anymore. He has to protect her, while somehow protecting his battered heart.
Crash by Susan Fanetti — Live on Saturday!!
New series: He has life just about where he wants it: he's free of a bad marriage, and his club is cruising along healthy and strong, their business relationships as solid as their brotherhood. He's a contented man, riding his road at his speed. Until a massive highway wreck brings a blonde on a little sportster crashing into his life.
She's working hard to put a demolished past in her rearview mirror. Trying to keep herself safe, she's built a life insulated by locks and walls. Inside those walls, she's alone, but she feels secure, and that's enough… Until a big, tattooed biker holds out his hand and helps her up from the pavement.
…