Wow!! It's only March and I already have over 10 books (and 2 full series) that I would consider to be top favorites so I've started my list of Best Books of 2014. This will be an ongoing list throughout the year and every time I read a new book that absolutely rocks my world, I'll add it in here

In case you missed the previous years' lists….
**Note: they're not listed in any particular order.
Archer's Voice by Mia Sheridan (My Review) 
Archer's Voice was one of the most heartwarming and uniquely beautiful stories I have ever read. Mia Sheridan's ability to convey strong emotions and vivid imagery through her writing is absolutely captivating. This was a gorgeous tale of survival and the healing power of love. I strongly encourage everyone to read it and to meet one of the most wonderful book heroes ever — Archer Hale ♥
"He smiled back and put his lips against mine, mouthing, "I love you, too," against my mouth, as if he was breathing love into my body."
Maybe Someday by Colleen Hoover (My Review) 
Once again, Colleen Hoover has delivered an emotionally charged masterpiece that will capture your heart! Music lovers will also be able to enjoy a soundtrack that accompanies this novel. Maybe Someday is not your typical romance but I promise you, it is one of the most beautiful, deeply passionate, refreshingly unique stories I have ever read. Read this book. Live it. Love it. Allow it to take over your heart. It's an unforgettable journey that every reader should take. 

"Nothing in my life has ever felt so good, yet hurt so achingly bad."
The Emi Lost & Found Series by Lori L. Otto (My Series Review) 
I was absolutely blown away by this series!! What an AMAZING story. SO powerful. SO emotional. A one-of-a-kind, deeply emotional and unforgettable story that made me cry harder than I've ever cried before over a book. It's an atypical romance – an unconventional story in every way. It steps outside the box, it defies the norm, and it comes out on top. It put my heart through the ringer but having finished it now, I can tell you that this is one of the best stories I have ever read.
"You've always belonged to her."
Awaken (A Spiral of Bliss #3) by Nina Lane (My Review)  
This was a stunning conclusion to one of the most beautifully written and intensely passionate love stories I have ever read. Dean and Liv's romance is simply breathtaking!! This series stands out because it's about an already-married couple. It begins after the "happily-ever-after" where most romances end and in so many ways this one is about healing, hope, and the beauty of knowing with all your heart that the love you feel for your soul mate is limitless.
Kiss The Sky (Addicted Series) by Krista & Becca Ritchie (My Review) 
WOW!! I just loved this book! Every single word was brilliant. This was a fantastic addition to the Addicted series which, without a doubt, is one of the best New Adult romance series out there. It has everything in spades — fantastic writing, an original plot line, and characters you can't help but fall in love with. But just be sure to read the books in order – they are all on my favorites list!
"You're not a pit stop. You're my finish line. There's no one after you… I want you for eternity, not for a brief moment in time."
Coming Home by Priscilla Glenn (My Review) 
This was an amazing standalone. Totally original storyline, amazing writing, and a deeply heartfelt, sexy, and believable romance that filled my heart with every possible emotion. This is the kind of story that grabs a hold of your heart and doesn't let go. Oh, and the hero is a gorgeous mechanic who is hiding a secret…

"I could suffer through anything if you were my reward."
Come To Me Quietly by A.L. Jackson (My Review) 
With this book, AL Jackson has shown once again why she is one of my favorite authors. Come To Me Quietly was a beautiful, touching story about how one girl's love of a beautifully broken boy could end up saving him. If you're a fan of second chance romance and tortured bad boys, you have to check this out. It was actually the first book I read this year, and it was a wonderful start!!
"It was always you, Jared. Always. I can't remember a day of my life when I didn't love you."
The Driven Trilogy by K. Bromberg (Review #1, Review #2, Review #3)
An emotional, addictive, and scorching hot trilogy!! Highly recommended for fans of Fifty Shades and Crossfire. While the first book was a bit of a bumpy start for me, the more I read, the more I loved it and now it's one of my favorite series!!! Trust me, you want to meet Colton Donavan — think reckless bad boy race car driver with a heartbreaking past falling in love for the first time in his life

"I bet he fucks like he drives — a little reckless, pushing all the limits, and in it until the very last lap." 
Unravel by Calia Read (My Review) 
Unravel left my mind spinning!! It hooked me right from the start, kept me guessing the whole way through, and both shocked and impressed me with the way all the intricately woven layers came together at the end. If you want a really 'different' read that'll mess with your mind a little, try this one!!
"…everyone thinks I'm insane. But, I know he's real, and I know he needs me. Do you believe me?"
Brutally Beautiful by Christine Zolendz (My Review) 
Fast-paced, witty and intriguing, Brutally Beautiful was a dark and twisted yet delightfully gripping book that hooked me from the start and kept me flipping pages long into the night. It was SO well-written. The dialogue was snappy, the plot was kept me on my toes, and the story was raw and emotionally intense. I have quotes highlighted on almost every single page. If you are a fan of dark, tortured heroes and strong heroines, you should definitely add this book to your reading list.
"It was beautiful and dark, twisted and profound." 
Forever With You (Fixed #3) by Laurelin Paige (My Review) 
This was the conclusion to the Fixed trilogy which is one of my top recommendations for "What to read after Crossfire." If dominant and controlling yet tortured heroes make your heart race, then these books will rock your world!  Hudson Pierce now has a place on my favorites shelf along with Christian Grey, Gideon Cross and James Cavendish.
"I don't have all the answers yet. But we can work on it together. We fix each other, remember?"
Rule (Marked Men #1) by Jay Crownover (My Review) 
What an awesome book!!! My first thought after finishing it was: WHY DID I NOT READ THIS SOONER????? WHYYYYYY?? The best word I can use to describe this book would be 'addictive'.  This is definitely a must read bad boy romance. It's fun, flirty, and sexy, but also has a lot of depth and a great core group of characters I can't wait to read about. I highly recommend it!
"It's always been you even when I didn't want it to be, even when it broke my heart over and over again. It's just always been you."
To be continued…
And again, in case you missed the previous years' lists….
♥ ♥ ♥
Also, even though I read them a while ago, I also want to add in my top favorite series of all time. They are just breathtaking — the most epic love story I've ever read. I can't recommend them highly enough!!
The Bronze Horseman trilogy by Paullina Simons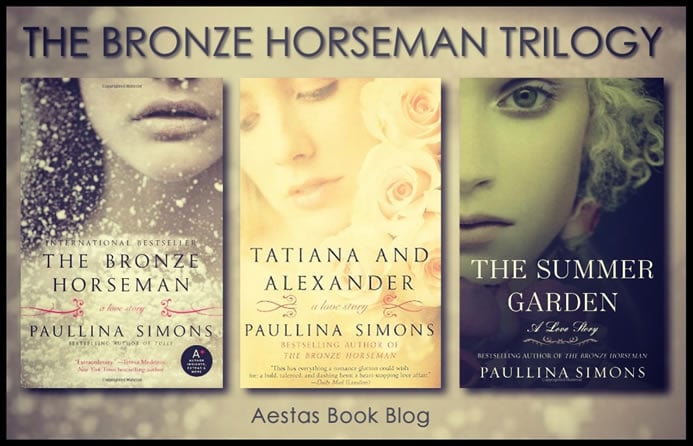 ♥ ♥ ♥
I'd love to hear from YOU now!! 
What have been your favorite books you've read this year so far??
Just comment below and let me know!
♥ ♥ ♥