Here are a whole ton of new books!!! There are new releases, sales, recommendations, and pre-orders. If you missed any previous new releases, be sure to check out last week's list, 2 weeks ago, and 3 weeks ago.
Thrive (Addicted Series) by K&B Ritchie - new release!!
IT'S LIVE!!!! This is the latest novel in the amazing Addicted series, one of my all-time favorite on-going series. The series centers around 3 couples with each book being told from one of their perspectives. This one is focused on Lily & Lo (a sex addict & alcoholic) and it is absolutely fantastic!! I loved it! Read my new review. Please note: This is NOT a standalone.
Must be read in order: Addicted To You (review), Ricochet (review), Addicted For Now (review), Kiss The Sky (review), Hothouse Flower (review), Thrive (review).
Wife Number Seven by Melissa Brown -newest review!!
This was a unique, captivating standalone about a woman who was the seventh wife in a polygamist family and who fell in love with an outsider. A man who made her want more out of life and the freedom to choose who to love. — It was totally different than anything else I've ever read!! Read my review.
"I had my secrets. A voice inside me told me I didn't belong here, that there was another life waiting for me."
Me Before You by Jojo Moyes - currently reading!!
I've been working up the courage to read this book for ages but I'm reading it now and am totally hooked and loving it (27% in)!! It's the kind of story that has me thinking about it even when I'm not reading it and I can't wait to read more!! I know it's going to be absolutely HEARTBREAKING and I've been warned that I'm gonna cry ALL THE TEARS but I have a big box of tissues standing by and I'm SO glad I finally decided to give it a go!! – What do you do when making the person you love happy also means breaking your own heart?
Ugly Love by Colleen Hoover - upcoming must-read of 2014!!
WOW WOW WOW!!!! I read an early copy of this and it was absolute, stunning PERFECTION in every way. It was SO unique, and so intensely emotional that it just blew me away!! I almost guarantee that you will cry (seriously, my heart broke for Miles!!!) but I PROMISE you it's worth every tear because the way that it all comes together is just GORGEOUS!!!! Oh and also, it's HOT!! Like really hot!!! I honestly just loved every single word. 6 STARS!!!!! Be sure to pre-order your copy!! This is a MUST-READ of the year!! Read my review.
Come Back To Me by Mila Gray (My Review) - Latest recommendation!!
I absolutely love love love LOVED this book!!!!! *wipes happy tears* It was SO much more than I ever expected. Deeply emotional, sexy, funny, romantic…. and it had that special heart-pounding intensity to it. Definitely a new top fav!!!

— It's a forbidden romance about a Marine who's home on leave and drawn to the one girl he can't have… his best friend's sister. But he's only home for 4 weeks before he's sent out again for another 9 months so every second they have together is stolen and precious…
HOW WE DEAL WITH GRAVITY by Ginger Scott – New Release
This is a bit of a second chance romance with a rock star hero that was released recently. When her son was diagnosed with autism, Avery's husband left her and her son became her whole world until a man from her past walked back into her life. Mason was a rock star who she'd loved silently for years and who'd broken her heart once. But "time and life have a funny way of changing people, and sometimes second chances are there for a reason." — I love the sound of it and has great ratings too!!
SECOND CHANCES by HM Ward – New Release
Wow, this has HIGH ratings!!! I remember posting about this "forbidden love story" the other day but it's been getting a lot of buzz so definitely be sure to check it out!! It's about a single mom who catches the eye of her lawn boy. "Love only comes around once in a lifetime. Only fools think otherwise, and I'm the biggest fool of them all."
THE VIXEN AND THE VET by Katy Regnery 
I love the sound of this book! I was just sent a link to it and thought I'd share in case you're interested too. The heroine is a journalist who decides to write a piece on the town hermit, Asher Lee, a wounded veteran who returned home 8 years ago horrifically scarred and hasn't been seen since… And when Asher agrees to be interviewed by Savannah, he starts feeling things for her that he hasn't felt in years. — Also 50% of the proceeds go to charity.
This sounds different! ➜ "I was a thief of men… a whore. Not the conventional type that got paid for sex. I was the girl you talked about in your sad inner circle. The girl you shielded your boyfriend from as you cleverly covered him with your body when I came near. I was at threat to you. Keeping him safe in your grasp was smart. One week… one incredible week was all it took to forever change me. I was NEVER going to be you … until I met HIM."
For any biker fans, I'm passing along a reader recommendation here. I haven't read this book but here's the info if you want to check it out! ➜ "I swore to myself never again. Never again surrender my heart. Never again sacrifice to the Club. But that all changed in one night. I came home and crashed into him, and my past and present blew up in my face. Both of us lonely, running on empty, and unwilling to admit it. Until now."
MORE THAN FOREVER by Jay McLean –  New Release
This is book four in the More series and you have to read these in order (listed below). This is Cameron & Lucy's story ➜ "There is a love so fierce it cannot be measured. He promised me that love forever. Even when it wasn't enough." — #1 More Than This, #2 More Than Him, #3 More Than Her, #4 More Than Forever.
FINDING DANDELION by Lex Martin –  New Release
This is the standalone sequel to Dearest Clementine about a soccer star who has a one-night stand with a girl who, for the first time ever, makes him want "more" but he doesn't even recognize her the next time he sees her! It can either be read on it's own or after DC.
SESSIONS INTERRUPTED by Kristi Pelton – New Release
This has a bad boy hero in therapy thanks to his drinking problems, anger problems, relationship issues, and court order. But his beautiful therapist catches his eye …. Check out this line from the blurb ➜ "Ms. Keep it Professional thought she had control of these sessions. She didn't know who she was dealing with. I would turn the tables faster than she could spell — F*CK ME."
PUDDLE JUMPING by Amber L. Johnson –  $0.99 New Release
This was a beautifully written mature YA standalone romance about two childhood friends who are reunited in high school and fall in love. The hero has Asperger's and the heroine loves him unconditionally. This is their love story. Read my review.
53 LETTERS FOR MY LOVER by Leylah Attar — Recommendation
Forbidden romance fans!! This was sexy, daring, and beautifully written Adult standalone — kind of a cross between Adult romance and women's fiction with an intense forbidden romance spanning three decades. This was not your typical love story!! Read my review.
BEAUTY IN THE ASHES by Micalea Smeltzer – New Release
This is a new standalone romance. "Some stories are a fairytale… but this isn't one." After the hero's family is murdered, he retreats from the world. When he moves into a new apartment, the girl across his hall is drawn to him… "something in his broken blue eyes calls to her" and this is the story of two broken souls trying to mend one another.
WORD PLAY by Amalie Silver – New Release
This is a funny, quirky standalone romance about a male author who writes erotic stories under a pen-name. No one knows his real name and he plans to keep it that way. Until her. And she's an infamous blogger determined to discover the secret of his identity…
TAMED by Emma Chase – New Release
This is the next book in the hilarious Tangled series and it's Dee & Matthew's story!! ➜ Stop me if you've heard this one before: girl meets player, they fall in love, player changes his ways. It's a good story. But it's not our story. Ours is a lot more colorful. — #1 Tangled, #2 Twisted, #3 Tamed.
INNOCENTS (Dusty 1) by Mary and Sarah Elizabeth – New Release
I finished reading this last night! It was a crazy ride and definitely a big "rule-breaker" book for me. I'll have a review up soon. ➜ "She's a hopeless romantic. He's just hopeless… She loves him. He loves her crazy. This is what happens when a love made of secrets is kept with rules instead of promises."
BEAUTIFULLY DONE by Riley MacKenzie – New Release
This is the standalone sequel to Beautifully Awake (a doctor romance that SO many readers have recommended to me.) but this is about a different couple — it's Asher's story. The blurb recommends reading Beautifully Awake first though!
THOMPSON SISTERS SERIES SALE – Boxed Set
All 3 books in the Thompson Sisters series are bundled together for only $2.99 total for a limited time!! Each book is a standalone about a different couple. They're beautifully written, emotional romances with very high ratings!! I loved the first one and can't wait to read the rest!
THE BOOK OF LIFE (All Souls Trilogy #3) by Deborah Hardness – New Release
This is the final book in the All Souls Trilogy where the heroine, "a young scholar and a descendant of witches, discovers a long-lost manuscript which summons a fantastical underworld that she navigates with vampire geneticist Matthew Clairmont." It has very original mythology and a sweet love story. — The first 2 are on sale (usually $12)!! #1 A Discovery of Witches, #2 A Shadow of Night, #3 The Book of Life.
WHISKEY PRINCE by Toni Aleo – New Release
This is a standalone romance about a heroine who goes to Ireland and falls in love with a reclusive hero, whose family is famous for their legendary whiskey. But his father has given him an ultimatum and he has only 6 months to get married before he can take over the family dynasty…
RICOCHET (Renegade #3) by Skye Jordan – New Release
This is the third standalone in the Renegades series, where all the hero are professional stuntmen!! The hero of this one is a "damaged and dangerously sexy" soldier on leave after a tragic incident… which is when he meets the sultry, snarky heroine. — Series order: #1 Renegade, #2 Rebel, #3 Ricochet.
MAYBE MABY by Willow Aster – New Release
This new novel is described as a "heartbreaking, and at times, hilarious story about coping with loss, finding love in New York." — I haven't read it yet but I loved another book by this author.
❤  MORE SALES ❤
❤  STANDALONE RECOMMENDATIONS ❤
If you're ever looking for a standalone, here's a huuuuuuge list of some of my favs. They're all books that wrap up by the end and do not require any other book to be read first or after.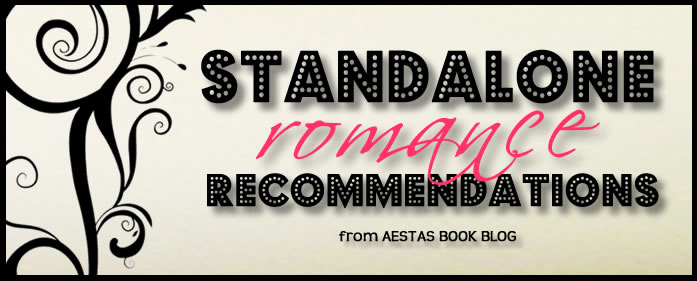 ❤  PRE-ORDERS ❤
JULY 2014
AUGUST 2014