JUST RELEASED EARLY:

LAST DAY ON SALE: Mack Daddy by Penelope Ward (Read my Review)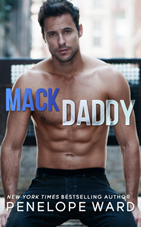 *** NOTE: price of this book is going up to $4.99 tomorrow and this author does not do sales often so if you want this introductory sale price, grab a copy now! I loved this book and I'm seriously still wiping away the happy tears! It's a second chance romance with a single dad hero reunited with the only woman who he'd ever truly loved when his son is enrolled in her class and he fights like hell to win back her heart. OH MY GOSH. SO. MANY. FEELS!!!! My heart honestly never stopped racing. I felt so deeply connected to their PAIN, DESIRE, LONGING, and NEED for each other. The ANGST made my heart ACHE. I cried. I laughed. I swoooooooned. But more than anything, I loved how much I FELT for this story. It was perfectly paced and so WELL WRITTEN!! Sexy, romantic, angsty perfection!!

MONDAY/TUESDAY RELEASES (PRE-ORDER NOW):

BOOK ANNOUNCEMENTS:

EXCITING BOOK NEWS: Confess by Colleen Hoover (Read my Review)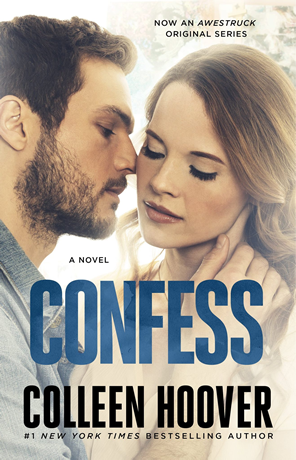 This amazing novel has been filmed as a TV series that will be releasing soon (starring Katie Leclerc and Ryan Cooper) and you can now preorder this new special movie-tie in edition!! — "Auburn Reed is determined to rebuild her shattered life and she has no room for mistakes. But when she walks into a Dallas art studio in search of a job, she doesn't expect to become deeply attracted to the studio's enigmatic artist, Owen Gentry… For once, Auburn takes a chance and puts her heart in control, only to discover that Owen is hiding a huge secret. The magnitude of his past threatens to destroy everything Auburn loves most, and the only way to get her life back on track is to cut Owen out of it—but can she do it?"
WEEKLY NEW RELEASES RECAP
DETAILED LIST: NEW RELEASES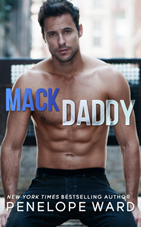 Mack Daddy by Penelope Ward — New Release!!
TOP FAVORITE! Standalone: "He was perfect. The perfect physical male specimen. At the private school where I taught, he was the only man around in a sea of women. Everyone wanted a piece of the hot single father of the sweet little boy. I was riddled with jealousy, because they didn't know that—to me—he was much more… They didn't know about our past.
He'd chosen my school for his son on purpose, because he and I, we had unfinished business… I was still intensely attracted to him. I tried to resist him. Not to mention, getting involved with a parent was strictly against school rules. But seeing him day in and day out was breaking me down. And soon I might be breaking all the rules…"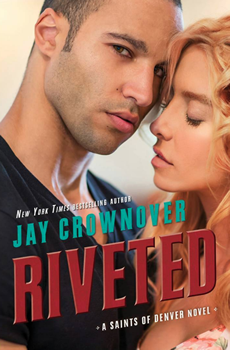 Riveted by Jay Crownover — New Release!!
Can standalone: "Everyone else in her life has made falling in love look easy, and now she is ready for her own chance at some of that happily ever after. Which means she's done pining for the moody, silent former soldier who works with her at the bar that's become her home away from home. Nope. No more chasing the hot as heck thundercloud of a man and no more waiting for Mr. Right to find her; she's going hunting for him…even if she knows her heart is stuck on its stupid infatuation with him…
When Dixie and Church find themselves caught up in a homecoming overshadowed with lies and danger, Dixie realizes that while falling in love is easy, loving takes a whole lot more work…especially when Mr. Right thinks he's all wrong for you. "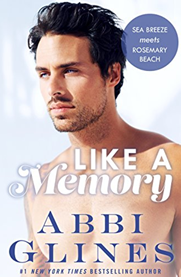 Like A Memory by Abbi Glines — New Release!!
Can standalone: "She didn't live a normal teenage life. It had all been taken from her the fall that she was fifteen years old and she was given the diagnosis no one ever wants to hear. She had leukemia.
Seven years after spending a summer with a girl who he knew would always be his first love and the one who got away, he returns to help his fiancé open her new store. When the new employee walks in, he is taken back seven years to the girl he thought he'd love forever. The one who never answered his calls or returned his text. The one who shut him out completely with not even a goodbye and broke his heart. They've each become someone different. No longer the young teens with stars in their eyes. But does that matter when your heart still says that's the one…"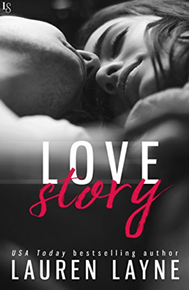 Love Story by Lauren Layne — New Release!!
Standalone: "When she receives a job offer in San Francisco, she can't wait to leave her hometown behind. Her family supports her as best they can, by handing over the keys to a station wagon. The catch? The cross-country trip comes with a traveling companion: her older brother's best friend, aka the guy who took her virginity hours before breaking her heart…
After spending the past four years caring for his sick father, he will do just about anything to break free of the painful memories — even if it means a two-week road trip with the one girl who's ever made it past his carefully guarded exterior. But after long days of bickering in the car turn into steamy nights in motel rooms, he learns that, when it comes to her, their story is far from over. And this time, they just might have a shot at a happy ending…"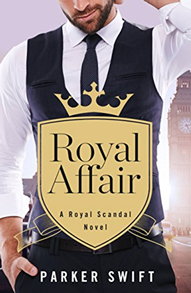 Royal Affair by Parker Swift — New Release!!
New series: One seriously sexy son-of-a-duke . . .
Behind the posh British accent, he possesses a down-and-dirty sexiness. Off-the-charts gorgeous, a ruthless architect… and did I mention he's a future duke? Every time we touch, it's wildfire. All need and lust and heat. But he has rules: just sex, no one can know, and in the bedroom he gets complete control. All I have to do is follow the rules, because falling in love with him is all it would take to screw everything up… royally.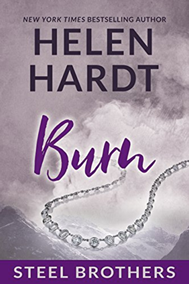 Burn by Helen Hardt — New Release!!
He is knee deep into trying to solve the mystery surrounding his family and his brother's abduction, and the arrival of his best friend has complicated the situation… although not as much as his infatuation with his brother's therapist, Dr. Melanie Carmichael. The quiet humility of the blond beauty has him enthralled, and he burns for her as he never has for any woman.
She is intelligent and driven, yet filled with regret. She has fallen in love with him, but fears she may never be able to tell him. The demons from her past have come for her… and she may not get out alive.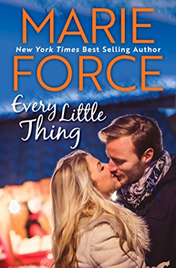 Every Little Thing by Marie Force — New Release!!
Can standalone: He just moved home after spending years working for a high-powered law firm. He's looking for a simpler, less stressful existence in the sleepy little mountain town where he grew up. Once the holidays are over, he plans to hang out a shingle and open a new general law practice. After helping to raise his seven younger siblings, the last thing on his mind is a family of his own.
She is enjoying a break from her reality as a busy single mother in New York City while she and her adorable daughter spend the holidays with her sister. After meeting their cousin and talking to him for hours, she is nervous and excited to have dinner alone with him after sharing her deepest, most personal secrets with him… Will that first night be the start of something new for the jaded lawyer and the selfless single mom?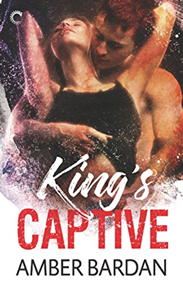 King's Captive by Amber Bardan — New Release!!
Standalone: "For three years, I've belonged to him. Some people would think being stuck on a private island is heaven, but this is my hell. Because I'm not here as a guest. Not even close. I'm a prisoner. I'm his.
He's powerful. Wealthy. Dangerous. There are parts of me he wants that I can't give him. When he looks at me, there are times I swear he sees someone else. And the scary part is that sometimes, when he touches me, I think he may be someone else, too… Though my body might be tempted, and he might control everything else, I can't let him have any piece of my heart. I won't. But every day, the fight gets harder, and Julius manages to slip past my defenses in the most unexpected ways. I have to find out the truth about him. Even if it destroys me."
…