Happy Friday, everyone! I've added in some new recommendations and sales below for your weekend reading!
TOP RECOMMENDATION – COMPLETE SERIES: The Retrieval Duet by Aly Martinez (My Review)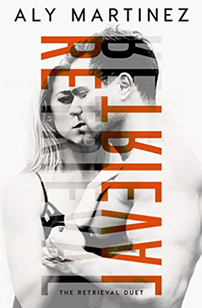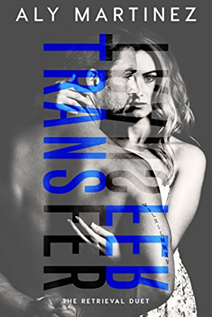 I LOVED THESE!!!! Both Book #1 "Retrieval" and book #2 "Transfer" are LIVE so this is the perfect time to start reading them if you want to read the complete story together. The two books tell one story together. Each book focuses on a different couple (no cheating, no triangles) but they must be read together and in order. THIS DUET IS INCREDIBLE!!! A passionate, achingly heart-wrenching, and yet beautifully romantic story that kept my heart racing non-stop. It was ADDICTIVE, EMOTIONAL, INTENSE. It was hot, sexy, suspenseful. The story took me completely by surprise and was utterly UNIQUE! At first, you think it's just an emotional story of man who is trying to win back the love of his beloved wife (which is gripping even on it's own) but THEN. OH. MY GOSH… when I realized what the ACTUAL plot-line and how the two couples were connected was I just gasped and wasn't able to even look up from the page since. It was RIVETING!!!! EMOTIONAL!!!! FULL OF FEEELS!!! If you're looking for an intense new series, then try these!! They are top favorites and they are finally a complete series!
LATEST BOOK SALES:
BOOKWORM NEWS:
Riveted by Jay Crownover has a new cover! This is the next standalone in the Saints of Denver series, following Built and Charged! Each book in the series can be read separately, but the side characters are interconnected. — "Everyone else in Dixie Carmichael's life has made falling in love look easy, and now she is ready for her own chance at some of that happily ever after. Which means she's done pining for the moody, silent former soldier who works with her at the bar that's become her home away from home. Nope. No more chasing the hot as heck thundercloud of a man and no more waiting for Mr. Right to find her; she's going hunting for him…even if she knows her heart is stuck on its stupid infatuation with Dash Churchill."
NEXT WEEK'S BOOKS (PRE-ORDER NOW):
WEEKLY NEW RELEASES RECAP
DETAILED LIST: NEW RELEASES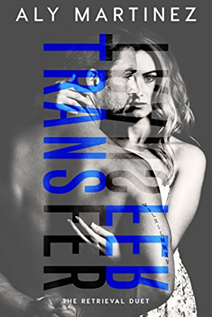 Transfer by Aly Martinez — New Release!!
Sequel to Retrieval: "I fell in love with a man who didn't exist. What started out as romance ended in hell. His words turned to razor blades. His kisses converted to fists. His embrace became my cage. His body transformed into a weapon, stealing parts of me until ultimately… I broke.
I hated him. My sole job in life became to protect our daughter.
I wasn't sure I'd ever escape the prison he'd skillfully crafted from my fears. Until the day our savior arrived. This is the story of how I escaped the man who thought he owned me. The transfer of my life and my family."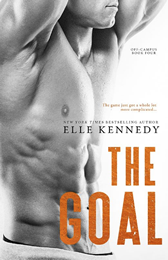 The Goal by Elle Kennedy — New Release!!
Can standalone: She has her whole future planned out. Her path doesn't include a gorgeous hockey player who believes in love at first sight. One night of sizzling heat and surprising tenderness is all she's willing to give him, but, one night is all it takes for your entire life to change.
When it comes to becoming a daddy at the age of twenty-two, he refuses to be a bench warmer. It doesn't hurt that the soon-to-be mother of his child is beautiful, whip-smart, and keeps him on his toes. The problem is, her heart is locked up tight… If he wants a life with her, he'll have to convince her that some goals can only be made with an assist.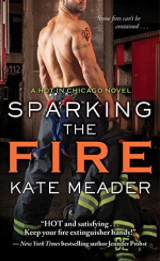 Sparking the Fire by Kate Meader — New Release!!
Can standalone: "America's fallen sweetheart finally has her shot at a Hollywood comeback with a dramatic new role as a tough-as-nails firefighter that promises to propel her back to the big time and restore her self-respect.
He's the resident daredevil at Engine Co. 6 and needs a low-key job to keep him busy while he recovers from his latest rescue stunt. Consulting on a local movie shoot should add just enough spark to his day. Especially when in struts the woman who worked his heart over good, and then left him in the dust… Their story is straight out of a script: spunky heroine meets taciturn, smoldering hero. But these two refuse to be typecast, and when the embers of an old love are stoked, someone is bound to get burned…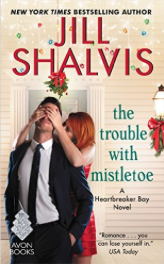 The Trouble with Mistletoe by Jill Shalvis — New Release!!
Can standalone: She's wrangling puppies when he stalks into her pet shop with frustration in his eyes and a pink bedazzled cat carrier in his hand. He needs a kitty sitter, stat. But the last thing she needs is to rescue a guy who doesn't even remember her…
Saddled with his great-aunt's Feline from Hell, he's desperate to leave her in someone else's capable hands. But in spite of the fact that he's sure he's never seen the drop-dead-gorgeous pet shop owner before, she seems to be mad at him…
She can't deny that he's changed since high school: he's less arrogant, for one thing—but can she trust him not to break her heart again? It's time to throw a coin in the fountain, make a Christmas wish—and let the mistletoe do its work…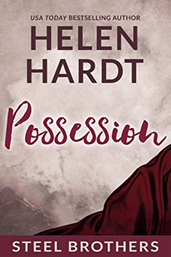 Possession by Helen Hardt — New Release!!
Steel Brothers series: Her love for him is the real deal, and she's more determined than ever to help him come to grips with whatever is haunting him. To that end, she continues her investigation…and unknowingly attracts some dangerous foes from their shrouded history.
He loves her deeply and longs to possess her forever, so he faces his worst fears and exposes his rawest wounds in an attempt to heal. The road is icy and treacherous, but if he perseveres and comes out whole on the other side, he'll finally be worthy of her love. But as the horrors of his past resurface, they aren't safe…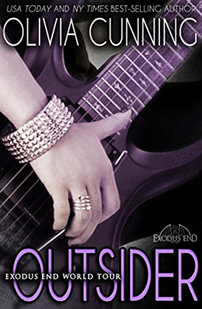 Outsider by Olivia Cunning — New Release!!
Exodus End World Tour series: She should be living her dream… She's touring [with a band] as a rhythm guitarist and gaining more notoriety and fame than she ever imagined possible. She's earned the devoted love of not only one, but two spectacular men. Her committed threesome with a sexy guitarist and her hunky bodyguard is stable, loving, deep, and satisfying for all involved. But sometimes the world sees things differently and is determined to destroy what it doesn't understand. Can her relationship with them survive the cruel backlash of the media, her family, and a bigoted public?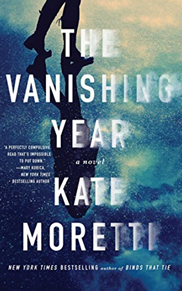 The Vanishing Year by Kate Moretti — New Release!!
Standalone: Zoe Whittaker is living a charmed life. She is the beautiful young wife to a handsome, charming Wall Street tycoon. She is a member of Manhattan's social elite. She is on the board of one of the city's most prestigious philanthropic organizations. She has a perfect penthouse in the city and a gorgeous lake house in the country. The finest wine, the most up-to-date fashion, and the most luxurious vacations are all at her fingertips.
What no one knows is that five years ago, her life was in danger. Back then, Zoe wasn't Zoe at all. Now her secrets are coming back to haunt her. As the past and present collide, she must decide who she can trust before she—whoever she is—vanishes completely…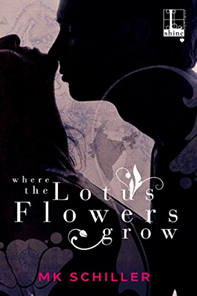 Where the Lotus Flowers Grow by MK Schiller — New Release!!
Standalone: Heir to a multinational hotel empire, he thinks business is everything—until he goes undercover to check out their locations throughout Asia. As cosmopolitan as he is, he's never met anyone like her. They are apart in so many ways—especially in the things she won't tell him. But more and more, he can't imagine his life without her… She knows this unexpected desire for him must end. It's true that his gentleness and sense of fun inspires her and makes her hopeful for the first time in her life. But she has a grim promise she feels compelled to keep—and painful experiences she fears he could never understand. And with secrets soon reaching out to separate them for good, can they dare risk a future together?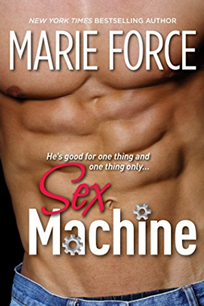 Sex Machine by Marie Force — New Release!!
Standalone: "He's good for one thing and one thing only. — She has never had a decent orgasm, and she's out to change that with the one man in town known for his superior skill between the sheets… He's happy to help her with her "problem" as long as she knows he's only interested in sex. His heart was broken when his high school girlfriend was killed in the car he was driving, and he has nothing to offer other. Which is just fine with her until unexpected feelings turn hot sex into messy entanglement and that most definitely wasn't in the plans. But you know what they say about plans…"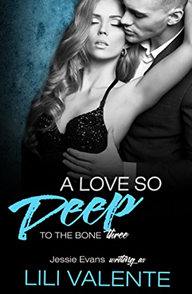 A Love so Deep by Lili Valente — New Release!!
To The Bone series finale: What we have is sacred, a bond forged by pain and pleasure, suffering and passion, and he is right—nothing will tear us apart again. This is forever, for keeps, for the rest of our lives, no matter what the future holds.
We just have to outsmart the powerful people determined to keep us apart. I'm prepared to fight our enemies, but I'm not prepared for him. For a monster wearing a friendly face, or the nightmare he's determined to unleash. They say it's better to have loved and lost than never to have loved at all. I say—over my dead body. They'll have to pry forever out of my cold, dead hands.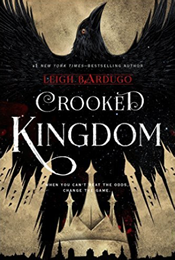 Crooked Kingdom by Leigh Bardugo — New Release!!
Sequel to Six of Crows: He and his crew have just pulled off a heist so daring even they didn't think they'd survive. But instead of divvying up a fat reward, they're right back to fighting for their lives. Double-crossed and badly weakened, the crew is low on resources, allies, and hope. As powerful forces from around the world descend on them to root out the secrets of a dangerous drug, old rivals and new enemies emerge to challenge his cunning and test the team's fragile loyalties. A war will be waged on the city's dark and twisting streets—a battle for revenge and redemption that will decide the fate of the world.
…