*** PERSONAL NOTE *** If you're wondering why I've had less "new recommendations" in the last few weeks, it's because we're getting ready for a major house move and while I've definitely had time to keep you updated with new releases and sales and favorites, my actual "new" reading time has been less than usual. However, we'll be all settled in shortly and I CAN'T WAIT to get back to my usual reading routines and find tons of new favorites to recommend to you!! Thank you for your patience and understanding! And check down below for the latest book news! 😀

BOOKWORM NEWS & SALES:
70+ NEW BOOKS were just added to this huge Upcoming Book Releases List!!! Gah there is so much awesome reading ahead of us!!!! I was like a kid in a candy store finding and adding all these books. Check 'em out and preorder any you want to read!!!

Twilight Tenth Anniversary/Life and Death Dual Edition by Stephenie Meyer is ON SALE TODAY ONLY!!! — "Celebrate the tenth anniversary of Twilight with this special double-feature ebook! This new edition pairs the classic love story with Stephenie Meyer's reimagining of the complete novel with the characters' genders reversed. In Life and Death, readers will experience this iconic tale told through the eyes of a human teenage boy in love with a female vampire. This edition features nearly 400 pages of new content. Fans of Bella and Edward will not want to miss the opportunity to see these iconic characters portrayed in intriguing new roles."

Heartbreaker by Katie McCoy goes live at midnight! It can standalone! — "Liam Callahan is devastatingly handsome, infuriatingly aloof and… my new boss? Put that at the top of the list of 'Things I Wish I'd Known (Before I Was Panting in His Arms During a Sizzling Midnight Make-out Session.)' My bartending gig at Rascals was supposed to be a fresh start for me. Now I'm juggling drink orders AND red-hot sexual tension – but I refuse to let Liam's smoldering stares throw me off my game… Until one late night leads to another. And another. Liam has a reputation as Mr Heartbreaker, but he's revealing a whole new side of himself: funny, playful, and most definitely NSFW…"

The Bronze Horseman by Paullina Simons is on a VERY RARE SALE!!! This is my absolute #1 FAVORITE BOOK in the whole wide world (above every other book ever)!!!!! It is the most WELL-WRITTEN, most INTENSE, most achingly BEAUTIFUL, PASSIONATE and heart-wrenching yet heart warming *******EPIC LOVE STORY****** ever told. I truly mean that. It. is. BREATHTAKING!!! Most other readers I've talked to who have read this book are just CHANGED after reading it. This book CONSUMES you. It's overpoweringly STUNNING and a must read!!! Usually I rate books out of 5 stars, this book ONLY for me was 10 STARS!!!!! It is also usually $11.99 and this is a very RARE SALE!!! Also, it has a movie deal!!! Read my review and be sure to grab a sale copy!!!

TUESDAY RELEASES (PRE-ORDER NOW):
WEEKLY NEW RELEASES RECAP

HOT NEW RELEASES (NOW LIVE):  
DETAILED LIST: NEW RELEASES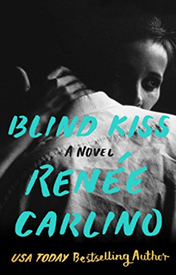 Blind Kiss by Renée Carlino — New Release!!
Standalone: "Penny spends her afternoons sitting outside a sandwich shop, surrounded by ghosts… She had her chance at wild, stars-in-her-eyes happiness, but that was a lifetime ago. After The Kiss. Before The Decision.
The Kiss was soulful. Magical. Earth-shattering. And it was all for a free gift card. Asked to participate in a psych study that posed the question, "Can you have sexual chemistry without knowing what the other person looks like?" Penny agreed to be blindfolded, make polite conversation with a total stranger, and kiss him. She never expected The Kiss to change her life forever and introduce her to Gavin: tattooed, gorgeous, and spontaneous enough to ask her out seconds after the blindfolds came off.
For a year, they danced between friendship and romance—until Penny made The Decision that forced them to settle for friendship. Now, fourteen years later, both of their lives are about to radically change—and it's his turn to decide what will become of their once-in-a-lifetime connection.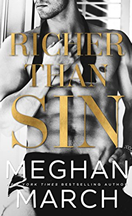 Richer Than Sin by Meghan March — New Release!!
"Our family feud is the stuff of legends.
Ten years ago, Whitney Gable caught me off guard with her long legs and grab-you-by-the-balls blue eyes.
I didn't know or care what her name was. I went after what I wanted. We burned like a flash fire until she married another man.
She hates me, and she should.
I objected on her wedding day.
Now she's home, with those same long legs and man-eater stare, but there's no ring on her finger.
They say a Riscoff and a Gable can never live happily ever after . . . but I'm not done with Whitney Gable.
I'll never be done with her."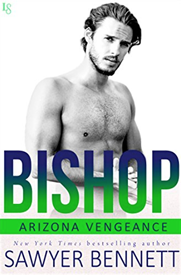 Bishop by Sawyer Bennett — New Release!!
Can standalone: Meet the Arizona Vengeance, hockey's hottest new team. They're burning up the ice—until a one-night-stand with the coach's daughter freezes one player in his skates.
"It's the last place I expect to see her again—let alone in her own office. Then bells go off and I finally realize who this girl is: Brooke Perron. My new coach's daughter. All of a sudden, we're picking up right where we left off, which means our hands are all over each other. That's when her dad—my boss—walks in. And before I can get a word out, Brooke's introducing me as her fiancé. Sure, she just saved my ass. So why do I get the feeling Brooke's going to turn my world upside down? Maybe it's because this fake relationship feels way too real…"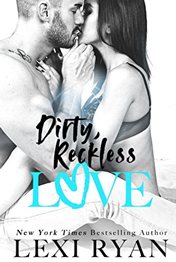 Dirty, Reckless Love by Lexi Ryan — New Release!!
Can standalone: "I'm in love with a man who tried to kill me. At least that's what they tell me… Six weeks ago, paramedics found me unconscious in my own home. Beaten. Bruised. Hardly breathing. When I woke up, I couldn't remember the last three years or anything about my life in Jackson Harbor. They tell me my fiancé, Colton McKinley, is on the run for what he did to me. They tell me I'm safer if I stay away.
I don't care if my memories ever come back. I want nothing to do with those missing years… until a sexy stranger with angry eyes shows up on my doorstep and demands I stop ignoring him. "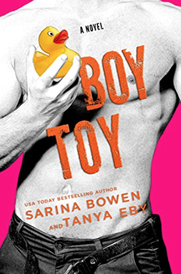 Boy Toy by Sarina Bowen & Tanya Eby — New Release!!
Can standalone: Him: "The moment she walks through the daycare center door, I feel my world tilt in her direction. Again. I fell for her when I was fourteen, and I'm still not over her. Problem: she still thinks of me as a teen she used to babysit. But I've learned a few things about pleasing a woman in the last fifteen years. I can't wait to show her how good it could be. I need to move quickly before I lose her again…"
Her: "I've just survived the worst year of my life. As a single mom of twin toddlers, I don't have time for a man. Who knew that he would grow up to be so devastating? He's everything my husband was not: tall, built, and willing to have a tea party with my girls. I can't possibly get involved with him. He's too young for me. Too handsome. But he's so persuasive…"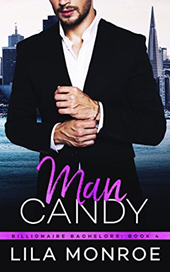 Man Candy by Lila Monroe — New Release!!
Can standalone: "Private investigator Nick Cameron is six foot two of chiseled, hunky trouble. He needs a fake fiancée to help him go undercover at the hottest candy company around, and he picks… me?!
OK, he thinks I'm the safe, reliable choice. But what he doesn't know is that I've been waiting for the chance to get out from behind my desk and indulge my Bond girl fantasies.
It's my chance to take a risk and prove I'm more than just a secretary… but I didn't bank on the sizzlin' hot chemistry and his lick-able abs. And between our wild cover stories, after-hours investigation, and not-so-fake romps, the line between fiction and reality is melting faster than a Hershey's kiss in the summer sun."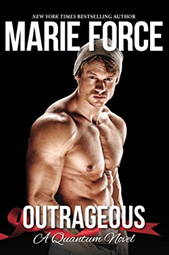 Outrageous by Marie Force — New Release!!
Can standalone: "She walks a fine line in trying to remain professional as the assistant to superstar Marlowe Sloane while lusting after Marlowe's sexy attorney.
To Emmett, Leah is a fly buzzing around his head who can't be swatted away. She's always there, looking at him, asking him legal questions that have nothing to do with his specialty in entertainment law and generally driving him mad with her overt sexiness and sassy mouth. He wants to toss her over his desk and run the sass right out of her, which is hardly the way a professional who loves his job should behave in the office—especially with a young, fresh, sexy colleague. As the author of the company's policy on inter-office dating, he's painfully aware of all the reasons he should stay far, far away from her and the tantalizing temptation she represents."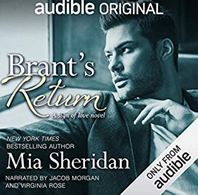 Brant's Return by Mia Sheridan: An Audible Original — New Release!!
Standalone: "Brant Talbot runs a glitzy network of high-end bars in New York City, enjoying all the benefits of the lavish lifestyle he's worked so hard to achieve. When he learns that his estranged father is dying, he must return to his family's Kentucky horse farm – and to a past he thought he left behind. While facing long-buried truths, he collides with his father's secretary, Isabelle Farris. Despite his undeniable attraction to the beautiful, independent young woman, he sees secrets in her eyes and believes she has designs on Graystone Hill. Now the one woman he can't afford to trust is about to become the one he can't let go."
Unbreak my Heart by Lauren Blakely — New Release!!
Standalone: "I didn't break her heart, and she didn't break mine — we broke each other's. I never stopped loving her, but time and distance played its cruel role in ripping us apart three years ago when she moved halfway around the world. Now after all those endless miles away, she's returned… but I'm not the guy I was before. Beautiful, kind, and loving, she's the same — my hope. The only one who can make a day better, who can make me feel again with one kiss, one touch, one night. There's so much I have to put back in place now that I'm alone and on my own. Things I never wanted at the age of twenty-five. When I receive an unexpected letter that might hold the clues to everything I desperately need to understand about my family, I'm sure I have to follow it. But that means leaving her once more. She says she'll come with me, and having her by my side will unbreak my heart… or destroy it. That's the chance I have to take."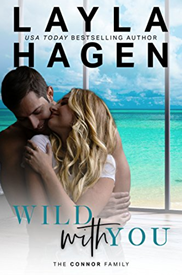 Wild With You by Layla Hagen — New Release!!
Can standalone: "Wedding organizer Lori Connor loves her job. Planning people's happy ever afters have catapulted the single mother to success. When she meets the best man at the latest wedding, sparks fly. Graham Frazier is more than Lori has bargained for. The charismatic soccer club owner is disillusioned by marriage after his divorce. He's also hot as sin… and kisses like a dream. Graham's touch is sizzling. He pursues her relentlessly, wanting those long legs wrapped around him and her smooth skin under his lips. Then he meets her son, and that boy charms him even faster than his mother did. Before Graham know it, Lori's son has him wrapped around his little finger. But are Lori and Graham ready for their lives to intertwine in ways they haven't even imagined before?"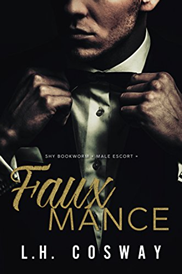 Fauxmance by LH Cosway — New Release!!
Standalone: "Shy Bookworm + Male Escort = Fauxmance In this era of social media, we all pretend. We pretend to be prettier, happier, more confident versions of ourselves, but not Ellen Grant. She takes it to a whole other level and pretends to be someone else entirely. Adopting the persona of a woman far more interesting is the only way she can break free of the socially awkward, romantically inept girl she really is. And it's all going swimmingly until she catches the eye of a man at her local coffee shop. Julian Fairchild has been noticing her for a while and he's fascinated. Little does he know, the woman he thinks he's obsessed with is a fake. It's not long before Julian discovers Ellen's true identity. However, he has a proposition. If she really wants to pretend, he can introduce her to a world where she can be anyone she wants. Ellen is intrigued by the prospect, and, blind to the nature of Julian's profession as a male escort, closes her eyes and lets him lead the way…"
…