**** NEW LIST JUST POSTED **** Happy reading! 😀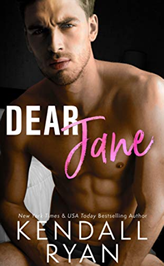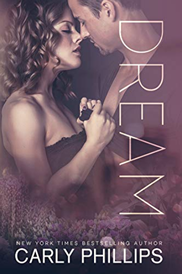 Hey everyone!! This is a brand new Weekly List so check down below for a huge list of new books but a few highlights include Dear Jane by Kendall Ryan (a second chance sports romance), Dream by Carly Phillips (a second chance romance with a single mom), Off the Ice by L.P. Dover (famous hockey star romance),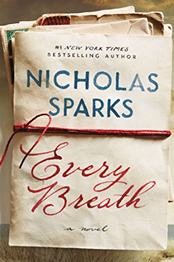 Every Breath by Nicholas Sparks (a heartbreaking love story in the tradition of The Notebook), Mr. Nice Guy by Jennifer Miller & Jason Feifer (office romantic comedy), Listen, Pitch by Lani Lynn Vale (surprise pregnancy sports romance), After Burn by Autumn Jones Lake (biker romance), and more listed down below! Happy reading 😀
LATEST RECOMMENDATION: Five Years Gone by Marie Force (Read my Review)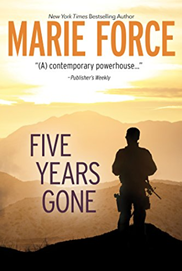 GAHHHHHH!!!!!!!! MY FEEEEEELS!!!! You guys!!! This book totally WRECKED me. I have no idea what I'm feeling. I'm so conflicted. But I am FEELING ALL THE FEELS! On one hand, this book was AMAZING. It grabs you by the heart-strings and keeps you emotionally connected to every angsty word. But on the other hand, I'm so conflicted over the ending. SO CONFLICTED. Except I'm fully able to admit that even if I had gotten the "other" outcome, I probably would STILL would've been broken hearted. So now I'm just a complete emotional wreck torn between being fighting mad and yet totally in love with this book that has made me FEEEEEL SO MUCH. Just…. GAH!!! WOW!!! UGH!!! *snifffffffffffff* Want to feel some feels?? Here, read this book!!! Or check out my spoiler-free review!
WEEKLY NEW RELEASES RECAP

HOT NEW RELEASES (NOW LIVE):  
MIDNIGHT RELEASE (PRE-ORDER NOW):  
DETAILED LIST: NEW RELEASES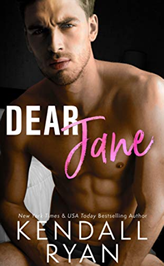 Dear Jane by Kendall Ryan — New Release!!
Standalone: A second chance romance about a hotshot quarterback and the one girl who isn't falling for his game.
"I broke her heart ten years ago and left town.
She hates me, and rightly so. It doesn't matter that the rest of the country loves me, that I'm a starting quarterback with a multimillion-dollar contract. Because when I look in the mirror, all I see is a failure who was too young—and too afraid—to fight for what I wanted. But I'm not that guy anymore, and all I need is one shot to convince her."
Soulmate by Katie McCoy — New Release!!
Can standalone: "He's sexy, rugged, charming… and did I mention sexy? Back in college, we were best of friends – which meant I secretly hid an epic unrequited crush…
Now I'm back in Chicago for the first time in years, and he's determined to rekindle our friendship. I swore, I wouldn't put my life (and heart) on hold for him again, but just one look at his handsome face and I know, he's still the only man for me. But this time, things are going to be different. No more sitting around, waiting for him to realize his dream woman is right in front of him…"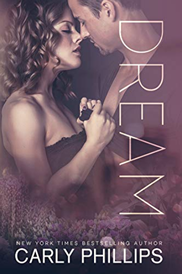 Dream by Carly Phillips — New Release!!
Can standalone: "As a little girl, she wanted to marry a prince, and he hoped it would be him. But he never told her how he felt, and lost her as a result. Because sometimes the bad guy gets the girl. And he left town to get over her.
She made the wrong choice years ago, choosing the bad boy over the best friend she trusted and she paid for it every day since. Coming face to face with his former best friend was bound to happen once he moved back, but for him, becoming her son's new teacher is a painful reminder of what they never had.
But this time around, he's determined to change their ending. Prince Charming is determined to break down her walls. Except that no happily-ever-after is won without a fight—and her ex-husband doesn't like to lose…"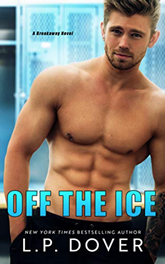 Off the Ice by L.P. Dover — New Release!!
Can standalone: "For years, I chased the spotlight, not only with hockey, but through television as well. That's why I decided to play the bachelor on Rich and Single. Unfortunately, I was stuck with a fake fiancée from hell who I couldn't stand to be around. Now that our contract is up, I'm allowed to do whatever I want, with whoever I want. I plan to take full advantage of my newfound freedom. 
After being on the show, people don't recognize me for hockey anymore. That's why I'm spending the off season in a remote cabin where the chances of people knowing me are slim. Space is what I need, but when a down-to-earth beauty needs help on her ranch, I can't resist. She exactly what I've been looking for, even though I'm not the kind of man she wants…"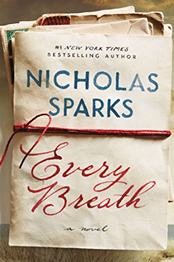 Every Breath by Nicholas Sparks — New Release!!
Standalone: "She is at a crossroads. At thirty-six, she's been dating her boyfriend, an orthopedic surgeon, for six years. With no wedding plans in sight, and her father recently diagnosed with ALS, she decides to use a week at her family's cottage to ready the house for sale and mull over some difficult decisions about her future.
He has never visited North Carolina but is summoned to Sunset Beach by a letter from a man claiming to be his father. A safari guide, born and raised in Zimbabwe, he hopes to unravel some of the mysteries surrounding his mother's early life and recapture memories lost with her death. When the two strangers cross paths, their connection is as electric as it is unfathomable… but in the immersive days that follow, their feelings for each other will give way to choices that pit family duty against personal happiness in devastating ways…"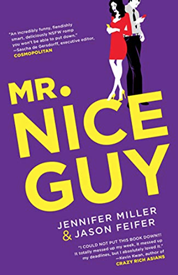 Mr. Nice Guy by Jennifer Miller & Jason Feifer — New Release!!
Standalone: "Lucas Callahan, a man who gave up his law degree, fiancée and small-town future for a shot at making it in the Big Apple. He snags an entry-level job at Empire magazine, believing it's only a matter of time before he becomes a famous writer. And then late one night in a downtown bar he meets a gorgeous brunette who takes him home…
Carmen Kelly wanted to be a hard-hitting journalist, only to find herself cast in the role of Empire's sex columnist thanks to the boys' club mentality of Manhattan magazines. Her latest piece is about an unfortunate—and unsatisfying—encounter with an awkward and nerdy guy, who was nice enough to look at but horribly inexperienced in bed.
Lucas only discovers that he's slept with the infamous Carmen Kelly—that is, his own magazine's sex columnist!—when he reads her printed take-down. Humiliated and furious, he pens a rebuttal and signs it, "Nice Guy." Empire publishes it, and the pair of columns go viral. Readers demand more. So the magazine makes an arrangement: Each week, Carmen and Lucas will sleep together… and write dueling accounts of their sexual exploits.
It's the most provocative sexual relationship any couple has had, but the columnist-lovers are soon engaging in more than a war of words: They become seduced by the city's rich and powerful, tempted by fame, and more attracted to each other than they're willing to admit. In the end, they will have to choose between ambition, love, and the consequences of total honesty."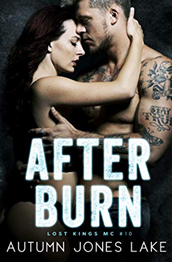 After Burn by Autumn Jones Lake — New Release!!
"The lure of the open road never fades. Bumpy, cracked, and full of obstacles. In the end, it's the cure for life's complications. My brothers behind me and our future in front of us.
Loyalty above all else. A vow made to my brothers.'
'Til death do us part. A vow made to my wife.
Together we'll race the rain, chase the sun, and ride the wind.
Leave no road untaken.
An unexpected truth no one ever saw coming.
Are we strong enough to survive it, or will it incinerate everything we've built?"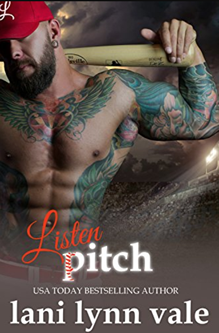 Listen, Pitch by Lani Lynn Vale — New Release!!
Can standalone: "He's not known as the bad boy of baseball for nothing. It all started with his father, who decided to be a criminal mob boss, then die. Fortunately for his uncle, he wants absolutely nothing to do with the family business and runs before anyone can figure out which way is up…
Fast forward eight years, and he is living life one breath at a time, just waiting for the other shoe to drop. That shoe coming in the form of a nosy neighbor who has no idea just how hot she is in her mail carrier uniform… The harder he tries to stay away, the weaker he seems to get, until one day he decides to put his morals on hold long enough to satisfy his cravings. One time is all he needs—or so he tells himself. But then two pink lines change everything, and all of a sudden, he doesn't have just himself to worry about anymore."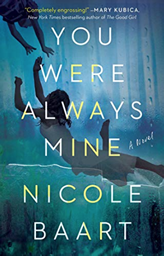 You Were Always Mine by Nicole Baart — New Release!!
Standalone: "Jessica Chamberlain, newly separated and living with her two sons in a small Iowa town, can't believe that a tragedy in another state could have anything to do with her. But when her phone rings one quiet morning, her world is shattered. As she tries to pick up the pieces and make sense of what went wrong, Jess begins to realize that a tragic death is just the beginning. Soon she is caught in a web of lies and half-truths—and she's horrified to learn that everything leads back to her seven-year-old adopted son, Gabriel.
Years ago, Gabe's birth mother requested a closed adoption and Jessica was more than happy to comply. But when her house is broken into and she discovers a clue that suggests her estranged husband was in close contact with Gabe's biological mother, she vows to uncover the truth at any cost."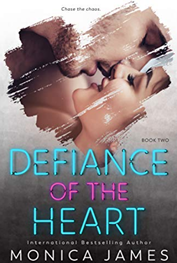 Defiance Of The Heart by Monica James — New Release!!
"For as long as I can remember, he was the boy who was forbidden. It didn't matter that he made my heart skip a beat. Our surnames fated us to be sworn enemies. But when the truth was finally revealed, my life changed forever. 
Lies have shaped our past, leaving us to pick up the pieces. But through the chaos, one thing is certain—I love him, and he loves me, and we won't allow anyone to tear us apart again. 
However, life has a funny way of proving us wrong…"
…