MIDNIGHT RELEASES (PRE-ORDER NOW):
Amber Sky by Cassia Leo goes live at midnight!! — "A devastating car crash leaves her stranded in rural Pennsylvania. Her only company is the ruggedly handsome man who saved her from the wreckage and took her into his home. But when her ride back to town arrives after the crash, she can't bring herself to leave him behind. She is determined to convince him to go back to town with her, until she begins to wonder if she actually survived the crash that brought them together…." < --- OMG!!!

Delicate Promises by Kelly Elliot goes live at midnight!! — "At eighteen-years-old, I made a promise with my best friend in high school. If neither one of us were married by age thirty-two, we would marry each other. Now he is back in town and wants to cash in on that promise we made all those years ago. The fact that he is still unmarried and single baffles me. The young man I remembered from high school has grown into one of the most handsome men I've ever laid eyes on. And he refuses to take no for an answer. You see, he needs a bride, and I'm his last resort. Romantic, isn't it? Well, no thank you. That is not going to happen. At least that's what I keep telling myself. But as the days pass by and he settles back into life in our hometown, I find myself falling head over heels in love with him. Again. What is the lesson I've learned, you ask? Never make a promise you don't intend to keep."

LATEST BOOKWORM NEWS:

NEW FAVORITE: Down Too Deep by J. Daniels (My Review)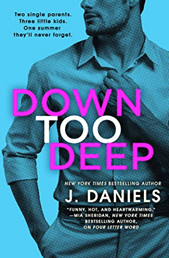 HOLY FREAKING SQUEEEEE!!!!! I just finished reading this absolutely GORGEOUS book!! I read it in one sitting and it was pure ANGSTY ROMANCE GOODNESS!!! The hero is a single dad and the heroine is a single mom and it was SO heart-warming to see them and their kids create a new family out of their two broken ones. It was a SWEET, SWOONY, ANGSTY love story and the ending brought tears to my eyes and just completely perfected the story! I seriously LOVED this book and highly recommend it!! — "I'm not perfect. And that family you want, the one I'm going to give you, it won't be perfect either, but I swear to God, it's going to be everything." — Be sure to grab a copy as it's NOW LIVE!!!
WEEKLY NEW RELEASES RECAP

HOT NEW RELEASES (NOW LIVE):  
…