Hey Readers 🙂
In case there are any of you out there who haven't read these books, you should know that they are one of my top favorite series EVER and would be near the top of my recommendations list!!
Rockstars. Angst. An intense, all-consuming love. Passion. Romance. Laughter. Tears. This book has it ALL.
I read these books before I started blogging and don't have full 'in depth' reviews for the first two but I've re-posted my mini-reviews of them here to help try and convince you to start 😉
The weirdest things about this series (specifically the first book Thoughtless only), is that it literally has two of the things I usually HATE in romance — cheating and a love triangle — BUT I loved this series. The WAY it was written just worked for me. It's literally the exception to all my rules. But I loved this way back when I first read it, and I still love this series to this day.
Happy reading! ♥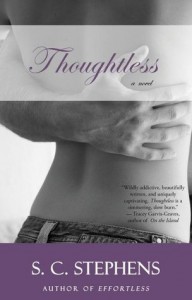 6 stars!!
This is one of those stories that sucks you in, makes your heart race, puts a smile on your face and doesn't let you stop turning the pages even for a second.
If you are a fan of love triangles, you will looooove Thoughtless. And if you're not a fan of them (like me), you might still end up loving it still. I did! Basically, Keira is moving cities with her boyfriend of 2 years Denny, and they end up becoming roommates with an old friend of Denny's, Kellan Kyle, who is a local rock star. He and Keira just have this instant connection but are respectful of the fact that she is in a relationship. But when Denny takes a job overseas for several months without really consulting Keira and stops calling etc, Kellan ends up comforting her and their denied passion/love is given room to grow…. there is SO much romantic tension in this book, its enough to drive you insane – but totally in a good way!
This book will make you want to throw your book at the wall, it'll make you laugh out loud, it'll make you swoon and grin for pages on end, it'll make you feel like your heart is ripped out, and you'll love every minute of it!
Kellan is one of THOSE guys – you know the ones that make you swoony and drooly and make you wish he was real?? yeah, one of those *sigh* I'm really not kidding here, if you haven't read Thoughtless, RUN out and grab your self a copy!
Its weird that I would like it given how there is  a theme of cheating in in it (though there's none in book 2 once Keira & Kellan are officially together) because Keira cheats on Denny to be with Kellan. But I think the reason it never bothered me was because I always just KNEW that Keira and Denny weren't right  for each other, just as strongly as I KNEW that Kellan was perfect for her in every way and that he was her HEA. So them being together, no matter what the circumstances, just always felt right.
"What if I don't choose you, Kellan? What will you do?" 
He looked away, a tear rolling down his cheek. "I'll leave, Kiera. I'll leave, and you and Denny can have your happily ever after." He looked back at me. "You wouldn't even need to tell him about me. Eventually, the two of you…" his voice broke and another tear fell on his cheek, "the two of you would get married, and have children, and have a great life." 
I fought back a sob. "And you? What happens to you in that scenario?" 
"I…get by. And I miss you, every day," he whispered."

__________________________________________________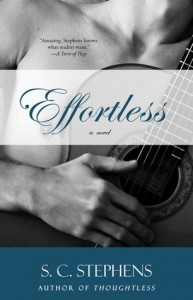 6 stars!!
"…you finally get it."…
… "get what?"…
"That I'm yours… that you can take me… anywhere, anytime, anyway. That you own every piece of me." ~Kellan
Oh god – this book just wrenched my heart out in an AMAZING way! In fact, I'm sure it even stopped entirely a few times!! I liked it even more than book 1 and thats saying a lot cuz I looooved Thoughtless.
"Loving you, Kellan, is so easy, it's effortless." His smile matched mine, then I frowned and sighed "Trusting you…that's the hard part."
This book is all about trust. Keira and Kellan are finally and officially a couple, but they have a lot to deal with. Kellan's rock band is getting some national recognition and he ends up having to go on tour for several months but Keira can't come because of school. So its all about her learning to trust him (since he has quite the man-whoring past and he's an insanely hot rock star who is on every girl's f*ck-me list lol), while he has to learn to trust her in his absence because even though in book 1 she was cheating on Denny to be with him – the love of her life, she still showed herself to be the kind of girl who could cheat. Both issues are valid and its up to the both of them to prove to each other that their love for each other is strong enough to overcome any barrier that is thrown in their way and that they are each worthy of each other's trust.
And the notes (!!!!!!) *dies* I don't want to spoil too much but basically when he goes, he leaves all these notes everywhere for her to find and they just melted my heart!!
"… if for some reason we're not closer, if something has gotten between us, please, I'm begging you…don't give up on me. Stay. Stay with me. Work it out with me. Just don't leave me…please."
This book make me cry several times – usually happy tears or just very emotional tears… its just a really really beautiful story!!
Also, its important to note that even though there IS a third book coming out any day now (*squeeeeeee*), this book ends with a very happy, completely satisfying ending. Definitely a HEA feel. But, of course, I CANNOT WAIT for book 3!!!!!
"…but what it all boils down to is three words that don't mean nearly enough… I love you."
HIGHLY HIGHLY HIGHLY RECOMMENDED!! ♥♥♥
***** BOOK #3 "RECKLESS" is also currently available for purchase (see links below).
Click here for my spoiler-free RECKLESS review (6 stars!).

CASTING: