When Tate Collins meets airline pilot Miles Archer, she doesn't think it's love at first sight. They wouldn't even go so far as to consider themselves friends. The only thing Tate and Miles have in common is an undeniable mutual attraction. Once their desires are out in the open, they realize they have the perfect set-up. He doesn't want love, she doesn't have time for love, so that just leaves the sex. Their arrangement could be surprisingly seamless, as long as Tate can stick to the only two rules Miles has for her.
Never ask about the past.
Don't expect a future.
They think they can handle it, but realize almost immediately they can't handle it at all.
Hearts get infiltrated.
Promises get broken.
Rules get shattered.
Love gets ugly.

Holy WOW!!! What a beautiful story!!!
It was absolute stunning perfection in every way. My heart is just overflowing with emotions ♥
Starting with Slammed and Point of Retreat, then with Hopeless, Losing Hope and This Girl, and once again with Maybe Someday, Colleen Hoover has proven over and over again that her stories are unique, powerful and incredibly well written. I have come to trust her writing implicitly. I love the passion she conveys in her words, the depths of the connections she establishes between her characters, and the effortlessly beautiful style in which writes her stories. Without a doubt, she is one of my favorite authors.
Ugly Love is beautiful, sexy, and heart-wrenching. It's powerful, compelling and emotionally charged with a unique storyline that was truly unlike any other I've read. For days after  I finished reading, my mind would drift back to Miles and Tate and relive moments of their story because I just couldn't let go.
 ________________
I fell in love with the story on page one. You might think that the first page is a little early to proclaim undying love for a book but I instantly felt connected — it was like I'd just stepped right into the story.
We first meet Tate when she moves in with her brother for a fresh start where her path quite literally crosses with airline pilot Miles Archer as he lies passed out drunk outside her new place. Despite her initial judgment of his character, she quickly learned there a whole side of himself he was hiding from the world — a deep, bottomless pit of pain and sadness.
She wasn't looking for a relationship and he wanted nothing to do with love but they had an undeniably powerful attraction towards each other. Drawn together, but unwilling to give themselves wholly over, they agreed to a friends-with-benefits arrangement following Miles' two, unwavering rules that would forever keep a distance between them.
"Don't ask about my past," he says firmly.  "And never expect a future."  
The more time they spent together, the more complicated things became as the lines between friendship and love began to blur. As Tate began to give her heart over, Miles fell further away. The pain of his past was so great that he never again would allow himself to fall in love. Not for any reason, or for anyone.
"It's not that I don't like you, Tate… I just don't want to like you. I don't want to like anyone. I don't want to date anyone. I don't want to love anyone."
However even through the most painful and ugly times, there's a healing power to love. This story left me emotionally drained but on the most amazing book high you can imagine. It was a powerful journey that showed how even after the worst possible devastation, love can always find a way.
  ________________
Every single moment while reading this book, I was feeling something, and feeling it strongly. It was thrilling, mysterious, sexy, alluring, emotional, it was everything in the exact perfect balance. From the start, it was clear that we were not seeing the full picture so each scene gave us another piece of the puzzle that was Miles' past. Everything just made me want to know more. I couldn't turn the pages fast enough!
Miles was such an intriguing character to try and figure out. Enigmatic. Mysterious. Smart. Sexy. Sensitive. His past so full of pain that it shut him away from wanting any hope for his future. Not only was he unable to move on, but he genuinely didn't want to…. and he was willing to do everything in his power, to sacrifice anything, to never again have to experience so much pain. Seeing him struggle internally with both his aversion to love and his growing attachment to Tate was just heartbreaking. His pain felt so real that I can honestly say, I've never wanted to hug a fictional character this much before.
"Tate," He says in a pained whisper. His face moves to my neck, and one of his hands grips my waist… His other hand moves to the back of my head as his lips rest against the skin of my neck. "What do I do?" He whispers. "What the fuck do I do?"
We were shown the story through both Miles and Tate's POVs in a mix of both present day storylines and flashbacks. The present was told from Tate's perspective and, because of how mysterious Miles was, we got to see flashbacks from his POV six years earlier. And as these little pieces of his past slowly began to line up with his behaviour in the present, I was able to begin putting together the real story he was hiding.
He kept so much hidden that all the little things between them — the hint of a smile, the stroke of a thumb, a quick glance — became so much more powerful and meaningful. And because of the build up of all these little moments, when Miles and Tate finally got together it was explosive!
Dear long-time CoHo fans, be prepared for hotness!!!!!  This is a whole new side to Colleen Hoover's writing and let me tell you, it is sexy and steamy!!! Trust me, you will be fanning yourself 😉
"The couch or your bed?" he whispers.
"Both," I reply.
But on a more serious note…. The more I read, the closer I got to discovering the source of Miles' pain and when it hit, it was gut-wrenching!!! I can honestly say that few character's backstories have ever made my heart shatter as Miles' did. I cried — no, sobbed — so much that I could no longer see the words and so I just sat there with tears steaming down my face absorbing the huge emotions this story evoked.
"If I were capable of loving someone… it would be you."
I want to promise you though that this story is worth every tear because the way all the pieces of the story come together is absolutely gorgeous. The ending will leave you with a joyous feeling but the journey to get there is not an easy one. It's beautiful but so broken. Ugly love.
 ________________
I've read this book twice now and I know I'll be reading it many more times to come. I have the book hangover of the century and I'm finding it hard to let go of Miles and Tate because of how strongly I connected to them. Truly, I don't think there can be greater proof that this was a wonderful book.
I've loved every book Colleen Hoover has written but this one is my favorite. Ugly Love is a must-read book of the year! I loved every word, I felt every moment, and I will never forget this story.
I don't give out a lot of 6 star ratings (in fact this will be the first one I've given this year) but the truth is that this book went above and beyond. The story was powerful, the writing was stunning, and the way every single piece of it was woven together was simply breathtaking.
Rating: 6 STARS!! Standalone romance.
And… I still want to hug Miles ♥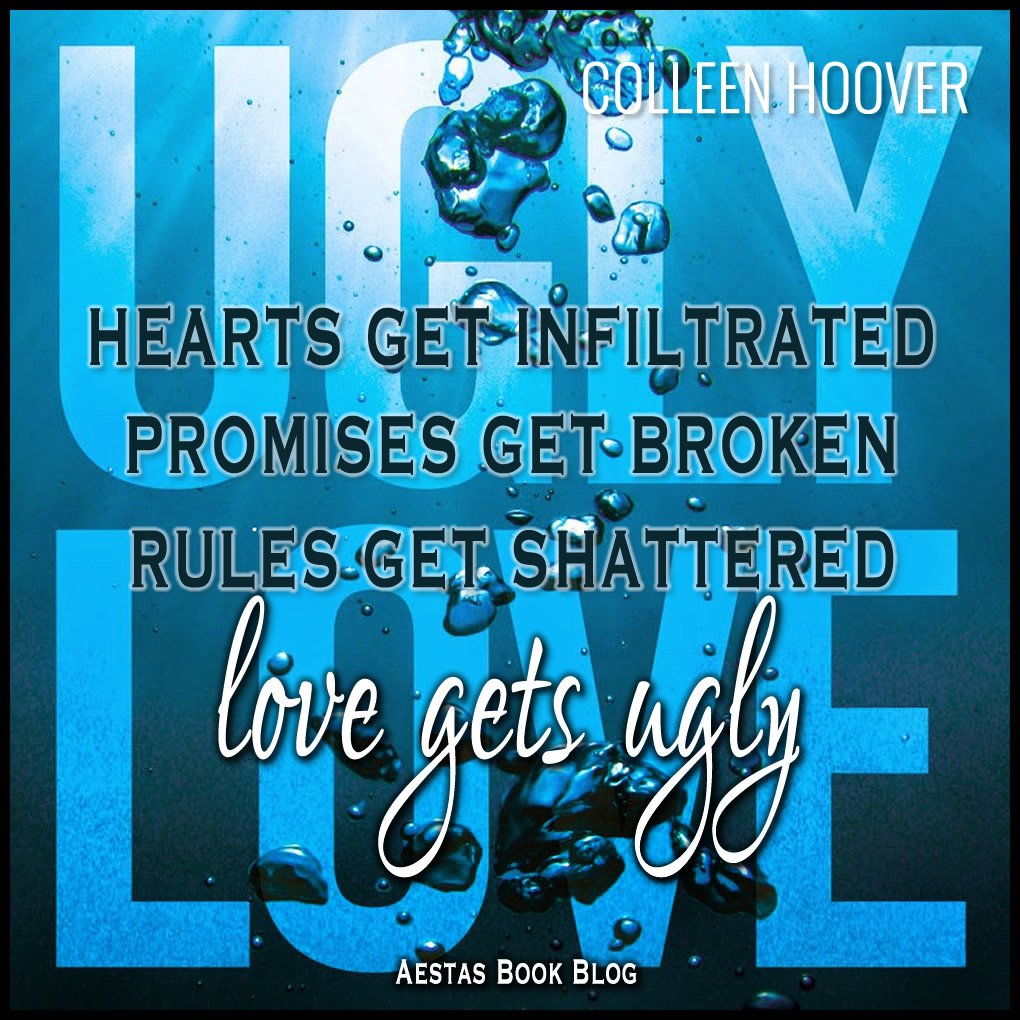 *** OTHER BOOKS BY COLLEEN HOOVER ***