4.5 Stars
Another winner from Kristen Ashley!! You just can't help but fall in LOVE with those Nightingale boys!!
I've been looking forward to Hank's book since the beginning of this series and I was not dissapointed. I squeed, snorted, snickered and laughed my way through it –   a perfect, fun action-romance read!
Hank Nightingale is basically the ultimate swoooony good guy – he's a gorgeous, loving, straight-arrow, always-in-control cop with insane loyalty to his family and a huge heart. It was fun to see him come undone by this girl who just walked into his life 🙂
He meets Roxie when she comes into town to meet her uncle Tex (who we met as a delightful side character – ex-con turned artisan coffee creator – in the first 2 books of the series) who works at the coffee shop-bookstore run by Indy (the heroine from book 1). There, she runs into all the (uber-Alpha) boys from Nightingale Investigations…
"It looked like GQ was having a convention and all the best looking guys had decided to have coffee at Fortnum's before going to seminars on how to cope with being really, unbelievably, fucking gorgeous."
… but she finds inexplicably drawn to Hank. Its love at first sight for both of them. Problem is, she's in a bit of trouble trying to ditch her loser criminal ex-boyfriend. Lucky for her, Hanks is a cop and is more than happy to help her out… and take her out to dinner, woo her into his bed, protect her, claim her as his woman and other utterly swoon-worthy things that only a true Alpha can do best 😛
"I'm having dinner with Hank but only because he's persuasive-"
"I bet."
"Its just dinner. Nothing more…"
"Dinner may be just dinner in Chicago but it ain't in Denver. These boys don't fuck around… Indy was livin' with Lee after 'bout a day. Jet was with Eddie from my count, after less than a week. The way Hank's lookin' at you, I'm guessin' less than 48 hours."
And of course, it wouldn't be a proper KA book without its fair share of car chases, kidnapping (s), hostage situations, shootouts, and crazy ex's, now would it? lol
I seriously loved Hank! I loved how insanely sweet, thoughtful, caring and perceptive he was. He saw right through the emotional front that Roxie put up and into her heart and wouldn't give up until she believed in them too. I love how he saw how much her previous relationship made her wary to put her heart out on the line again and he was willing to made every effort to show that he was worth it.
Roxie was also a great heroine. She had a fun voice and was stubborn and sassy enough to stand up for herself, but soft and lovable enough to be able to have some seriously heart-melting moments with Hank.
I loved that by this third book, you really feel like you KNOW all these characters personally – you get all their inside jokes and little gestures, and it just totally maximises the fun! I just loved the huge network of characters and all their inter-relations.
"…heard Ally say, "I'm gonna talk to Lee. The minute they find that asshole, I want my turn with him in the holding room."
"Ally," said Indy. 
"Sugar, I'm talking to Marcus to-night." Daisy broke in. "He's gotta step his shit up. Ain't gonna be no holding room for Billy fucking Flynn, not if I have anything to say about it."
The dialogue in this book was awesome – so many laugh out loud moments! Also, we are introduced to new side characters – namely Luke Stark, the seriously HOT member of Nightingale Investigations who until now was recovering from a gunshot wound – I seriously cannot wait until his book! He is h.o.t. !!
And nobody writes family scenes like Ms. Ashley – I swear in all her books, the families just make me grin like an idiot.
"Son, let me tell you something. Even if you don't care, pretend you do. Honestly, it's the best way to go," Dad, the voice of experience, decided to wade in. "She talks about toss pillows. You don't care about toss pillows. You don't even know what toss pillows are. Pretend that toss pillows are your highest priority in life." 
Really, if you just want a fun read full of Alpha males, swoony romance, and lots of action-packed craziness, this is a great series to start.
"This is crazy. You're crazy. Denver's crazy. All you boys skipped right over the last century, didn't you? I think even the last million years. You're cavemen"
I'm so looking forward to more from this series. I've really turned into quite the KA book addict!!
CASTING:
Buy ROCK CHICK REDEMPTION (Kindle)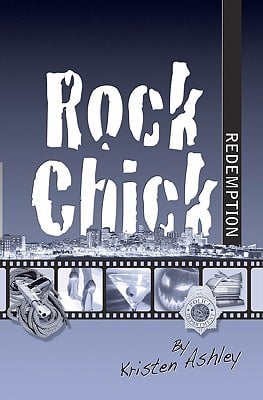 ** SERIES READING ORDER **
Book #1 — ROCK CHICK (Lee & Indy)
Buy for Kindle | Buy in Paperback | Read my Review
Book #2 — ROCK CHICK RESCUE (Eddie & Jet)
Buy for Kindle | Buy in Paperback | Read my Review
Book #3 — ROCK CHICK REDEMPTION (Hank & Roxie)
Buy for Kindle | Buy in Paperback | Read my Review
Book #4 — ROCK CHICK RENEGADE (Vance & Jules)
Buy for Kindle | Buy in Paperback | Read my Review
Book #5 — ROCK CHICK REVENGE (Luke & Ava)
Buy for Kindle | Buy in Paperback | Read my Review
Book #6 — ROCK CHICK RECKONING (Mace & Stella)
Buy for Kindle | Buy in Paperback | Read my Review
Book #7 — ROCK CHICK REGRET (Hector & Sadie)
Buy for Kindle | Buy in Paperback | Read my Review
Book #8 — ROCK CHICK REVOLUTION (Ally & Ren)
Buy for Kindle | Buy in Paperback | Read my Review