5 stars!
"I want you. I want to taste you. I want to f*ck you. I want to make you come and I want to hear you moan my name when you do so I know that you know it's me who made you come."

"If you ever think of takin' off, if you ever get scared enough at what I do for a living that you decide you can't hack it, then you best think again because unless what we have turns shit like everything else in my life, I'm not ever letting you go."
WOW!! This might be my FAV Rock Chick book yet!! Loooved Vance and Jules' story! Priceless!
This is the first book in this series that made me cry – there several tear-jerker moments, as well as some heart racing parts that gave me shivers, some really steamy scenes, absolutely priceless laugh-out-loud dialogue and a seriously AWESOME ending… WOW!!
I apologize in advance for all the quotes and the length of this review. I had almost a quote saved from every single page! I'm weak lol, I just couldn't resist!!
Jules is a social worker who works at a shelter helping street kids. She lost her whole family to tragic circumstances and throws herself into helping those who need it. But when one of the kids on her watch OD's from drugs sold to him on the street, she turns vigilante. She  finds people who teach her how to fight, who will hook her up with what she needs and ends up earning herself the street name Law because her word is law on the streets.
Vance Crowe ( *swoooooon* ) is one of the uber Alpha members of the Nightingale Investigations team. He's a gorgeous, sexy-as-hell, Native American badass who no wants to mess with. When he and Jules cross paths and it becomes clear what she is doing and that she is doing it alone, he offers her his protection along with the whole of the Nightingale team.
Vance and Jules have instant attraction to each other. But its is well known that Vance is a player – "He saw, he conquered, he left." – and Jules is wary about letting him into her life. But those Alpha KA men have a way of getting what they want.
"Those boys got a way about 'em, Jules. They don't fuck around. They see somethin' they want, they get it. They're fuckin' famous for it. A woman don't stand a chance. He seem interested?" 
"…honestly, there's nothing to worry about. We went our separate ways. I'll be smarter, I'll be more quiet, I'll be –"
"Laid, good and simple. Crowe got a look at you, you're his."
And its hard to say no when she just wakes up one morning to him in her bed with her!!
I was snagged around the midriff and thrown back to the bed, my head hitting the pillows, and Vance Crowe rolled his body over mine. I stilled and looked up into his dark, lushy-lashed eyes.
"Oh my God," I breathed.
"Mornin'," he said to me, like we woke up next to each other every day.
"Oh my God," I breathed again.
His hair was not in a ponytail but falling down around his face and shoulders and, I kid you not, he looked like a Native American Warrior God.
"Do I have your attention?" he asked. 
He's very persistant, but still while being very respectful of her. I didn't find he was as pushy as the other boys and he puts a lot of trust in her. Watching them come together was really heart-warming 🙂
"I don't know what shit you're working though but I know its there. I know you'd rather not even acknowledge it and definitely don't want me to be a part of the process. I don't care. Princess, this is happening between you and me."
"What, exactly, do you mean by 'this'? You fucking me?" I snapped…
" Yeah. Me fucking you. In your bed, on your couch, in my bed and anywhere else I can think of. I'm gonna do you on your back, on your knees and you're gonna ride me. And when I've exhausted you and you don't have those fucking shields up, I'm gonna make you talk to me and tell me what this shit is about and then, maybe, I can help you with it."
It was so refreshing to see how much Vance trusts Jules' skills and how he wasn't quite inclined to want to lock Jules up in a safe house or cuff her to his bed. If fact, Jules was a lot more 'can-do' and kick ass than the previous heroines which actually led to a whole different vibe to this book – in a totally good way 🙂
Vance and Jules are so sweet and adorable though as a couple – maybe even my fav yet (tied with Indy/Lee from Book 1). Neither of them had a very happy start to their life and seeing them together and really being able to appreciate how incredible what they had was just melted my heart.
"Any man is defined by the woman who shared her bed with him… and it works the other way too… if someone like you, someone as unbelievably beautiful as you, as crazy and sweet as you, filled with attitude and courage with her heart in the right place… if someone like you shares her bed with me, then that says something about me….This is it. You and me. No matter what."
The to-die-for band of characters is one of my fav things about this book and this series. KA has brilliantly built up a core group of almost 20 (if not more) characters that you honestly feel like you know personally. Somehow, the names never get confusing, the story never drags or feels scattered and it just ends up being a LOT of personal because how strongly connected you feel to them and how strongly you feel their connections to each other.
They are like one big family made of up every kind of person imaginable from uber badass fighters, to ex-cons, to drug-dealers, cops, book store owners, strippers, waitresses, vigilantes, undercover agents, trackers, street kids… lovers, brothers-in-arms, friends, family… this book has everything. Its just delightful to see them all interact together.
There really was a theme in this book of how family isn't just the people you were born to. And not only does it say it, but more importantly, it shows it. Beautifully.
And the ending! Gah!! I won't give it away but just the way it is written is brilliant!!! Normally the whole book is told from the POV of the main girl, but in the ending is told piece by piece from so many different characters depending on whose perspective is most relevant to the moment at hand. Its like, we got to know these characters over the course of the last four books, and now we literally get to see the world through their eyes, in action. It totally read like a movie – I could visualize everything that was happening is perfect detail. LOVED IT!!!!
I'd say the only thing that bugs me about this series is how strongly the women in it fight the affections of the men. For nearly all of them, this gorgeous, larger-than-life, almost god of a badass man enters their lives and wants to be with them and their first reaction is always 'we need to break up'… sigh. lol. yeaahhhh… but still, they all do come around (some thankfully with less fight than others) and once they have given into the relationship, they have some of the strongest relationships ever so its all worth it in the end.
And I just love KA's writing style for this series. It really feels like the heroine is telling the story to you, in person. It feels so casual and personal in style.
LOVE this series!!
"No matter what," he said, his voice fierce and strong and rumbling through me. "You told me I was home to you and I get it. You're home to me. I've never had a home. I like the one I found and I'm not losin' it. No matter what." 
CASTING:
Buy ROCK CHICK RENEGADE (Kindle)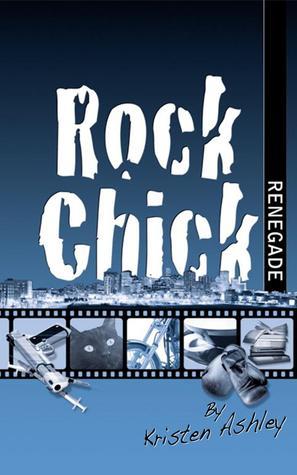 ** SERIES READING ORDER **
Book #1 — ROCK CHICK (Lee & Indy)
Buy for Kindle | Buy in Paperback | Read my Review
Book #2 — ROCK CHICK RESCUE (Eddie & Jet)
Buy for Kindle | Buy in Paperback | Read my Review
Book #3 — ROCK CHICK REDEMPTION (Hank & Roxie)
Buy for Kindle | Buy in Paperback | Read my Review
Book #4 — ROCK CHICK RENEGADE (Vance & Jules)
Buy for Kindle | Buy in Paperback | Read my Review
Book #5 — ROCK CHICK REVENGE (Luke & Ava)
Buy for Kindle | Buy in Paperback | Read my Review
Book #6 — ROCK CHICK RECKONING (Mace & Stella)
Buy for Kindle | Buy in Paperback | Read my Review
Book #7 — ROCK CHICK REGRET (Hector & Sadie)
Buy for Kindle | Buy in Paperback | Read my Review
Book #8 — ROCK CHICK REVOLUTION (Ally & Ren)
Buy for Kindle | Buy in Paperback | Read my Review