"I want you in my bed, I want you in my house, I wanna come home to you."
Pure 5-star swoony awesomeness!! 🙂 
This book just grips you right from the start. I literally gasped my way through the first chapter with wide eyes and all sorts of "oh my god, did that really just happen?!" thoughts.
This story, much like the last one (Rock Chick Reckoning) deals with some very intense scenarios.  Sadie is the rich, beautiful daughter of a high ranking drug dealer.  She is used to being judged for her father's sins and since her mother disappeared when she was young, she grew up with very little family connections and/or friends. As a defense mechanism, she becomes cold and emotionally untouchable – a way of protecting herself from the world. Hector worked as an undercover agent in an operation to take down her father during which they first met. But despite their undeniable connection,  it wasn't the right time them and although he had already decided that she was his, he couldn't do anything about it or he would have blown his cover and he ends up pushing her away and deeply hurting her feelings. But when her father is put in jail, she starts to feel threatened by some of his enemies and comes to Nightingale Investigations for help… I don't want to give too many details but very early on in the story, she ends up being attacked and raped (yes, raped!) by some of her father's enemies and let me tell you, if you thought you'd seen the Hot Bunch pissed before, you should see them now!
"Lee recruited men who, it turned out, had a strong ethic about women and how to treat them and an even stronger ethic about how they felt about men who didn't treat them right. This wasn't on the job application but, bottom line, it was the only kind of man Lee would have in his employ."
After being released from the hospital, Sadie's two gay buddies take her in and slowly, through constant love and support, they help her heal, and learn to trust again and to let her guard down that she has spent her whole life building up. Hector gives her alone time to heal before pushing into her life but when he senses that she is ready, he very slowly, gently, and carefully begins to show her how much she means to him and what he's willing to do to make her his.
Hector "Oh My God" Chavez. How can I say enough good about him? He is kinda perfect actually. And because he's dealing with a rape victim who is still healing, it makes him bring out his "Gentle Alpha" side in spades.
"And you think you can help me find my way?"
He shook his head, his eyes went warm and I got another neck squeeze, coupled with a tightening of his arm around my waist. "Mamita, only you can find your way. I just wanna be along for the ride."
He is just so carefully tender, incredibly gentle and endlessly patient with her. Never rushing her, never pushing her, just constantly showing her through his actions and words that he's there for her, that he's gonna always be there for her, and that he's not going to let anything ever hurt her again.
"You okay?" he asked.
"No," I answered…
Then… He promised, "You will be."
That being said, he's still an Alpha and his intentions are clear from the start. He views Sadie as his woman even though he's willing to take the long road to get there.
Watching Sadie's transformation from from this cold and totally emotionally guarded Ice Princess Stepford Sadie to this strong, sassy, and feisty Rock Chick was just so beautiful. Seeing her finally stand up for her self, and not let anyone get the better of her was cute, humorous and just so heart warming.
"Hector? You call him Hector ?"
"Well I can hardly call out, "Agent Chavez, oo Agent Chavez, when he makes me climax, now can I?" I snapped"
Almost the whole story is told from Sadie's POV and the main focus of the story is her healing and her relationship with Hector. It was so wonderful to see the story focus on them together as a couple for so much of the book. Hector doesn't ever let anything come between then and once he gets through her emotional defenses enough for her to feel comfortable being herself around him, we actually get to see them functionally together despite them their fair share of issues to work though.
Oh and their sexy scenes were HOTTTT!!! Gentle, swoony KA Alpha …
"Mamita," his voice was rough with what sounded like laughter and something else altogether, "You think you could handle my mouth between your legs without you freaking out?"  
Seriously though, this book is has some intense action scenes and KA really knows how to write BADASS like no one else. I swear, you feel like you are right there. And after so long knowing these characters, when they are put into life threatening situations, let me tell you, I felt real fear while reading.
But the real thing about these books that makes me smile (even while writing this), SQUEEE out loud, and keeps me absolutely desperate to just read more and more of KA's books is the way she writes her Alpha males. Just the depth of the emotion behind their protectiveness of their women and each other, the way they all have each others back and  how they will literally let no one fuck with them or their women is just so incredible swoony, it makes my heart race even just thinking about it. These guys really are the human equivalent of the Black Dagger Brotherhood vamps.
And the side characters! I fell in love with her gay best friend Ralphie. He brought the perfect blend of tender love and comfort as well as great comedic relief in the midst of some really serious subject matters.
"I call them as I see 'em. He's Hispanic…" Ralphie lifted one hand and then continued, "And he's hot." He lifted his other hand and then shoved them together like he was squeezing an accordion. "Hence, Hispanic Hottie."
The emotional side of this book is deep and beautiful – I cried once and got teary 3-4 times. Especially the ending – oh it tugged at my heartstrings! And not to mention the absolutely amazing epilogue where we are treated to 2 (yes, TWO!) utterly swoony weddings *happy sigh* and given a delightful intro into the next, and sadly last, book in this series.
Buy ROCK CHICK REGRET (Kindle)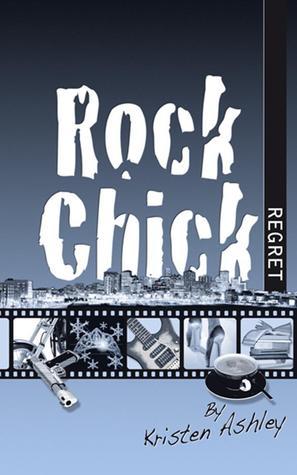 ** SERIES READING ORDER **
Book #1 — ROCK CHICK (Lee & Indy)
Buy for Kindle | Buy in Paperback | Read my Review
Book #2 — ROCK CHICK RESCUE (Eddie & Jet)
Buy for Kindle | Buy in Paperback | Read my Review
Book #3 — ROCK CHICK REDEMPTION (Hank & Roxie)
Buy for Kindle | Buy in Paperback | Read my Review
Book #4 — ROCK CHICK RENEGADE (Vance & Jules)
Buy for Kindle | Buy in Paperback | Read my Review
Book #5 — ROCK CHICK REVENGE (Luke & Ava)
Buy for Kindle | Buy in Paperback | Read my Review
Book #6 — ROCK CHICK RECKONING (Mace & Stella)
Buy for Kindle | Buy in Paperback | Read my Review
Book #7 — ROCK CHICK REGRET (Hector & Sadie)
Buy for Kindle | Buy in Paperback | Read my Review
Book #8 — ROCK CHICK REVOLUTION (Ally & Ren)
Buy for Kindle | Buy in Paperback | Read my Review