I love him. He loves me. But every four years, I lose myself. And every four years, I have to find him. This is our story.
I LOVED this book!! An intense, heart-pounding love story unlike any other I've ever read!
I stayed up til 4AM to finish this story. I read it in one sitting and could not put it down even for a minute. The idea of the story was just so unique and it grabbed me from the start so I just had to read it!
The 29th of February, the day I was born. 
When I wake up on this day, I'm in a different city, with a different life and no memory of the lives I had before this one. Today is the tenth time this has happened to me. The tenth time I've had to figure out where the hell I am. The tenth time I've had to try and work out who the hell I am. This is the tenth alteration of the person I am. Each of us has had different lives, different backgrounds and different families. But there's always been one constant. 
Him. 
He's the reason I keep doing this. He's the reason I spend four years searching. If I'm lucky, I'll get the trigger and find him quickly and we can spend those four years together before I disappear again. If I'm not, we might get a year, a month or even just a day. Once we got nothing, but that was a choice. 
And every time it happens, he patiently waits for me. He says that every time I come back to him, it's like falling in love with me all over again. I say that every time I come back, I fall even more in love with him than before. 
It scares me that one day I won't be able to find him at all, because when that day comes, I'm not sure I'll want to keep going. He is my strength, my protector, my one and only constant. 
I love him. 
He loves me. 
But every four years, I lose myself. 
And every four years, I have to find him. 
This is our story.
My heart was racing from start to finish!! It was pounding. My spine tingled. I had shivers running through me the whole time with the anticipation of finding out what would happen next. Every little hint, every new twist, every emotionally charged moment between them just added to my connection to the story.
I swear, I couldn't flip the pages fast enough!
The story starts out when Evie and Ben are young children. Even back then, I loved how fiercely protective he was of her. They were just kids but you you could already feel his love for her and as the years went on, his love only got stronger. I just knew in my heart that they were meant to be together. For always.
"I promise I will always look after her."
And somehow, I know he always will.
This is not what I would consider a paranormal story. I want to be very clear on that. There is no mystical or supernatural element ever mentioned. What happens to her simply happens. There is no explanation ever given and it's never labelled, but more importantly, there is no reason for an explanation. I've thought about this a lot honestly and here's the thing: If there was an explanation, it would make the story seem unbelievable because it would either be implausible in our real world (and therefore turn it into a paranormal story) or it would seem far fetched… and the thing is that this is a character-driven story. The point of the story is these characters' lives and their intense, all-consuming love for each other. This is a story about how two people who are forever bound by love make things work in a seemingly impossible situation. The point is their love for each other, not discovering why this is happening to her. And personally, I think that's a very important thing to remember. This is a love story.
"I love this man and every single thing he does for me, has ever done for me, ever since I was four years old."
Every word of this story just flows. The writing is fluid and the plot is meticulously crafted so that the story is constantly moving forward with no slow spots at all. The intensity of the emotions just rolls off the page. I felt every word in my heart. The way this author wrote Evie and Ben's connection and chemistry, the strength of their love, the struggle to regain memories, the impact when they all came slamming back, the missed encounters, the epic reunions, everything was so powerful. There were times when I was reading with tears in my eyes even though nothing sad was happening just because I cared so much and so desperately wanted them to be able to find a way to be together despite their impossible situation.
Minutes, seconds, days, years, this is a story of a never-ending love fighting against time. It's honestly one of the best books I've ever read. It consumed me and took over my life. I loved every word. With most books, if even one scene makes me feel as much as this book made me feel in every scene, I'd consider it a winner. But this book was just a non-stop, heart-racing ride the whole way through.
"Hey, baby," he says, his voice a whisper. "Miss me?"
There is no stupid drama. It might sound silly to say it but it's a very important thing to me. The characters are human and do make mistakes (no cheating and no triangles, don't worry) but their unwavering love for each other is what gets them through.
I loved how real this story felt. With the way that it was written, I honestly just accepted every situation as it was and was genuinely made to believe that these events really happened to this woman.
Some readers have asked me if the story is at all repetitive and the answer is NO. Not at all!! This is not a Groundhog Day scenario at all. I don't want to give anything away but it's always moving forward and changing. The author really did a fantastic job with the story development.
Ben Foster is guaranteed to melt your heart. The depth of his love for Evie was so powerful. He loved her unconditionally. His complete devotion to her and acceptance that no matter what, she was the love of his life was just gorgeous. Pure swoon. He protected her, fought for her, stood by her through everything. You knew he'd give anything for her and that there'd be no obstacle he wouldn't face to be with her.
"I haven't stopped loving you, Evie," he whispers. "And no matter what happens or where you go, I won't ever stop."
I love the concept of a love so strong that no matter what, they keep finding each other over and over again. The idea that love is powerful enough to prevail over anything is the reason I love to read romance. I am so grateful to the author for stepping outside the box to give us this unconventional and incredibly beautiful book. It was unique, refreshing, thrilling, and this love story will stay in my heart forever.
"I'll be here waiting for you," he says, his eyes never leaving mine. "You just have to come find me, Evie."
Rating: 4.5 — 5 stars. Standalone romance (HEA).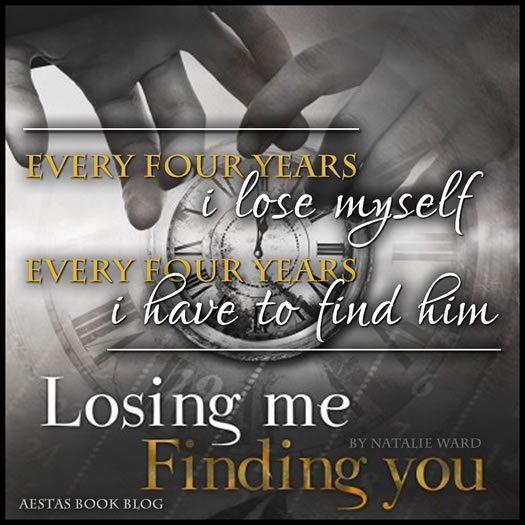 ____________________________________
 ❤ SIGNED GIVEAWAY ❤
Open Internationally. Void where prohibited by law. Must be over 18 to enter.
1 winner will a signed copy of Losing Me Finding You.