I loved this book!
Hilarious, romantic, all-out FUN!!
Think Wallbanger meets Beautiful Bastard.
You smiling yet?
I was hooked from the first line and smiling wide by the end of the first page. If you are a fan of enemies-to-lovers stories, you will LOVE Tangled!
I swear half my book is highlighted. I laughed out loud, grinned till my cheeks ached and just generally loved it 🙂
The story is about Drew. In real life, Drew is a clean-shaven, well-groomed, expensive suit wearing professional. But, at the start of the story, he's a miserable un-showered, un-shaven heap locked in a messy apartment overflowing with old pizza boxes while claiming to have the flu.
Right.
What he really has is a bad case of the Break Up.
See Real Life Drew was once a player. Why settle for one when there were so many willing ones tripping over themselves to be with him?
"Once I'm done, I'm DONE. I'm not the kind of guy who rides the same roller coaster twice… Don't look at me that way. I'm not a bad guy. I don't lie; I don't sandbag women with flowery words about a future together and love at first sight… Okay, maybe that's not exactly true. But I can't help it if they see me, fuck me and suddenly want to bear my children."

"I've never seduced a woman before.
Shocking, I know.
Let me clarify. I've never had to seduce a woman before, not in the typical sense. Usually it just takes a look, a wink, a smile. A friendly greeting, maybe a drink or two. After that, the only verbal exchange involves short, one-word phrases like harder, more, lower… You get the point."
But he's fallen in love. Finally. Problem is, she's getting married… to someone else. Hence the miserable, moping, un-shaved heap. This is his story.
It starts off going back in time to when they first met. Drew meets Kate at a club one night and, despite the flirting, she walks away. When Kate gets hired by his office, it puts him in a frustrating situation because office romances are on his no-no list.
"Kate Brooks is officially scratched off my list of potentials. She is forbidden, untouchable, a no-way-never. Right next to my friends' ex-girlfriends, the boss' daughter, and my sister's best friends.
Well, that last category is a bit of a gray area."
We are told the story by Drew. He can be a bit of an asshat but you really just can't help falling for him – he's that lovable. He both narrates the events and breaks the 4th wall by talking directly to us as the reader. It's totally awesome! It's like he's right there telling you the story. There are times when his commentary on what was going on just had me in stitches. Here's a random quote:
"Once again, to the ladies out there — here's a fact for you: Men pretty much have sex on the brain twenty-four-seven. The exact figure is like every 5.2 seconds or some shit like that.

The point is, when you ask, "What do you want for dinner?" we're thinking about screwing you on the kitchen counter. When you're telling us about the sappy film you watched with your girlfriends last week, we're thinking about the porno we saw on cable last night. When you show us the designer shoes you bought on sale, we're thinking how nice they would look on our shoulders.

I just thought you'd want to know. Don't shoot the messenger."
And if you like strong heroines, you will LOVE Kate. She is smart, confident, sassy and absolutely determined not to become another notch on Drew's bed post. She has plans, dreams, goals and no time for a playboy.
"If we're going to work together, Drew, I think we're should get a few things straight. I'm not your sweetheart. My name is Kate — Katherine. Use it. And I'm not a kiss-ass. I don't have to be. My work speaks for itself."
Their banter and 'sparring' was just priceless! Tangled was essentially an enemies-to-lovers story about guy falling in love for the first time with a girl who goes toe-to-toe with him on everything. I loved watching them work through their issues. And when Drew finally decides to fight for Kate's heart, the lengths to which he goes are just laugh-out-loud awesome!
"It makes me want to kiss her and strangle her at the same time. I've never been into S&M but I'm beginning to see its benefits." 
The book wasn't always funny per say, but the whole mood was light hearted. The sex was hot, the characters were lovable, the writing was witty and it had a happy ending 🙂
If you are looking for a FUN read, this is it!!!!
4.5 – 5 stars
Note: TANGLED can be read as a complete standalone.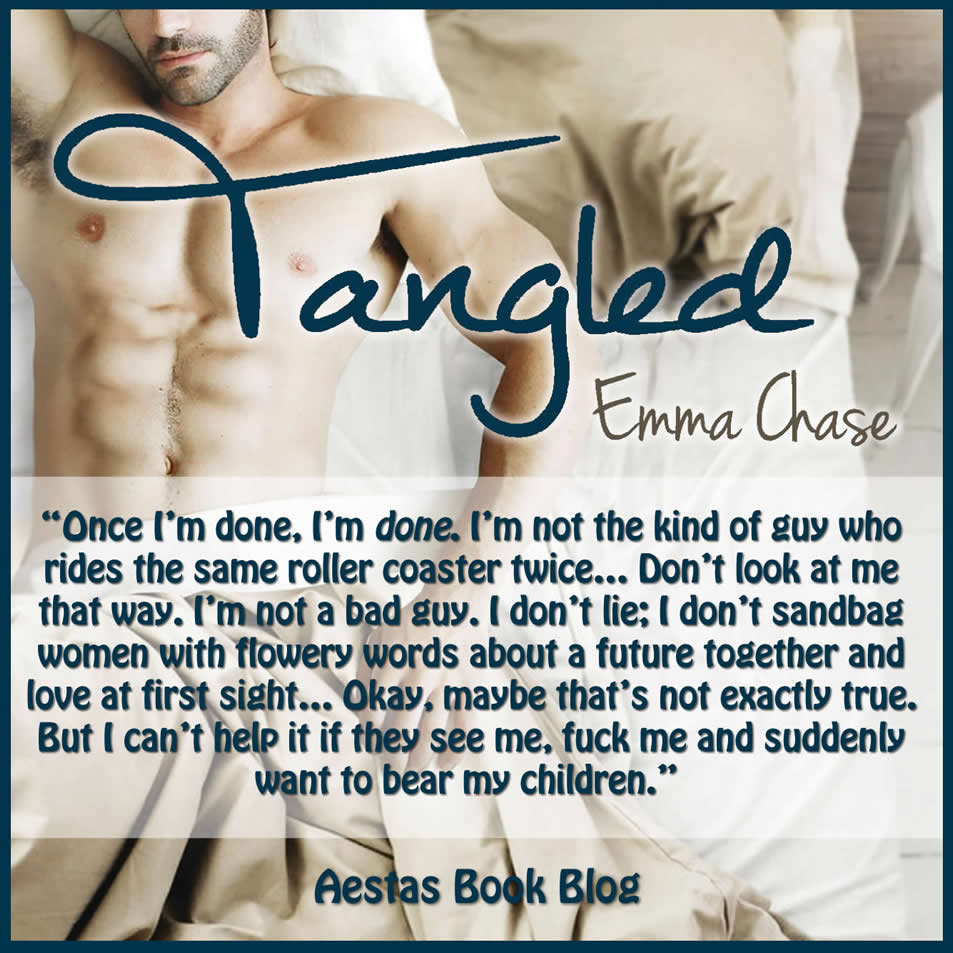 ❤ SIGNED GIVEAWAY ❤
Open Internationally.
Void where prohibited. Must be over 18 to enter.