"I've carried you with me for so long, there's no room for anyone else."
Wow!! 53 Letters For My Lover was a sexy, daring, and powerful debut novel that told a beautifully written forbidden romance spanning three decades. However, this is not your typical love story.
Every once in a while, you come across a book that makes your heart race from the moment you hear about it. This was one of those books for me. I knew based on the blurb that this would be a "rule breaking" book for me but something about it still called to me.  I just had to read it.
"My grandma used to say that people born on the same day are two halves of the same soul."
Troy Heathgate and Shayda Hijazi were born on the same day on opposite sides of the world. Over the course of three decades, their paths crossed over and over again and, with each time, their connection grew stronger. Troy had almost everything he could dream of but couldn't have the woman he was in love with.  Shayda had had her whole life planned for her but dared to break the rules and follow her heart.
"My mind keeps going back to Troy. 

Somewhere in the fabric of all these years, our lives got tangled, like unruly threads pulling and snagging into impossible knots."
I'm going to first explain the story set-up as clearly as I can. Ok so, Shayda's family was able to send her to Canada from where she was born in Iran in hopes of starting a better life and they set up her marriage to an Iranian man. This wasn't literally an arranged marriage, but it was clear which path they wanted her to take. He was a good man — kind, loyal, and caring but they were never truly in love with each other. Then Troy Heathgate came into her life by complete random chance and something between them just sparked.
"I notice Troy Heathgate's eyes on me. Every time I turn around, there he is, following me with his brooding eyes. Having shots at the bar, looking at me. Listening to his dates, looking at me. Toying with his drink, looking at me… Watching and waiting."
They both felt the attraction and the connection but neither truly acted on it and they went their separate ways. However, life kept bringing them back together over the years. Sometimes just for a fleeting moment, sometimes for longer and eventually they could no longer deny their feelings and began an affair.
"I know it took a lot for you to get here and I know why you came."

"Why?"

"For the same reason I did. Because you had no choice. Because you couldn't eat. Or sleep. Or think of anything else but this."
I'd like to point out that, in Shayda's culture, many men had mistresses (in fact, her mother even openly encouraged her to find a boyfriend at one point). Also, even though I'm hardcore anti-cheating, there was never any doubt in my mind that Troy and Shayda were meant to be together and none of my usual alarm bells went off with the way it all unfolded. He just loved her and wanted to be with her even if he couldn't have all of her. And she desperately wanted to be with him but felt duty-bound to her family. Their life paths were anything but smooth and the strength of their love was put to the test over the years time and time again by circumstance, illness, and everything life could throw at them but I want to promise you that the ending is absolutely wonderful. This is a story of forbidden love but it is not tragic.
"I wish I could hold your hand outside this room, go for a walk, sit on a patio, watch the world go by."
If you're primarily a romance reader like me, I think it's important to know that this book is kind of in a "genre middle ground". It isn't exactly classified as a Romance. It's almost more Women's Fiction with an intense forbidden love story running throughout it. Meaning that it's a life story with a very strong love story in it, but it's not just solely a love story. So I'll admit that it took me a little while to adjust to that difference in genre because for the first part, I'd say half of it was focused on Troy + Shayda, and the other half was just about Shayda's life (unrelated to Troy) and I found it more difficult to connect to the non-romance parts of the story. But, as the story went on, it became more and more focused on them as their feelings for each other intensified and as it became harder for them to stay away from each other.
"Are you happy, Shayda?"

A second. That's all it takes. A single beat of hesitation on my part…

Here I am, ten years later. Troy Heathgate is at my door.

Let me in.
I should clarify though that this book is quite sensual and erotic. Despite the fact that it's not solely a romance, it's quite sexy in a very beautiful way. Basically, this is not a "fade-to-black" book.
This author's writing is absolutely stunning. It's thought provoking, evocative, and this book was truly a joy to read. In the first few chapters, I'd already highlighted more quotes than I usually do in entire books.
"He says my name like he's been holding it in his mouth for a long time, savouring it, letting his tongue taste each vowel, each consonant, before releasing it."
We're told the story in woven layers of both past and present. I loved that this story really didn't have any bad guy and that made the emotional complexity so much deeper. Her husband was a good man with a painful past who did his best to provide for her and their two children, there were no evil ex'es in Troy's past trying to keep them away from each other, nothing that you could put your finger on to blame for anything that happened. Their situation itself, being so close yet so far from their soul mate, was heart wrenching. This was just life — a tangle of emotions, duties, cultural ties, personal desires, and choices.
"You want me to choose?"

"It's not about what I want. Or what anyone else wants. What do YOU want, Shayda?"
This story also brings up many cultural and gender issues. It highlights not only cultural differences but also the shift between generations and how those customs and cultures change in that time.
"You okay?" He rubs my feet.

Am I okay?

I start laughing, a little hysterically. I don't think he has the slightest idea what it's taken for me to get here. I've crossed oceans and countries and continents. That was the easy part. But sitting here before Troy Heathgate now, I'm teetering on a knife's edge between honour and disgrace.
One of the things I loved most about this story was this feeling of intensity between Troy and Shayda that really came through strongly in every moment that they were together. It was always there, wrapping you up in the emotional turmoil of their situation. The author truly did a fantastic job of describing their feelings in ways that that showed them to us rather than just telling us about them.
"I return to my office and shut the door. I want to keep the smell of him from escaping. It's barely noticeable, the kind of thing only a lover would recognize, sparking associations that set the pulse racing."
There were even a few scenes towards the end that I read with tears in my eyes as the emotional overflow of frustration at their situation and a longing for their happiness began to take a toll on my heart.
"Don't." The softest whisper.

My eyes swing to the door.

He never left.

"I'm not going anywhere," he says. "I told you. Whatever happens, we face it together."
Troy was just amazing. And I'm not just talking about how sexy or charming he was, I'm talking about the way he stood by Shayda and pushed her to follow her heart and to stand up for herself, for them, and for her own happiness. That moment when you see her fully come into her own and fight for what she wanted was so powerful. Decades of choices brought to a head by one final decision.
I was very impressed with the way the author handled the ending and the aftermath of their affair. Yes, there was a lot of hurt, how could there not be? But life is messy. It's not always beautiful, and it certainly isn't always easy. Sometimes life just simply hands you the wrong deck of cards and sometimes it takes you down the wrong path and it's up to you to set it right. I loved that this story left you with the message that it's never too late to reach for your happiness and follow your heart and sometimes by taking that big scary leap, it's possible for things to work out better than you ever could have imagined.
There's actually a quote that I feel really represents the book as a whole…
"It's one of those moments that sears itself in your heart, where you realize that somehow, miraculously, through all the mistakes you can make, through all the hurt and pain, happiness can still find it's way through all the cracks in your heart. 
I'm having a hard time rating this. If I could, I'd rate the two main parts (their romance VS her life) separately but it's hard to do that because they're so closely entwined. I'd easily give the Romance part of the book — Troy & Shayda's love story — a strong 4.5–5 stars, but as a romance reader, the more Women's Fiction side of the story didn't quite capture me as much so I would have given that section of the story more of a 3.5–4 star rating. However, when I look back on the book as a whole, I have to say that I loved it. This really was a very different style of read for me than my usual but there's no doubt about it… It was a beautifully written, powerful love story and it's going to stay in my heart for a long time.
Final rating: 4.5 stars. Standalone. Women's Fiction/Adult Romance.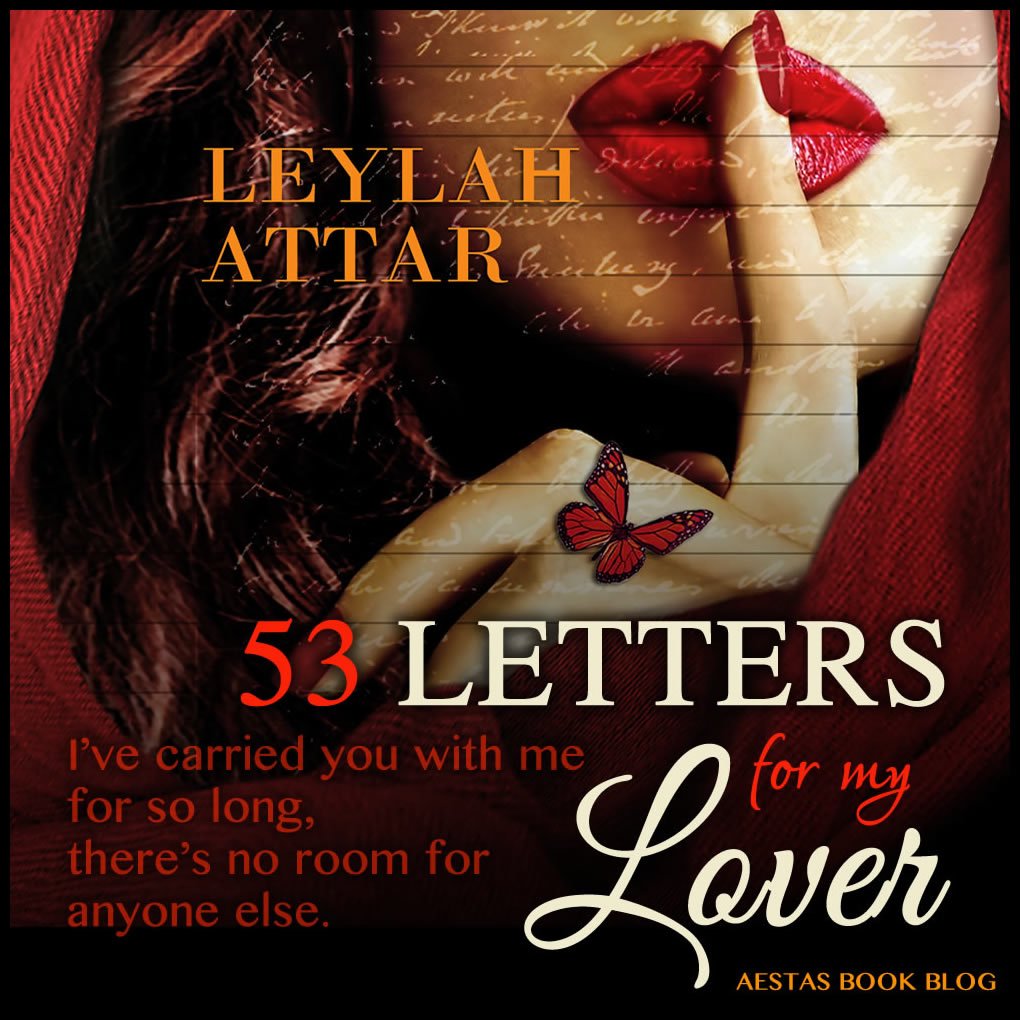 *** GIVEAWAY: $25 GIFT CARD + SIGNED BOOKS ***
Open Internationally. Void where prohibited by law. Must be over 18 to enter.
1 winner will a $25 Amazon Gift Card + signed copies of 53 Letters For My Lover (main novel) and From His Lips (companion novella)