4 stars
"We don't have a future," I informed him.
"We have a future," Hop informed me.
"We don't."
"Lady, we do."
Ok. I'll be honest here – when I first heard that book #2 in this series was going to be about Hop and Lanie, I kind of went "huhhhhh???" Hop just never really screamed 'hero' to me but I had faith in KA. If there is any author that could turn my head around and literally make me fall in love with just about anyone, it was KA. As an author, she has earned my trust over and over and over again with her mile-long list of phenomenal books.
I read the first page and it felt just like coming home. KA's writing has such a wonderful rhythm and feel to it. You can just fully immerse yourself in this badass world.
Poor Lanie had really drawn the short end of the stick in life – both in her childhood and then with her first husband. But according to Hop, Lanie was just some kind of crazy given some of her past life choices. When her late husband had gotten himself involved with the Russian mob just in order to get a particular kind of flower (yup, flower!) for their wedding and subsequently gotten himself shot to death (wounding her in the process) over it, she'd stood by him… and that rankled Hop just a wee bit. He had some issues seeing the logic with that stand but had since decided that despite being hot, Lanie was somewhat certifiable.
That being said, when she walked right up to him and said, "Wanna fuck?", certifiable took a back seat on the importance scale… but soon what was supposed to be just a one-night stand turned into so much more as their emotions began to be involved and deeper emotions started to take hold.
"Anything you need, baby, I'm there for you one way or another."
One thing that threw me a little that I'll mention right here at the beginning was the timeline. This book actually takes place almost at the same time as book #1, Own The Wind. For some reason, I expected it to be a continuation but it wasn't. So maybe just bear that in mind when you read because some of the events that Chaos deals with are the same between the two books.
I have to say how much I really just love KA dialogue. It just follows it's own rules, you know? Sometimes it's wordy as hell but you just love it because you're able to completely connect to the speakers feelings simply because there's nothing held back… and sometimes only one single word is all that's needed to convey every single emotion that the character is going through.
As a reader, I had an interesting like/dislike relationship with Hop. It was mostly 'like' but there were a few things that rubbed me a little bit the wrong way. He was just a little bit of an asshole at times… or, rather, a better way to say it was that he was sometimes bossy in a way that pissed me off. But I guess that comes part and parcel with the whole 'badass biker' package and, most importantly, underneath it all he had a logic to what he was saying that, despite it ticking me off, I couldn't help but see. And once I felt like I 'understood' him, he was a pretty easy guy to love. Loyal. Protective. Badass.
Both Lanie and Hop had had hard lives and had been forced to learn the painful way not to trust people — even the people they should have been able to depend on and truth. And this book was really about them finding stability and trust in each other. I absolutely love this quote:
"… [he] used you as a shield… No way would I let you put yourself in the path of anything for me… You'll learn to trust me, the brothers, Tack. I don't use you as a shield. I am the goddamn shield."
I have to admit, when I first met Hop in Motorcycle Man, I did judge him harshly given the whole incident going on there (it's a bit of a spoiler so I won't mention it). But in this book, when his whole story came out, I honestly just felt bad for him and because of hearing everything, all of his actions and decision became understandable. See? I told you KA could make me fall for anyone!
And, I just have to share this quote 'cuz it made me laugh!
"Got rules for the woman I take to my bed. No sleep. Don't ever wake up to a woman. It sends the wrong message. Really no fucking tee. Bitches claim tees."
I really liked that, for the most part, Hop really insisted on pushing through to making things work with Lanie. He could really sense that something about her was broken and wanted to help… whether she wanted it or not 😛
"I'll wear you down," he proclaimed.
"No, you won't," I denied.
"You won't let me in, I'll break in, sneak in, blast in," he promised.

"Baby," his lips dropped to mine but his eyes didn't let mine go, "Christ, I'm beggin' you, let me in. Let me help. Let me in so I can untie that shit you got wound up inside you."
That being said, they both did have their moments of stupid and miss-communication. I wasn't thrilled about those but was happy that they did work everything out.
One of my favorite elements of KA's writing is the way she describes family dynamics. It really brings a nice touch that rounds the story out separate from the romance only.
This book felt a little different than some of the other KA ones. For one thing, there was no 90% freak out (possibly due to the timeline of this one matching up to the last book). In case you're new to KA books, nearly every single one of her books has this point at about 90% where the shit just HITS the fan. Bigtime. And it's this huge adrenaline rush of craziness that has your heart in your throat and flipping pages like crazy and is them (usually) followed up by a heart-clenching epilogue. I had to admit that I love looking forward to that in a book and, despite this book being good and my enjoying it, I did really miss it here.
All in all though it was a good book. It didn't fully have that KA spark that just makes me go absolutely crazy for some of her books but I still enjoyed my read and am looking forward to the next book she releases.
Kristen Ashley is one of those authors whose books are auto-buys for me. I've never disliked one of her books and each time I've been taken on a fun, badass ride. I look forward to every one!
4 stars.
CHAOS SERIES READING ORDER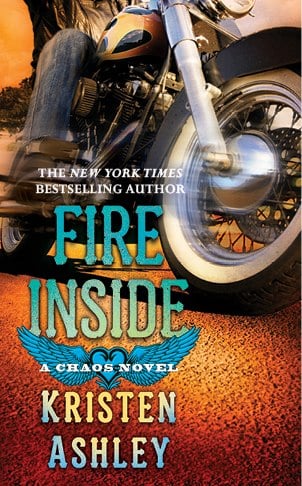 BLOG TOUR GIVEAWAY
Giveaway Conditions set by Kristen Ashley Tour
Void where prohibited. Must be over 18 to enter.