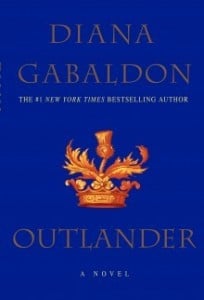 This is one of the most EPIC HISTORICAL ROMANCE SERIES ever!!!!!
Regardless of whether or not you are a fan of historical romance, Jamie and Clare's love story will suck you in and leave you sighing and wondering why every guy can't be as swoony as Jamie <3
It's an ongoing series following the same couple (and some side couples) throughout their lives. It's captivating, intense, and overall one of the best epic romances ever! I'd highly recommend them but unfortunately I read these years before I began blogging so I don't have any reviews but this series has a huge and very loyal fan base and is definitely worth checking out!
Here's the reading order:
Book 1: Outlander

Claire Randall is leading a double life. She has a husband in one century, and a lover in another…
In 1945, Claire Randall, a former combat nurse, is back from the war and reunited with her husband on a second honeymoon—when she innocently touches a boulder in one of the ancient stone circles that dot the British Isles. Suddenly she is a Sassenach—an "outlander"—in a Scotland torn by war and raiding border clans in the year of our Lord…1743.
Hurled back in time by forces she cannot understand, Claire's destiny in soon inextricably intertwined with Clan MacKenzie and the forbidden Castle Leoch. She is catapulted without warning into the intrigues of lairds and spies that may threaten her life …and shatter her heart. For here, James Fraser, a gallant young Scots warrior, shows her a passion so fierce and a love so absolute that Claire becomes a woman torn between fidelity and desire…and between two vastly different men in two irreconcilable lives.
Book 2: Dragonfly in Amber 
Book 3: Voyager
Book 4: Drums of Autumn
Book 5: The Fiery Cross 
Book 6: A Breath of Snow and Ashes
Book 7: An Echo in the Bone
Book 8: Written in My Own Heart's Blood