"Good luck, beautiful girl."
I absolutely loved this book!! Beautiful writing, beautiful story, beautiful message.
I was hooked from the first page. The writing just drew me in and made me desperate to keep turning the pages. As an avid reader of romance novels, I found it especially interesting to see how strongly I was drawn in even before any hint of the love story was introduced. Like the actual backdrop of the story alone was enough to keep me riveted and I found myself curious to find out more about RJ Lawson.
But I'm getting ahead of myself here. The story is about a young journalist, Kate, who is granted an exclusive interview with a wealthy, mysterious, and reclusive tech genius turned winemaker, RJ Lawson. Being at particularly low point in her life at this time, she jumps at the chance to discover what sent this rich and brilliant man completely off the radar… "Imagine if Bill Gates or Steve Jobs had disappeared at the peak of their power. It's a huge story" … and she heads off to the Napa Valley to meet with him at his award-winning vineyards.
What she doesn't expect is to be swept off her feet by one of the workers at the vineyard, Jamie, who took it upon himself to be her tour guide. But when Jamie mysteriously disappeared towards the end of her stay, it left her reeling and questioning everything… until a revelation hit her that made all the puzzle pieces fall into place.
I felt like I was transported away to the Napa Valley as I read. I could practically taste the wine, and feel the wind on my face, it felt like I was right there. I was swept away in the romance, intrigued by the mystery, and caught up in the whole story.
This story actually had a very strong "movie-quality" to it. The descriptions were so rich that I could vividly picture each scene taking place in my head just as though I were watching it on the big screen. To be honest, I think it would translate fantastically into a movie but that's a whole other topic.
Jamie made me fall in love! I swooned from the moment I met him. He was a bit of a jack-of-all-trades and a true renaissance man. Gorgeous, tattooed, hardworking, skilled, multitalented, and loved by everyone who surrounded him, but also hiding a mysterious past. He was sweet, kind, loving and adventurous. One part good boy and the other part bad boy, with an old soul… the perfect contradiction.
"He's sweet and sensitive, but confident and sexy as hell — and smart, too. I don't know what the hell he's doing out here picking grapes."
We're told the whole story from Kate's POV and really got to see how far she came. She was lonely and insecure in the beginning and clearly wanted more out of life and over the course of the book we got to see her not only learn to have more faith in herself but also learn to trust enough to put her heart out on the line and fall in love. I liked that she was flawed and quirky and would sometimes blurt out her honest thoughts before her brain caught up with it all — it just made her feel more real.
I absolutely loved watching Jamie woo Kate… their flirting, teasing, dating, and all brought a smile to my face in page after page of heart melting happiness. It was beautiful to watch them fall in love.
I will say that I had a slight frustration with Kate though in one part of the book (which thankfully didnt last too long). It's regarding the twist (which I won't spoil here)… I figured the twist out early on and while it didn't bother me that it took her longer to figure it out, I did wish she'd have reacted differently once she figured things out. Especially with Jamie being just so heart wrenchingly perfect, it was definitely frustrating for a little while at first but the more I read, the more I understood her reaction. I think in all honestly that it's possible that a lot of people would have reacted that way. Needless to say, my heart still absolutely ached for Jamie — like OMG. "Night, angel." (*sob*) — but at the same time, having read the entire book, I understand the significance of this part of the story and realize how important it was in helping Kate understand the true value of love in a person's life.
"Love is a thing that you can't take out of you. Once it's there, it doesn't go away, no matter what. Love can morph into hate and resentment, but it will always be there, buried under the bad feelings."
Even apart from the gorgeous romance, this book was filled with countless little heart warming moments — Dylan borrowing her apartment (you'll smile when you read that part!), her betta fish named Anchovy (omg, I don't know why but I loved that so much!!), the letter from Bob (what an amazing person), and so many more moments that brought a smile to my face. This story was about so much more than just falling in love…. it was about learning to trust in each other and rely on each other when you're in love.
"What started out as a journey of one girl who kept herself hidden in the darkness became the story of two souls connected and growing together in the light."
Oh, and even though this was a complete standalone novel, there was a gorgeous little shout out to the characters from Sweet Thing that should give fans of that book a little *heart clench* moment 😉
There is a certain 'magic' or 'spark' or whatever you want to call it that really makes a book come to life as you read it. As a reader, I'm on a constant search for that special spark and I absolutely found it here.
Nowhere But Here was a unique and beautifully written love story. I laughed, I swooned, I wiped happy tears away, and I fell in love. This book warmed my heart and left me with the most wonderful feeling. I highly recommend it for all fans of romance!
"To exist in each other's souls so strongly that you are bound without a physical tie is the greatest mark of love…."
Rating: 4.5 stars!! Standalone contemporary romance.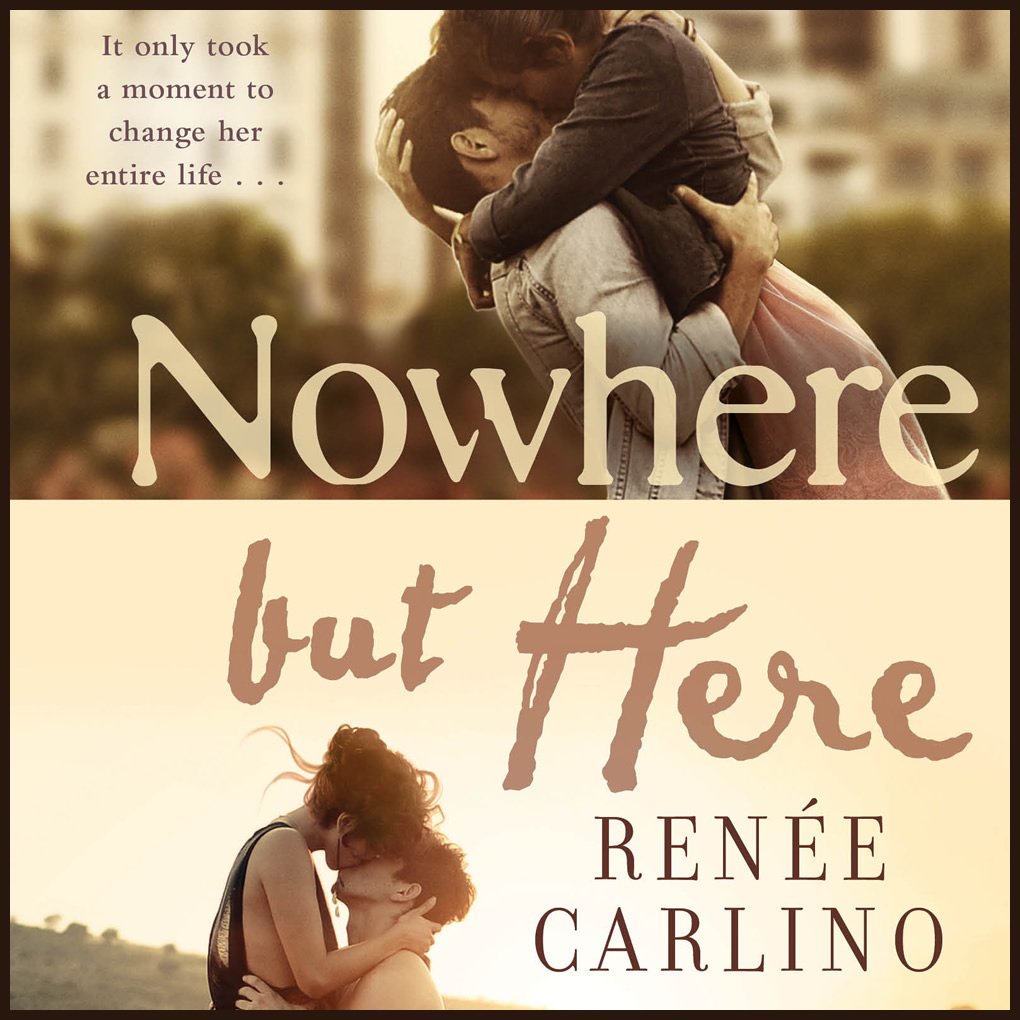 ❤ PAPERBACK GIVEAWAY ❤
Giveaway offered by publishers. Prizes can only be mailed to US/Canada.
Void where prohibited by law. Must be over 18 to enter.