What if the life you wanted, and the woman you fell in love with, belonged to someone else? 
Please note that novel this is "women's fiction" and not romance.
When I first heard that the author of one of my favorite books, On The Island, had written a new book, I didn't even need to know what it was about, I knew I was reading it no matter what. With Covet, Tracey Garvis Graves has once again tackled a potentially controversial topic in a very realistic and relatable fashion. Her writing is vivid and evocative and perfectly portrays each character's side of the story. With Covet actually being classified as 'women's fiction' as opposed to 'romance' though, this was not the kind of book I'd usually read but it was certainly was fun to step outside of my usual genre for a change.
The story is about Claire and Chris, a couple who had been married for several years, loved each other dearly and were building a happy life with their two kids in suburbia. But when Chris was laid off from work, he began to distance himself as it became harder and harder to find new employment. He was a hard worker by nature and not being able to provide for his family was a heavy blow. Despite neither of them saying anything out loud, his distance was pulling them apart and widening the deafeningly silent gap between them.
"I once read an article in a women's magazine that said it's a really bad sign when you and your spouse stop arguing. It means that you've given up and no longer care about saving your marriage. I hope that's not true."
From the outside though, they lead a life of near Stepford-like perfection. But on the inside, they were broken; barely a shadow of the joyous, happy couple who had started a family together.
"We're the Cantons. Sun-kissed, all-American, picture-perfect. By all appearances, we're the ideal suburban family. As long as you don't look too closely."
Then one afternoon, Claire is pulled over by a gorgeous cop, Daniel, and something about him brings her a few moments of… happiness. They begin a casual friendship and with the stress of Chris' constant travel for his new job and his continued disconnect at home, she finds herself relishing the small exchanges she has with Daniel – enjoying the freedom that came with being able to have something as simple as a conversation without the worry of saying the wrong thing.
"I realize that these are not the thoughts of a happily married woman, but at the moment I am not very happily married."
Everything in this story happens very quietly. It moves along at a steady but slow pace. It's not angsty, but rather shows you everyone's struggles in a very honest way truly reflecting the real progression of life. There was no grandiose life changing event, no huge trauma, or anything life that. It was all about the subtle changes; little adjustments beyond their control that began to pile up – little mistakes, a lack of communication, and an ever-growing distance.
"I can almost handle that Chris is gone all the time. It's his job and I understand that. But what I struggle with is that even when he's home, his time is not his own. The kids take whatever he can give them – as they should – and then there's me, hoping to lay claim to whatever's left. But there is never anything left."
The story is told primarily through Claire's POV although we also get pieces of both Chris and Daniel's too. While there aren't direct flashbacks, we do see the past through Claire's memories showing us the path to how they got to where they were. We see how passionate Claire and Chris' love once was and so despite where they had fallen to, it gave us something to hold on to and a place we could hope they'd make their way back to.
But please don't think that Chris was the 'bad guy' here because he really wasn't. He was stressed out and worried sick leading him to make mistakes – he didn't communicate, didn't keep her included in his struggle and didn't allow them to face it together and as such he pushed her away when his only true intention was to just try and fix things for her and his family. He was a wonderful father and truly loved Claire – that much was never in doubt. He wanted to be the one to give her a better life, and when events outside of his control made that nearly impossible, he just didn't know how to handle it.
"In all the years we'd been together, I'd never experienced anything quite as heartbreaking as watching the lights of my golden boy fade."
The whole book had a very quiet vibe to it. If you're looking for a fast-paced, action-packed read, this is not it. You could really feel Chris' quiet desperation and Claire's growing loneliness despite the fact that she kept largely quiet about it. There were no extreme acts of any kind but sometimes the silent suffering can feel the loudest.
"I wonder how many marriages are fractured and damaged beyond repair by complacency rather than any single traumatic event."
I want to address the cheating aspect of this book because it might not be quite what you're expecting. There was nothing huge that kick-started it — no intense connection, or butterflies, or anything like that. Claire's friendship with Daniel developed very naturally. She was offered a graphic design job for the Police Department and met Daniel for lunch one day. There was no flirting, nothing 'wrong' in their interaction but even just talking to him made her happy for the first time in a long whole. And you know what? For the first time in the whole book (about 40% in), he even had me laughing. He was quietly charming and it felt good to laugh. It was easy to feel why Claire felt more free around him. His presence brought a welcome measure of relief into her life. But 'one day' turned into 'one' motorcycle ride which turned into days of just spending time together, running errands together, watching movies, talking for hours and becoming more than just friends…  and although there was never any physical cheating, sometimes you don't need to be intimate for it to count as such.
"Maybe that's how it starts. You stumble upon something that helps you cope, full a void. Makes you feel something different than what you currently feel. You know in the long run it probably won't be good for you, but you do it anyway. Tell yourself you can handle it. And before you know it you're in so deep that you can't find your way back out."
With Chris traveling for work for half (if not more) of each week on top of the distance he put between them at home as he struggled to keep up with the mountains of work, the gap between the just kept getting wider and Daniel was there. He was sweet, attentive, and genuinely cared for Claire. He never once pushed her into anything she felt uncomfortable with and never asked for more than she was willing to give. He knew she was in love with her husband and he was fighting his own painful past as well but what they had between them was an undeniable connection and while undefined, they both needed and wanted it.
"I would never cheat on Chris… I still love him. I just don't feel very connected to him right now."
Like everything else about this book, the emotional depth deepened quietly. Daniel began filling in the role that should have been Chris' — conversations before bed, movie nights, fun evenings out, moral support, everything that should have come from a husband and before I knew it, I was torn. I knew what was 'right' but I also knew what felt 'good'. And that was what Claire and Daniel's 'friendship' was – good, but not right.
"There's a man downstairs who has every right to be in this bed with me, but he isn't interested. And there's a man who doesn't have any right at all, yet he sounds as thought he'd give just about anything for the opportunity. I have never felt more alone."
Despite what was going on between Daniel and Claire, this isn't an angsty book, it wasn't loud or dramatic and isn't meant to put fear into the readers. Rather, it just portrayed a very believable, realistic situation… something that I could easily see unfolding in real life.
I want to stress though that this book isn't "about" cheating and again, there is no actual physical cheating in it either. I understand that being physical with someone isn't the only way you can cheat but the cheating itself wasn't the sole focus of the story but rather a by-product of the situation that developed.
As I mentioned before, Covet isn't actually a "romance" per say despite love and marriage being a very central theme. I was told it was classified as "women's fiction" and honestly that suits it perfectly. Don't go into this expecting something similar to On The Island because that's just not the kind of story this is. Truthfully, I wouldn't normally read this genre but I absolutely love Tracey's writing and dived into this book blind without needing to know anything more than the fact that she wrote that. For me, she is one of those "if she wrote it, I'll read it" authors so I'm looking forward to whatever she has coming next!
The ending of this book is very sweet and we're left with the message that love is powerful, strong and resilient but it needs care, attention and work from all sides to keep it alive. Love also comes in many different forms and sometimes the least expected kinds can end up saving you.
Tracey Garvis Graves has a true gift for taking a potentially controversial topic and making it quite relatable. This is a beautifully written and very realistic story that makes you step back and reconsider every angle. Love, hope, mistakes, forgiveness, all of these are a part of everyone's lives and I think this is the kind of story that many women will be able to either sympathize with or relate to in one way or another. Claire's journey over the course of the book could happen to anyone and I think that's a part of what makes it so powerful.
This is a standalone.
4 stars
Review copy provided by publisher in exchange for an honest review. Please note that all quotes are from an advance copy and are still subject to change in the final edition. 
Covet is a standalone novel (this is a different cover, but its the same book)
Cherish is a spin-off novella sequel (Daniel's story)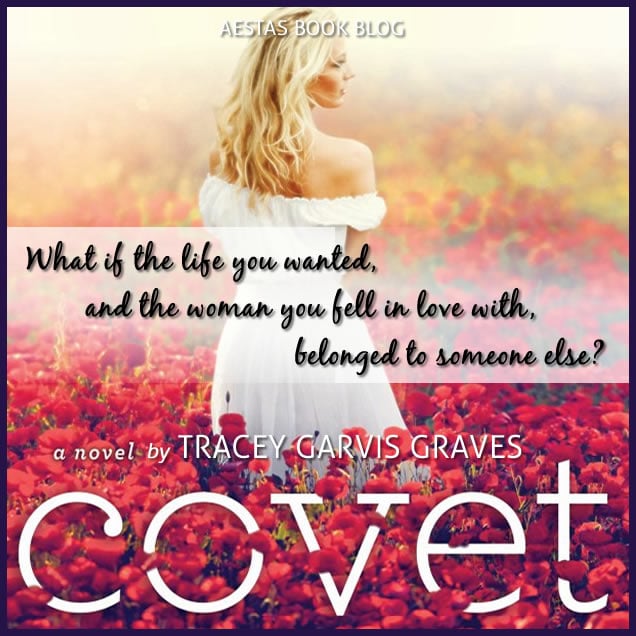 ❤  SIGNED GIVEAWAY ❤
Giveaway is Open Internationally. 2 winners will each get a signed copy of Covet.
Void where prohibited by law. Must be over 18 to enter.