NEW TOP RECOMMENDATION: The Lucky Heart by Devney Perry (Read my Review) 

It's here!!!! SQUEEEEEEEE!!!! OMG. OMG. OMG!!! HOLY FREAKING SWOOOOOOON!!! This was one of the BEST BOOKS I've read all year!!!! It was PURE ALPHA ROMANCE PERFECTION with a strong, feisty heroine, a swoon-worthy cowboy hero, and a GORGEOUS LOVE STORY!!!!! I have loved every book this author has written and this was another STRONG WINNER! It was PASSIONATE, HEART-FELT, and SEXY, with just enough suspense to keep my heart racing on every page. I absolutely ADORED this book!!! Seriously. It had everything I love to read about rolled into one book. I LOVE LOVE LOOOOOOVED it and highly recommend it to everyone!! The Jamison Valley series of standalones is my #1 TOP FAVORITE this year!! It is officially NOW LIVE so be sure to grab your copy!!

NEW TOP RECOMMENDATION: Wild Card by Karina Halle (Read my Review)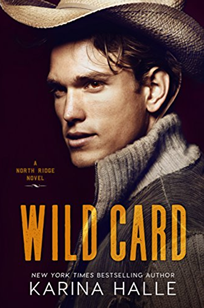 AWWWWWW!!!!!! After I finished reading this brand NEW release second chance romance, I COULDN'T STOP SMILING!! The hero is a cowboy who has always only loved one girl. Six years ago, they planned a life together but something devastating tore them apart. And now she's suddenly back in his home town and this time, he's determined to do everything in his power to show her that he loved her then and he never stopped loving her! AHHHHH I loved this story so much that I read it in one sitting. I just started reading and never stopped til the end. And the epilogue was so HEART-WARMING!!!!! If you're looking for a SEXY, SWOONY, SWEET romance to fall in love with, grab a copy while it's at its special introductory price!

NEW TOP RECOMMENDATION: Wish You Were Here by Renee Carlino (Read my Review)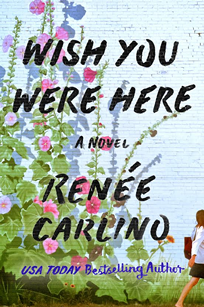 WOAH!!!!!! YOU GUYS!!!! SUPER SALE ALERT!!!!! This is one of my NEW FAVORITES and the price just dropped BIG TIME from $7.99 to $2.99!! This authors books are very rarely on sale so this is a really big deal and this book was AMAZING!!! I honestly DID NOT EXPECT it to take the direction that it did and my gosh … HOLY FEELS. The heroine bumps into a complete stranger on the street one night and they just fully CONNECT. After an amazing night together though, he changes in the morning and breaks her heart. But in a way she doesn't understand. For months, she can't get him out of her head. She wants to move on, but can't let go of this mysterious man who stole a piece of her heart. And when she finds him again, she realizes just how big a secret he had… Highly recommended for fans of Me Before You who love EMOTIONAL stories!!! It JUST WENT LIVE so be sure to grab a copy!!

NEW TOP RECOMMENDATION: Royally Endowed by Emma Chase (Read my Review)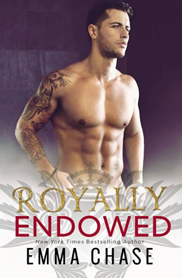 AWWWWWWWWWWWWW!! You guys!! This was such a SWEET and SEXY slow-burning forbidden romance!! I loved it!! I'd been looking forward to this book ever since I heard about it and it was AWESOME!!! I absolutely loved the quiet intensity as the secret love story unfolded between a princess's sister and the loyal guard assigned to protect her. They'd denied their attraction to each other for years but they never dared give into their feelings until they both reached a point where they couldn't deny themselves any longer… AHHH!!! The "will-they-won't-they" tension built such delicious anticipation!!! My heart was RACING!!! Oh, and the epilogue was SO HEART-WARMING!!!! It was JUST RELEASED TODAY so be sure to grab a copy of this if you're looking for a FANTASTIC new read!!!

BOOK ANNOUNCEMENTS:
In Too Deep by Lexi Ryan was just announced! It's a standalone in the Blackhawk Boys series! — "I have four months to make my wife fall in love with me or let her go forever… I loved her long before she watched her loser ex take his last breaths. I held her while they lowered his coffin into the ground, stilled her shaking hands when the nightmares would tear her from sleep. I waited for her through her grief. But while she was always willing to let me in her bed, she refused to let me in her heart. Tired of playing second string to a dead man, I let her go. I moved to Florida to begin my NFL career and tried to pretend my perfect life didn't leave me empty. I'd almost given up. Until one drunken night in Vegas, we stumbled down the aisle and said "I do."

The Final Fight by JB Salsbury was just announced! This is the final standalone in the Fighter series— "On a weekend visit to Las Vegas, Marine Braeden Daniels meets a woman who challenges him in ways he can't deny. The best part is she wants what he wants. No strings. No feelings. Just fun… A few stolen weekends and neither can deny the feelings quickly growing between them. But the obstacles that keep them apart become more devastating when the Marine Corps calls him away for a six-month deployment… It's only six months. What could possibly happen?"
WEEKLY NEW RELEASES RECAP

NEW RELEASES (NOW LIVE):  
DETAILED LIST: NEW RELEASES
The Lucky Heart by Devney Perry — New Release!!
Can standalone: "Her life story reads like the script to a bad soap opera. Girl's high-school boyfriend becomes a drug addict. Girl falls for boyfriend's best friend. Girl leaves them both behind only to return home years later for murdered ex-boyfriend's funeral.
Now she's back home, ready to start fresh. She's got a long list of amends to make and relationships to rebuild, including one with the man who has owned her heart for sixteen years…"
Wish You Were Here by Renée Carlino — New Release!!
Standalone: Charlotte has spent her twenties adrift, searching for a spark to jump-start her life and give her a sense of purpose. Then she collides—literally—with Adam, an intriguing, handsome, and mysterious painter. Their serendipitous meeting on the street turns into a whirlwind one-night stand that has Charlotte feeling enchanted by Adam's spontaneity and joy for life. There's promise in both his words and actions, but in the harsh light of morning, Adam's tune changes, leaving Charlotte to wonder if her notorious bad luck with men is really just her own bad judgment.
Months later, a new relationship with Seth, a charming baseball player, is turning into something more meaningful, but Charlotte's still having trouble moving past her one enthralling night with Adam. Why? When she searches for answers, she finds the situation with Adam is far more complicated than she ever imagined. Faced with the decision to write a new story with Seth or finish the one started with Adam, Charlotte embarks on a life-altering journey, one that takes her across the world and back again, bringing a lifetime's worth of pain, joy, and wisdom.
Royally Endowed by Emma Chase — New Release!!
Can standalone: "He grew up on the wrong side of the tracks, in a family on the wrong side of the law. But these days, he covers his tattoos and scars with a respectable suit. He's handsome, loyal, brave, skilled with his hands and … other body parts. Any woman would be proud to call him hers. But there's only one woman he wants.
For years he's watched over her, protected her, held her hair back when she was sick, taught her how to throw a punch, and spot a liar. He dreams of her. Would lay down his life for her. But she's off-limits. Everybody knows the bodyguard rules: Never lose focus, never let them out of your sight, and never, ever fall in love…"
Wild Card by Karina Halle — New Release!!
Standalone: She swore she'd never go back home.
She swore she'd never see the man who broke her all those years ago.
But you don't always get to choose your path.
And sometimes that path is as wild and rugged as the heart.
She thought she saw the last of the small mountain town she left six years ago. But while her advertising career blossomed, her mother's sudden illness has her to care for her, putting her career on hold while dealing with family secrets, regrets and unresolved goodbyes.
He has always been a bit of a wild card. The youngest of his brothers, he's spent most of his life being underestimated and misunderstood. With his quiet intensity, classic good looks and thoughtful demeanor, he's an enigma on horseback, managing his father's sprawling ranch. But while he remains the quintessential brooding cowboy, complete with an arsenal of inner demons, all of that changes when she steps back into his life.
She was the girl he pushed away.
Now she's the girl who wishes she could leave.
Despite the odds, he will do everything to convince her he needs a second chance that he doesn't deserve but when the two of them head off into the wilderness together in search of lost cattle, more than just their hearts are at stake. Whether it's love or lives on the line, one thing is for sure: always bet on the wild card.
Crazy Girl by BN Toler — New Release!!
Standalone: "She was living the dream; a successful writing career, a loving husband, and dream home. Life couldn't get better. But it could get worse. And it did. The dream ended… How did one write about love when they'd stopped believing in it?
She could either make up the perfect muse, or make it her mission to meet him… She decided to join a dating app, convinced she wouldn't find Mr. Forever, but maybe, at the very least, she'd find her inspiration. A muse.
Enter Wren Marner. The complicated, sexy alpha veteran walked, talked, and looked as if he'd just stepped out of a sultry romance novel. He was every woman's fantasy and at the same time, the man one knew they should stay away from."
The Soul Mate by Kendall Ryan — New Release!!
Can standalone: The smoking-hot one-night stand I was never supposed to see again?
Yeah, well, I might be pregnant…
And he's my OB-GYN.
Get ready to fall head over heels madly in love with the hottest OBGYN doctor you have ever met! This full-length standalone contains the most hilariously awkward lady-doctor visit, lots of playful banter and some good ol' fashioned baby-makin'!
I'm In It by Tammy Falkner — New Release!!
Can standalone: He fell in love with her at the worst possible time.
She was in the midst of something wonderful, and then she wasn't. Her life changed in the blink of an eye. In this situation, it wasn't a change for the better. He can still remember when she felt the first cramp, when she pressed her knees together tightly in the front seat of his car as though she could hold that life inside herself by sheer will alone. If will were all it took, she'd have succeeded. But she didn't succeed, and they were over before they began. She was too hurt. She was too raw. She was wishing for what could have been, while he was wishing for what was. And what was… well, it was nothing. At least not to her.
Love in the Friend Zone by Molly E. Lee — New Release!!
Can standalone: The only thing worse than not being able to tell your best friend you're head over heels in love with him? Having to smile and nod when he enlists your help to ensnare the girl of his dreams.
He knows that grad night is his last shot before leaving for college to find true love. And thanks to her, he gets his chance with a beautiful girl. But over the course of the coolest party of their high school careers, he starts to see that perhaps what he really wants has been in front of him all along. She's been his best friend since kindergarten, though, and he'd rather have her in his life as a friend than not at all…
Irresistible You by Kate Meader — New Release!!
Can standalone: Three estranged sisters inherit their late father's failing hockey franchise and are forced to confront a man's world, their family's demons, and the battle-hardened ice warriors skating into their hearts.
Harper Chase has just become the most powerful woman in the NHL after the death of her father Clifford Chase, maverick owner of the Chicago Rebels. But the team is a hot mess—underfunded, overweight, and close to tapping out of the league. Hell-bent on turning the luckless franchise around, Harper won't let anything stand in her way. Not her gender, not her sisters, and especially not a veteran player with an attitude problem and a smoldering gaze designed to melt her ice-compacted defenses…
Thousands by Pepper Winters — New Release!!
Series: Once upon a time, I didn't think I'd ever be normal.
Now, I'm talking and trusting, and it's all thanks to Elder.
He gave me my life back, and I gave him my heart, but love stories like ours are never simple.
I did something to protect him.
He did something to survive me.
We screwed up.
And now, it's no longer just about us.
It's about safety, sanctuary, and sin.
A Stranger in the House by Shari Lapena — New Release!!
Standalone: Karen and Tom Krupp are happy. They've got a lovely home in upstate New York, they're practically newlyweds, and they have no kids to interrupt their comfortable life together. But one day, Tom returns home to find Karen has vanished… her car's gone and it seems she left in a rush. She even left her purse, complete with phone and ID, behind.
There's a knock on the door, the police are there to take Tom to the hospital where his wife has been admitted. She had a car accident, and lost control as she sped through the worst part of town.
The accident has left Karen with a concussion and a few scrapes. Still, she's mostly okay, except that she can't remember what she was doing or where she was when she crashed. The cops think her memory loss is highly convenient, and they suspect she was up to no good.
Karen returns home with Tom, determined to heal and move on with her life. Then she realizes something's been moved. Something's not quite right. Someone's been in her house. And the police won't stop asking questions.
Because in this house, everyone's a stranger. Everyone has something they'd rather keep hidden. Something they might even kill to keep quiet.
Seeing Red by Sandra Brown — New Release!!
Standalone: She's a TV journalist hot on the trail of a story guaranteed to skyrocket her career to new heights. Twenty-five years ago, Major Franklin Trapper became a national icon when he was photographed leading a handful of survivors to safety after the bombing of a Dallas hotel. For years, he gave frequent speeches and interviews but then suddenly dropped out of the public eye, shunning all media. Now she is willing to use any means necessary to get an exclusive with the Major…even if she has to secure an introduction from his estranged son, former ATF agent John Trapper.
Swept Into Love by Melissa Foster — New Release!!
Can standalone: It's been years since her husband died and she was left to raise her teenage son alone. And almost as long since she told the only other man she'd ever wanted that they should be just friends. Now her son has left for college and she has no distractions to keep her from thinking about her best friend and coworker, Gage Ryder, and what could have been.
He always believed that one day she would move past the death of her husband and they would finally explore the passion that's simmered between them since the day they met. Tasked with opening a new youth center, he hopes the trip away is just what they need to finally come together… One night changes everything, putting their friendship—and their love—on the line, and the two must decide if getting swept up in love is the beginning of forever…
LATEST BOOK SALES
UPCOMING BOOK RELEASES
BOOKWORM STORE
WHAT KIND OF BOOKS ARE YOU LOOKING FOR?
__________________________________
Let me know if there are any other books you're loving right now too!!
LET'S STAY CONNECTED
To get these lists sent to you every week, subscribe by email.
FOLLOW THE BLOG
Facebook | Twitter | Instagram | Pinterest | BlogLovin' | Google+ | Goodreads