NEW TOP RECOMMENDATION: Drunk Dial by Penelope Ward (Read my Review)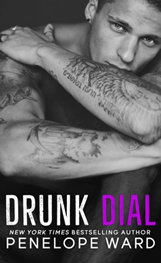 HOLY FREAKING SQUEEEEEEEE!!!!! OMG!!! I'm wiping away happy tears as I write this because I just finished reading this AMAZING new book that I absolutely LOVE LOVE LOVED!!!! Gah. The FEEEELS!! It's a second chance romance with one of the most HEART-WARMING, SEXY, SWEET, SWOONY, HEALING, ROMANTIC, ADDICTIVE, and BEAUTIFUL stories I've read all year!!! The hero and heroine are both very flawed people who so clearly love each other with every part of their hearts and it was just such a cathartic experience reading their story as they reconnected after so many years apart and found their way back to each other!!! Despite both their their rocky pasts, they were such a FUNCTIONAL couple and I just ADORED THIS BOOK!!!! It's a TOP FAVORITE!!!!! Grab your copy now because it just went live early and it's at a discounted introductory price for a limited time!!
WEEKLY NEW RELEASES RECAP
DETAILED LIST: NEW & MIDNIGHT RELEASES
Drunk Dial by Penelope Ward — New Release!!
TOP FAVORITE! Standalone: "It seemed like a good idea at the time. Look up Landon Roderick, that boy from childhood whom I'd never been able to forget—and call him.
Then again, anything sounds like a good idea when you've had a little too much wine before bed, right? It was supposed to be just a quick, meaningless call. Instead, I went off on him—unloading thirteen years of pent-up emotions. I didn't think he'd call me back.
I certainly could never have anticipated the weeks of sexually tense phone conversations that followed as I got to know the man he'd become.
Turned out, Landon had never really forgotten me, either. That special connection we had was still there. I opened up to him, but there were also things about me he didn't know. And he had his own secrets.
Over the countless hours we talked on the phone, I wondered what would happen if we actually saw each other. One night, I did something impulsive again. Only this time, I went to the airport and booked a ticket to California. We were about to find out if one phone call could bring two lost souls together or if my drunk dial really was all just a big mistake…"
A Pinch of Salt by Bethany Lopez — New Release!!
Can standalone: For the past year, talented chef Millie has been consumed with running her new catering business with her sisters It isn't until Jackson walks through their door that she realizes something may be missing in the recipe of her life.
For the past year, Jackson has been dealing with the fallout of his wife's abandonment. He's had to learn how to be a single father to their eight-year-old daughter, and will do anything to fill the void her mother left. It isn't until he commissions Millie for his daughter's birthday party that he realizes he's forgotten that he's not only a father, but a man. They both think they're content in their lives, but sometimes the right amount of spice can turn an okay dish into a magnificent one. A Pinch of Salt may be all that's needed to bring Millie and Jackson the flavor they've been missing.
Hollywood Scandal by Louise Bay — New Release!!
Standalone: He's a Hollywood superstar.
She's literally the girl next door.
"One of Hollywood's A-listers, I have the movie industry in the palm of my hand. But if I'm going to stay at the top, my playboy image needs an overhaul. No more tabloid headlines. No more parties. And absolutely no more one night stands. Filming for my latest blockbuster takes place on the coast of Maine and I'm determined to stay out of trouble. But trouble finds me when I run into Lana Kelly. She doesn't recognize me, she's never heard of me and my million dollar smile doesn't work on her… I could have any woman in the world, but all I want is the girl next door. "
Ready to Run by Lauren Layne — New Release!!
Can standalone: Jordan Carpenter thinks she's finally found the perfect candidate for Jilted, a new dating show about runaway grooms: firefighter Luke Elliott, a known player who's left not one but three brides at the altar. The only problem? Luke refuses to answer Jordan's emails or return her calls. Which is how she ends up on a flight to Montana to recruit him in person. It's not Manhattan, but at least the locals in Lucky Hollow seem friendly . . . except for Luke, who's more intense—and way hotter—than the slick womanizer Jordan expected.
Eager to put the past behind him, Luke has zero intention of following this gorgeous, fast-talking city girl back to New York. But before he can send her packing, Jordan's everywhere: at his favorite bar, the county fair, even his exes' book club. Annoyingly, everyone in Lucky Hollow seems to like her—and deep down, she's starting to grow on him too. But the more he fights her constant pestering, the more Luke finds himself wishing that Jordan would kick off her high heels and make herself comfortable in his arms.
The Beauty of Us by Kristen Proby — New Release!!
Can standalone: She's over the moon at the prospect of having her restaurant on the Best Bites TV network. This could be the big break she's been waiting for. But the idea of having an in-house show on a regular basis is a whole other matter. Their lives would be turned upside down, and having cameras in her kitchen every day is daunting. Still, she knows it's an opportunity she can't afford to pass on. And when she meets the show's executive producer, she's stunned by their intense chemistry…
His sole intention is to persuade her to allow Best Bites TV to do a show on her restaurant. But when he walks into her office, he stops dead in his tracks. The professional, aloof woman on the phone is incredibly beautiful and funny. But can he convince her that he's interested in her for himself?
In the Crease by Toni Aleo — New Release!!
Can standalone: He is a unicorn. As handsome as any model, as polite as can be, a goalie of unmatched skill, and the best friend anyone could ask for. But he longs for a particular special someone to make his life complete.
He's been in love with her since he was a teenager, but as his best friend's sister, she's always been off-limits… When she's in need of a fake husband and baby daddy for her unexpected bundle of joy, she finally accepts he is the logical one to ask for help. Except he has a counteroffer… one with so many strings attached, they may just find themselves wrapped up in ties that bind. Forever.
Chasing a Legend by Sarah Robinson — New Release!!
Can standalone: After a nearly fatal motorcycle accident, he's struggling just to walk again, let alone get back to the studio—and it doesn't help that the doctor in charge of his physical therapy is his childhood crush. He's always ready for a fight, but the bittersweet sting of unrequited love has him begging for mercy.
She's determined to make her medical residency a him. Six years ago, she gave in and shared a single passionate night with Quinn. Now she's just hoping the cocky lover from her past doesn't derail her plans for the future. Little by little, though, she gets to know another side of him. She knew he was a family man, devoted to his parents and brothers… To heal both his body and soul, she's tempted to give him a special kind of medicine.
After the Game by Abbi Glines — New Release!!
Can standalone: Two years ago, she fled town after accusing the oldest Lawton son, Rhett, of rape, everyone called her a liar and she had no option but to leave. Now she's back, but she's not finishing up her senior year. She's at home raising the little girl that no one believed was Rhett's.
When town golden boy Brady Higgens finds her and her daughter stranded on the side of the road in a storm, he pulls over and gives them a ride. Not because he cares about her, of course, but because of the kid… But after the simple car ride, he begins to question everything he thought he knew. Could Brady believe her and risk losing everything?
The Other Girl by Erica Spindler — New Release!!
Standalone: When Miranda and her partner are called to investigate the murder of one of the town's most beloved college professors, they're unprepared for the brutality of the scene. This murder is unlike any they've ever investigated, and just when Miranda thinks she's seen the worst of it, she finds a piece of evidence that chills her to the core: a faded newspaper clipping about that terrible night fifteen years ago. The night she'd buried, along with her past and the girl she'd been back then. Until now that grave had stayed sealed…except for those times, in the deepest part of the night, when the nightmares came: of a crime no one believed happened and the screams of the girl they believed didn't exist.
Then another man turns up dead, this one a retired cop. Not just any cop—the one who took her statement that night. Two murders, two very different men, two killings that on the surface had nothing in common—except Miranda.
His Mafioso Princess by Terri Anne Browning — New Release!!
She was the only light in my dark world.
She's forbidden, but so am I.
I'm not free to be with her, but I want her more than anything.
My secrets will shatter her.
But I underestimated my little Mafioso Princess.
There is a reason she is the daughter of the most feared godfather.
Maybe I will be the one shattered in the end.
Unraveling Oliver by Liz Nugent — New Release!!
Standalone: Oliver Ryan, handsome, charismatic, and successful, has long been married to his devoted wife, Alice. Together they write award-winning children's books; their life together one of enviable privilege and ease—until, one evening after a delightful dinner, Oliver delivers a blow to Alice that renders her unconscious, and subsequently beats her into a coma.
In the aftermath of such an unthinkable event, as Alice hovers between life and death, the couple's friends, neighbors, and acquaintances try to understand what could have driven Oliver to commit such a horrific act. As his story unfolds, layers are peeled away to reveal a life of shame, envy, deception, and masterful manipulation.
With its alternating points of view and deft prose, this is "a page-turning, one-sitting read from a brand new master of psychological suspense" that details how an ordinary man can transform into a sociopath.
The One That Got Away by Melissa Pimentel — New Release!!
Standalone: Ruby and Ethan were perfect for each other. Until the day they suddenly weren't.
Ten years later, Ruby's single, having spent the last decade focusing on her demanding career and hectic life in Manhattan. There's barely time for a trip to England for her little sister's wedding. And there's certainly not time to think about seeing Ethan there for the first time in years… But as the family frantically prepare for the big day, Ruby can't help but wonder if she made the right choice all those years ago? Because there's nothing like a wedding for stirring up the past…
Come Back To Me by Kathy Coopmans — New Release!!
What does one do when everyone you love dies? How much is a woman supposed to take before she crumbles? How much? Adriana Jensen is the woman to ask. She's lost too many people to count. The one death that destroyed her the most was her husband's. Only… he didn't die.
What does one do when forced to walk away from his wife? How much will it take to win her back? How much? Blake Jensen, Adriana's estranged husband, is the man to ask. He has one question to ask himself. How much will it take for her to come back to me?
For the Love of Beard by Lani Lynn Vale — New Release!!
Can standalone: "It's supposed to be simple. Get in, get the girl, and get out. What he isn't supposed to do is fall for the woman he's supposed to rescue. But he can't help being intrigued–and amused–by the defiance rolling off her every time he so much as speaks to her. This fascination only intensifies with every single word from her delectable mouth.
It's been six years since her assault, yet it feels like it happened just yesterday. She's had enough of being scared, she doesn't want to be all alone for the rest of her life. She's at a loss as to how to move on, and every attempt she makes results in failure. Just when she's ready to quit, a sexy biker is there to push her out of her comfort zone…
LATEST BOOK SALES
UPCOMING BOOK RELEASES
BOOKWORM STORE
WHAT KIND OF BOOKS ARE YOU LOOKING FOR?
__________________________________
Let me know if there are any other books you're loving right now too!!
LET'S STAY CONNECTED
To get these lists sent to you every week, subscribe by email.
FOLLOW THE BLOG
Facebook | Twitter | Instagram | Pinterest | BlogLovin' | Google+ | Goodreads