BOOK ANNOUNCEMENTS:


BOOK-TO-MOVIE DEALS! Read the books before the movies release!

NEW REVIEW: Dating You/Hating You by Christina Lauren (Read my Review)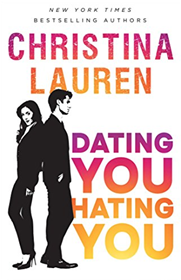 HELLLS YEAAAAH!!!!!!! This was a fantastically written book that I read in one non-stop sitting!!!! Seriously, every few pages, I'd stop and make a note of how genuinely WELL WRITTEN this book was! It seems like a fun, sexy "enemies-to-lovers" office romance where the career-driven hero and heroine begin dating only to find that their companies have merged and they're now in competition for the same coveted job position and their romance turns to a sabotage war… but there are some VERY strong, important, and incredibly relevant themes explored too that seriously just MADE THIS STORY in my eyes!!!! It had SMART writing, SEXY romance and an ADDICTIVE story so be sure to grab a copy!!
WEEKLY NEW RELEASES RECAP
LATER WEEK RELEASES (PRE-ORDER NOW):  
DETAILED LIST: NEW RELEASES
Dating You / Hating You by Christina Lauren — New Release!!
MY FAVORITE!! Standalone: "Despite the odds against them from an embarrassing meet-awkward at a mutual friend's Halloween party, Carter and Evie immediately hit it off. Even the realization that they're both high-powered agents at competing firms in Hollywood isn't enough to squash the fire.
But when their two agencies merge—causing the pair to vie for the same position—all bets are off. What could have been a beautiful, blossoming romance turns into an all-out war of sabotage. Carter and Evie are both thirtysomething professionals—so why can't they act like it?"
The Farthest Edge by Kristen Ashley — New Release!!
Can standalone: He doesn't exist. Living off the grid, he's looking for a way to forget his past and the guilt that plagues him. But no woman has ever been able to bring him to the edge he craves.
After a traumatic experience of her own, she stepped away from the decadent world of the Honey Club. But when she gets his offer—to play without boundaries or commitments—it's too tempting for her to refuse.
As their passion ignites, they fulfilling their darkest desires while falling harder and deeper than they ever imagined.
Roommates With Benefits by Nicole Williams — New Release!!
Standalone: "He's the epitome of the "bad boy, good man" persona. The best of both worlds. The worst of them too. He's the type of guy most girls wouldn't mind sharing a confined space with, except my new roommate isn't all swagger and chiseled abs… He's bossy. Messy. Cocky. Infuriating. Doesn't believe in personal space. Seems under the delusion he's my personal protector. He plays college baseball and holds down a part-time job—I don't know where he finds the time to get on my nerves.
We have nothing in common… except our attraction to one another. And in six hundred square feet of shared space, the tension only has so much room to grow before one of us gives in to temptation…."
Wicked Favor by Sawyer Bennett — New Release!!
Can standalone: "As the owner of an elite sex club located along the Vegas Strip, he never spends the night alone… So when the sister of his sworn enemy shows up asking for help, saying no should be easy. But when he takes one look at her and sees an opportunity to help this beautiful woman while exacting revenge on her brother, he's not about to pass that up… She's running out of options, and he is her last chance to get out of the mess she's in. She doesn't know why he despises her brother so much, but as long as he can help her, she doesn't care. He offers her safety while opening her up to a sinful world she never knew existed…"
The Tutor by K. Larsen — New Release!!
Standalone: "After a party gone wrong and in desperate need of money for the fall semester of college, she needs to escape her hometown. She accepts a summer long live-in tutoring job for a handsome man and his little sister at a secluded home deep in the mountains. There is no running water. No electricity. No internet or cell service. When her tutoring job ends she's hit with a brutal turn of events … she's not permitted to leave.
After months in captivity, she makes a harrowing escape with her student that ends in a car accident on a desolate road. When she comes to, her student is missing. In a desperate attempt to find the girl, she will have to recount her time held captive. The good and the bad. Can she and the authorities work together to find the man who took her? Will they rescue the girl she tried to save?"
Words in Deep Blue by Cath Crowley — New Release!!
Standalone: Two teens find their way back to each other in a bookstore full of secrets and crushes, grief and hope—and letters hidden between the pages… Years ago, Rachel had a crush on Henry. The day before she moved away, she tucked a love letter into his favorite book in his family's bookshop. She waited. But Henry never came.
Now Rachel has returned to the city—and to the bookshop—to work alongside the boy she'd rather not see, if at all possible, for the rest of her life. But Rachel needs the distraction. Her brother drowned months ago, and she can't feel anything anymore.
As Henry and Rachel work side by side—surrounded by books, watching love stories unfold, exchanging letters between the pages—they find hope in each other. Because life may be uncontrollable, even unbearable sometimes. But it's possible that words, and love, and second chances are enough…"
Inked Expressions by Carrie Ann Montgomery — New Release!!
Can standalone: She married the love of her life and on the eve of giving birth to their twins, lost him in a tragic accident. Now she's a single mother working overtime trying to make sure her boys have the life they deserve. Her life is busy enough without her adding dating…
He's spent his life atoning for sins that few know he's committed. When he lost his best friend, he promised his widow that he'd always be there for her—even when she wanted nothing to do with him. But when a single touch ignites passions they've both buried, he'll have to remember exactly who is in his arms and that taking chances might be far more dangerous than they bargained for…
A Sky Full of Stars by Samantha Chase — New Release!!
Can standalone: He's always looked to the stars
Now she's the brightest light in his universe.
He's a brilliant astrophysicist who feels more connected to the cosmos than to people. He's great with calculations, but when he leads a team of scientists to study a famous meteor shower, he doesn't factor in his free-spirited artist assistant… The friction between them threatens to derail the project. But the beauty and mystery of the night sky draw them together—and she's going to surprise him in ways the stars never could.
One is a Promise by Pam Godwin — New Release!!
One promise. One forever. One look and I knew Cole was mine. My dark rebel in leather. My powerhouse of passion, devastating smiles, and impulsiveness. When his job sends him overseas, he promises to return to me. A promise that's destroyed in the most irrevocable way…
Two years later, an arrogant suit invades my heartbroken loneliness. Clean-cut and stern, Trace is everything Cole wasn't. He knows I'm still in love with Cole, but his dedication is my undoing. Then a catastrophic moment changes everything.
Promises resurface.
Lies entangle.
And an impossible choice shatters my world.
I love two men, and I can only have one.
EASY by H.M. Ward — New Release!!
After the death of her twin, she decides to make radical changes to her life… Determined to begin again, she grabs a fake name and a new look, and heads straight to the New York Symphony. A bit of luck combined with a fluke lands her a coveted seat in the cello section.
Her best friend hooks her up with an easy date, the perfect type of man candy to celebrate her newfound freedom. But when things get hot and heavy, she realizes she went home with the wrong guy… The next day, she glances up to meet her new conductor she sees the man from the night before. If he recognizes her and figures out who she really is, her new life is over before it has a chance to begin…

Before We Were Yours by Lisa Wingate — New Release!!
Standalone: Two families, generations apart, are forever changed by a heartbreaking injustice in this poignant novel, inspired by a true story, for readers of Orphan Train and The Nightingale.
Memphis, 1939. Twelve-year-old Rill Foss and her four younger siblings live a magical life aboard their family's Mississippi River shantyboat. But when their father must rush their mother to the hospital one stormy night, Rill is left in charge—until strangers arrive in force. Wrenched from all that is familiar and thrown into a Tennessee Children's Home Society orphanage, the Foss children are assured that they will soon be returned to their parents—but they quickly realize the dark truth. At the mercy of the facility's cruel director, Rill fights to keep her sisters and brother together in a world of danger and uncertainty.
Based on one of America's most notorious real-life scandals—in which the director of an adoption organization kidnapped and sold poor children to wealthy families all over the country— this riveting, wrenching, and ultimately uplifting tale reminds us how, even though the paths we take can lead to many places, the heart never forgets where we belong.
Juma by Madhuri Pavamani — New Release!!
I work for Death; helping her cross the dead back to the living. I am the best at what I do, and I fear no one. Then I cross paths with Dutch Mathew and all I hold sacred is turned on its head. Dutch is an uncontrollable force of nature, and I want nothing more than to wrap myself around him for all of my lives. Our love is desperate like a sickness, blinding in its madness, suffocating in its intensity. Together we are light and laughter and all things beautiful, but we are no fools. We know darkness looms. Dutch has tried to topple an entity he cannot hope to wrangle alone. Death is ever-demanding in her quest to control and bend me to her will. And a new, darker threat has erupted and runs amok, bringing with it dread and terror and a fight like no other; one where the stakes are high and the winner takes all. In this game of lives, Dutch and I need each other to stand strong. But first we must be strong enough to stand together.
Lucky Charm by Carly Phillips — New Release!!
Can standalone: He is well aware of the family curse – every male who married for love would be destined to lose his woman and his fortune. He decides to outsmart the prophesy that has plagued his family for generations by breaking up with his first love—and marrying someone else. Now, divorced and broke, all he has left is his teenage daughter, a boatload of regret … and wariness when it comes to love.
Until she returns, determined to rekindle their passion. Will her stubborn streak and her unwavering love be the lucky charm he needs?
Lucky Streak by Carly Phillips — New Release!!
Can standalone: When he awakens after some wild partying in Vegas $100,000 richer and married to the gorgeous woman he met the night before, he thinks he's hit the jackpot. The bad news is that she's a con who takes his money and runs… But to her, he isn't business as usual. If only she didn't need the money to ensure her father's safety, she might actually have fallen for the intense lawman. Instead, she's forced to betray him.
Now he's hell-bent on divorce and she's on the run…but when a twist of fate reunites them, can they turn their run of bad fortune into a lucky streak that lasts forever?
Lucky Break by Carly Phillips — New Release!!
Can standalone: He knows he should resist his attraction to her. After all, it was one of her ancestors who came up with the curse that has plagued every male [in his family] to misery and the single life. But after one night of mind-blowing sex with his supposed—and very seductive—enemy, he can't bring himself to stay away.
All she wants is to sell her late grandmother's old house and leave the past behind forever. But that's not an easy thing to do with the gorgeous contractor whispering sweet, sexy somethings in her ear. About staying. Can she be the lucky break that he needs?
DETAILED LIST: LATER WEEK RELEASES
Can't Buy Me Love by Marie Force — Live on Friday!!
Can standalone: She enjoys her predictable, satisfying life. If it's a little lacking in excitement, well, that's okay with her. But after meeting him and getting to know him better at his daughter's wedding, she's intrigued by the well-known, sexy billionaire businessman.
He's equally intrigued. For the first time since he suddenly lost his wife thirty years ago, he has met a woman who makes him feel less lonely, and all he wants is more of her. Flirty phone calls become a weekend away together that takes his relationship with her to the next level. But with six hours and two vastly different lives standing between them, can they find happily ever after together?

LATEST BOOK SALES
UPCOMING BOOK RELEASES
BOOKWORM STORE
WHAT KIND OF BOOKS ARE YOU LOOKING FOR?
__________________________________
Let me know if there are any other books you're loving right now too!!
LET'S STAY CONNECTED
To get these lists sent to you every week, subscribe by email.
FOLLOW THE BLOG
Facebook | Twitter | Instagram | Pinterest | BlogLovin' | Google+ | Goodreads