TOP RECOMMENDATION: The Coppersmith Farmhouse by Devney Perry (Read my Review)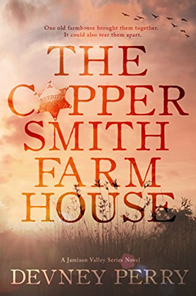 Since I found this book so late last week, I'm bringing it back as the Top Recommendation for this week too because it was seriously SO FREAKING GOOD!!! This was a completely new-to-me author and the book felt like pure old-school indie romance heaven! The hero is an ALPHA sheriff who is grouchy at times but also incredibly protective, possessive, and SWOOOOOONY! And the heroine is a SINGLE MOM of a gorgeous little daughter who move into his town to start their lives over. MY HEART WAS RACING for so much of the story!!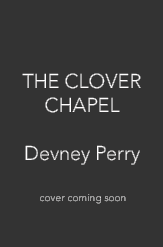 I LOVED these characters. I CARED for them! The romance was HOT, the writing was STRONG, and there was even some intense suspense thrown in as well that kept me glued to the page. I went into this book blind, I'd never heard of this author before, but I LOVED IT!! Oh, and the epilogue has ALL THE FEELS!!! If you're wanting an AMAZING read, grab a copy!! And if you've already read this book, then be sure to pre-order the next standalone (different couple): The Clover Chapel!

NEWEST REVIEW: Coastal Elite by Kate Canterbary (Read my Review)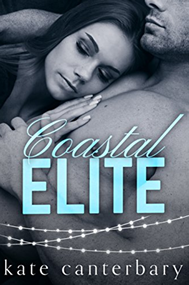 Awwww! I just finished reading this!!! I've wanted to try one of this author's books for a while and I'm so glad I finally did!!! I loooved the writing! The hero and heroine were both witty and smart and I just couldn't stop smiling! The hero is a badass former soldier who retired after a severe injury to open up a security firm. The heroine finds him on the beach one day and the two of them sparked and hit it off in a passionate whirlwind weekend romance. After the weekend, they weren't ready to let go but she had been hiding a big secret from him…. This was a shorter novel and it was a really fast read for me but that was perfect because I didn't have time for anything longer today and I enjoyed reading it! It was sexy, funny, surprising, romantic, and suspenseful! It was recently released and you can grab a copy here!

UPCOMING FAVORITE: The Hard Truth About Sunshine by Sawyer Bennett (Read my Review)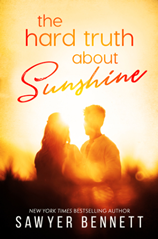 HOLY WOW. I mean WOW!!!!! I'm wiping away tears as I write this post. This was one of the most HEART-FELT and POIGNANT books I've experienced in a long time. It was DEEP and MEANINGFUL. It made me laugh, cry, and FEEL for these characters. For those of you who've read this author before, this is an entirely NEW and DIFFERENT side to her writing and I LOVED IT! I knew from reading the blurb that this would be a very UNIQUE story and I didn't know what to expect when I first started it but from the very first page, I COULD NOT PUT IT DOWN. I was truly captivated by this story that was simultaneous heart-breaking and heart-warming. It was RAW. HONEST. PAINFUL. BEAUTIFUL. An instant favorite and top recommendation for everyone!!! It'll be released this month so be sure to pre-order a copy!

RARE SALE & TOP FAVORITE: A Pound of Flesh by Sophie Jackson (Read my Review)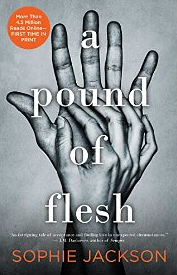 I LOVED THIS BOOK!! It's usually $7.99 and this is a VERY RARE SALE!!!! It can be read as a standalone. — A "strong-minded prison tutor discovers that her sexy bad-boy student is far more than he appears to be… Haunted by nightmares of her father's murder 15 years ago, she decides to face her fears by teaching inmates at a New York prison. There she meets an arrogant inmate, who's as handsome as he is dangerous… As teacher and student, they're forced to leave their animosities at the door and learn that one should never judge a book by its cover…. and she realizes there's much more to her angry student than she thought, leaving them to face a new, perilous obstacle: their undeniable attraction to one another…" — Be sure to grab a copy while it's discounted!!! It literally almost never goes on sale!

BOOK ANNOUNCEMENTS:
WEEKLY NEW RELEASES RECAP
DETAILED LIST: NEW RELEASES
The Coppersmith Farmhouse by Devney Perry — New Release!!
TOP FAVORITE! Can standalone: One old farmhouse brought them together.
It could also tear them apart.
She has just uprooted her whole world to start a new life. The unexpected gift of a farmhouse in small-town Montana is just what she and her daughter need to escape big-city loneliness. The last thing she needs is attitude from the town's sheriff, the most perfectly attractive and ruggedly handsome man she's ever laid eyes on—and a complete jerk… He knows all about women like her. Beautiful. Sexy. Scheming. She's stolen his sanctuary, the farmhouse that should have been his. If he can earn back her trust and win her heart, he might just find the home he's always needed…
Shade's Lady by Joanna Wylde — New Release!!
Can standalone: Looking back, none of this would've happened if I hadn't dropped my phone in the toilet. I mean, I could've walked away from him if I'd had it with me.
Or maybe not.
Maybe it was all over the first time he saw me, and he would've found another way. Probably—if there's one thing I've learned, it's that he always gets what he wants, and apparently he wanted me.
Right from the first.
Madly by Ruthie Knox — New Release!!
Can standalone: "She isn't supposed to be in Manhattan, hiding in the darkest corner of a hip bar, spying on her own mother—who's flirting with a man who's definitely not her father. She's supposed to be in Wisconsin, planning her parents' milestone anniversary party. Then Winston Chamberlain walks through the door, with his tailored suit, British accent, and gorgeous eyes, and her strange mission goes truly sideways.
He doesn't do messy. But after a pretty stranger ropes him into her ridiculous family drama with a fake kiss that gets a little too real, he finds out that messy can be fun. Maybe even a little addicting. And as the night grows longer, they make a list of other wild things they could do together—and what seems like a mismatch leads to a genuine connection…"
Black Sheep by Zara Cox — New Release!!
"In a family of cold-hearted black sheep, I, Axel Rutherford, am the blackest. My father has hated me since the day I was born. The feeling was mutual. In the shady underworld that was my legacy, Cleo McCarthy became my light. She was beautiful, passionate, and my whole world. So naturally my father had to destroy us. First he sent me away. Next he claimed Cleo as his own. But now I've returned, and nothing will stop me from taking back everything that is rightfully mine.
He was the love of my life — when my life was still my own.
We were young enough to believe we would last forever, Axel and I. But neither of us realized how cruel life – and our families – could be. Now I'm trapped in a gilded cage: desired by Axel, who must never know the full truth, and controlled by his father, who would sooner see me dead than free. And I wouldn't even care, except that it's no longer only my life at stake."
The Play Mate by Kendall Ryan — New Release!!
Can standalone: "His best friend's little sister is all grown up … and ready to play in a whole new way.
He's smart, good-looking and loaded. But he remembers a time when he had nothing and no one, so he's not about to mess up, especially with his best friend's little sister. That means keeping her at arm's length even though the once pesky little girl is now a buxom bombshell. A sexy blonde who pushes his self-control to the limit the night she crawls into bed with him…"
Devil You Know by L.A. Fiore — New Release!!
Can standalone: "He was my first kiss, my first love, my first everything. I wanted forever with him, but life got in the way… He enlisted, I went to college, and for years we were never in the same place long enough to pick up where we left off…
Thirteen years after he left, tragedy brings him home. The stoic boy I fell in love with grew into a quiet, dangerous and wildly sexy man. He still tugs on all the right strings for me, but he seems determined to keep me at arm's-length. However, when trouble comes knocking at my door, he is the one to put himself between that trouble and me. Spending time with him might drive me insane, or it might be our second chance…"
Girl In The Mirror by Elizabeth Reyes — New Release!!
"She wakes in a hospital with no memory of the horrific accident that claimed the lives of her sister and their best friend… After years of struggling to regain a fraction of her memories, she is left with no choice but to accept her past is gone… Then the triggers start. The day she meets him at her sister's graveside sets off the most explosive trigger to date. It's so overwhelming she convinced she's supposed to remember—she needs to. As the puzzling pieces of her past start to come together, it's clear something's amiss. But nothing can prepare her for the shocking reality of what really happened that fateful day seven years ago…"
Standing Up by Kate Forest — New Release!!
Standalone: "Former football star Mike Lewis hopes the cute calculus tutor will save his otherwise perfect GPA. Top grades will convince his demanding father that he's still pursuing law school and not his real dream—the Broadway stage. Acting seems unachievable at the moment, with him hunched over crutches and in crippling pain from a past car accident, but after amputation surgery he'll strut on state-of-the-art prosthetics… She can't help but fall for him—brains in his head, muscles in his chest, and vulnerability in his legs. He loves her determination and her refusal to pity him. But when choices have to be made, they both need to find strength to stand on their own, side-by-side."
Heart Of Stone by Cynthia Eden — New Release!!
Can standalone: She was created to tempt…and enchant. She is a muse who has the ability to inspire any man to do absolutely anything. Unfortunately for her, the latest human to fall under her spell has turned out to have one very dark side. Now he's obsessed with her, and she's realized—too late—that she just inspired a serial killer. She truly has the worst luck in the world.
Desperate, she makes a deal with the devil in order to get some serious paranormal protection. Her protection comes in the oh-so-sexy form of a man who is able to resist her magic… because he really is made of stone. Cursed centuries before, he is a gargoyle. Fierce, strong, and absolutely unstoppable, he is the guard who is placed at her side. He's supposed to protect her from every danger, he's not supposed to [fall] under her spell.
Crossroads by Chantal Fernando — New Release!!
Can standalone: He is at a crossroads: he has a chance to leave the motorcycle club and do something else with his life—but he keeps getting dragged back. When the Motorcycle Club asks for his help, he agrees, not only because it is hard to say no to them, but also because he has a vested interest.
A woman is missing.
And he knows her.
They aren't the only ones hoping this girl can be found—on the hunt is Johanna Chase, a stubborn detective who won't give up until the missing woman is found safe. She needs him to navigate the underground world of motorcycle clubs, and immediately, sparks fly. He fights the attraction. He has no plans on going there, no matter how beautiful and badass she is. A biker and a cop? Ridiculous. But the two of them soon realize that they're in way over their heads, and now they have to trust each other in order to save her…
Never Let You Go by Chevy Stevens — New Release!!
Can standalone: Eleven years ago, she escaped into the night with her young daughter and left an abusive relationship. Her ex-husband was sent to jail and she started over with a new life…. Now, she is older and wiser, with her own business and a teenage daughter who needs her… When [her ex] is finally released from prison, she believes she has cut all ties and left the past behind her. But she gets the sense that someone is watching her, tracking her every move. Her new boyfriend is threatened. Her home is invaded, and her daughter is shadowed. She is convinced it's her ex-husband, even though he claims he's a different person. But has he really changed? Is the one who wants her dead closer to home than she thought?
LATEST BOOK SALES
PAPERBACK SALES:

eBOOK SALES:
UPCOMING BOOK RELEASES
BOOKWORM STORE
WHAT KIND OF BOOKS ARE YOU LOOKING FOR?
__________________________________
Let me know if there are any other books you're loving right now too!!
LET'S STAY CONNECTED
To get these lists sent to you every week, subscribe by email.
FOLLOW THE BLOG
Facebook | Twitter | Instagram | Pinterest | BlogLovin' | Google+ | Goodreads