NEW TOP RECOMMENDATION: Elliot Redeemed by Scarlett Cole (Read my Review)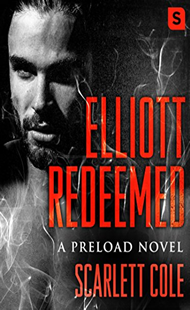 SQUEEEE!!! I can't stop smiling!!!!!!! This was an absolutely GORGEOUS ROMANCE that I LOVE LOVE LOVED!!!! I read it in one non-stop sitting. It was heartfelt, sexy and full of FEEEEEELS!!! And let me tell you, this hero was PURE ALPHA SWOON material!! He's a famous rock star with a heart-breaking past who was helping cheer up the heroine's teenage son in a hospital recovering from burns when they crossed paths. He wanted to help her son and began to fall madly in love with her. OMG. They were such a STRONG, FUNCTIONAL couple. If you love tortured heroes, strong heroines, gorgeous family dynamics, no stupid drama, and SEXY SWOOOOONY romances, then you absolutely have to get a copy of this book!!!! It can be read fully as a standalone, it's live, and I highly recommend it!! 😀

JUST FINISHED: Monster Among the Roses: A Beauty and the Beast Story by Linda Kage (review) 

I just finished reading this really unique romance that intrigued me because it was a modern twist on the "Beauty and the Beast" fairytale except this version was difference because it was the OPPOSITE story!!! The hero was desperate to pay off his ailing mother's debts when he fell upon the good graces of a wealthy benefactor who was willing to give him a job at his lavish mansion in order to pay off his mother's debts. But he had no idea what his duties would truly entail until he was sent to the rose garden and met a tragically scarred young woman… So in this case the "beast" was the heroine and the "beauty" was the hero and it was such a refreshing on the the story so many of us already love!!! If you're looking for a really different love story, try this book!! It can fully standalone.

MORE BOOK NEWS:
Wish You Were Mine by Tara Sivec was announced! It's a standalone! — "Five years. I would've stayed away longer if I hadn't received the letter. Not a day has gone by that I haven't thought about her, haven't missed her smile, haven't wished that things were different… The last time I saw my two best friends, I vowed to not stand in the way of their happiness, even if that meant I couldn't be a part of their lives. Her eyes were too much of a temptation and I couldn't stay and watch them together. She deserved better than me. She deserved him… But now that I am back, things are different. I'm not going to stand by and watch the woman I've always loved slip away again. I'm done living my life with regrets and I'm ready to tell her the truth. And I'll do whatever it takes to show her that I always wished she was mine."
WEEKLY NEW RELEASES RECAP
DETAILED LIST: THIS WEEK'S NEW RELEASES
Dirty Filthy Rich Love by Laurelin Paige — New Release!!
Series finale: "I've discovered his secret. It's as dirty and filthy and rich as he is and it haunts me as much as he ever did… Even after knowing what I know now, I still want to talk to him, to touch him. But there's an ocean between us, and I'm not sure it can be crossed with something as easy as a phone call or a plane ride.
Yet I'm willing to try. He doesn't know this yet, but this time I'm the one with the power. And maybe – just maybe – if the air were cleared and all our secrets bared, there could still be a chance for us. And this dirty, filthy thing between us might end up being love after all."
Drunk On You by Harper Sloan — New Release!!
Can standalone: I wanted to be free from my ex, and he wanted to escape his.
One drunken night turned a joke into a life-changing moment.
He warned me not to fall for him, and I should've listened.
He intoxicated me.
He made me crave him.
He ruined me.
In the end, I'll never be the same.
Temporary by Sarina Bowed & Sarah Mayberry — New Release!!
Standalone: The first time I lay eyes on him, I know he'll be trouble… He's just the kind of rich guy who always gets what he wants. And he wants two things: a night of sin, and my cooperation as he outmaneuvers his powerful mother to take control of his uncle's estate.
I can't afford either one. I'm the only thing standing between my little sister and the foster care system… But when his eyes rake over my body, sometimes I forget my obligations… Our night together was a mistake. I can't afford to get sucked into his family's treachery. But the closer I get to him, the more layers I find beneath those expensive clothes. Though I can't forget this is temporary. He's temporary. I have too much to lose. Too bad my foolish heart didn't get the memo…
400 First Kisses by E. L. Todd — New Release!!
"The man I hate lives next door.
He must have just moved in, even though I never saw the moving truck. He's just as arrogant as I remember, mowing the lawn without a shirt and grinning like an idiot. When he catches me staring at him through the window, he winks. So cocky. He flirts with me like he never broke my heart. And then he tells me something that I just can't believe.
We're married."
Delirious by M.S. Force — New Release!!
Can standalone: As one of Hollywood's hottest producers, he's on top of the world. His life is exactly how he likes it, complete with a stable of willing subs to tend to his every desire. Until he attends the wedding of his friend and meets the close friend of his new wife. Since meeting her five months ago, his carefully cultivated life has changed in ways he never could've expected. Now she and her children are moving to Los Angeles, and he's not sure whether to be excited or terrified about his powerful feelings for the single mom…
He can't avoid her forever, and when these two finally see each other again, sparks fly between the single mom and the producer with a past he's kept hidden from everyone who matters to him…
Lust by Emma Hart — New Release!!
Can standalone: "Detective Adrian Potter had a lot to answer for. I didn't care that he was tasked with shutting down the city's most prolific hookers. I cared that he was stopping me from providing for my daughter.
He didn't care. Not at all. Until I broke down in the backseat of his car… And he let me go. He was a single parent, too. He knew how hard I had it. At least, he thought he did. He had a job. He had people who cared. He didn't know just how lucky he was.
I was a whore of the highest value. Until the tattooed, redemption-seeking detective entered my life, looking for his fairytale.
The cop and the hooker.
Happily ever fucking never."
Match Pointe by Amelie S Duncan — New Release!!
Can standalone: Tyler Wilson may be the star striker for New York FC and a serial womanizer, but underneath his frivolous bravado, I see the real Tyler – the kind, protective man I've known since childhood. Though he still sees me as a fragile, an untouchable princess.
Now we're kind of working together, I feel the crack of electric, sexual tension in the air with each glance shared and I have my chance. I will show Tyler I'm not just a ballerina in a box, and together, we will defy everyone and break the rules. But we can never, ever be caught.
Blood Guard by Megan Erickson — New Release!!
Can standalone:  "One minute, I'm a bartender; the next, I'm whisked away by a vampire who tells me that I'm the lifeblood of his clan. It sounds unbelievable, but he's got evidence I can't deny.
Turns out, he belongs to an underground society of vampires who feed only on humans with their consent. Their enemies have no such qualms, and they want me dead. The only thing standing in their way is him. And the closer we get, the more tempted I am to let him feed…"
The Final Score by Jaci Burton — New Release!!
Can standalone: A star quarterback is torn between his love of the game—and the woman who may be the love of his life. He's been drafted as quarterback and his future is bright. When his friend Mia Cassidy moves to the same city, their years-long friendship suddenly sparks hot, reminding him of the one night they had together in college that he can never forget…
She's embarking on an incredible new career—as founder of her own sports management company. Her friendship with him means everything to her, and tossing sex into the mix again could jeopardize it. But the chemistry between them has always sizzled, and it isn't long before she realizes she wants more with him than just late-night talks and pizza…
Forget Me Not by Willow Winters — New Release!!
Standalone: I fell in love with a boy a long time ago. I was only a small girl. Scared and frightened, I was taken from my home and held against my will. His father hurt me, but he protected me and kept me safe as best he could. Until I left him.
I ran the first chance I got and even though I knew he wasn't behind me, I didn't stop. The branches lashed out at me, punishing me for leaving him in the hands of a monster. I've never felt such guilt in my life.
Although I survived, the boy was never found. I prayed for him to be safe. I dreamed he'd be alright and come back to me. Even as a young girl I knew I loved him, but I betrayed him. Twenty years later, all my wishes came true.
Decidedly With Baby by Stina Lindenblatt — New Release!!
Can standalone: One-Night Stand Rule #1: always check the condom's expiry date.
Oops.
She has a plan, and being a mom is not part of it. Her childhood involved being brought up by thirty nannies (yes, thirty!), so what the heck does she know about being a mom anyway? … He has no room in his life for a family or steady girlfriend. His hockey career comes first. Besides, what does he know about diapers and baby yoga…?

Dirty Little Secret by Kendall Ryan — New Release!!
New series: She's much too innocent for me, but that doesn't stop me from wanting the sweet, young librarian. I'm dominating and possessive… The way she looks at me—like I'm one of the heroes in the books she loves, like I'm broken, and she wants to be the one to piece me back together—it only complicates things further. I'm nobody's hero.
But there's no denying my tragic past reads like one of her favorite literary classics. It's raw. Visceral. Captivating. And together, we're a perfect mess… The need to control and claim her force my walls to come tumbling down, but when she learns about my dirty little secret, will my world come crashing down with it?
Barking Up the Wrong Tree by Juliette Poe — New Release!!
Can standalone: She never leaves an animal in need. So when a gorgeous Yankee comes begging for help herding some wily goats, she is up to the task.
Jake McDaniel is looking for a tax break, and what better way than to take up farming? This ex-football player turned businessman turned unwitting goat farmer is up to his knees in goat drama. Runaway goats, dehydrated goats, and a baby goat that wants no one other than him, he needs more help than he cares to admit. Good thing the sexy veterinarian is right there to coach him on how to be a farmer. The only problem is, she's not looking for anything more than a good time, while he is looking for his forever girl.
Sweet Little Thing by Abbi Glines — New Release!!
iBooks only — The day her mother passed away, Beulah was only given a name. That was it. No other explanation.
Portia Van Allan was not someone Beulah could believe her mother ever knew. Wealthy, self-absorbed and other than the fact Portia was supplying special care for Beulah's sister, Portia was cruel. The day Portia's son returns home for the summer, Beulah discovers that Portia isn't in charge. This isn't her home at all. Her late husband left her with nothing. It all belongs to their son who doesn't seem to like his mother at all…
In Too Deep by Lexi Ryan — New Release!!
Can standalone: "I have four months to make my wife fall in love with me or let her go forever… I loved her long before she watched her loser ex take his last breaths. I held her while they lowered his coffin into the ground, stilled her shaking hands when the nightmares would tear her from sleep. I waited for her through her grief. But while she was always willing to let me in her bed, she refused to let me in her heart.
Tired of playing second string to a dead man, I let her go. I moved to Florida to begin my NFL career and tried to pretend my perfect life didn't leave me empty. I'd almost given up. Until one drunken night in Vegas, we stumbled down the aisle and said "I do."
LATEST BOOK SALES
UPCOMING BOOK RELEASES
BOOKWORM STORE
WHAT KIND OF BOOKS ARE YOU LOOKING FOR?
__________________________________
Let me know if there are any other books you're loving right now too!!
LET'S STAY CONNECTED
To get these lists sent to you every week, subscribe by email.
FOLLOW THE BLOG
Facebook | Twitter | Instagram | Pinterest | BlogLovin' | Google+ | Goodreads