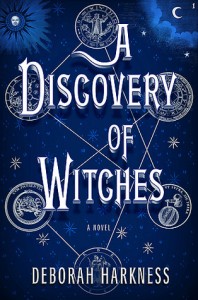 "It begins with absence and desire.
It begins with blood and fear.
It begins with a discovery of witches." 
The best way I can think to describe this is: PNR meets DaVinci Code… taking the best of both worlds. In this world, there are 4 kinds of creatures: daemons (best described as "serial killers and rock stars"), vampires (scientifically explained kind, not undead), witches (who varying abilities to control natural elements), and humans. Awesome read – VERY original mythology and a sweet, tender love story. 
Some quotes:
"In this room we understand why this war might be fought…it's about our common belief that no one has the right to tell two creatures that they cannot love each other–no matter what their species."
"Just because something seems impossible doesn't make it untrue,"
"As fast as I can tell there are only two emotions that keep the world spinning year after year…One is fear. The other is desire."
"I saw the logic that they used, and the death of a thousand cuts as experimental scientists slowly chipped away at the belief that the world was an inexplicably powerful, magical place. Ultimately they failed, though. The magic never really went away. It waited, quietly, for people to return to it when they found the science wanting."
"Somewhere in the center of my soul, a rusty chain began to unwind. It freed itself, link by link, from where it had rested, unobserved, waiting for him. My hands, which had been balled up and pressed against his chest, unfurled with it. The chain continued to drop, to an unfathomable depth where there was nothing but darkness and Matthew. At last it snapped to its full length, anchoring me to a vampire. Despite the manuscript, despite the fact that my hands contained enough voltage to run a microwave, and despite the photograph, as long as I was connected to him, I was safe."
"These days vampires gravitated toward particle accelerators, projects to decode the genome, and molecular biology. Once they had flocked to alchemy, anatomy, and electricity. If it went bang, involved blood, or promised to unlock the secrets of the universe, there was sure to be a vampire around."
"My ideas about vampires may by romantic, but your attitudes toward women need a major overhaul."
"Se Souvenir du passe, et qu'il ya un avenir: Remember the past, and that there is a future."
"You persist in this romantic vision of what it is to be a vampire, but despite my best efforts to curb it I have a taste for blood."
"His full name is Matthew Gabriel Philippe Bertrand Sebastien de Clermont. He was also a very good Sebastien, and a passable Gabriel. He hates Bertrand and will not answer to Philippe."