I'm so excited to share with you the gorgeous new cover of An Ounce Of Hope by Sophie Jackson!!!
From the fanfic phenom whose debut A Pound of Flesh had over 4.5 million reads, this sequel, An Ounce of Hope, tells the passionate love story of Carter's best friend, Max.
Max O'Hare can't seem to let go of his past: his drug habit, the end of his relationship with Lizzie Jordan, the woman he knows he'll never get over, and the loss of their unborn son.

After successfully completing rehab and learning to explore his deepest fears and dreams through painting, Max meets Grace Brooks. With her innate optimism, and her love of art and photography, Grace appears to be the perfect girl. Yet no one knows where she came from, or why she keeps her past so closely guarded. Over time, Max and Grace gradually allow each other in—but will he ever be able to fully let go of his past? Or will his heart remain closed forever?
Sounds so good!!!! I can't wait to read it!! And now, here's the stunning new cover. It's rare for me to do cover reveals on my blog, but I couldn't resist given how much I love this series and because, if you look near the bottom of the cover, you'll see a quote from my review of A Pound of Flesh. How exciting!! 😀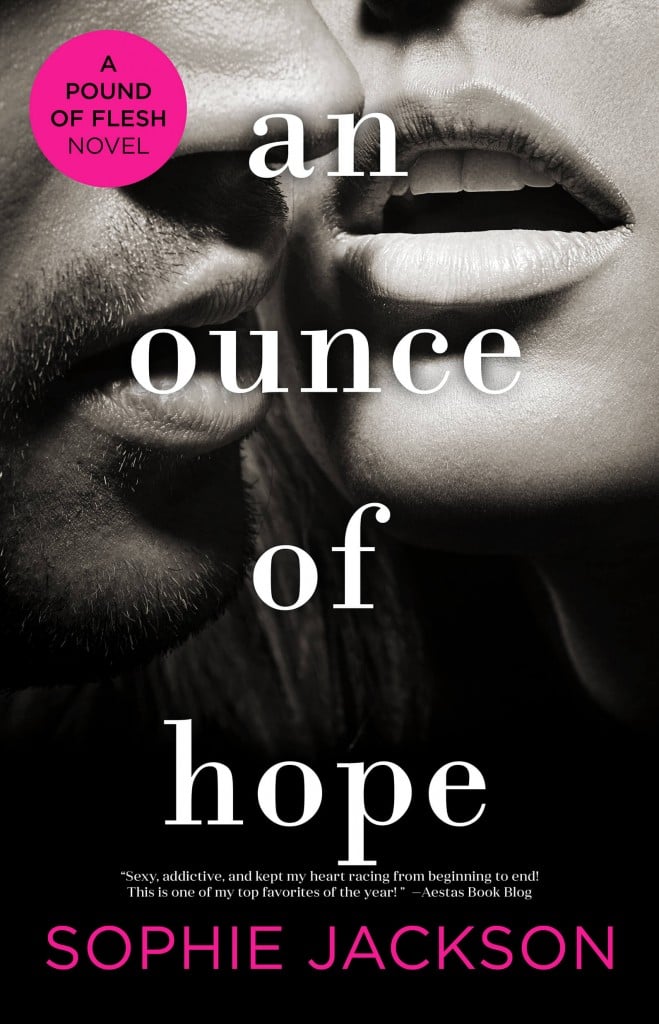 _____________________________
If you're new to the series, I recommend starting with A Pound of Flesh, which tells the story of Carter and Kat… It's about strong-minded prison tutor who discovers that her sexy bad-boy student is far more than he appears to be… (my review)
Note: A Pound of Flesh and An Ounce of Hope are interconnected standalones. Each book is about a different couple, but it is recommended to read them in order.