"We've never been over. You know it as well as I do…"
WOW!! Holy sexual tension!!
This book had the ultimate hate-to-love-each-other, dysfunctional-but-can't-stay-away, love-you-forever-no-matter-how-painful type of love story. It just had this intense spark to it that made my heart race! It's a second chance romance with a moody, brooding, tortured bad boy hero and I loved every word. 5 STARS!!
While performing the greatest love story of all time, they discovered one of their own…
The story begins when Cassie, a critically acclaimed stage actress is cast as a romantic lead in a Broadway play opposite the one man she'd ever loved. Ethan Holt was unfortunately also the only man who'd ever broken her heart, leaving her absolutely devastated. Despite their six painful years apart, and despite how desperately she wanted to hate him, their love for each other went beyond that. And even though he knew just how badly he'd hurt her, he also knew this was his one chance to win back the only woman he'd ever loved and this time he was willing to do anything to prove himself to her and win back her heart.
I can do this. I can see him and not fall apart.
I can.
I sigh and press my forehead against the wall.
Who the hell am I kidding?
Yeah, sure, I can do a passionate play with my ex-lover, who broke my heart not once, but twice. No problem.
I bang my head against the wall.
Ethan and Casse met in drama school. She was the good girl actress, and he was the ultimate bad boy, sending fuck-off vibes to everyone who crossed his path. He warned her to stay away from him and that he would only ruin her. But when they were cast as Romeo and Juliet in a prestigious play, their forced intimacy broke down the walls between them… giving room for their true feelings to show through.
"We both know it doesn't work like that," he says so softly only I can hear. "As much as we want it to be the character's emotions, it's still going to be my arms around you, and my mouth on yours.
Despite how strongly he fought it, they fell in love. Until he broke her heart. And six years later, when they were once again cast to play on-stage lovers, he was ready to do anything possible to make things right.
"I want things to be different. If you want me to apologize, I'll do it until I lose my fucking voice. I just want things to be right between us. Talk to me. Help me fix this."
I absolutely LOVED this book. This is a romance that you feel with all your heart and soul. They had the kind of love that didn't let go even after years of separation and heart break. Their chemistry was off-the-charts and their connection so intense that it kept my heart racing the whole way through.
I had quotes highlighted on nearly every page!! I loved the writing — it captured the emotional intensity of their epic love while balancing it out with hilarious scenes that literally had me laughing out loud and other scenes that had me sitting there fanning myself from the hotness. It was the perfect balance!!
We're told the story entirely from Cassie's POV, taking us back and forth between their present day reunion and the tragic start of their relationship in drama school. It was seamlessly blended and I found it very easy to follow along even through it went back and forth. Each piece of the story added a layer that just kept me wanting more. I really could not put this book down!
NOTE: Just because I know a lot of you have asked me about this, there is no cheating and no triangle in the whole book. That is not the source of drama so you don't have to worry about that at all!
Ethan was the ultimate moody, tortured, bad boy. He was the polar opposite of a romantic. College Ethan didn't even believe in love at all. At first, I just kept wondering why he was so antagonistic but the more I read and learned about his past, the more the reasons behind his actions began to make sense. My heart broke for him even as I wanted to shake sense into him. As much as it hurt though, I could see why he was the way he was. I have to say, the title of this book couldn't be for fitting! Bad Romeo indeed!
"I warned you," he says, breathing heavily and cupping my face. "Why the hell didn't you listen?"
Cassie was a really great heroine. She was no shy, innocent virgin. Even though she was a little meek around other people, with Ethan she was fiery, forward, bold, and not afraid to follow her heart. She challenged him every step of the way and I loved the way she went after what she wanted.
There was just this delicious push-pull tension between them. I loved all the scenes where they were rehearsing their plays. The contrast between the open intensity of their characters' love for each other versus the restrained walls behind which they hid their real feelings had me on the edge of my seat.
"So…" I say, looking at him.
He nods and lets out a breath. "Yeah. So…"
"We're going to have fake sex."
"Yep."
"You and me."
"Apparently."
"I have to take your clothes off, and … well … touch you and stuff."
"Fuck this fucking play."
This second chance romance was different than most in that, contrary to the way many of them are structured, this wasn't about trying to fix a broken relationship. As it showed clearly, whatever they'd once had was broken beyond repair. What remained was their love for each other that had never let go. Hurt, anger, separation, none of it changed that… and this was about considering the chance that just maybe, even after all the pain, they could start again and build something new.
"We've never been over. You know it as well as I do. Even when I was halfway around the world and you hated my guts, we weren't over. You can feel it between us now. And the closer we are, the stronger it gets."
Cassie and Ethan's full story will be told over 2 books (Bad Romeo and Broken Juliet). There will also be a third book in the series that is a standalone romance about Ethan's sister who you'll meet in this book.
This book leaves you in a good place, but also makes you desperate for more. That being said, I am SO glad that I read this now and didn't wait. This is easily one of my favorite books of the year. I loved the story. Seriously LOVED it. Absolutely freaking ADORED it. And I can't recommend it highly enough.
Rating: 5 stars!!

_____________________________
Book #1 — BAD ROMEO
Buy for Kindle | Buy in Paperback | Read my Review
Book #2 — BROKEN JULIET
Buy for Kindle | Buy in Paperback | Read my Review
Spin-off standalone — WICKED HEART
Buy for Kindle | Buy in Paperback | Read my Review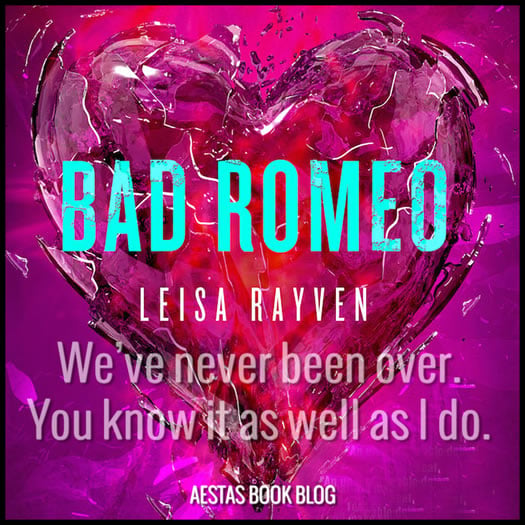 _________________________________________
 ❤ SIGNED GIVEAWAY ❤
Open Internationally. Void where prohibited by law.
Must be over 18 to enter. 3 winners will signed copies of Bad Romeo.