SQUEE!!!! These 2 incredible books were just released and please trust me when I say that it's worth it to drop everything that you're doing to read them!!! This love story is one-of-a-kind and absolutely EPIC!!!
My heart was racing from the first word to the last. This story was breathtaking!!!!! The pure, raw, heart-wrenchingly powerful emotions, the exquisite writing, and the way every single piece of the story came together was perfection. It was passionate, intense, and quite honestly unforgettable. Mia Sheridan's flawless writing is something every reader should experience, and this story truly makes you believe in undying, unconditional love. It is one of the very BEST series I have ever read. 6 STARS!!!
There is a place in modern day America with no electricity, no plumbing, and no modern conveniences. In this place, there is no room for dreams, no space for self-expression, and no tolerance for ambition. 

In this place, there is a boy with the body of a God and the heart of a warrior. He is strong and faithful and serves his family honorably. But he dares to dream of more. 

In this place, there is a girl with the face of an angel and a heart full of courage. To her family, she is the vision of obedient perfection. But she dares to want that which she has been told can never be hers. 

Becoming Calder is the story of good versus evil, fear versus bravery, and the truth that the light of love has always found its way into even the darkest of places… From the beginning of time, to the end of the world.
Finding Eden is a story of strength, discovery, forgiveness, and undying love. It is about believing in your destiny and following the path that leads to peace. 
BOOK #1 — BECOMING CALDER
Buy for Kindle | Read my Review
BOOK #2 — FINDING EDEN
Buy for Kindle | Read my Review
The answers to some frequently asked questions about this series:
There are 2 books in this series, BECOMING CALDER and FINDING EDEN. They are Part 1 + 2 of the same story and have to be read together. They are both full length novels (about 300 pages).
These 2 books together tell a complete story (with a gorgeous epilogue!!)
The story is a Contemporary Adult (HOT!) Romance. There is

nothing

paranormal, mystical, or futuristic about the story. It takes place in modern-day America … but the setting itself is very unique.
This story is

not

 related to the other books in the Sign Of Love series.
I hope you guys are excited to read these books!!! You're going to fall in love with Calder!!! ♥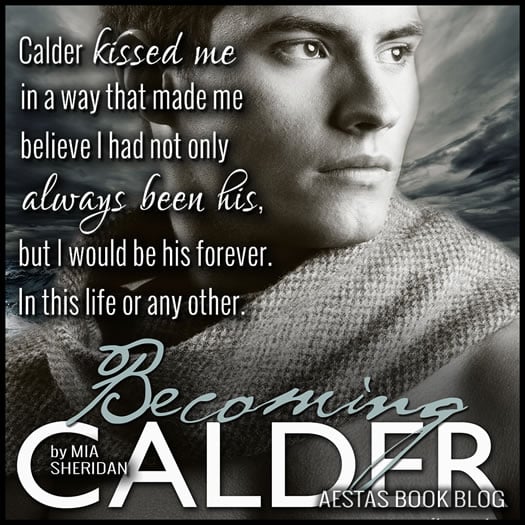 If you have other questions, just comment below and I'll answer.