"You're mine, the girls are mine. I'm stakin' my claim with you right now…"
"You're unbelievable," I snapped.
"I'm yours."
That socked me in the gut… Taking advantage, his face dipped close and his hands curled around both sides of my head.
"First fuckin' time you smiled at me in my bed, that's when it happened," he murmured."
**SQUEEEEE** O.M.G what a SENSATIONAL book!!!
My heart is filled to bursting here. Love love LOVE ♥
This is a gorgeous book about a second chance at love, life, family and healing. Kristen Ashley never ceases to amaze me with utter brilliance of her books. Just one winner after another!! Damaged Alpha male hero, strong heroine, beautiful story… whats not to love??
After her cop husband's brutal muder a year ago, Violet moved to the Burg with her two teenage daughters. One night, at 3:33am, she's tossing and turning in bed, unable to sleep because someone is blaring music. In a huff, she stomps out to figure out where its coming from and give whoever was playing it a piece of her mind when she meets Joe Callahan. He's big, tall, rugged, striking, scarred, gorgeous, blunt, badass, and Alpha-out-the wazoo! But he kind of acts like a bit of a jerk (though not in a way that'll make you hate him) and needless to say, despite her intense attraction to him, Violet pretty much dislikes him… though, not for long 😛
Who's the big guy next door?"…
"Joe Callahan."
"Good neighbour to have."…
"Why?"
"Looks like he could crush a rock with his fist." 
It was really heart breaking because you felt how strongly Vi missed her husband. Hell, after a few paragraphs, I missed him. He sounded like such a perfect KA man – gorgeous, caring, protective. And she's struggling and trying to start a new life – working as hard as she can to keep her and the girls afloat in the aftermath of such a senseless tragedy.
Joe's work takes him away a lot, but every time he's back, Vi and him have some sort of interaction. And so begins their on-and-off-ish, swoony-to-us yet perhaps frustrating-at-first-to-Vi relationship.
"You already think I'm a dick."
I felt my heart beat faster and I whispered. "Joe-"
Joe cut me off. "So don't matter tomorrow morning you still think I'm a dick, 'cause now, even though you're drunk, I'm gonna take you inside and fuck you 'till you ache."
Seriously though, every time they met, even from their slightly rough start, I was grinning like an idiot and squeeing right out loud (often quite loudly).
"And I was in that truck with Joe Callahan. Joe Callahan who was scary and thrilling all in himself. He was more man than I'd ever know and I spent most of my adult life around cops. His maleness filled the cab, dangerous, assertive, assaulting my senses."
And they come together (hmm, meant literally and figuratively *winks*) FAST!!! This book differs from most KA books (except perhaps Mystery Man) in that the hero/heroine sleep together (or, I should say, have wild, rough, hard, passionate, crazy hot, sexy-as-hell, sex) very close to the start of the book. In this story, the sex (or, honestly I should say f*cking lol) happens first, and the relationship develops second. What they have is explosive, undeniable, and freaking H.O.T… and it doesn't stop… very soon she's spending every night in his bed.
But Cal has gone through something tragic in his past that makes him unable to establish a permanent emotional connection and give himself fully over to any relationship even if its what his heart wants and as soon as his feelings for her grow too strong, he breaks both their hearts by leaving and breaking off the relationship.
But when Vi's husband's murderer comes back on the radar with his creepy-stalker-eye set on Vi, that isn't something he can just stand by and do nothing about, so its up to him to do what he can to protect her and the girls, even though he has his work cut out for him to make her trust him again.
And so begins the beautiful craziness of this book – with a seriously SWOONY romance, crazy drunk ex's, crazy creepy murderer/stalkers, the crazy fun of 2 teenage daughters, the craziness of amazing neighbors and family… and as Vi learns to love again, and as Joe learns to trust again, they both learn to find healing, comfort, love and security in each other … and  an absolutely perfect happy ending 🙂  *melt* *squee* *swoon*
Joe. freaking. Callahan. *swoon* has definitely made my absolute top list of guys… lol, especially after he worked his issues out. It was so sweet and heart warming watching him struggle with his emotions, wanting more, but not trusting, trying to do right by Vi and her girls, trying to protect their family. He might be rough around the edges, but he sure-as-hell could be ridiculously sweet and thoughtful. He just had a lot of walls up, guarding himself against future hurt that might mirror a past he's spent 17 years trying to forget. And when his back story finally comes out, you get it. Its horrible, tragic, and made me cry. It totally explained his behavior, his attitude and his reluctance to get fully into a relationship.
And since their relationship wasn't clearly defined for a while, there is a bit of a love triangle thing going on for part of the story, but its always clear who ends up with who especially since the other guy is the hero of book 4 of this series 😛 … but can I just say, that judging by his swooniness, book #4 is gonna ROCK!
Joe was just so damaged and totally Alpha, the perfect tortured badass bad boy. And once he figured all his stuff out and finally accepted that he couldn't ignore or deny what he and Vi had, he went all-out possessive claimy Alpha and stopped at nothing to prove his intentions, his love and his dedication to both her and her girls. Dear Lord, its hard for one heart to handle that much swoon!! *dreamy sigh*
"Joe burst out laughing and I froze, listening to the richness of it. I wasnt even certain he could laugh. He was my hot-as-shit, bad boy, player, next door, security to the stars booty call. He was a serious, scary, rugged, sinister, alpha male. Men like that didn't laugh."
If you want a book with steam, this is it. Its is SMOKING HOT!!! The steamy fan-yourself hotness starts at about 8% of the book and pretty much never lets up, in fact it pretty much just builds as the emotional factor increases as the story progresses.
I have to say, the only thing I didn't really like was how he called her 'buddy' – that's just a little weird and not exactly hot to me. But hey, if that's my only possibly complaint about the book (and it is), I can definitely live with it.
This book really sneaks up on you. There were twists that had me rocking back and forth crying, some utterly beautiful scenes, epic badass moments… Loss. Healing. Betrayal. Trust. Family. Friendship. Loyalty. Bonding. Love.
Seriously. KA is a genius. The depth to which she just "gets" deep connections between friends, family, lovers, is just sensational. You can't help but feel totally connected to them, be totally sympathetic to them, and you end up knowing them so well and feeling for them so strongly that its hard to believe they are not real. She has a magical way with words. Speaks straight to your heart.
I thought it was so beautiful how Joe never tried to replace Tim (Vi's husband) either with Vi or the girls. He was something different. He was special. He loved them for who they were, not for who he wanted them to be to him.  He really was Superman <3
Joe and Vi had have their share of hotness and swoon, but they also had their share of  of heartache, of mistakes, and of misunderstandings. Watching them work together to learn to trust each other and develop a functional relationship just melted my heart.
"I'm gonna piss you off, honey, probably enough for you to want to leave. I've got a temper and so do you, we're gonna clash…. But… we've both learned, this, what we have it's worth getting over it…. I won't give up on you, Joe, I promise. I just need you to promise the same thing."
This book really makes you FEEL!!! I had lots of misty eyes and several tears. Not just from a sad event, often just because the level of emotional I was feeling for a scene was just so strong, it overflowed.
Also, I loved how  Colt and Feb (the hero/heroine of book #1) were integrated into this story. They live on the same street as Joe & Vi and we see them a lot. I love when an author doesn't forget about the beloved characters from previous books. Its so wonderful to see the development of their happily-ever-after, even if its from the outside.
And Oh. My. God,  the ending is intense!! It starts building slightly sooner than the classic KA 90% mark and your heart just goes right in your throat. Its absolutely epic – filled with cops, mafia, stalkers, murders, kidnappings, plenty of badass… just totally epic, emotional and thrilling!! *mega grin/squee*
"Semper fuckin' fi."
LOVE LOVE LOVE this book!! If you haven't read it yet, GO GO GO!!!!! Get book 1 (or read this one alone, it does work either way technically) and join the swoon-fest. You won't regret it!
Rating: 5++ stars!!
** SERIES READING ORDER **
#1 FOR YOU (Colt & Feb) — Buy for Kindle | My Review
#2 AT PEACE (Joe & Vi) — Buy for Kindle | My Review
#3 GOLDEN TRAIL (Layne & Rocky) — Buy for Kindle | My Review
#4 GAMES OF THE HEART (Miky & Dusty) — Buy for Kindle | My Review
#5 THE PROMISE (Benny & Frankie — Buy for Kindle | My Review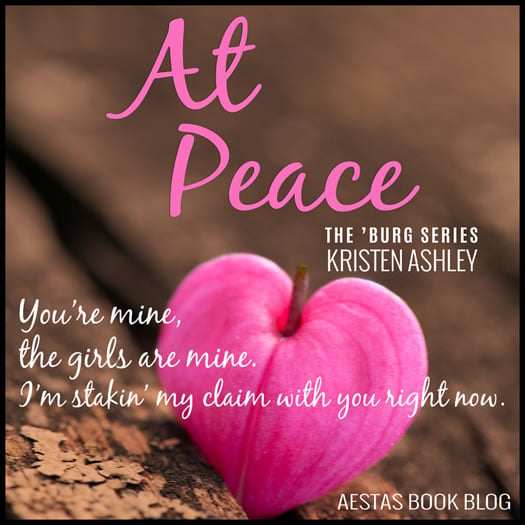 MY RECOMMENDED READING ORDER FOR ALL KRISTEN ASHLEY SERIES