I'm not going to let anything happen to you, darlin'.
Dearest Clementine was a sweet college romance mixed in with some mystery about a girl whose trust in friends, family, and men had been broken and the sweet, loving guy who helped her rebuild it. I really enjoyed it and swooned hard over Gavin Murphy!
So, the whole story was told to us by Clementine who had sworn off dating after her high school boyfriend cheated on her with her best friend and then her college writing professor crossed waayyyyyy over the professional line and finally resorted to violence and stalking. Let's just say that this girl had not been lucky in love. In her own words, "It's not like I've never dated. I merely gave up trying to find someone who wasn't a shithead. Or a cheater. Or a stalker. Yeah, guys suck." 
What she did love to do though was write. "On a good day, if the stars align and the fates agree, I can write my ass off." But she wrote fiction so when she accidentally signed up for a romance writing class in her senior year, she felt lost. With no personal experiences to draw on and no real desire to ever have anything romantic to do with guys again, she had no idea what to write about.
This was where Gavin Murphy came in. He was a sexy RA and guitarist in a band and he had his sights set on her. This guy was pure swoon and sweetness. He totally understood that she wasn't looking to date and wasn't ready for any sort of relationship but he definitely wanted to get to know her more so he made a proposal…. he'd help her get "inspiration" for her writing by acting as a real life book boyfriend. Just friends, right? 😉 And without even knowing it, she found herself falling for him.
"I want to warn you." His voice is husky and deep. "I'm going to kiss you and you're going to like it. A lot." …

"Gavin, I don't think — "

He rests a finger over my lips.

"I'm doing this in the name of academics. You need inspiration? You're looking at it. Now shut up and let me kiss you."
Teehee!!
Meanwhile, there was a case of a missing student on campus that Gavin was investigating for the newspaper and everything began to get a little scary when Clementine became the next possible target!
I totally loved Gavin! This guy was fun, flirty, and oh-so-sweet. He was all about the endearments, flowers, little affectionate gestures, and all the little things that make us all swoon like crazy.
"I've never been into musicians. Never saw the appeal. I always thought they were too mercurial. Too undependable. Too capricious. But Gavin isn't any of those things. He's a steady, even force who's loyal and good and, dear fucking God, hot."
He gave her love, safety, and support — three things no one else had ever given her. Clementine had several totally understandable insecurities and I loved the way Gavin was constantly reassuring. Not to mention, he could be scary protective of his girl when needed too.
"Don't apologize," he says, pausing to look at me in the eye. "You don't have to explain yourself. I choose you. I want you."
I absolutely loved all the parts of the book that were focused on their relationship — Gavin made my heart flutter and the way he was so careful with her and patient and protective was all kinds of gorgeous. Not to mention that all of his "help" with giving her inspiration for her writing was HOT!! But I especially loved the way he seemed to totally "get" her. He understood what she was scared of, respected her need to take things slow, and really was able to help rebuild her trust and heal her heart. You could tell from the start that he was ready to give them a long-term shot. It was incredibly endearing!
I will just mention that while there were a lot of hot kisses in this book and Gavin and Clem had a really great dynamic, there was not a lot of actual steam in this book. Personally that isn't something that bothers me but I do like to know what to expect in advance so I'm just mentioning it here.
Overall, this was a really sweet read with a little bit of humor, fun, drama, and mystery. I'll admit that I did wish there was a little bit more of a focus on the main relationship though. There was a lot going on in the plot and I sometimes felt like that overshadowed the romance. There was also a turn of events part way through the book which kept them apart from each other for longer than I would have liked but I'll just reassure you now that there is no cheating between the main couple. And finally, I did want a little more out of the ending somehow… but, I do promise that there is a fully resolved ending with an epilogue.
Rating: 4 — 4.5  stars. Standalone. 
Both are standalones.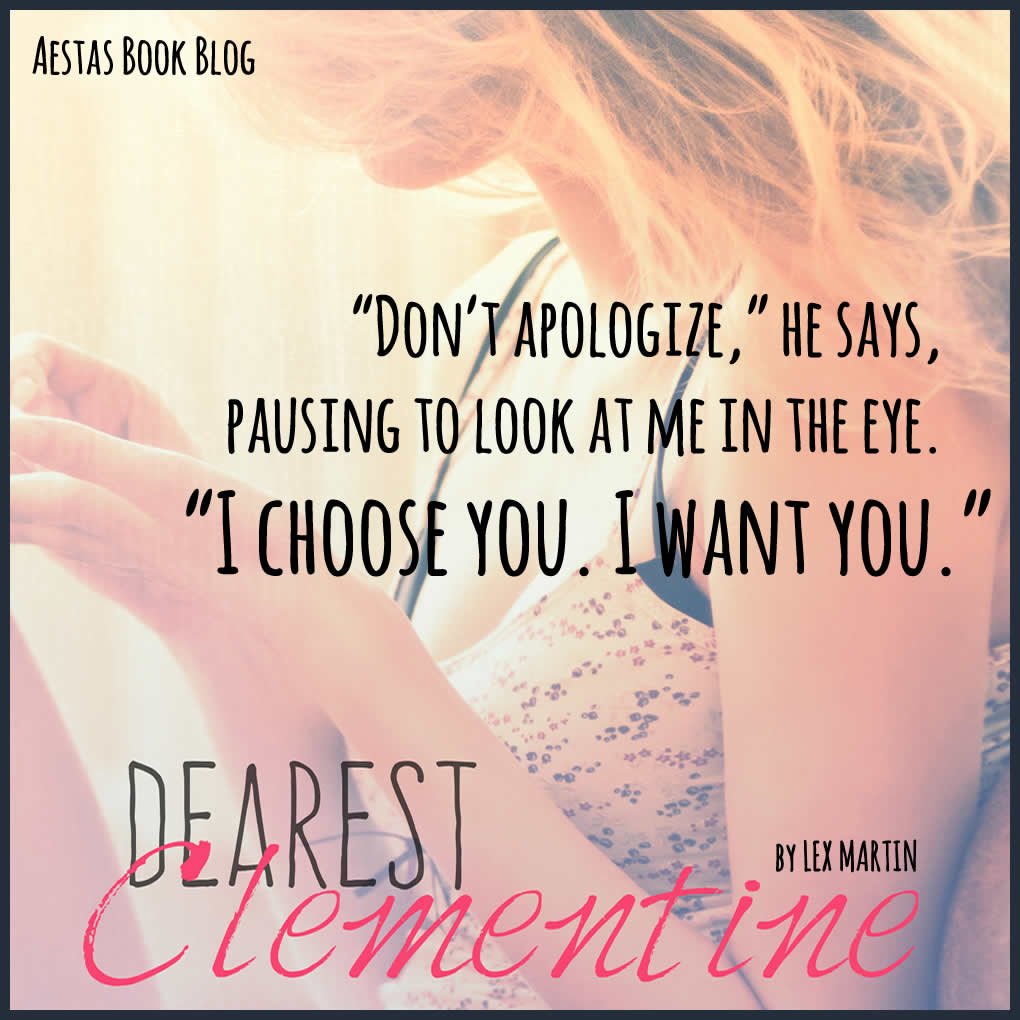 ❤ SIGNED GIVEAWAY ❤
Open Internationally.
Void where prohibited by law. Must be over 18 to enter.
1 winner will a signed copy of Dearest Clementine.