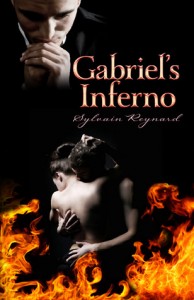 4 stars.
Goodreads blurb: Enigmatic and sexy, Professor Gabriel Emerson is a well respected Dante specialist by day, but by night he devotes himself to an uninhibited life of pleasure. He uses his notorious good looks and sophisticated charm to gratify his every whim, but is secretly tortured by his dark past and consumed by the profound belief that he is beyond all hope of redemption. 
When the sweet and innocent Julia Mitchell enrolls as his graduate student, his attraction and mysterious connection to her not only jeopardizes his career, but sends him on a journey in which his past and his present collide.
An intriguing and sinful exploration of seduction, forbidden love and redemption, "Gabriel's Inferno" is a captivating and wildly passionate tale of one man's escape from his own personal hell as he tries to earn the impossible…forgiveness and love.
This book was a little weird for me. I really liked it, but at the same time I didn't really connect with it. But it wasn't because of the story, it was because of the writing style. I left 4 stars for the story and knocked the final one off because something about the style (voice??) its written in just constantly kept me feeling a little on the outside. But I think because of that, I won't go on to the next book when it comes out.