To celebrate the release of the special edition of Archer's Voice (with extended epilogue & bonus scene), I have a very special giveaway for you of a rare original indie signed paperback copy!!!
This was one of the most heartwarming and beautiful stories I have ever read. A gorgeous tale of survival and the healing power of love. I strongly encourage everyone to read it!! Mia Sheridan's ability to convey strong emotions and vivid imagery through her writing is absolutely captivating! I can't recommend this book highly enough!!
The giveaway is open internationally so everyone can enter. All you have to do is scroll down to the bottom of the post and enter in the Rafflecopter for your chance to win….
Good luck!! 😀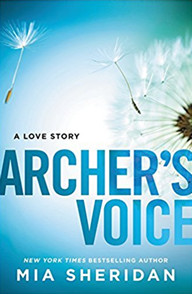 "I wanted to lose myself in the small town of Pelion, Maine. To forget everything I had left behind. The sound of rain. The blood. The coldness of a gun against my skin. For six months, each breath has been a reminder that I survived—and my dad didn't. I'm almost safe again. But the moment I meet Archer Hale, my entire world tilts on its axis . . . and never rights itself again.
Until I trespass into his strange, silent, and isolated world, Archer communicates with no one. Yet in his whiskey-colored eyes, something intangible happens between us. There's so much more to him than just his beauty, his presence, or the ways his hands communicate with me. On me. But this town is mired in secrets and betrayals, and Archer is the explosive center of it all.
So much passion. And so much hurt. But it's only in Archer's silence that we might just find what we need to heal… and live."
Buy for Kindle | Buy Special Edition Paperback  | Buy Audiobook | Read my Review
 ❤ SIGNED GIVEAWAY ❤
Open Internationally.
Winner gets $25 Amazon Gift Card + Signed Indie Copy of Archer's Voice
Void where prohibited by law. Must be over 18 to enter.